Eyelashes really bring out our eyes for more full-on drama. Accentuating your eyelashes can make all the difference in your look. Whether you were born with full and fluttery lashes or you need to work a little harder to make them stand out, one thing you'll want to do is make sure they're curled.
Why are my eyelashes not curling, you might wonder? There are several reasons why you could be experiencing difficulties with your lashes. If they look flat and straight or don't seem to have that curl everyone else is  getting, keep reading. You're about to find out how to make your eyelashes look mega-gorgeous like your favorite movie stars!
You're not using proper technique when curling your eyelashes
One of the reasons your eyelashes aren't curling is likely due to technique. You need to up your game if you want to get those eyes to pop. What you need to do is make sure you're using that eyelash curler in the right way.
You should be putting your thumb and index fingers in their designated holes, popping the curler open so it's wide enough for your top lashes to go between the top and bottom, and then squeezing down as close to the roots of your lashes without touching your skin.
But that's what I AM doing, you might be yelling at your screen while you read this. Not so fast though. It doesn't stop at just one tight squeeze. Instead, you should pump that curler between 4 and 8 times at the root. THEN, you should pump it again as you move up along the lashes until you get to the tips for one last final curl. That's where you get that sexy curve instead of a crimped look. Each time you squeeze the eyelash curler down, count to 5 before releasing.
It's also in your touch though too. You need to have a gentle touch. If you pull your lashes outward, you risk yanking them out. Be soft with that squeeze to keep your lashes from breaking off.
You're not clumping up your lashes when using the curler
When it comes to your eyelashes not curling, you need to think of even more than just proper technique with your eyelash curler. You should be getting them together, much like you do with your hair when you apply your heat styling tool to effectively curl them.
And there's even more to it than that. You can't just expect that curler to do all the work, though it is the first step in getting your lashes to curl. Keep reading to see what else you need to do!
You're not applying a lash primer before mascara
Eyelashes are little hairs. Their intention is to keep dirt and debris from getting in our eyes. But they also serve an aesthetic purpose. With the hair on our heads, we do everything we can to make it look luscious and healthy. We even give this same kind of love to our eyebrows. So why aren't we loving on our lashes more?
What helps is to use a lash primer to help give them more strength, length and beauty. L'Oréal Paris Voluminous Lash Primer (Amazon link) is great for saturating your lashes with conditioning. It goes on in one stroke to give more volume, providing more base for mascara to adhere to.
Eyelash primer isn't a gimmick to sell you more beauty products. Makeup artists swear by it because it works. If your lashes don't have that thick and gorgeous look you want, use this lash primer to give them more volume.
How do you use eyelash primer? It's so simple! You'll apply one light coat of the primer onto your lashes. Then immediately after you do, apply mascara as you regularly would.
You have to act fast though because if you wait, the primer will dry. You don't want that to happen because it makes applying the mascara more difficult, plus it results in clumpy-looking lashes. Yuck!
Apply that mascara immediately after you apply primer to each eye for your best results. When you apply the primer,  you'll find it separates your lashes so you get an even coating of mascara for a beautiful finish.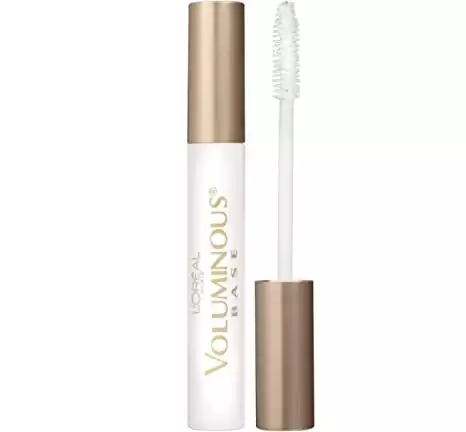 Incidentally, the mascara you use matters too so keep reading to find out how mascara can help you get that perfect lash curl effect you've been trying to create!
You're not wearing a waterproof mascara
For those with straight lashes, it is always a hassle trying to find a mascara formulation that will bring lift, volume, and length to your ho-hum lashes.
After curling with the eyelash curler, I recommend this one by Tweezerman (Amazon link) and using a primer, you'll want the right mascara to seal the deal. Interestingly, it's the waterproof mascara formula that you want to start using.
Before you protest about how hard they are to remove (you just need the right makeup remover) or that you're not swimming, sweating, or crying, you should know that waterproof mascara has special waxes in them.
Think of it like hairspray for your eyelashes. Those waterproof formulas with waxes are going to hold your eyelash curls in place.
Don't be hesitant to use them though. There are great brands of makeup remover that can take off even waterproof mascara in an instant. The trick is to never rub your eyes as you remove it or you'll irritate your eyes and risk losing lashes.
Oil-based eye makeup remover always works wonders though in a pinch, you can use coconut oil. Saturate a cotton pad with it and hold it on your closed eye for a good 15 seconds. You should be able to gently wipe whatever is left away.
If you're still not sold on the waterproof mascara idea, you can look for tubing mascara. Never heard of it? Interestingly, most women haven't. It's like waterproof mascara but it was made for straight lashes.
The problem with regular mascaras when you have straight lashes is that when you add coat after coat, it looks dreadful. Tubing mascara has polymers in the formula though and these polymers wrap around your lashes to create tubes for a precise look.
These formulations are more rubbery and they hold a curl better. It won't smudge either so if you have short, stubby, straight lashes, this might be the best option. They come off with warm water and gently melt away. So, if you're not a fan of trying to remove waterproof mascara, you might want to give tubing mascara a try!
Your mascara distribution isn't even
Have you ever looked at fake eyelashes? You'll notice that the lashes are all different lengths to mimic the way real eyelashes look. It's easier to see when you look at the fakes then when trying to stare at your own lashes in the mirror.
Each lash is at a different growth stage, much like the hair on your head. So sometimes, when you apply your mascara, you're just not getting every single lash on your lid. When you coat each lash with mascara, that's what helps give you that full lash look. You can get around this problem by gently bending the brush into a bit of a mini hockey stick. Use a tissue so you don't get mascara all over your hands.
With this angle, you get more control and can see where the wand is going to evenly distribute your mascara. Another thing you should be doing is ensuring the mascara brush isn't overloaded with excess product. You can regulate the distribution by using an old wand that you've cleaned and reserved for this purpose or a never-used toothbrush that you devote to this cause.
You can also invest in kits that contain a variety of mascara wands to see if that helps. There are plastic and silicone varieties. Plastic wands have long and thick bristles. The mascara sticks to the spool and is the best way to adhere it to long and thick lashes. Wiggling and pushing it in while you apply it makes for even distribution.
But for short lashes, the silicone wands are best. Mascara adheres less to silicone so it goes on easier. The bristles on silicone wands are smaller so you get better control over your shorter, thinner lashes.
Did you think up until now that all mascara wands were the same? It's a game-changer! You should experiment with the different shapes and varieties to see which one feels right and works best for your lashes.
Once you do find the wand that works wonders for you, you can easily apply mascara with an even distribution using a simple technique. You'll coat the wand in mascara, then start at the base (after priming your lashes first of course) and wiggle it as you gently pull up along the lashes.
This gives a lifted look, keeping more mascara at the bottom of the lash instead of the top. Too much product at the tips of your lashes will weigh those babies down and undo your curling efforts.
Your eyelash curler isn't wide enough
Let's go back to your eyelash curler for just a second. It's the essential first step in getting your lashes to curl. You need to make sure you use a great eyelash curler for the job. Like mascaras, they're not all created equal.
Tweezerman (Amazon link) is wider than most low-quality curlers making it an excellent choice. Wider is definitely better when it comes to your eyelash curler. These two were made for Asian eyes which tend to be longer in length. Even if you aren't Asian, the wider eyelash curlers will work out so much better for you.
Additionally, eyelash curlers that were made for the Asian market are less curved. This means they're better for adhering to flatter lids. If you have flatter lashes, you'll be better able to grab and curl all your lashes by simply making the switch.
A quality eyelash curler is essential because you need it to last. You won't be buying a new one every few months like you will with your tube of mascara so go with quality and you won't be disappointed.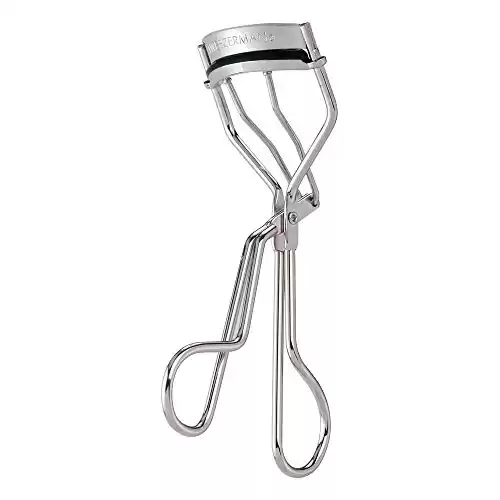 And speaking of your mascara and your eyelash primer too, don't forget that you need to replace each every 3 months. Your eyelashes have little microbes on them naturally and with every sweep, these guys get into your products.
It should go without saying you should never share your eye makeup products EVER but even if you're the only one using it, you can give yourself a nasty eye infection if you use old products or fight with formulas that are drying out.
Conclusion
It's not hard to get eyelashes to curl when you know what to do. Perhaps you merely relied on your eyelash curler but that doesn't complete the process. You also need to know how to use it correctly. It's not a one-and-done process of squeezing your lashes. Proper technique with your eyelash curler is essential for crafting a perfect curl.
You also need to start using eyelash primer. It conditions lashes and helps your mascara adhere with precision. You'll get a more lifted and natural appearance if you simply add in this step.
The last step in completing perfect curling technique for your eyelashes is choosing the right mascara. Waterproof formulas hold the curl better though if you have short thin lashes, a tubing mascara can make a huge difference in how your lashes appear. Once you find the right one for you, you should apply it properly to ensure you've distributed it evenly on all your lashes.
Always go with quality when it comes to your makeup tools like eyelash curlers and brushes. You'll never regret it when they last and last through all your looks!
If you liked this post make sure to check out this one on wheather or not you should curl your lashes every day.