Tired of looking less than flawless? As we start getting older, simply applying foundation to your skin won't cut it. Most foundations don't make lines disappear.
In fact, without a little extra help, your foundations and powders will only make your flaws stand out more. Primers were invented for just that purpose. They serve to smooth the skin, minimizing pores and lines for a refined appearance.
Using a primer is a must for looking photo-finished. Some are cheap, and some will break your budget. And at all price points, you'll find primers that just don't cut it. Thankfully, there's something completely natural that doesn't contain chemicals and can nourish your skin with lots of love: Aloe vera gel!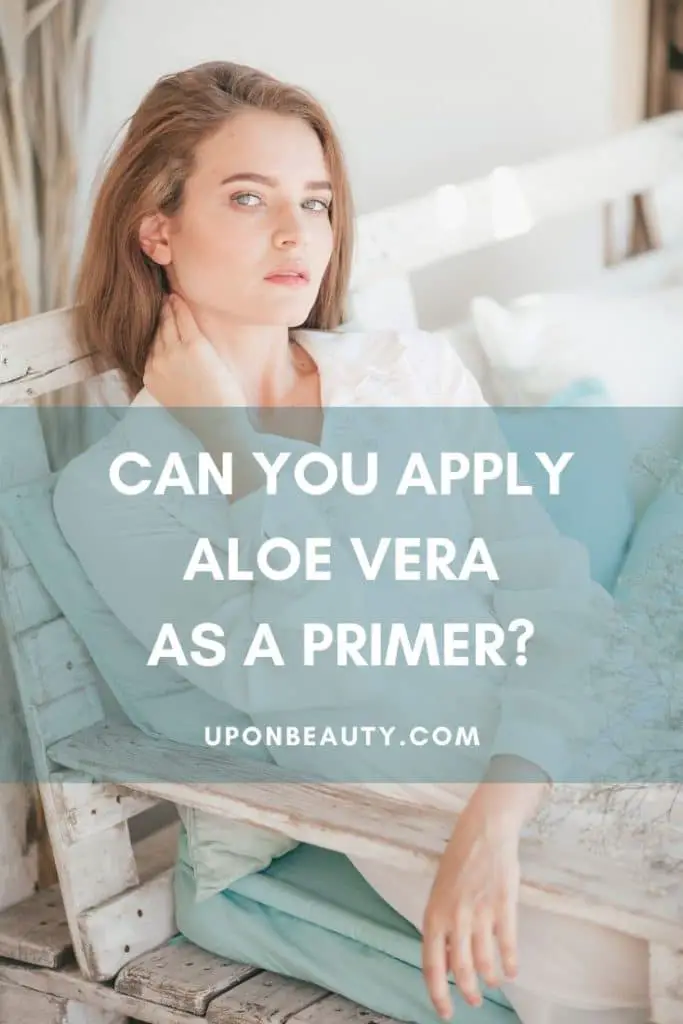 Can I Use Aloe Vera Gel as a Primer?
Applying Aloe vera gel before makeup as a primer is the best thing you can do. Studies have shown that the anatomy of the Aloe vera plant is rich in vitamins, enzymes, minerals, fatty acids, and hormones that help heal your skin, fight acne, minimize pores, all the while keeping it hydrated.
Aloe vera gel has been a game-changer for many women who want to look their best. If you're heard the buzz about using Aloe Vera as a primer at daytime, you're going to want to keep reading to find out more about it!
Why you should use Aloe vera gel as a primer
For flawless skin, Aloe vera gel makes an amazing primer. Plus it's natural! And it has many wonderful benefits for your skin on top of making your makeup look amazing too.
Aloe vera gel makes a superb primer that keeps things simple. It doesn't contain harsh chemicals as other primers do.
Many contain silicone to smooth out skin and while they do a good job of creating a perfect canvas, they wind up damaging your skin the more you use them.
Aloe vera gel serves to help and heal your skin all while providing a perfect base to work with. Here are the reasons why you should be using Aloe Vera gel as a primer.
– Aloe vera gel keeps your skin moisturized
Aloe vera gives your skin plenty of moisturization without leaving a greasy, pore-clogging film on your face. It leaves skin feeling super-soft too.
Research has shown it's effective for increasing skin hydration which is why it's a smart choice for use as a primer. It's particularly beneficial for dry skin, though any skin type can benefit from using it as a primer.
You've likely used it to soothe a sunburn or heal razor burn and small nicks from shaving. Aloe vera is one of those miracle ingredients from nature that you really just can't get enough of. It's often included in many skincare formulations, and for very good reason… because it works!
It also serves as a great moisturizer at night, check out my other post on whether or not it is safe to sleep with aloe vera on your face.
– Aloe vera gel fights aging
Another great benefit to using Aloe Vera as a primer at daytime is that it is full of antioxidants. Antioxidants help your skin to stay young and healthy by keeping free radicals from destroying healthy skin cells.
Aloe Vera has vitamins C and E plus beta carotene which all serve to improve your skin's natural firmness while keeping it filled with plenty of hydration.
– Aloe vera gel helps minimizing your pores' appearance
Part of the reason you're reaching for a primer now is because of your pores, isn't it? Enlarged pores make us look old and haggard.
Using Aloe vera really helps because you're getting that moisturization and nourishment your skin needs while the gel-like consistency smooths pores.
This allows your foundation to have a smooth surface to glide upon, creating a flawless look.
– Aloe vera gel can help with your acne
Got problematic skin that breaks out? Synthetic primers may exacerbate the problem, leading to more breakouts. Because Aloe vera is gentle, antibacterial, antimicrobial, antiseptic, and anti-inflammatory, it's a great choice for acne-prone skin.
Aloe vera also contains polysaccharides and gibberellins which work to stimulate new cell growth. Along with glycoproteins, inflammation are redness are tamed.
It's one of the best overall skincare secrets you can unlock, one that leaves you with perfected skin that also serves to improve skin quality by naturally reducing pore size.
It is even used in Ayurvedic medicine for skin problems such as eczema and psoriasis. If it's gentle enough to be used in those applications, you can count on it to be your helper for smoothing and healing your breakout-prone skin.
– Aloe vera gel will hold foundation in its place
If you've ever applied Aloe vera gel to your skin for a sunburn, then you might have noticed how it feels a bit tacky after you apply it. When you're using it as a primer, that's an excellent quality because your foundation will stay put on top.
If you hate looking less-than-stellar later on in the day, using Aloe Vera gel as a primer is definitely for you because it lasts and lasts.
Plus, with all the hydrating and nourishing power, it's better for skin. Other primers usually contain silicone to fill pores and make them look smaller.
It creates an airbrushed appearance but that silicone can do more damage over the long run. It only gives you a temporary look of perfection while Aloe vera gel actually improves your skin quality as it gives you that flawless face you're after.
How to use and mix Aloe Vera as a primer
Aloe vera gel makes for a perfect primer for daytime wear because it smooths the surface of your skin and nourishes it without the harsh additives.
You can apply it as-is to your skin, though you may find it best to mix it up with a few other skincare essentials to get just the right coverage for your skin type.
Primers generally come in gel, water-based, or cream varieties, gel and water-based primers are best for oily skin types or when the weather is hot and humid. Cream-based primers are ideal if you have dry skin or you live in a cold, dry climate.
If you use Aloe vera gel to create your primer, you have the perfect base. You can mix it with the right skin products to achieve a flawless face without using damaging ingredients like silicone. This allows you to perfect your skin while perfecting your skin. It's a win-win!
Using Aloe vera gel as the base for your primer allows it to absorb excess sweat and oil, keep your makeup in place longer, smooth over pores and fine lines, and feel confident in your skin!
What you'll want to get is Aloe vera gel. I absolutely love this one by NaturSense. You'll also need a cream, lotion, or moisturizer that you find works well for your skin, especially if your skin is dry. Choose one that suits your skin type.
You can even use a tinted moisturizer, like a BB cream, or just add in foundation along with it too. A little bit of loose powder is good to add in unless you have very dry skin.
And above all, don't forget sunscreen to add to your Aloe vera gel for daytime primer protection if your moisturizer doesn't already contain it. Without protecting your skin, you'll find it ages faster.
Get a clean container to use so you can store your Aloe Vera gel primer creation. Then you'll add in your ingredients. You should add a 1:1 ratio of the Aloe vera gel and your moisturizer of choice.
Remember, use a moisturizer that you love that is suited to your skin type to achieve maximum results. If you want to stop there, that's fine. You'll have a nice, primed look.
But if you want to create more flawlessness that you can use every day, add in just a few drops of your favorite foundation. For an illuminated effect, add in a couple drops of liquid illuminator or strobing cream.
After that, add your sunscreen if your moisturizer of choice doesn't contain one. This is great for those of you that hate having to apply so many creams in the morning. By mixing this up now, you eliminate so many steps and look utterly flawless.
Finally, you'll add loose power if and only if you don't have dry skin. Dry skin tends to look drier when we apply powder to it. It reveals lines and flaws. This is why as you age, you should keep from applying powder to thinner areas of your skin, such as right underneath the eyes.
Once you have it all in your container, mix it with a clean spoon. You should have a consistency of whipped cream though the color will vary depending on what you've added to it.
How to apply your Aloe vera as a primer
Now, let's make use of that Aloe vera primer! The first step of course is cleansing your skin well with a quality cleanser designed for your skin type.
Gently pat you face dry with a towel and then apply a small dollop of your Aloe vera primer. It's best to use a small, clean spoon so you don't get oils from your fingertips in the jar.
Gently apply it starting with the center of your face, working in circular motions to blend it outward toward the hair line.
Don't forget to apply it under your eyes too! Let it sit for around 3 minutes so it absorbs completely. You'll notice your skin will look smoother, brighter, and more even-toned.
From there, you can go on and apply your foundation, concealer, and other makeup products to achieve your daytime look. You'll have a longer-lasting smoothed appearance you'll love. You can also apply it without using makeup on top if you want a natural appearance.
If you don't want to mix Aloe vera gel with other ingredients, you can simply apply it to your cleansed skin. Just be sure that you first apply your moisturizer and sunscreen and allow those to penetrate the skin.
Then you can apply the Aloe vera gel directly to your skin. Let it absorb and then apply your makeup as you normally would.
Conclusion
Aloe vera gel has many great benefits for the skin. It nourishes with hydration and nutrients that improve skin quality. This is why it makes for such a great daytime primer.
With other primers, you are getting synthetic ingredients that may be damaging to your skin. Most notably, silicone is in many formulations. It does a great job in the short term, but it can create more skin problems for you in the long run.
You can use Aloe vera gel all on its own to create a flawless face for a daytime primer. To do so though, you have to use many other steps which takes time. If you'd like to save time and look your best, you can combine Aloe vera gel with the skincare items mentioned above to have an all-in-one creation that handles your skin concerns without causing damage.
The other key takeaway here is that the other skincare products you use should be of good quality as well as match your skin type. You can't expect to have gorgeous-looking skin if you have dry skin and don't use products specifically formulated to provide deep hydration for it.
It might seem more budget-friendly to buy cheaper products too. While there are some quality products at lower price points, consider the ingredients that they're formulated with.
It's better to invest in quality than to harm your skin with ingredients that do more harm than good. Just like eating nutritiously has its merits, so too does using quality ingredients on the skin.
That's why Aloe Vera gel for daytime primer is an ideal choice. It takes care of skin's composition, leaving it better with each use while giving that instantly-smoothed appearance you need right this minute.
Using Aloe vera gel can make all the difference in your skincare and makeup routine. Give it a try and discover how great your skin can look with Aloe vera gel as your daytime primer!