When it comes to getting a close shave, most guys I know seem to favor those manual razors. I was stunned to find they come in so many varieties from a single blade to a seven-blade. I remember discovering that those razors worked better on my legs and cost less because they weren't pink.
Ah, but we're talking about your face here, aren't we?
That smoothness I enjoyed with one of those multiple-blade manual razors was all thanks to the additional blades that work to pull the follicles closer for a cleaner shave. It gets what you'd miss with merely one blade.
But then there are electric shavers and they do something a bit different. For starters, if you're a bit of a clumsy fellow, you'd be pretty hard-pressed to try to cut yourself with those foil-based versions. The foil basically pulls the whiskers into the cutting blocks beneath and then slices them away. Rotary ones work much the same except, as the name suggests, they rotate in a circular motion.
Electric shavers basically give you the shave you want without the possibility of slicing your skin. While you'll get a good shave, it will never be blade-close.  
Over the years, electric shavers have worked hard at providing more closeness. They utilize mechanics that help lift the hair, cut it, and guide it in. They also have incorporated jagged guide blocks to tackle those longer and more stubborn hairs. With the rotary versions, they use lift propelled by those tiny blades spinning around. The premise is that the hair would be pulled tight under the skin and ready for a good, clean cut.
And now, let's not forget that there are now pulse and sonic styles to vibrate those hairs out of there in straight formation. Those are in the higher-end options, and in testing, they seem to give a better shave by reducing the pressure and making it easier.
Anyway, I'm getting a bit ahead of myself here.
If you're looking at buying an electric shaver, there are two reasons to use one. First, you can use it anywhere. There's no shaving cream required, no water needed. You could do it in your car while sitting on the freeway during rush hour. Isn't technology amazing? The other reason, of course, is that you can't hurt yourself while using it. It's impossible to nick your face. No more running out the door with those little bits of toilet paper attached to your face that you forget about until you go to the bathroom after the big team meeting and see them in the mirror.
Another bonus reason to get an electric shaver – if you have coarse or curly facial hair and tend to get ingrown hairs or razor bumps, it will be more gentle on your skin and prevent these problems from arising.
Of course, the closest shaves you'll get will be through a manual razor. I could have told you this when I was in middle school and had an electric shaver for my legs because my mom didn't want me to cut myself on a blade. I preferred the closeness I got from manual for soft, smooth legs. But for you, if you're having trouble working with manual razors, perhaps an upgrade to one of the fancier electric shavers out there is in your future.
So, which ones are the best electric shavers? Here's what I've found below, the best of the best, so keep reading to find your new electric shaver!
The best electric shavers
I've talked to experts as well as the guys in my life who uses electric shavers.
Here are the 3 best electric shavers in 2023:
Let's see which one fits your life best!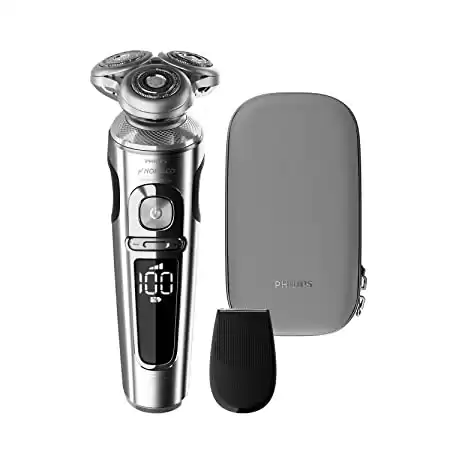 Philips Norelco has always had a stake in the electric shaver market. The Shaver 9000 Prestige was crafted for those with sensitive skin to get the closest shave without irritating your skin.
Even guys that don't have sensitive skin usually run into those razor bumps with other methods of shaving. And always right before that hot date or important meeting. The precision blades of the Shaver 9000 use thousands of nanoparticles and along with comfort rings to glide like butter over your skin. The contouring heads (and there are 8!) conform to your unique facial landscape to give you a tailor-made electric shaving experience.
My friend Sergio every now and then loves to let a beard grow out, usually when it's colder out. When it gets hotter though, he wants to shave it off. He applauds the Shaver 9000 for this as it features a special Beard Adapt Sensor that checks the hair density over and over, 15 times per second, and adapts in motion.
It's also very versatile too. For those of you that love a wet shave, you can use it wet. With shaving cream! In the shower! Or use it dry. Philips Norelco really thought of everything when making this top-tier electric shaver.
Plus, the LED display keeps you informed. You'll know when it needs to be charged or when it needs to be cleaned.
Everyone deems this one of the best electric shavers on the market, largely because it gives a solid top-tier performance and is comfortable to use. And as Sergio pointed out, it is excellent with longer facial hair. It's a sturdy build and looks handsome while making you look handsome.
And then there are all the features. Dare I say it's the Rolls Royce of electric shavers? I think that's a fairly accurate statement. With the LCD display to keep you clued in, the ability to use it wet or dry, a click on the trimmer to attach as needed, and then a lux travel case, it checks off all the right boxes.
Oh, but I must be objective, so I have to tell you that all this good stuff doesn't come cheap. It is quite expensive. And it can be a bit of a pain to clean since it doesn't have a cleaning station or cleaning brush. There's no protective cap either, and some of the guys I talked to said the trimmer didn't wow them.
Still, those are all minor details. It's a great shave by all accounts. You will need to charge it through wireless charging technology, which is a bit different. Complaints about this method involve the charging time, which is roughly 3 hours rather than 1 hour with other models.
It was pointed out to me by many of the guys that used it though that they often set it to charge and forget about it until later, making that 3-hour charging time pass right by. Still, it's worth noting, so you don't get left in the lurch hoping to shave and not have a full charge. The battery will last up to an hour on a full charge, not that you'll be shaving your face for an hour at a time, but still, if you shave every morning, by the end of the week, you'll want to make sure you charge it.
The biggest upgrade on the Shaver 9000 over previous models is that it has new cutters in it, which make the most dramatically beneficial change in performance over the others. It's a bit of a bummer that a cleaning brush and a cap isn't included but you can learn to live without those. And it's really not all that hard to find a brush to clean it with.
The travel case looks sleek and polished. Like you wouldn't be embarrassed to get caught out with this sitting on your seat in the car. The shaver itself really has a solid look and feel, though. Only you can decide if the price is worth it, though you should know it will last.
With that build though, it's very lightweight and ergonomic to give a primo shaving experience. The closeness of the shave was the biggest hit I got when grilling everyone about the Shaver 9000. While Philips Norelco does make similar versions for a little bit less, none of them have the same blade as the Shaver 9000. If you have sensitive skin or coarse facial hair, it will be worth it to step up your shaving game with this model.
Summary:
Pros:
Completely conforms to facial terrain
Great for longer facial hair
Lightweight and ergonomic
Intuitive LCD display
Innovative Beard Adapt Sensor
Can be used wet or dry
Handsome design and convenient travel case
Impeccable performance
Cons:
Expensive
No included brush
Doesn't come with plastic cap
Tedious charging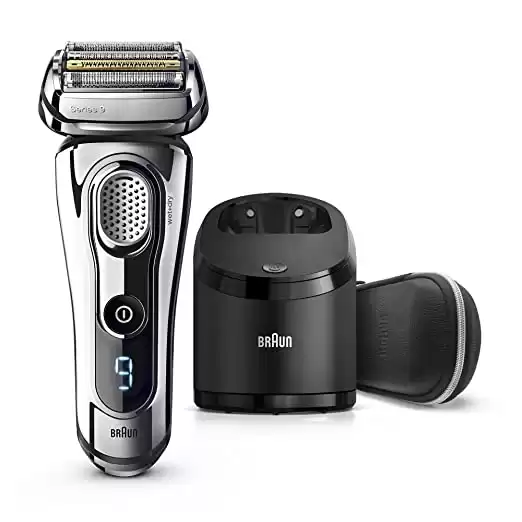 Braun is another household name in electric shaving. The 9 Series is said to be one of the most effortless ways to shave your face. So if you're the kind of guy that wastes no time, this might be your best electric shaver match.
The 9 Series uses 5 coordinated shaving elements at once so that it grabs more hair in the first stroke right off the bat. There are 2 specialized trimmers that get even the most difficult hairs and twice the Opti-Foil to create a longer-lasting closeness. Along with all this, it features 10,000 micro-vibrations, so you get a cleaner shave. Autosensing makes it one of the most efficient at snapping up and trimming off those hairs, even for thick beards.
It's also keen on versatility in that you can use it wet or dry. As a fully-waterproof razor, it boasts a lifespan of 7 years. That's a lot of good shaves for your money!
With the 9 Series, you are definitely getting a fantastic and comfortable close shave. It outperforms most models according to Braun's stringent testing, and can even be used on sensitive skin and longer hairs. It speeds through the shaving process without missing a beat, so you'll get it done and then be on your way. The ergonomics and lightweight-feel add to your complete control.
Like the Philips Norelco model above though, this will cost you. And unlike it, it has a plastic body which seems a bit off for something so expensive. Those I spoke to about this electric shaver lamented that the cleaning cartridges are more expensive than competing models and some weren't thrilled with the long hair trimmer. Cleaning manually can also be a bit of a nuisance.
The 9 Series was released in 2015 to replace the 7 Series and upgraded the cutting elements and design in a most extraordinary way to reveal one of the most advanced electric shavers from the brand to date. What's different are the OptiFoils that give you the closest shave with Braun's famed hexagon-shaped openings that are rumored to be better at catching and cutting off those pesky facial hairs.
Another distinction from other models is its specially designed trimmer to lift up flat-lying hairs and cut them away. The Direct & Cut trimmer portion is able to get hairs growing in different directions all at once, again, reducing that shave time and making for a more efficient and close, not to mention comfortable shaving experience.
More upgrades from the previous 7 Series abound, most notable among them the SyncroSonic capability that helps adjust the power of the shaver to the density of your facial hair. Competing brands are also using similar types of technology to give you a better shave.
But perhaps one of the most simple features makes it the best of the best. The flexing shaving heads truly allow for a uniquely close and comfortable shave.
If you were disheartened to read that the Philips Norelco above didn't have an automatic cleaning station, this Braun might be more your speed. It cleans and charges, plus it dries and lubricates. You can also lock the shaving head into 5 different positions to achieve more accuracy in certain points.
One more game-changer to throw into the pot here is that it gets a great battery life plus it offers a 5-minute quick charge so you won't ever get stuck without a chance to get a shave in even if you forgot to set it to charge the night before. It seems to have thought of everything to enhance a man's shave.
While it is every bit as effortless as it sounds, there are some contentions around the upper lip according to some, but most found it a splendid investment for tackling their daily shaving. Even if you have to pass over a particular contour multiple times, it refrains from leaving irritation behind.
Still, it's a lot to ask for an electric shaver in terms of price. You can choose one of the 7 Series that is a dry model (the 7900cc) or one that is a wet/dry option (7865cc) for less. Ideally, those with the cleaning station included would be a prime choice. I was also informed that the 5 Series is still a killer electric shaver even for sensitive skin, which is a great budget-buy if you simply can't afford to step up to the 9 Series.
Summary:
Pros:
Completely conforms to facial terrain
Great for longer facial hair
Lightweight and ergonomic
Intuitive LCD display
Innovative Beard Adapt Sensor
Can be used wet or dry
Handsome design and convenient travel case
Impeccable performance
Cons:
Expensive
No included brush
Doesn't come with plastic cap
Tedious charging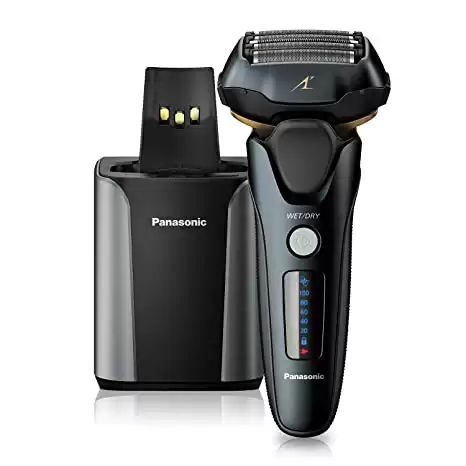 The final listing on the best electric shavers goes to Panasonic's Arc-5. It has a super-fast motor to give you a powerful shave and works with 5 independent blades. The result is you get as many as 70,000 cross-cuts per minute, so those daily shaves are faster and smoother.
The flexible shaving heads pivot and move in 16 directions while gliding along your unique contours. It has an intuitive shaving sensor to measure the density of your facial hair to the tune of an astonishing 220 times per second and adjust the power accordingly at 14 times per second.
Multi-fit durable arc blades within are expertly tuned to lift clean and cut through even the thickest patches of hair without a fuss. You get wet and dry functionality to use in or out of the shower plus a sharp trimmer that pops up to assist in detailing and trimming the facial hair you want to keep.
And yes, there's auto cleaning and charging on this system too. It features an LCD display to keep you informed when it needs charging and takes just 1 hour to get a full charge that will last 45 minutes. There's also a quick-charge option that you can engage while you steal a few sips of coffee before getting back to your morning routine.
Additionally, there are quick lift foils that help you get those meddlesome flat-lying hairs, a comb-like blade that pre-cuts longer whiskers, the capability of snapping up hairs growing in different directions, and a finish foil that lets you get close enough to get the shortest hairs right at the root.
The shave is very close and comfortable. This Panasonic model is fast, powerful, and great for all types of facial hair, even really thick and coarse beards. The build is lightweight, well-balanced, and has a quality feel. There are lots of extras included in this model, plus it's easy to clean by all accounts, and everyone seems to like the pop-up trimmer accessory.
But it's not all sunshine and rainbows. I heard a lot of griping about trying to capture long and flat-lying hairs. The head is a bit large too and takes time to get comfortable with using. Other complaints were in regard to the expense of replacing the foil and blades.
There are 2 Arc-5 versions… one that includes only the shaver and the other comes with the auto cleaning station. Basically, you have the quick slit blade, the two quick lift foils, and the two finishing foils that are all supposed to work together to give you this impeccable shave. The bevel in the steel blades is where all the action is though, and the head is incredible at flexing. It's great for moving in all directions, plus those blades move independently too.
If it sounds like there's a lot going on, there is. The powerful motor in this product line is the fastest of any electric shaver out there. If the Philips Norelco is a Rolls Royce, this one is a race car.
The solid build and tight engineering mean this is an electric shaver that's going to last you through the years. You have the option of charging it through the cord or on the cleaning station.
When I asked guys about this one, it was one of their favorite choices for an electric shaver. It gets insanely close, and some say closer than any other shaver there is. Even in problematic areas like bony contours with thick stubble, it's easy to get a smooth and comfortable shave. Most guys noted it for the ability to leave cheeks smooth and soft.
Panasonic's Arc-5 is perhaps one of the most comfortable out of the entire product line, or even in the entire category. It's not as expensive as the other 2, but it's not cheap either. Consider it an investment, though if you're trying to save, you can try the Arc-5 ES-LV95-S. But if you want the full luxury and benefits of the best Arc-5 model, then ES-LV-97-K is the winner.
Oh, and I sort of glossed over the LCD panel before, so in further detail, you'll find that it gives you the heads up on all the shaver's functions. A safety lock keeps it from turning on while you're traveling.
You also have an additional option for cleaning it besides the auto cleaning. If you use the sonic vibration mode under running warm water, it will get all the trapped hairs and soap or shave gel build-up caught in there.
Summary:
Pros:
Super-close, comfortable shave
Fast and powerful motor
Ergonomic and lightweight
Cleaning station
Quick charge option
Wet or dry usage
Well-built with quality
Lots of included extras
Not as expensive as other models (though not cheap)
Cons:
Difficult with long and flat hairs
Large head
Expensive replacements for blades and foil
Conclusion
I'm sure your decision will partly come down to budget and shaving needs. I've included more affordable options for older models with each of these brands and their good and bad points for good measure to help you make the right decision when buying.
You'll want to consider what you need most out of an electric shaving experience. If it's no fuss, effortless, ideal for sensitive skin, or just a well-rounded collection of features that you're looking for, you should be happy with the shave you get from these 3 best electric shavers available on the market today!