When you have oily skin, it might feel like seconds after you cleanse, it's back to greasy again. That greasiness increases even more when you apply your makeup, making for a difficult situation. Your foundation might look like it has wiped clean off your face or worse, you may look like you've slathered your face in bacon.
But that doesn't mean you have to sit back and suffer! Oily skin can behave if you know how to work with it. We'll admit that it's tricky, but there are ways to make your makeup look flawless and keep your skin from looking like you crashed into an oil slick somewhere between leaving your house for work and sitting down at your desk to start the day.
Basically, you have to know what works for your skin. If you're not using the right products or the right procedures, you're going to make things worse. That's why you have to understand what causes oily skin and how to control it properly for your best results.
Not to worry. Makeup artists all over the world have worked to make some of our favorite musicians and movie stars look flawless. And let me tell you something… not all of them have perfect skin! Many of them have oily skin too.
How to Prevent Oily Face after Applying Makeup
In order to prevent oily face after applying your makeup and stop the shine and greasiness throughout the day, here's what you should do:
Cleanse your face before applying makeup
Choose the right moisturizer
Always start with a primer
Prep your eyelids for your makeup application
Your foundation formula is so important to keep your face oil-free
Press your foundation on
Follow up with translucent powder
Use a setting spray for extra protection
Blot to get rid of the excess oil
Touch up with your Beauty Blender
Avoid touching your face throughout the day
So, keep on reading and you'll soon be a makeup master!
1- Cleanse your face before applying makeup
Unlike dry skin that needs to feel plumped and hydrated before makeup application, oily skin needs to have less of that oil. It's not that you want to strip your skin but rather, start off with a fresh and clean canvas.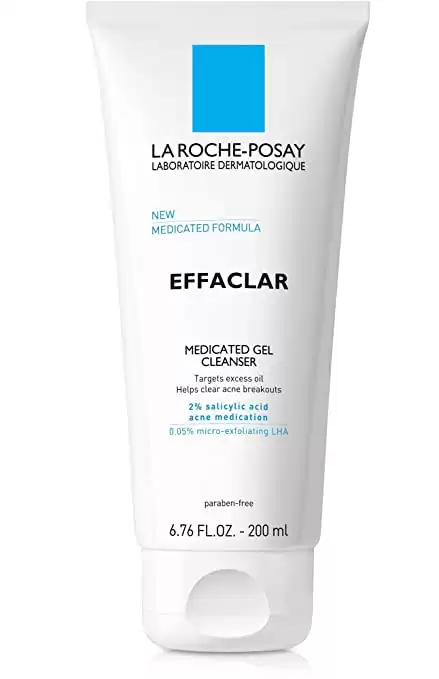 Choose a cleanser that is appropriate for your skin. Anything that purifies and mattifies for normal to oily skin is a win for you, though La Roche-Posay Effaclar (Amazon link) seems to perform quite well.
This cleansing gel can be used daily or whenever you feel your skin needs an extra cleanse. In fact, it contains salicylic acid to help clear up blemishes while you cleanse.
And because it's oil-free and paraben-free, it's perfect for those with acne-prone or sensitive skin. So, if you're looking for an effective and gentle cleanser, La Roche-Posay Effaclar is a great option.
Not near a sink? You can use cotton pads and micellar water. It's the beauty secret of French women that incorporates micelles or oil molecules that work like magnets to draw out excess dirt, oil, and makeup away from your skin.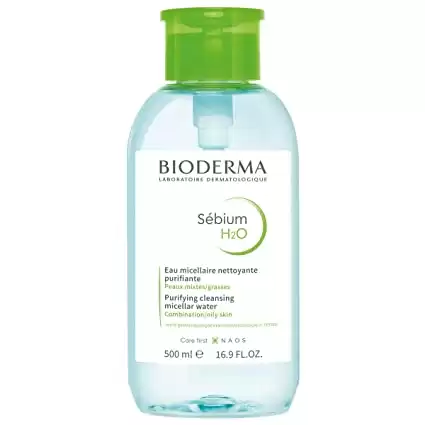 Incidentally, at night, you can use Bioderma's micellar water (Amazon link) to remove your makeup before going into your cleansing process. It can take away even stubborn eye makeup without tugging and scrubbing.
2- Choose the right moisturizer
After cleansing, moisturizer is imperative. Having oily skin doesn't mean you can skip using it. See, it creates a vicious cycle when you don't use moisturizer.
The skin gets dehydrated. When that happens, it starts producing more oil and thus, the process repeats over and over again, usually with some primo big zits thrown in for good measure at the worst possible times (like before a big date!).
So, moisturize! But use the right one. Gel or water-based formulas are ideal. You also want something that is labeled as non-comedogenic to keep from clogging your pores. Ingredients that tend to bode well for oily skin are aloe vera and hyaluronic acid.
Oh, and one more super-important thing I have to tell you is that you should get up just a wee bit earlier. We know, that's bad news, but your skin will look better.
Why? Because, you might even be using the right kind of moisturizer for your skin but still coming out all shiny and oily with your foundation fleeing your face. The reason this happens is you're not letting that moisturizer soak into your skin.
To fix this, simply allow yourself more time. You'll cleanse and then, using the right kind of moisturizer, apply it and allow it to penetrate your skin. Go fix your cup of coffee or attend to another task and then, with clean hands, get ready to go onto your makeup routine.
3- Always start with a primer
Now, the other reason your foundation isn't staying in place is likely because you're not using a primer. And if you're not using primer, you MUST!
It's a savior for all types of skin, though you'll want to choose one that has mattifying benefits like this one by Embryolisse (Amazon link), which is free from oils paraben and fragrance.
You want to make sure you don't apply too much of this moisturizer or it will pill under your foundation. It works best when you use just enough to cover the skin, and trust me, this stuff spreads like butter!
What I love most about this product is how it keeps your makeup in place all day long without getting shiny or sliding off. It 's a definite must-try, and one that you'll end up using every day because it creates such a smooth surface.
I've been wearing this moisturizer for about three years now and I can't imagine life without it! Trust me ladies, it's brilliant.
That's all I have to say about this moisturizer, I simply love it and would highly recommend everyone to give it a try.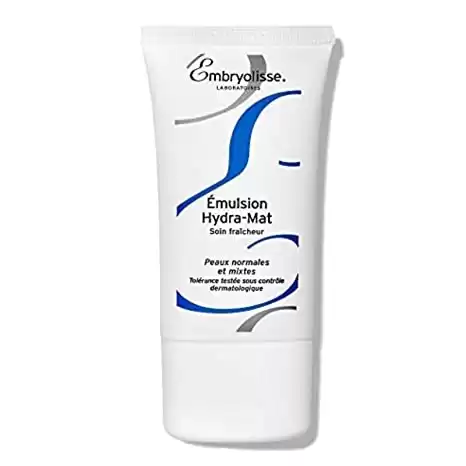 No time to get your new tube of primer? Take an ice cube from the freezer and give your face a quick swipe. It helps tighten up pores so your makeup will stay in place.
While the ice cube trick does work in a pinch, it is so much better to get primer though.
And, you can use both the primer and the ice cube trick to really smooth things over. Primer is ideal since it can keep things in place.
However, as we mentioned, you need one made for YOUR skin type. It does no good to choose the wrong primer. It will keep you looking greasy and glossy if you grab one for dry or aging skin, for example.
The keywords to look for when choosing a primer are "oil-free" or "anti-shine" for these will serve you best. Primer needs to go on after you've allowed your moisturizer to soak into your skin but before foundation and powder.
4- Prep your eyelids for your makeup application
Primer is also ideal for your eye makeup. However, you should be cautious if you're getting up there on trips around the sun or if you tend to get dark circles.
See, so many of us are guilty of concealing our eyelids from dark circles or redness by using concealer. That will only make your eyes look more creased, saggy, and aged. Instead, choose a quality eyelid primer.
It keeps things smooth while absorbing away excess oils that come up in the creases of your eyes. Trust me, if you've been applying your primer and then concealer to your eyelids, this is a game-changer in makeup application. You're welcome!
5- Your foundation formula is so important to keep your face oil-free
You've likely noticed there are enough types of foundation formulas to make your head spin. You can't just go on the shade that matches your skin tone. Read the bottles and look for a mattifying formula.
Oily skin needs a good matte finish. If you choose anything with those radiant finishes, you'll come out of it looking greasy. Now you know if that's what you've been doing.
And in your youth, matte formulas are ideal for your skin, but as you get older, they can make you look older. Or you might be young and just not like the matte style of finish. That's cool too. So, what do you do?
Simple… choose a long-wear foundation. Longwear gives you a more natural finish and keeps your foundation in place.
Medium to full coverage usually works best and can even resist water and sweat without transferring to your clothes. That's good news for those of you who decide to change shirts AFTER you apply your makeup, or when you want to get cozy with your special someone.
You can also use both types with the matte applied to your T-zone to keep things under control and to help get rid of oil on your nose and forehead. Experimentation is the key to finding what works for you with these products and techniques. On a relaxed day at home, play around with your makeup and explore!
6- Press your foundation on
Now that you've got the right foundation for your oily skin, you need to know how to apply it. If you're smearing it on, you're doing it wrong.
You need to work on stippling it, a form of dabbing, to get it to stay put. Pressing it into your skin in this way is far better than swiping or massaging makeup onto your skin.
Beauty Blenders are a great tool for getting stippling down. However, you should always make sure you clean yours properly, otherwise you could get bacteria into your skin and cause breakouts. Brushes also work if you choose one of those flat-angled kabuki brushes.
When you use the right tools to apply your makeup onto your oily skin, it will take on that flawless look you've been dreaming of. But don't stop there! You need to lock it into place. Keep reading to find out what you need to do next!
7- Follow up with translucent powder
Powder is ideal for setting your foundation in place. Choosing a translucent one keeps it from changing the color of your foundation.
ETUDE HOUSE Zero Sebum Drying Powder is a translucent powder that mattifies the skin and prevents it from becoming shiny.
It contains 80% mineral ingredients, which help to control sebum production and keep your skin looking matte all day long.
Plus, it comes in a convenient compact that you can take with you on the go. If you have oily skin, this is a great powder to try.
Loose powders are best and again, the stippling technique is so important. Sweeping it onto your face isn't going to lock it down.
The key is pressing that powder in to help absorb any excess oil. Use a flat powder brush and remember that you don't need piles of powder to get the right finish. Using too much may cause your skin to create more oil, so press gently and only into the shiny areas.
Accidentally overdosed on powder application? Not to worry! Take a damp makeup sponge and use it to blot away any excess!
8- Use a setting spray for extra protection
If you have oily skin and haven't been using a setting spray, you're about to kick yourself. You will seriously wonder where this has been all your life. Simply spritz your face with it after you're all done applying your makeup.
It's a good idea to put a travel size version in your bag for touch-ups throughout the day. Look for one that helps keep you looking matte all day, like the Mario Badescu Skin Care Facial Spray  (Amazon link).
This setting spray is perfect for combination skin as it helps to hydrate and tone the skin. It contains aloe vera, cucumber and green tea extracts, so it smells lovely and feels gentle on the skin.
Plus, it has no alcohol or oils, which is great news for your pores!
Mario Badescu Skin Care Facial Spray  (Amazon link) l Spray helps to set makeup in place all day long, you'll avoid makeup slip and slide because let's face it, nobody wants that.
This spray is also wonderful at re-hydrating your skin throughout the day, which can be a lifesaver when you have oily skin.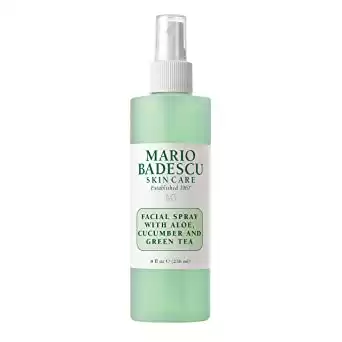 Remember that one time in school where you forgot to bring a pencil or an eraser? You knew your teacher wasn't going to let you go get them and you'd be marked late, so what did you do?
You rubbed a pencil on the back of your hand to get off that last little bit of graphite. The same principle applies here. If you find yourself running low on your setting spray, don't fret!
Just mix an ounce of water with 1-2 drops of your moisturizer and use it in place of your setting spray to get that same matte complexion.
9- Blot to get rid of the excess oil
Now, you might follow all of this advice to the last detail and find yourself with a flawless and shine-free face that stays fresh for the morning. But midday, the shine is back! What do you do now?
You didn't do anything wrong. Shininess can happen even to those without oily skin types. Sometimes, it has to do with the weather or your environment. You can apply a little bit of powder to touch up, though some of you might feel like you're caking on the makeup.
Another solution that works well is to use blotting sheets (Amazon link). These are awesome to tuck in your bag too, but you should make sure to use them right.
Press them onto the oily areas and roll them off your skin rather than rubbing. You never want to wipe them onto your skin or you'll wind up with a streaky appearance.
Boscia makes some great green tea blotting linens that work wonderfully. They're vegan and cruelty-free, and they work to absorb oil without disturbing your makeup.
Plus, the green tea infusion helps to soothe and calm your skin. Talk about a win-win! You can pick up a pack of 100 sheets for a small price, making them a great value, too.
So, if you're looking for an easy way to keep your skin looking matte all day long, give blotting sheets a try. And don't forget to pack some green tea blotting linens in your bag for on-the-go touch-ups.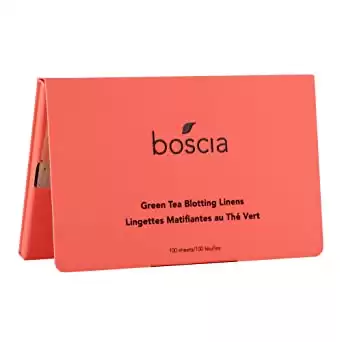 That excess oil will be the undoing of your makeup even if you use the right products and apply them right too. Nothing could be worse than adding more makeup on top. The key is to blot off that excess oil for a refreshed and shine-free face!
10- Touch up with your Beauty Blender
Shiny skin is all because of excess oil. And if you find yourself oily again after applying your makeup the right way, adding more makeup via powder brush isn't a good idea. It's going to cause a streaky finish or make you look caked on.
Patting with a Beauty Blender though is ideal because it won't lift foundation away during your touchup. To pull this off though, you must blot first. Pat, pat, pat!
11- Avoid touching your face throughout the day
Touching your face is always public enemy number one for oily skin. You should break this habit for your health too. Especially during cold and flu season, that absent-minded face-touching can put germs that are on your fingers into your eyes, nose, and mouth and cause you to be sick in bed.
On top of that, the natural oils from your hands and your hair get into your pores. That makes things greasier and more prone to breakouts. Get germs in there and your skin will really go bonkers. Your makeup will last so much longer if you simply keep your hands off your face.
Make a promise to yourself to keep from twirling your hair around your fingers too. The natural oils that are good for your hair aren't good for keeping your skin fresh and flawless. Those oils can break down your makeup and totally diminish your look.
Conclusion
Essentially, if you want to keep your makeup looking great all day even when you have oily skin, you must find the right products for your skin type.
This means going through your skincare routine to ensure you're using the right cleansing and hydrating products and then going through your makeup stash.
Apply the products in the right order with the right techniques so your makeup stays in place. And make sure you take along refreshers like mists and blotting papers to keep your look shine-free all day long.
Above all, don't touch or pick at your face and you'll see the most beautiful version of yourself when you catch a glimpse in the mirror!