When it comes to makeup application, we will do anything to get that flawless look, won't we? In fact, how we apply makeup is the difference between what can look amazing and what looks dreadful.
How do you apply your makeup? Maybe you have some makeup brushes. Maybe you use your fingers. Maybe you've got a sponge (hopefully not from the kitchen sink!). Or maybe you've been sold on the Beauty Blender.
If so, you're not alone. The ultra-trendy $20 makeup sponge has been rocking the makeup world with its funky colors and promises of air-brushed makeup application. Indeed, it does a marvelous job. But not everyone is keen to pay $20 per Beauty Blender. After all, unlike your makeup brushes, you'll have to replace it about every 3 months. That's a hefty investment for a makeup applicator for many ladies out there.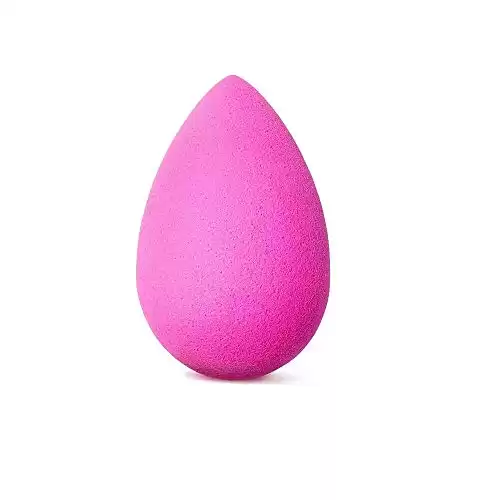 Especially if you consider how often you should replace your beauty blender, which is every 3 months with your diligent care (and even sooner if you don't know how to dry your beauty blender) that's $80 per year on a makeup applicator alone! So, what to use instead of a beauty blender?
Here is a list of the best beauty blender alternatives:
Blend with your fingers instead of a beauty blender
Use a pair of socks as an alternative
Use your bra as a beauty blender
A marshmallow could also do the job
Sponges as a cheaper beauty blender substitute
Or you can just invest in a high-quality brush
Keep reading and you'll be a makeup applying pro in no time! But first let's find out more about beauty blenders.
What's a Beauty Blender
In the chance that you've been hiding under a rock and have no idea what a Beauty Blender is, it's a very versatile, egg-shaped makeup and cosmetic application sponge. The tip is narrow and it has a very squishy feeling, allowing it to bounce on the surface of your skin.
Designed to be wet before use, it absorbs very little product and with your gentle dabbing, applies it in such a way that you look airbrushed to perfection. Like you paid someone to come do your makeup for you.
As mentioned though, the Beauty Blender is $20. But there are many cheaper sponges that do a similar job. It's up to you if you want to shell out the $20 for one Beauty Blender. And you likely won't stop at one because while one can be used to apply your foundation and concealer, you'll want different ones for your highlighter and eye makeup. Oh! And they have them for applying your skincare products too. You'll need to keep them all separated. That's when you realize you've spent well over $100 on a family of Beauty Blenders and you need an intervention.
Anyway, if you can't afford to fall down the Beauty Blender rabbit hole, there are many great alternatives that can help you achieve flawlessness all around. Remember, Beauty Blender hasn't been around all that long. Makeup artists still got makeup on their clients with absolute perfection. Just sayin'!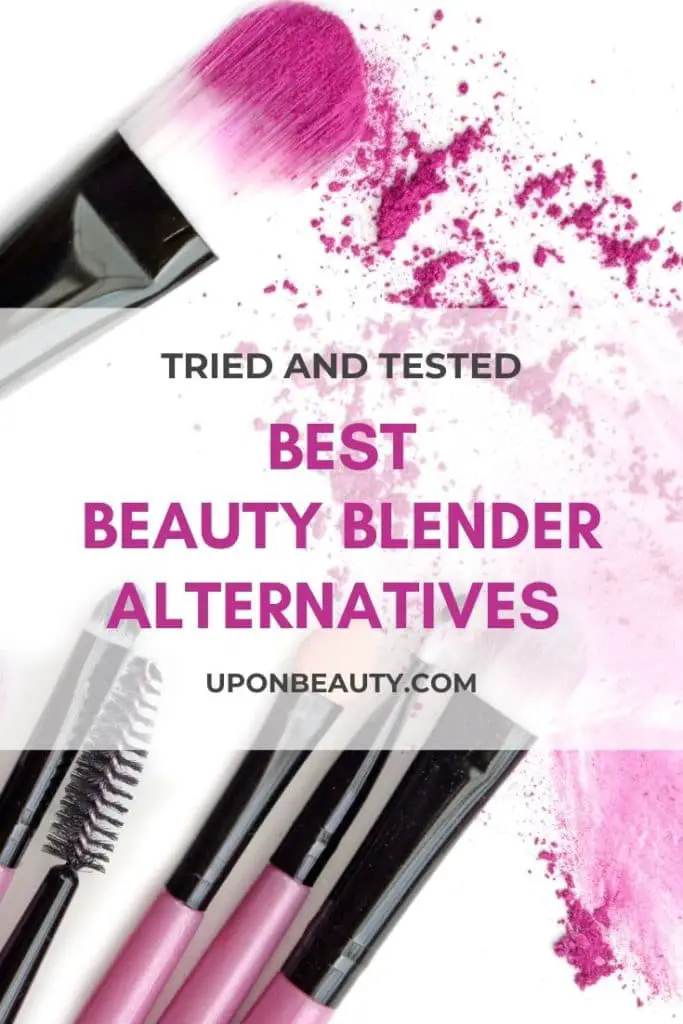 The Best Beauty Blender Alternatives
So, if you're not willing (or likely not able) to buy tons of Beauty Blenders and replace them every few months, what can you use instead? Here are tried and true Beauty Blender alternatives you can use to achieve your best day and night makeup look!
■ Blend with Your Fingers
There are still plenty of makeup mavens out there who believe in using what the good Lord gave you…two hands! Your fingertips are a free resource that can help you apply your makeup with precision. Plus, the warming of your body heat can be a huge asset when it comes to blending in concealer.
Charlotte Tilbury, Wayne Goss, and Lisa Aldridge alike have all said that fingers are one of the best tools you can use, and the experts would surely know! There are no streaks, you can apply with just the right pressure, and you can blend it all in flawlessly.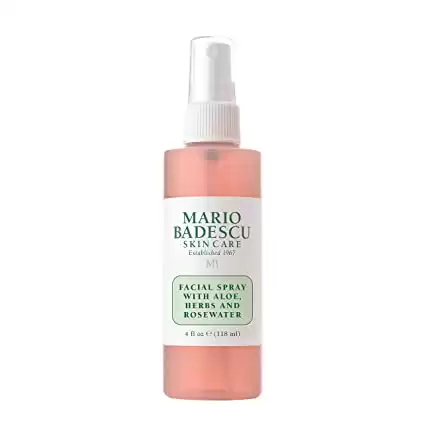 For the perfect finish though that leaves your face with a naturally-refreshed look, finish with a setting mist like the Mario Badescu Facial Spray (amazon link). You won't need any tools and you'll have such a dewy, youthful, and healthy glow that everyone will be insanely jealous.
One important point though is that with fingers, you want to tap your products on, especially around the eyes and more of a pat around the rest of your face. This works with concealers, foundations, and for contouring too.
To make it fair, let's rundown the advantages and disadvantages of using your fingers to apply makeup rather than the Beauty Blender.
▪️ Advantages:
You already have fingers and don't need to buy them
Your body temperature natural warms up the product for beautiful blending
You don't need to waste tons of product since your fingers won't absorb it
▪️ Advantages:
If you don't have your technique down, you might turn out looking cakey
Fingers can transfer excess oils to your face if you're not careful to clean them well prior to applying your makeup
It's a bit messier than other approaches
■ Your Pair of Socks Can Do Wonders
Before you think we're advising you to take your socks off your feet and use them, just keep reading. You can leave those snug around your feet.
However, there's been a huge trend among makeup vloggers for using socks to get the makeup looks you love with a flawless and streak-free finish. Intrigued? Then keep reading!
It all started when one vlogger named Isabel found this golden hack when faced with a drawer full of thick, soft, fluffy socks. She thought this might be an interesting experiment, so she picked up more of her ClimateRight by Cuddl Duds Low-Cut Socks, a meager $6 compared to the Beauty Blender's steep $20.
After getting more socks, she twisted them into a spiral, folded the sock inside-out, and created a cushion of sorts out of it. This cushiony part is what you then use to blend foundation onto your face with a gentle, dabbing motion. Because of the composition of these socks, it makes a flawless application with zero streaks. And it doesn't absorb tons of makeup as you'd think.
The trick is using the right kind of socks. You definitely don't want thin socks. It's got to be those cushiony ones mentioned above.
Like the Beauty Blender, you can use this sock hack to apply your other makeup products too like cream contour and setting powder. In fact, the sock seems to provide more control for prime placement. Perhaps the best part of using a sock as an alternative to the Beauty Blender is that you throw it in the laundry when you're done and use a new sock the next time. Wash them as you normally would (though we recommend using fragrance-free laundry detergent to prevent any irritation) and they'll be ready to go for your next makeup session.
The Beauty Blender requires proper drying techniques to keep it in good shape and free of bacteria and mold. Your socks won't do that to you. If you're high maintenance about your makeup but low maintenance about having to clean and dry your Beauty Blender all the time, using the sock might be the best option for you.
Now here are the advantages and disadvantages of using socks rather than the Beauty Blender.
▪️ Advantages:
Socks are cheap
The soft texture makes a perfect cushion that doesn't waste product
Wash them in your next load of laundry
▪️ Disadvantages:
You may feel strange about applying your makeup with a sock
You probably will feel embarrassed letting your partner see you do this
If you get lazy about the laundry, you might not have a proper clean sock ready to apply your makeup with.
■ Use Your Bra as a Beauty Blender
If the tip about using your socks as an alternative to the Beauty Blender seemed strange, then this next one is even crazier. But as they say, it's just so crazy it might work. And it totally does.
Yes, you can use your bra as your Beauty Blender! Though not the entire bra as you may be envisioning. If you have the type of bra that has those special removable pads inside of it, pull one out (or both if you don't want to look uneven for the day), fold it up, and then dab at your face with it to achieve makeup flawlessness.
An even better option are those silicone-style cutlets that some bras had. In fact, there's a Silisponge that competes with Beauty Blender. But you can make your own. Much thanks foes to the genius of beauty known as Huda Kattan of Huda Beauty who cut a silicone insert from her own bra to apply makeup.
This strange blobby material works wonders for applying makeup. It keeps you from wasting product because it won't absorb anything, plus the clear material allows for a see-through effect during application.
When Huda made her own makeup applicator out of her bra insert, she cut it into a triangle and then dabbed, patted, and blended her makeup to perfection. It's such a brilliant hack, one she nicknamed the "boob blender." Silly as it may sound though, it's a genius idea. You can take an old bra with these silicone inserts and get all the benefits of these pricier makeup application tools with no absorption or special cleaning techniques. But that's not all we get to credit Huda with. Keep reading further down after the advantages and disadvantages of using your bra for makeup application.
▪️ Advantages:
You probably have an old bra sitting around that you can use
It won't absorb your makeup
Easy to care for
▪️ Disadvantages:
You have to destroy a silicone insert from your bra
You might ruin a good bra only to realize the inserts aren't made from silicone
■ A Marshmallow Could Also Do the Job
Now Huda gave us the bra insert trick. She also is credited making a vlogger under the handle Manalmuffin trend like crazy for using a marshmallow to achieve a dewy and glowing look.
Yes, marshmallows. They aren't just for s'mores anymore, kids.
The trick is to keep the marshmallows in the refrigerator. You certainly don't want them at room temperature (think gooey and sticky…yuck!). When you keep marshmallows in the refrigerator, they have the perfect texture and composition for makeup and cosmetic application.
Wondering how you make this happen? After refrigerating your marshmallows (use the large ones btw.), you pull one out to use after you apply all your layers from serum and primer on up to the foundation, use the marshmallow to finish the job. That's what Manalmuffin did in her video.
Should you try it? Well, the backlash she received for wasting food was a real pity, but the real thing to think about here is that marshmallows aren't like avocados, eggs, honey, or other pure wholefoods that you could use to nourish your skin. They're not a health food so there's the whole putting a manufactured food product on your face which probably isn't the best idea on this list of alternatives, but hey, if your socks are all in the wash, it could work!
So here's the rundown on using marshmallows in place of the Beauty Blender…
▪️ Advantages:
Marshmallows are cheap (usually about $1 to $2 per bag of jumbo puffs)
They can give you a great flawless finish
▪️ Disadvantages:
If you don't refrigerate them, it will be a sticky mess
You may eat all the marshmallows before you can attempt using them on your face
You can't reuse them so you have to throw them out with every use
■ Sponges as a Cheaper Beauty Blender Alternative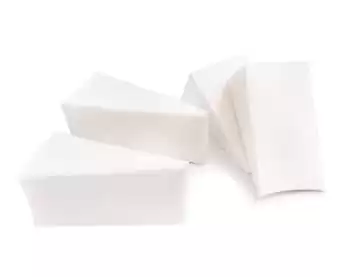 Some of you might be wondering what's the difference between a Beauty Blender and other makeup sponges, like the kind you can buy in a big pack? To be honest, these sponges work just as well. They're designed to be tossed out after a little usage and they're super cheap. So why not use them?
Fingertips really do a great job but a regular makeup sponge can help finish the process to create a flawless look. They work best when they're wet though too, much like the Beauty Blender, only they won't set you back so much.
You can also take care of them by washing them but when you're not spending a fortune on a Beauty Blender, you really won't care if you can't get the stains out of it. You'll just wash it and leave it to dry. If it smells or looks funky afterward, you have a bag of replacements. Artist's Choice Makeup Sponge Mini Applicator are super affordable on Amazon, plus they're latex free.
Why regular makeup sponges as an alternative to Beauty Blender?
▪️ Advantages:
You can buy a big bag of them for fractions of the cost of one Beauty Blender
They blend and give a flawless look to your appearance
You can reuse them until they seem musty
▪️ Advantages:
You'll still need to clean and dry them if you use them wet (which is preferred)
You're creating a lot of waste when you throw them away (if you want to help take care of the environment)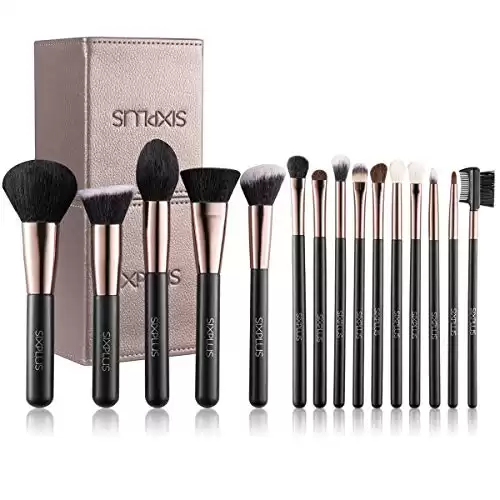 ■ Or You Can Just Invest in a High-Quality Brush
If you really want to use tools to apply your foundation, concealer, powders, highlighters, blushes, and everything that goes from your forehead down to your chin, makeup brushes are a solid investment.
The keyword being 'investment.' Sure, you can find cheap ones, but with makeup brushes, you will never be sorry if you go for quality. After all, how many makeup brushes do you need? You'll have them for much longer than any of the other Beauty Blender alternatives. But beauty blender or brush is a matter of preference. Still I'd recommend SIXPLUS 15Pcs Coffee Makeup Brush Set (Amazon link), the brushes are extremely soft and blend like a dream! Who says investing has to cost a lot of money? At only $36 they're a steal!
Makeup artists always carry a kit of makeup brushes in their makeup arsenal and the reason is that they work. Makeup brushes can apply anything in any style. You will most certainly need to clean them well, but you do not need to clean them after each use unless you are going for a totally different look each day. Or for eye makeup. You definitely don't want your nighttime out-on-the-town palette of shadows blending with your take-me-seriously-at-the-office looks.
Yes, you'll eventually have to replace your makeup brushes, but they are mostly made to last. You will get tons of usage out of them, and if you clean them right, they'll last even longer.
Here are the advantages of investing in makeup brushes as an alternative to the Beauty Blender.
▪️ Advantages:
They're very hygienic
They provide a nice and even finish
Different brushes can hit all the angles on your face for supreme application
Once you master your brush technique, it's super-fast to apply your makeup
They will last you a long time
▪️ Disadvantages:
Good makeup brushes are a bit pricey
You need to take care of them and clean them right so they will last longer
Cheaply-made ones can create a streaked effect
Conclusion
If you're looking for an alternative to a Beauty Blender for your makeup application, the good news is that there are many things you can choose from. You don't need to shell out tons of money to get primo makeup placement.
You can use your own hands as long as you keep your fingers clean. You can use a soft sock or ordinary makeup sponges too. Some people have even gone as far as using marshmallows to apply it though we're less fond of this idea unless you're camping and have no other alternatives.
Makeup brushes, as long as they are of high quality, will be one of the best choices you can make. You can usually buy a decent set to start with that you can build upon. You'll get all the basics that can take you through makeup application. For most women, there's no need to get a jumbo makeup artist's kit of brushes. Especially if you're just learning to use them.
With all Beauty Blender alternatives (marshmallows aside) the key is to keep things clean. Proper techniques for cleaning will keep your makeup applicators fresh, sanitary, and lasting for much longer.
If you want to spend $20 on the Beauty Blender, you can always do that. The colors are fun and it is bouncy and neat. But you'll have to remember that even when you do care for it with all the love in your heart, it will typically only be good for about 3 months before you'll have to buy another one.
Which alternative will you choose?