Waking up to look at yourself in the mirror and see fine lines and wrinkles on your forehead as a teenager isn't the most pleasant surprise, believe me, been there, done that, and I hated it.
I thought it was a passing phase and believed they'd go away in time. Surprise! They didn't and I was too lazy to do anything about it.
No need to panic though. There are many things you can do to keep a youthful appearance. Even older people have found ways to smooth their skin and keep up the facade of youth. If they can do it, you can too!
Whatever your age, keep reading to find out more about why wrinkles happen and what you can do to get rid of them!
Why Do I Have Wrinkles on My Forehead as a Teenager?
The main reason why you have forehead winkles as a teenager is the weakening of the muscles in that area. Having them appear prematurely is generally tied to sun exposure, stress, genetics, excessive use of makeup, facial expressions, and even lifestyle factors. 
The weakening of these muscles leads to sagging and increased skin laxity (stretching and thinning).
If you're worried about premature aging signs like wrinkles and fine lines, make sure to take care of your skin by using a good sunscreen, moisturizer, and anti-aging cream.
There are many products on the market that can help reduce wrinkles and keep your skin looking healthy. I'll be going over some of my favorites later in the article.
If you're noticing an increase in wrinkles as a teenager, it's best to start taking care of your skin as early as possible.
The earlier you start, the slower the aging process will be and the fewer wrinkles you'll have later in life!
Why Do Wrinkles Form in General?
As humans age, the elastic fibers and natural sources of hyaluronic acid in the skin make you more prone to wrinkles. In your youth, the body does a fantastic job of creating elastin and collagen, which is what is responsible for that soft, smooth, plumped-up skin.
The skin appears taut as it should, but as time goes on, these fibers in the skin start to slacken. Some people age slower than others though and maintain that bounce in their skin while others seem to grow old faster.
Much of it has to do with how we care for ourselves. Nourishing from inside as well as on the outside can keep skin looking smooth and refreshed at just about any age.
Hyaluronic acid is something that is naturally found in our skin. It's in many skincare formulations now like Mario Badescu Hyaluronic Emulsion (Amazon link) because it can hold up to 1,000 times its weight in water, making it an essential component for keeping skin looking hydrated and youthful.
Mario Badescu's Hyaluronic Emulsion contains vitamin C as well, which is an antioxidant that can help protect skin from sun damage and environmental pollution.
It also helps brighten skin tone and promote collagen production. So not only does this product hydrate and plump skin, but it also helps improve complexion.
This lightweight formula goes on easily and absorbs quickly into the skin. It's also fragrance-free, which I love in a skincare product because it won't irritate sensitive skin.
I have been using this product for months now, and really love it. My skin feels hydrated and plump all day long, and I've noticed an improvement in the overall quality of my skin.
I'd definitely recommend giving it a try if you are looking for a good hydrating skincare product!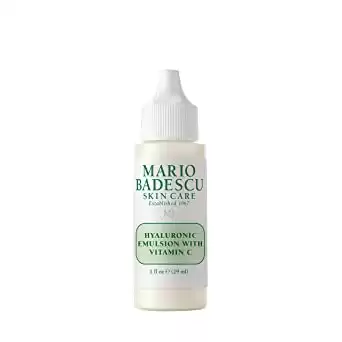 Again, it's not very common for teenagers to get wrinkles, but it does happen. Keep reading to find out why it might be happening to you.
What's Causing the Wrinkles to Form on My Forehead as a Teenager?
You're young with the whole world ahead of you. If you've found you have wrinkles on your forehead as a teenager, you'll want to do something about it. Before you can though, you'll have to figure out what's contributing to them. These are the most common causes for forehead wrinkles to form in younger years.
■ Sun Exposure
It might seem tragically unhip to wear sunblock to the beach or pool, but overexposure to the sun's rays can cause major damage to your skin and bring out forehead wrinkles. You don't even need to be out in the sun for very long. A quick jog around the park on the regular could be exposing you to harmful rays.
Even adults don't think about the repercussions of going outdoors on cold or cloudy days without sun protection. But the sun's rays are there even if we don't feel or see them.
Protect your skin and you'll be less likely to have lasting forehead wrinkles. I usually go for Jack Black sun guard sunscreen, which has an SPF of 45 giving you that extra protection against the sun.
It's also water resistant and sweat proof so you can be active without having to worry about your sunscreen wearing off.
Plus, it's oil-free so it won't clog your pores or cause any unwanted breakouts. Apply it liberally and often for best results.
Another great thing about this sunscreen is that it's not greasy and it doesn't feel heavy on your skin. This is perfect if you don't like the feeling of sunscreens that are thick and oily.
Trust me, your skin will thank you!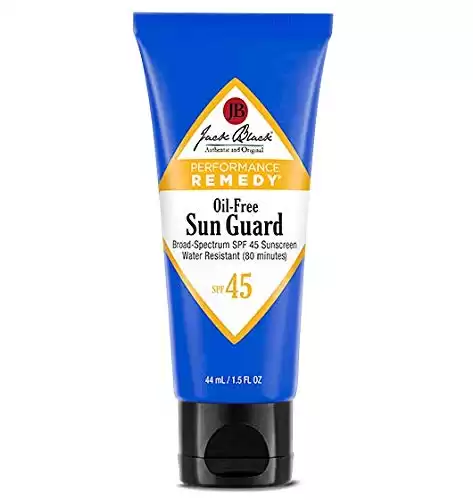 ■ Squinting and Repeated Face Expressions
Do you squint a lot? Perhaps you sit in the back of class and can't see very well from there. All that squinting causes the muscles that are around your eyes and forehead to stress out, leaving wrinkles behind. It might be a good time to go see the eye doctor to stop this from happening.
Additionally, any repeated facial expressions you make can lead to those unsightly lines and wrinkles. With each one you make, it creates a groove under the skin surface. When flexibility wears from your skin, those grooves become more pronounced.
That's not to say you should never laugh or smile again! But do be mindful of the faces you're making and take excellent care of your skin to avoid deep-set wrinkles from taking hold and revealing themselves long before you're old.
■ Dry Skin
One of the cardinal sins most people commit is to not drink enough water or eat enough fleshy fruit, which can hydrate the skin. Drink plenty of water daily and nourish your body with hydrating foods. Nothing looks more beautiful than good healthy skin. Your body rewards you for taking good care of it by giving you skin that reflects healthfulness.
■ Stress and Lack of Sleep
Staying up late seems cool until you realize the toll it takes on your skin. Sleep is the time when your body's cells regenerate, inside and out. Without adequate sleep, skin cells break down, leading to forehead wrinkles. Make sure you're getting a good 7 to 8 hours of sleep each day.
Stress always plays a role in wrinkles. It's not just in the form of pressure though from trying to ace a test or drama in your love life. It can be brought on by pollution from the environment and even blue screens too. Give yourself good self-care to help manage smoother, more youthful skin.
■ Genetic Heredity
Sometimes, you're dealt a bad hand in the gene pool. If your family looks years older than their age, you'll have to work extra hard to fight forehead wrinkles. Families with very fair skin can also be more prone to the signs of aging. Be vigilant about how you care for your skin. Avoid excess sun exposure and follow tips for taking care of your skin.
■ Lifestyle
The way you live your life has a huge impact on the quality of your skin. Let's break it down:
Poor diet – French fries and burgers sure do taste good, but they're not doing your skin any favors. You need to start putting more healthy choices on your plate. Foods full of trans fats lead to inflammation throughout the body, and when your skin ages too soon, it's a sign of chronic inflammation. Sugar and processed carbs are other poor choices that damage your skin's collagen. Stay away from bread, pasta, and baked goods if you want to look youthful and wrinkle-free.
Lack of exercise – Exercise gets your blood flowing all through your body, and to your skin too. With proper blood flow, new cell growth increases which in turn leads to the production of natural oils that help skin retain moisture. You want that suppleness so get moving!
Smoking – Experts have always warned of the damages of smoking, but the smoke from cigarettes releases an enzyme that actually breaks down your elastin and collagen. This creates more prominent wrinkles.
How to Get Rid of Forehead Wrinkles as a Teenager
Aside from following the advice mentioned above, there are some other things you can do to help smooth away any wrinkles that have started to take hold. Remember as you follow these that you must take care of your health from the inside out to reduce wrinkles and enjoy beautiful, supple, and refined skin.
■ Massage Coconut Oil or Almond Oil on Your Fine Lines
Coconut oil and almond oil are incredibly nourishing natural ingredients. After washing your face in the evening (taking care to remove all signs of makeup without rubbing or excessively scrubbing), smooth a light coating of one of these oils into your forehead wrinkles. Massage it in gently until there's no greasy feeling.
You can also apply petroleum jelly to really parched skin. It's best to do so while your skin is still moist to trap that moisture in so skin looks plumped up. No matter what you use, the key is to always add hydration immediately after cleansing. Don't let skin dry on its own!
■ Train Your Forehead Muscles
You can use a few techniques to retrain the muscles in your face, particularly your forehead muscles. Just a few simple exercises a day can help keep creases from your forehead as well as keep eyelids from appearing droopy.
First, shape your hands into the letter 'C' and put them over your eyes so that the index fingers are above each eyebrow. Your thumbs should be above your nostrils on either side of your nose.
Then, press your fingers on both hands downward and sideways while opening your chest and rolling your shoulder blades down. Widen your eyes as big as possible and hold it for a total of 5 seconds.
You should be pressing your index fingers into your eyebrows to keep them and your forehead from moving.
Next, squint 5 times, closing your eyes completely afterward to relax them for 5 seconds. You'll repeat this whole sequence twice more, doing so once a day to achieve optimum results.
■ Use Aloe Vera Gel on Your Face
Aloe Vera is another natural product that works wonders on skin. You should use it before washing your face both morning and night. Massage a small amount of it into your forehead wrinkles and leave it be for a minimum of 15 minutes. Wash away with a gentle facial cleanser.
Because Aloe Vera contains acemannan and other polysaccharides which stimulate skin regeneration, it works exceptionally well to soften wrinkles and repair dry, damaged skin.
■ Exfoliate Your Skin Twice a Week
Exfoliation is important to slough off dead skin cells. This process allows for clearer, fresher skin while aiding in speedy up healthy skin cell turnover.
Use a gentle formulation for chemical exfoliant with salicylic acid, hyaluronic acid, or glycolic acid. It not only gets the old stuff out of the way, but it also primes skin to absorb your other skincare products better, resulting in minimized wrinkles.
Don't overdo it though because over-exfoliating can cause more damage.Some scrubs are too abrasive too.
You'll want to choose ones like Mario Badescu Botanical Exfoliating Scrub, it's such an awesome exfoliator which not only does a great job at polishing your skin but it also fights acne and blackheads and seriously who wants those?! 
The scrub is formulated with ginger, ginkgo biloba, and green tea. These work together to improve your skin's texture while brightening any dull patches.
It smells amazing, too! If you're looking for premium scrub that will help improve your complexion, without the premium price tag!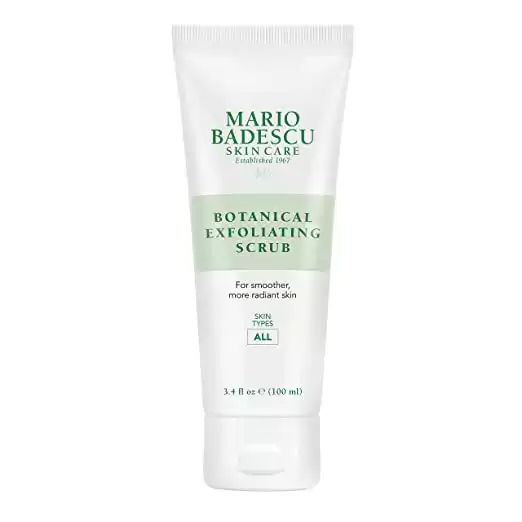 Once you finish exfoliating, make sure you apply a quality moisturizer. It takes 3 weeks to one month to notice the benefits of exfoliation, so keep at it!
If you are looking for an intense moisturizing experience, I would definitely recommend The Mario Badescu moisturizer.
It works with hyaluronic acid to help plump the skin and prevent wrinkles from forming. While, the biocare ingredients help soothe and protect the skin.
The moisturizer comes in a lightweight formula that is easily absorbed into the skin and does not leave a sticky or oily residue behind.
It's perfect for anyone with mature or dry skin in general. So, give it a try and your skin will definitely thank you for it!
■ Apply Egg White Mask on Your Face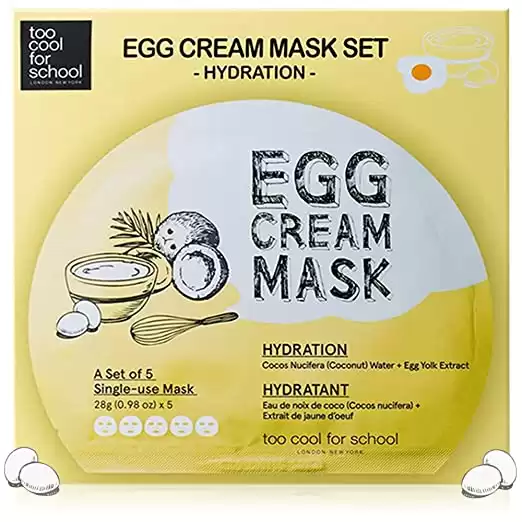 Something you have in your fridge right now can help your forehead wrinkles vanish away. Egg whites can tighten and lift skin, helping to delay the visible signs of aging.
All you need is one egg white. Beat it and apply it twice weekly to get that gorgeous skin. You can also add fresh lemon juice, honey, or other natural ingredients, depending on your skin type.
If you'd like to avoid the mess, you can check out this egg cream mask by Too Cool For School on Amazon.
■ Use Topical Line-Erasing Creams
Applying a line-erasing cream can really work wonders. Topical retinol and retinoids are among the most efficient, though formulations with peptides are certainly turning heads too.
Applying a line-erasing cream can really work wonders. Topical retinol and retinoids are among the most efficient, though formulations with peptides are certainly turning heads too.
One thing to note is that retinol can make your skin more sensitive to the sun, so make sure to wear sunscreen every day when using anti-aging creams in general.
I personally use BeautyRx by Dr. Schultz retinol cream moisturizer, which has Retinol and Hyaluronic Acid and I absolutely love it! 
I apply it every evening after washing my face and I can definitely tell the difference! It really helps reduce the appearance of fine lines and wrinkles.
Plus, it contains Vitamin A & E, Green Tea, and Shea Butter, which all help to nourish and protect your skin. I would definitely recommend giving it a try!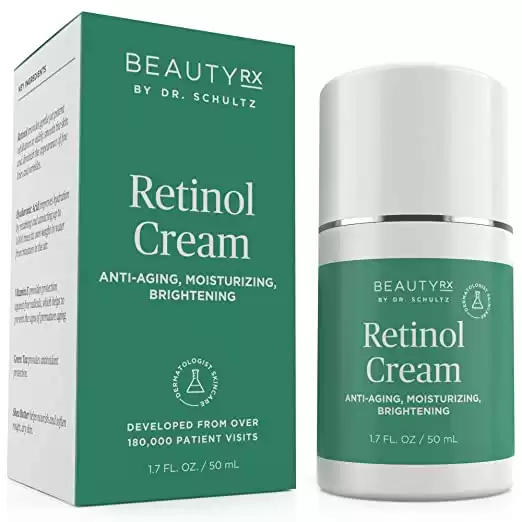 You can try both if you like. Retinol should only be used at night, making it ideal as the finishing touch before going to bed. It can irritate some skin types so apply a small amount at first to see how your skin reacts.
When you use these types of topical creams, they stimulate your skin's natural ability to create collagen. This allows your skin to improve over time. They have a plumping effect which smooths away wrinkles. Some brands come with a narrow tip on the applicator to make it easy to apply and focus on specific troubled areas.
You can also try AHAs (alpha-hydroxy acids), idebenone, vitamin C, pentapeptides, and growth factors. The ideal skincare regimen for removing forehead wrinkles and halting premature aging is one that encompasses many products that work in tandem to bring about your desired results for smooth, youthful, and radiant skin.
Conclusion
Forehead wrinkles aren't typical for the average teen. They are often caused by external and lifestyle factors which means it's up to you to take care of your skin. Looking older might make it easy to get away with passing for an older age when it's convenient, but in a few more years, you'll do anything to get it back.
The skincare industry is booming because people want to hold on to the look of eternal youth. You can get rid of forehead wrinkles and delay the signs of aging by caring for your health and enacting a strict skincare regimen that focuses on keeping your skin hydrated and pampered.