Lipstick is considered the finishing touch for most makeup styles. It's likely the last thing you apply before you bounce out the door. Whether you're off to work wearing a more muted shade or you're going out for the night with a bright red-lipped look, you want that lipstick to stay put.
After all, whether it's an important client meeting or a hot date, you definitely don't want lipstick on your teeth. Or smeared around your lips. That's not a good look for anybody.
Lipstick always goes on last because if not, you'd surely smear it with your hand while you steady yourself to work on your eye makeup. But even though it's last on, there's much to know about applying it.
Namely, most of us have trouble making liquid lipstick stay put on our inner lips. Some don't even realize you should be putting it there. Spoiler alert: yes, you should!
My Lipstick Won't Stay on My Inner Lip (SOLVED)
In order to make lipstick stay on your lips, here's what you should do:
Make sure your lips aren't flaky and dehydrated
Wipe off your lip balm
Apply lip primer to make sure your liquid lipstick stays in place
Apply lip liner on your inner lips too
Try different liquid lipstick formulas
Don't rub your lips together
Avoid layering liquid lipstick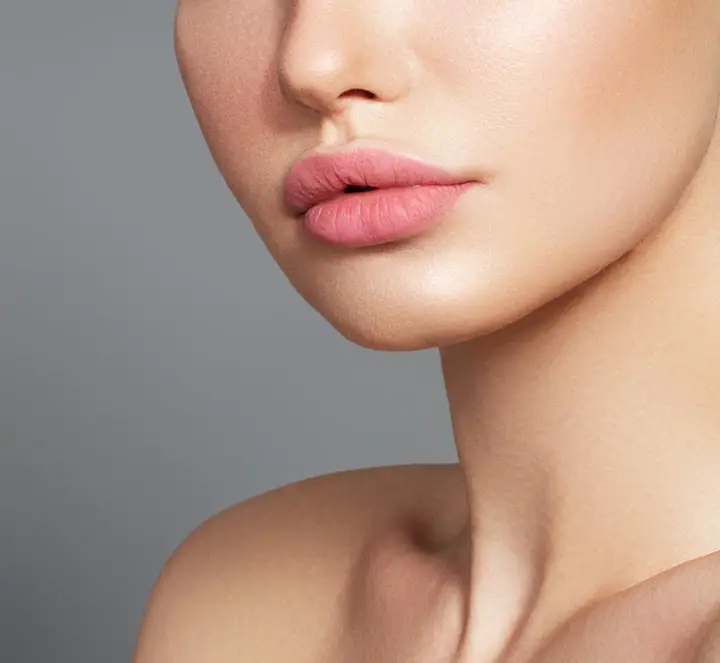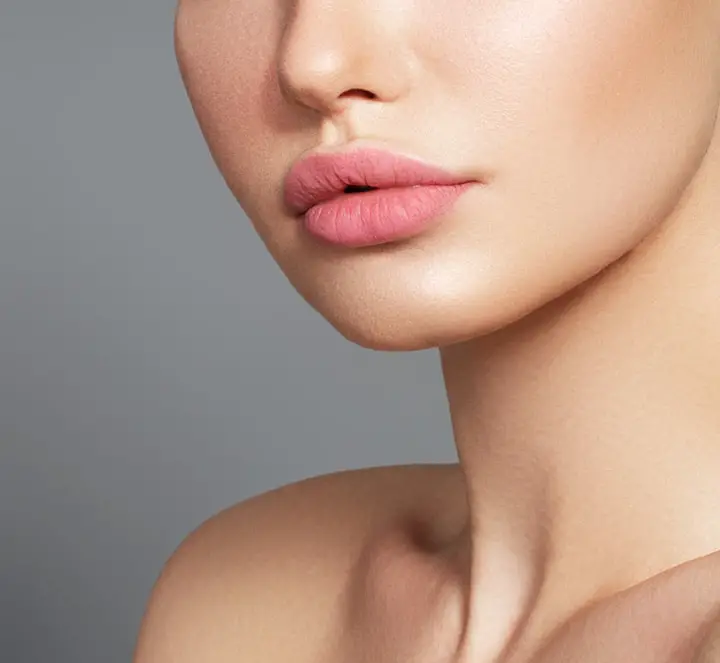 Make sure your lips aren't flaky and dehydrated
One of the golden rules for lips is that you should always keep them hydrated. ALWAYS. Even if you were to go without lipstick of any kind, having dry, cracked, flaky, chapped lips will undo your entire look.
Plus, it's just uncomfortable. If you've ever suffered wind burn only to reach in your bag and find your lip balm is nowhere to be found, you have likely counted down the seconds until you got back home to grab your emergency stick of it for relief.
When you're adding lipstick onto lips though, having them hydrated first is the first key step for perfect lipstick application. If your lips are dry and flaky, your lipstick is going to wear off much faster. Prep that lip canvas just as you take the time to care for the skin on your face.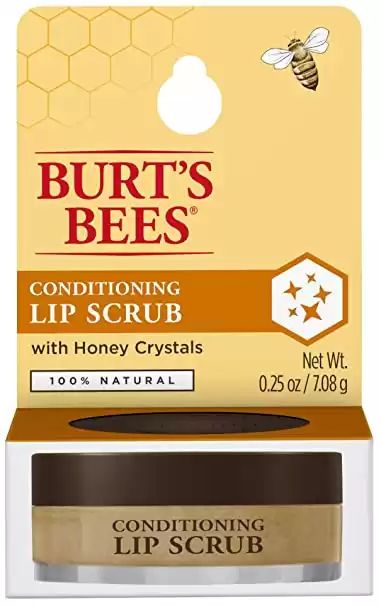 Lip scrubs are phenomenal for this. They help get rid of dead skin buildup and leave behind refreshed and smoothed skin.
You can use something like Burt's bees lip scrub (Amazon link), which is made with a variety of all-natural ingredients. This product is a lip scrub and a lip balm, so it does double duty!
Castor oil and honey are the main ingredients in this lip scrub. They both help remove dead skin cells while leaving behind refreshed and smoothed skin.
Beeswax and cocoa butter form a protective layer over your lips after use to keep them moisturized.This product is best if you scrub it on your lips for a minute or two before wiping off.
All of these ingredients work together to create a lip scrub that is not only great for exfoliating the lips, but also for moisturizing them and helping to prevent dryness and inflammation.
You can also put it on before bed and wipe off in the morning. It is very affordable and lasts a long time, as it is quite thick, but still easy to work into your lips.
Burt's bees makes lip scrubs for both men and women, so no matter if you're a dude or a dudette, you can have soft lips! And if you are looking for an all-natural lip scrub that contains a variety of beneficial ingredients, Burt's Bees is a great option.
Just keep in mind that this lip balm contains no SPF, so if sun protection is needed, follow up with Colorescience Sunforgettable Total Protection Color Balm.
Another way to battle flaky lips fast is to use your soft-bristled toothbrush and gently (VERY gently!) buff your lips before adding moisturization to them.
Your goal is to get your lips nice and smooth so your lipstick goes on nice and smooth. You can even devote a clean, disposable mascara wand to the cause with just a touch of olive oil to add in moisture.
Since most liquid lipsticks tend to finish in a matte style, they can be even more drying on your lips. The key is to prep your lips with some moisture, but not too much (which I'll explain in just a sec).
Infuse would be the best word to describe it, where your lips are almost naturally moist from within.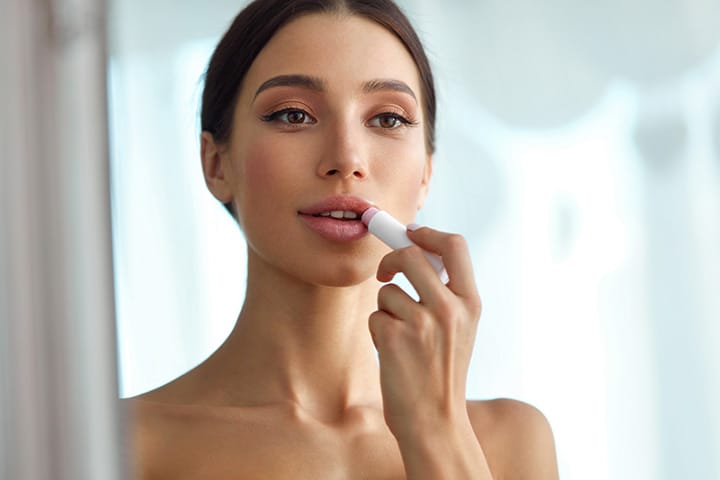 Wipe off your lip balm
Ok, so your lip balm is totally your savior in the sunshine at the pool and beach during the summer as well as in the chill of fall and frigid temperatures of winter. I get it. I've been there.
But when you want to wear liquid lipstick and may it stay on your inner lips, you have to swipe off the lip balm before you swipe on your color.
Lip balm is great for adding moisture to your lips but the oils in the balm leave a slippery residue for lipstick.
It prevents it from adhering so you'll be much more likely to have feathering around the lips which will make even the slightest lines around your mouth stand out. It also makes it much more likely you'll smear it.
I'm not saying give up your lip balm. Oh, I'd NEVER say such things! But if you're going to apply lipstick, treat your lip balm like a part of your skincare routine.
Apply it, let it soak in, then gently swipe it away with a tissue before adding your lipstick.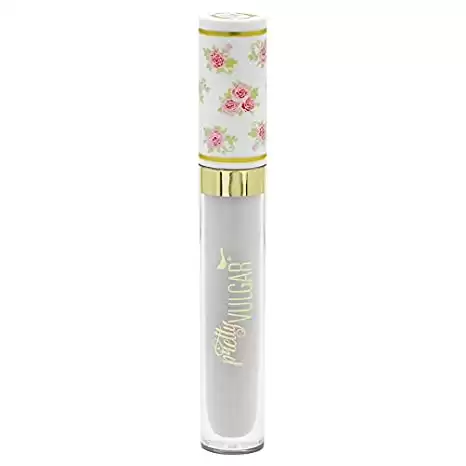 And if you just can't even, there are matte lip balms such as the Silent Treatment Matte Lip Moisturizer by Pretty Vulgar (Amazon link) that you can put under your lipstick. It gives your lips hydration without the smear factor.
Plus, it comes in a really cute packaging. It's also cruelty-free and has hydrating anti-aging properties that soothe and rejuvenate the skin. Talk about a win-win!
So if you're looking for an easy way to keep your lips hydrated all day long, a lip balm with a matte finish is the way to go. So go ahead and stock up – your lips will thank you!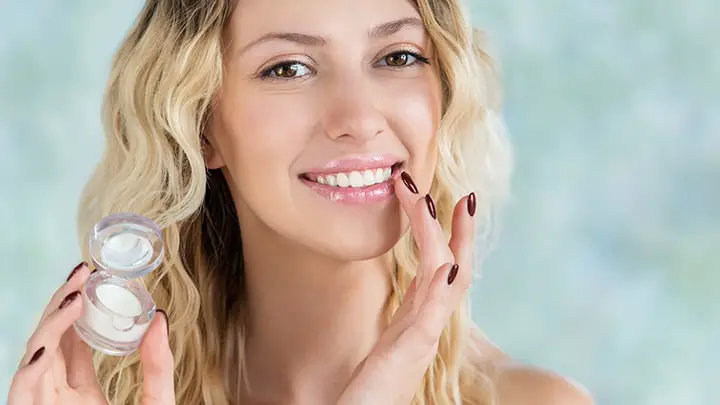 Apply lip primer to make sure your liquid lipstick stays put
With a good lipstick, you might even have trouble getting it off your outer lips. The inner lips are a little trickier. Lipstick can wear off their double quick because it's closer to where the saliva is in your mouth.
If you want to know how to make liquid lipstick stay on your inner lips, you've got to pull out one of our favorite tricks…lip primer! Lip primer really works wonders.
If you use a face primer for your foundation, powder, blush, and highlighters to stay in place and you use an eye primer for your eye makeup, why in the world would you skip a lip primer?
It's an absolute game-changer for keeping lipstick on, keeping lips feeling hydrated and happy, and giving every one of your makeup looks that extra bit of panache you have been searching for.
You'll apply your chosen lip liner over your lips. Let it dry and then line your lips. After lining your lips, fill them in with your liquid lipstick.
The lip primer locks it in place so you don't find it all over your favorite coffee mug at the office, or accidentally all over your teeth. Or anywhere else.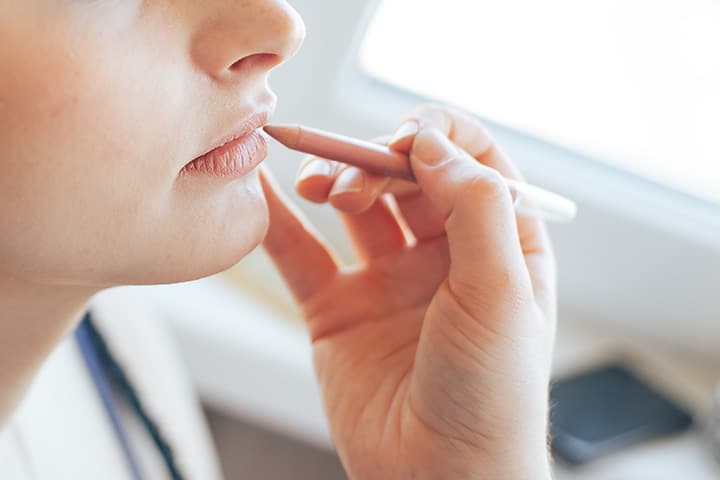 Apply lip liner on your inner lips too
So, all this works just fine and dandy on your outer lips. You have the secret to lipstick success! But those inner lips can use a little trick too. That's where lip liner comes in.
You probably use your lip liner to expertly line your lips. You may even make that cute little "X" in the center to accentuate the upper lip (and if not, you definitely should!).
But lip liner is also meant for the inner part of your lips. That lighter, pinker part closer to the inside of your mouth needs a bit more help to retain the liquid lipstick color you want it to have.
To do this right, take a steady hand with your lip liner and target as far back on your inner lip as you can. You may need to study yourself in the mirror a bit to do this.
First, talk to yourself and observe your lips. If you see the pink ring of the inside portion of your lips when you're talking, that's where you need to focus your lip-lining efforts.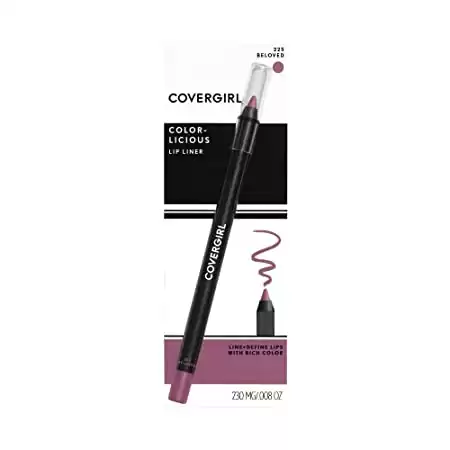 Instead of merely lining your outer lips though, for this pumped up liquid lipstick look, you need to fill your entire lip with that lip liner.
Choose a creamy one like the Covergirl lip perfection lip liner (Amazon link) for the job. It makes it go on so much more smoothly, especially on those slicker portions.
This lip Liner is a great option if you're looking for something that will provide your lips with moisture-rich definition.
It contains over 60% skin conditioners, which means that it can help to gradually transform dry lips to smoother-looking lips.
Additionally, the liner's formula is long-lasting, so you can wear it all day without having to worry about it smudging or fading.
Covergirl's lip perfection lip liner is also destined to be your go-to for creating that perfect pout. It comes in multiple shades, to suit any outfit or mood. So why not give it a try? You might just fall in love with it.
Lip liner is essentially a type of lip primer, but you still should apply a devoted lip primer first before lining your lips. All of this together will work to keep your lipstick in place, even on the inner lips.
When you add a creamy lip liner filling on top of that lip primer, it gives your liquid lipstick something to adhere to.
Sure, you can just line the exterior of your lips if you want. That will keep lipstick from feathering. But if you go ahead and fill your lips up with that lip liner, it really seals the deal.
Pro tip: use a dark liner if you want to create a more sultry and moody look. If you want to brighten up your shade, use a red liner.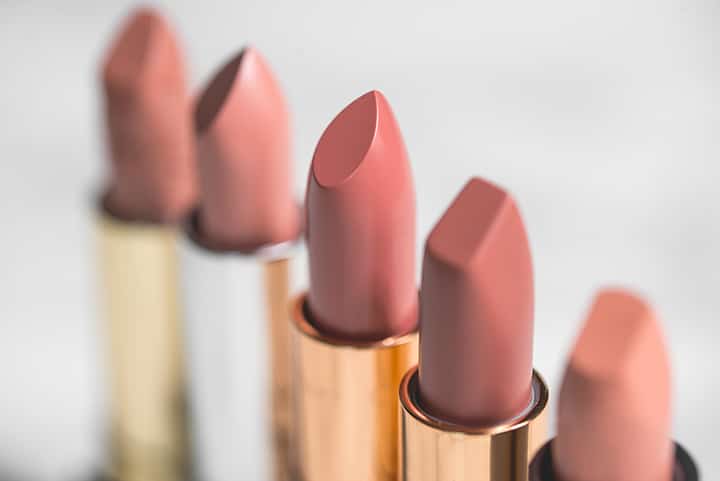 Try different liquid lipstick formulas
Just as your skin type requires different products to make it look and feel its best, so too do your lips. Some people have dry lips by nature.
Others have those lips that seem effortlessly hydrated. It might take trying out different lipstick brands and formulas to find what suits you best.
Liquid lipsticks seem to be the preferred choice these days though. They're great for that full look that performs all day long. Unlike traditional twist tubes, they apply as a liquid.
But from there, they dry for a velvety look that stays in place. You may even mistake a tube of it for a lip gloss, but reading the packaging will tell you otherwise.
Look for 'liquid' on the packaging rather than 'lip gloss' to get this effect. You'll find they have that same wand in the tube with that soft doe-foot applicator tip.
If you want lip color that lasts and has a bold look, liquid lipstick is one of the best choices you can make.
However, you may find some formula feel a bit more drying than others. Experimenting with different ones should help you find one that feels comfortable on your lips with the colors that make you shine in all your glory.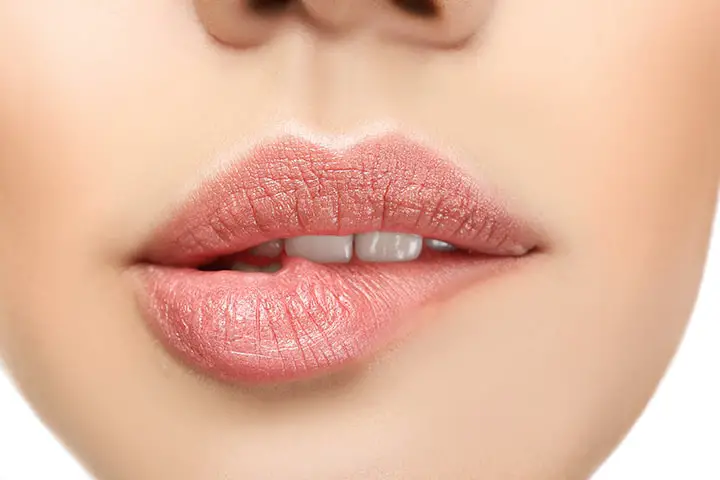 Don't rub your lips together
One thing you have to remember when you wear liquid lipstick though is that because it's different from traditional lipstick, you have to treat it as such.
For example, with a traditional tube lipstick, you would usually apply it to each lip, then rub your lips together to help create an evenly distributed appearance. You shouldn't do this with liquid lipstick formulas though.
With liquid lipsticks, they're a lot more like paint. You apply them wet and then they dry. And once they dry, they're hard to blend. Tempting as it may be to rub your lips together to finish off the process, don't!
You'll wind up ruining all that hard work you laid down before applying the lipstick from the lip primer to the creamy lip liner. This will result in a patchy or streaked look which will then dry that way.
If for any reason you have to blend, you can softly tap your lips with a fingertip, but be ready with a makeup wipe to get it off your finger.
I really don't recommend this at all though, and if you've applied the lip primer, the lip liner, and the liquid lipstick, you should have the look you're going for without any need for anything else.
Speaking of that…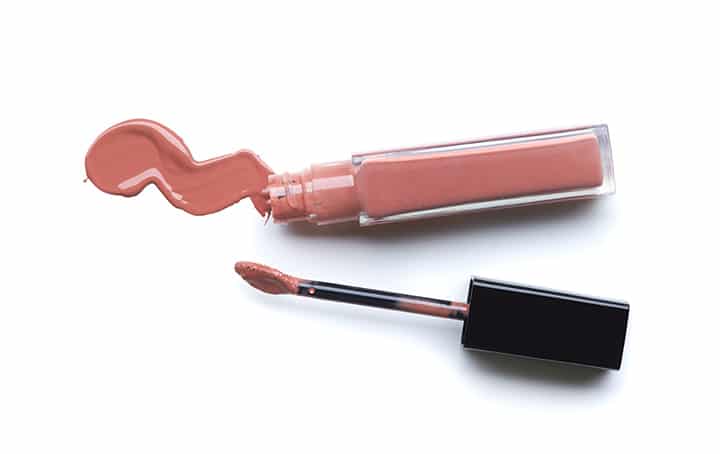 Avoid layering liquid lipstick
Liquid lipstick was designed to make our lives easier. It was created to give a lasting, full color look to our lips. Once you apply it, you should leave it be so it dries completely on your lips.
It's not meant to be reapplied over and over throughout the evening when you dash off to the restroom. It's meant to stay put and go the distance.
When it dries, it leaves behind a matte finish. So if you add more of it on top of that initial coat later on, you'll regret it. Your lips will then look clumpy or crusty, neither one a seductive look by any stretch.
If you really want to reapply your liquid lipstick though, perhaps because you feel it's just not applied right, you should really start from scratch. But if that's not possible, you can try another lip product on top.
Things like glosses or even your old standby traditional tube of lipstick can layer over a liquid lipstick beautifully. These also tend to be more emollient which will give you a new look.
Be forewarned though that it might not stay in place once you do that. Meaning that you are more prone to those smudges and smears.
Should you want to keep that exact finish and not ruin the shade of your liquid lipstick, you can dab some of the liquid lipstick onto your finger and only apply it to the areas that look sparse.
It adds just a quick tint to faded areas without adding the bulk of texture that would come from reapplying an entire new layer.
In any event, if you take care with applying the lip primer, lining the entirety of your lips (including the inner portion), and applying the liquid lipstick on top of all of that, you should have very little trouble in getting it to stay perfectly put through any occasion.
Conclusion
Because so many women are used to traditional lipstick, liquid lipstick can be a bit confusing at first. After all, it comes in a tube that looks like one of our lip glosses. But you can't treat it like a lip gloss because it dries with a matte finish.
Thinking of it just like paint is the best way to go about it. Once you lay that liquid lipstick layer down on top of your priming measures, you have to let it dry. You'd never sit on a freshly painted bench, so leave your freshly-painted lips to dry and you'll achieve that runway-ready look.
Of course, proper lip care is always the best way to have your liquid lipstick look amazing. You should always baby your lips with scrubs or at least buff them a couple times a week to keep them soft.
Lip balm is great for keeping things smooth and hydrated but remember to smooth any excess away prior to applying your liquid lipstick routine or you'll wind up with smeared and smudgy lips.
Lastly, don't forget to fill in that inner portion of your lip or you'll look like you missed a spot. Lip liners were meant to fill in those areas and are essential for locking that liquid lip color right on top, keeping that full spectrum of color going back for a fluid and stunning look that completes your appearance!