Calling all curly-haired girls! Don't hate those beautiful curls anymore. Instead, learn how to tighten them and make the rest of us jealous while loving your beautiful and unique look.
If you're wondering how to tighten curls, you're in the right place!
All hair types need love. But curly hair? It needs even more love. Why? Because your hair type is naturally drier than others. It's because of the way your hair grows from the follicles.
Of course, there's a little more to it than that. Not to worry, as I'm going to get into how to tighten curls and help you love the hair you have naturally, so keep reading!
How to tighten curls?
When your curls aren't tight, you can use a diffuser on quick-blast. Scrunch your hair while you do so to tighten your curls back into shape. A little bit of styling gel or a curl cream will also help. Don't forget to flip your hair on the underside too, and hit it with the diffuser and scrunching to prevent flat hair.
Curly hair has a coarse structure, and because of it, the natural oils produced from your scalp don't make it down the strands as easily as someone with straight hair.
This means you wind up with an oily scalp and dry tresses. Not a fun combo.
Knowing this though, you can work through the following tips to help tighten your curls, keep them luscious and hydrated, and feel confident in your beautiful look! Read on to find out how we're going to tighten up those curls!
– Trim your hair
I tell everyone with hair on their head the same thing… trim your hair!
I know it totally stinks to cut off any length, but not doing so for fear of shortening your hair has worse consequences. For starters, healthy hair does not have split or damaged ends.
If you think leaving those ends like there will help, nope! You're better off cutting your losses, pardon the pun, to keep your hair healthy. It WILL catch up with you, believe me.
It's happened to me, and it's happened to many other gals out there. If you don't want to trim your hair regularly, you're going to wind up having to cut off WAY more than you ever wanted. Don't be that girl.
Skin has the power to regenerate because it has living cells. But hair at the ends is not a living thing. It can't repair itself. You can only conceal the damage or prevent future damages.
And the only way to do that is to cut it. I recommend going to a stylist to ensure you cut off what's necessary. Cutting off too much might make you sad, but if you can rid yourself of the damaged ends, you will have healthier hair that grows back better than ever.
A stylist can also help you find a compromise on length, but you've got to keep getting trims regularly to keep more damage from cropping up.
I promise that once you take care of those ends, your curly styles will look so much better, and you'll feel happier about it too.
– Pre-poo to tighten your curls
If you remember my post, "Why Do You Need to Pre-Poo," then you know all about it. But if you somehow missed it, go back and check it out. This simple, added step in your weekly routine can make a big difference in how your curls behave.
By keeping hair healthy and hydrated, you will have tighter curls. The kind of curls you'll want to show off all the time.
So read that post and then read on to get to know what else to do to tighten those curls up big time!
– Moisturization begins in the shower
When moisturizing your hair, please stay far away from anything with silicone. The reason is that it coats your hair. That's nice for a short-term solution, but it's terrible if you want long-term hydration infused into your hair.
Silicones do give your hair nice shine, but they prevent hydration from going into your hair's cortex, where it needs it most. And since silicones aren't water-soluble, they build up.
You know what that means, right?
It means your curls aren't tight because there's too much buildup. You'll have dull, blah hair that doesn't work well with you.
As my curly-haired friends have told me, it is so different to care for curls over straight hair.
You have to be careful when you wash. That means being gentle and relishing your focus on the scalp instead.
You should never do a double-shampoo. Actually, no one should. You want to get the buildup off your hair and then move on.
But, no matter what you try, there is always that underlying issue of breakage and damage caused to the hair, which over time leads to thinning, that's why I love Olaplex so much more than all those other products on the market.
It helps release the "glue" that holds your hair together by penetrating into each strand of hair, using a bond multiplier (B3), allowing the disulfide bonds in the protein structure of damaged hair to be restored to their original strength, essentially changing the hair back to its natural, healthy state.
Since Olaplex is gentle, it won't interfere with other products you use in your regimen: You can wash, condition, and do all the other things you like to your hair after using it. Your reward is smooth, hydrated hair that will repel humidity.
I totally recommend Olaplex No.3 for curly girls, and for anyone who wants to get a tighter curls.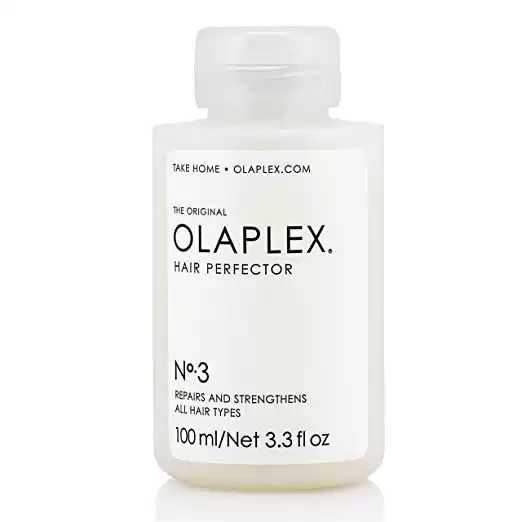 Before you use Olaplex though, make sure you tackle that build-up. A good shampoo can work wonders, though to get those silicones and styling products out, choose a clarifying shampoo once a week.
You can also do a rinse with apple cider vinegar for a more natural approach.
– Use a cotton T-shirt or a microfiber towel to scrunch your hair
Ok, curly girl, are you using a regular towel to soak up excess water? Oh dear. I was afraid of that.
The material of typical towels, terrycloth, features little nubs that can cause mega chaos for hair cuticles. This is what gives you frizz.
And! They steal too much water from your hair, letting it tangle. I don't have curly hair, but even I have a devoted cotton T-shirt I use to scrunch my hair dry. It's made all the difference.
My friend Adriana has super-curly hair, and she started doing this little trick, and no more frizz for her. If you have a microfiber towel, you can use that too and keep from getting a matted or frizzed outlook.
– Deep condition once a week
Hey, when you Netflix and chill and make popcorn and all that jazz, throw some deep condition in your hair. Do it once weekly without fail.
Curls need to be moisturized, and when you solve that problem, you should see better, tighter curling action.
One thing to watch for though, is that too much protein is not a good thing. It can make hair hard and brittle.
Look for a balance, so you're using moisture-based deep conditioners as well as protein treatments.
– Use a leave-in conditioner
Leave-in conditioners are my secret when my hair feels dry. Adriana also loves them because her curls get very dry, but when she uses a leave-in, too, it gives her hair more moisture. The difference in her hair is astounding!
Plus, it can help keep tangles away. Always use a wide-toothed comb and start from the tips and then combing at the roots downward. This will prevent snags and breakage.
Also, because you're curly, look for these things that say "curl defining" or even "curl enhancing" on them. They should also contain nourishing ingredients (meaning no silicones!).
What ingredients do I mean? Aloe vera is a great choice for everyone, as is flaxseed, hydrolyzed wheat protein, hydrolyzed rice protein, and slippery elm.
When you look for products to tighten your curls, be sure it is something nourishing like these ingredients to help your hair look its absolute best!
– Detangle your hair with the right tool
I'd better say this one again…use a wide-tooth comb on your hair. A fine-tooth comb will make a fine mess of things. You can't use this type of comb in textured hair.

And can I tell you a secret? I only use a wide-tooth comb on my hair, and it's not even curly. It just makes it much easier to manage and detangle.
But unlike you, I can be free with my hairbrush. And I love your curls, so I'm telling you to be easy with the hairbrush. Use it minimally because it WILL break up your curls and cause frizz.
Some say use fingers, but over-usage of fingers can make hair frizz too. So take it easy with that wide-tooth comb, start at the ends, and use the right products to keep curly hair looking tight and fresh.
– Use a heat protectant
If you've read any of my posts before, you'll know the praises I sing for heat protectants. Truly, these are some of the best product segments invented in our lifetime.
You need to use a protectant when you're heat styling your hair, no exceptions.
However, you should NEVER use anything that has alcohol in it because it is SO bad for curls.
It draws out the moisture from your hair, which you're already struggling to replenish. AND! It also keeps your curls from bouncing. Boo!
Instead, choose one that moisturizes, like a finishing oil to seal and define your curls while getting rid of frizz. That's the big secret to your best, tight curls.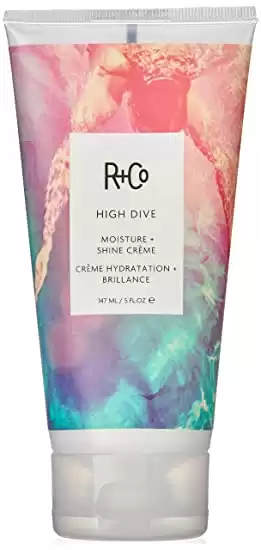 High Dive Moisture + Shine Crème by R+Co is a great option to explore for protecting curly hair from heat styling, allowing it to thrive and look amazing every time.
I love this particular one because it is light, so I use it on days where my hair isn't looking overly dry. When protecting your curls from heat styling, you don't want to do it with a heavy product because that will weigh down your curls.
This product has the power to help keep my frizz at bay. It works great as a heat styling protectant, and I don't even need more than a couple of pumps on my hair for it to work its magic. A little bit goes a long way!
I use it after showering and apply the Head & Shoulders Royal Oils Moisture Shampoo and Conditioner.
One thing to keep in mind is that some people have reported having dandruff when using it. It might have been due to switching products too abruptly without giving your scalp a chance to adjust.
My hair has been very happy since I started using R+Co High Dive Moisture + Shine Crème. I don't know why this brand doesn't get enough love, but I'm glad I found a product that helps my curls look amazing!
– Use a hair diffuser to set your curls
You need to set your curls too, and that's where you'll really love your diffuser. Put the hairdryer on low and dry while gently scrunching your hair without stopping. After you get your hair halfway dried, flip it.
And if you really want an edge on these tight curls, use a diffuser that has those prong things on it.
You'll want to flip your hair upside down and basically cup your hair into that diffuser, pressing up in the direction of your scalp, or plop it over a flat surface while you move the diffuser around your head.
That's Adriana's pro-tip for you, which makes her curls look incredible!
I should also mention that you really should invest in quality when it comes to your hair tools. Surely, you've done it. We've all done it. We've all bought something cheap because the price was cheap and hey we're saving money, right?
But in the end, it broke too soon or something went wrong and we had to buy another.
Yes, Mom, I learned my lesson. Thanks!
But seriously, it's your hair, and while you don't need to go broke, you should buy something that has lasting power and is made with absolute quality.
Also, don't skip the flip! It's this part that adds bounce and volume. Adriana's hair is gorgeous when she does this. However, if your hair is more like my friend Helena, you may not want to do the flip.
Helena's hair is so thick. She whines about washing it, and I can't say I blame her. That is a LOT of hair to contend with.
It's so thick and full of volume, so when she does the flip, it looks insane. If you need more volume though, go Adriana's curly-haired route.
– Protect your stands while you are asleep
When it comes to tightening curls, you need to take care of how you sleep on them. In particular, I'm suggesting sheet shopping here. If you use cotton (yes, even with an awesomely high thread count), it soaks up all those natural oils from your hair and steals moisture away like a bandit in the night.
Instead, tie your hair up in a nice satin scarf. Or you can get a silk pillowcase.
The pillowcase is something I use myself even though I'm not a curly girl because it prevents friction on your skin too, which keeps you from getting wrinkles. So it's worth it for all of us.
But that silk keeps tangles from happening and stops breakage, so it leads to healthier hair. Healthy hair and healthy skin all in one…who could ask for anything more?
Conclusion
Tightening curls is very easy, with a few simple steps. Remember, your curls need more love from you.
Once you start showing that love, you're going to see that tight pattern come back, the kind that turns heads and has straight-haired gals like me gushing over it.
Curly hair is so unique and beautiful. Cherish it with the right products and tools, and you'll see what the rest of us see… you're stunning!