There are 2 kinds of curly-haired girls…the ones that love their curls and embrace them for all they've got, or the ones who go to insane lengths to flat-iron out any hint of a curl. Which one are you?
Hopefully, you've decided to just love those curls. Or you at least let them breathe and do their thing rather than trying to tame them constantly. However you choose to wear your curly hair, you have to know that the type of conditioner you use is one of the most important things you can do for your hair.
It doesn't take a rocket scientist (or me, who is NOT a rocket scientist) to tell you that with curly hair, you have dry hair. Curly hair is the driest of the textures, so it makes sense that you have to find a conditioner that fulfills its hydrating duties impeccably.
No matter what kind of curls you've got, from tight coils to beachy waves, you'll want to start giving your hair what it's screaming for… HYDRATION!
Lucky for you, I've compiled this fabulous list of the 10 best conditioners for curly hair. This is all about you, and I've got your back for soft, bouncy curls that look healthy, seductive, and full of life to give those straight-haired girls a run for their money.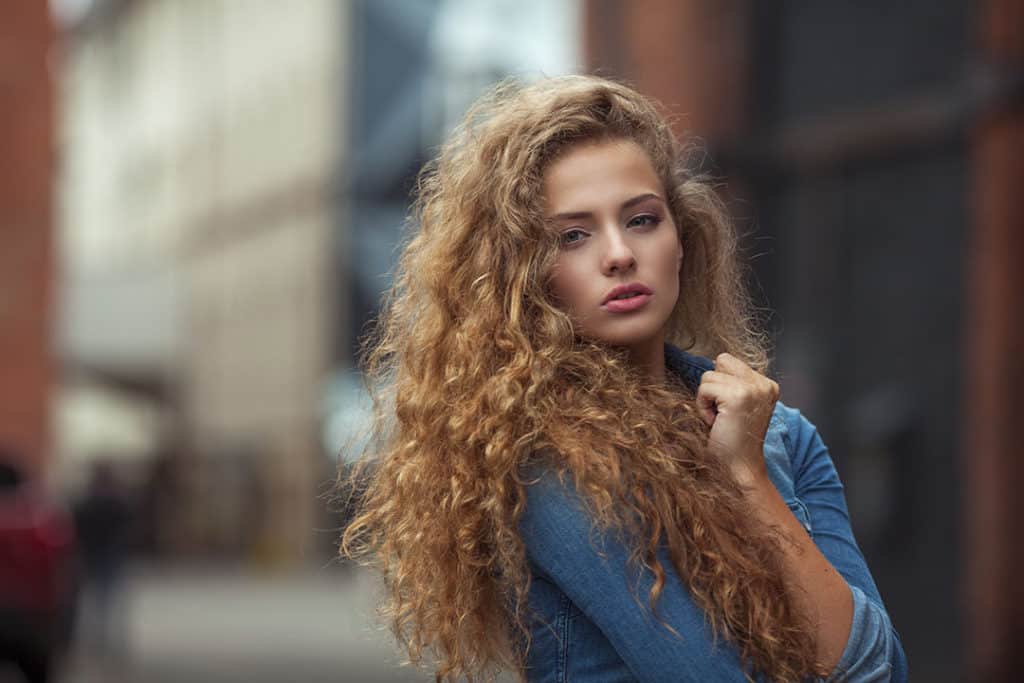 10 Best Conditioners for Curly Hair
With each of these 10 best conditioners for curly hair, you'll see I've categorized them to make them easier for you to find the best choice for your hair. Check them out and see which one fits your curly lifestyle best.
I am in love with Olaplex and have been since a friend of mine from high school who became a stylist in Los Angeles recommended it to me. If I lived anywhere near her, I'd be going to her for my cuts and colors (no offense to my stylist, of course!). Anyway, when I went through a blonde phase, I maintained it myself, but it was feeling dry no matter what I was doing.
She told me to get Olaplex No.5 because it repairs damaged strands. My hair looked amazing ever since. She explained to me it's what she encourages everyone to use, not just damaged hair but also those with dry, curly hair, and even those with relatively decent hair too. When her clients use it regularly, she says the difference is absolutely night and day, leaving hair looking its natural best.
If your hair feels dry and damaged, repair the bonds with Olaplex No.5, and you'll be so glad you did. It's a small bottle for a price that makes it a bit of a splurge, but it only takes a little each time to work through your hair. With the results you'll get, you won't regret spending the money.
Ok, so you don't want to pay that much for Olaplex. I feel ya. Try CHI Keratin Reconstructing Conditioner then. It's ideal for any hair that is sending an SOS for extra TLC. It uses keratin, your hair's natural protein, and a combination of jojoba and argan oil to infuse hair with healthy hydration and bounce.
The brand's exclusive Keratrix technology is designed to release all day long to protect and nourish your hair. My verdict? For such a low price, you won't believe the great results you get. My hair felt so soft and nourished, and my waves looked fantastic. It works great, leaving it in while you pamper yourself too.
While Olaplex is my top choice, if you are on a budget, CHI really works wonders for curls and waves, restoring health to really dry and parched hair.
Do you have tight curls that feel dry like sandpaper? My friend Malia recommends Ouidad for that. She said it took her curls from dry and blah to feeling bouncy and lightweight.
"They just had more definition. Everything I griped about with my curls as I tried to embrace them suddenly changed when I used it," she explained.
That's powerful testimony, but a little background on the brand will help too. It was created especially for curly hair by a stylist all-too-familiar with the way curls can be. There are so many different types of curls, and having a product that just gets it really is a blessing. It's especially good for deeper curls to combat dryness and make you look like the curly-haired girls in magazines who always look so happy about their hair. And the price, not too bad!
After talking to one of my friends who lives in a small coastal town in Louisiana, she asked me to recommend VIRTUE. Her hair is extremely coarse, even more so than mine.
Ever since I've known Carly (we called her Curly Carly btw), she's been prone to frizz. I always thought her hair was beautiful, but she confided in me that she hated it. She wanted to chop it all off. I begged her not to. Being coarse and between curls and waves, it was hard for her to manage the frizz.
She decided to find a stylist that could help with her hair type. After getting a trim, the stylist recommend VIRTUE. Initially, Carly thought it would be some ploy to get her to spend more money. It's not exactly cheap, but she was willing to try anything.
Her hair is around shoulder length, and one tube lasted her much longer than she expected. Something else she didn't expect? Results. "With each use, I noticed my hair wasn't as frizzy anymore. In fact, I started to like my hair for the first time since ever. It looks fantastic, and I'm not fighting with my hair type anymore, just letting it be the way it is, except without frizz."
After Malia's recommendation, I wanted to try out OUIDAD myself. It's a little more expensive, but this Curl Immersion Triple Treat Deep Conditioner lasts because it's a deep treatment and not something you do every day.
The formula contains ceramides, avocado oil, coconut oil, and grapeseed oil that work together to add in moisturization and lock it in, while restoring curls. While technically formulated for girls with curlier curls than me, it really leaves hair feeling so luxuriously moisturized and soft.
I found if I let my hair go natural, I didn't feel annoyed about not heat styling it. Everything looked healthier, happier, and like it was falling into place. When I told Malia, she was glad I was using it too. She says nothing works like OUIDAD for her tight curls, and while my hair isn't like hers, I have to say if it makes my hair look great, it's definitely going to help you if you have kinky curls.
Before I talk about Phyto Specific Cleansing Care Cream, I'd like to bring your attention to co-washing. If you haven't yet heard of it, it simply involves replacing your shampoo with a cleansing conditioner. It's a great solution for natural hair, especially curly-girls.
It does take some getting used to, but with the right co-wash product, you get a cleansing conditioner that uses natural oils to cleanse, nourish, and hydrate both your hair and scalp. The idea is it helps you repair all those environmental damages you're always exposed to. In fact, experts say that the warmer months are the best time to try it, so what have you got to lose?
You'll wind up with shinier, healthier hair! I was skeptical at first, I admit it. I mean, we have been conditioned all our lives (pardon the pun!) to shampoo and then condition. But you'll love this, honest!
Now, as for this product, I'm going to tell you it's a little strange in that it is no-lather and you're going to be confused the first few times you co-wash rather than do the shampoo-condition thing. Using mallow root extract and castor oil, this cleansing care cream is a blessing when your hair is super-dry.
You'll see your hair return to a sense of balance again when you start co-washing. Your scalp feels free, and your hair feels wonderful and tangle-free. Best of all, it just looks hydrated and healthy.
Oh and one more thing…my friend Steph had been shedding LOTS of hair. Her stylist had recommended trying a co-wash and had even suggested this brand. Steph has reported she's not experiencing hair fall anymore, and it's growing in thicker too, so if you have lots of shedding going on, do this. Just know this brand is a little on the pricey side, but it works.
Did someone say, "caviar?" Yum! Well, you can't eat it, but Alterna Caviar Hair Care is a nourishing treat that restores youthfulness in the silkiest of ways. I recommend this for anyone that has relaxed hair because you can control the frizz so well with this while getting an impeccable texture and shine.
With nourishing oils and caviar extract, hair doesn't give into the humidity around you. I asked one of my friends that lives in Miami to try it out on her normally frizz-like-crazy hair, and she said she couldn't believe that it worked. "Nothing else has ever worked like that!" she told me.
If you look at the price, you might balk, but let me tell you, if you struggle with frizz, and your hair just poofs out the instant you go outside, this product really works to keep you looking smooth and perfect.
Everyone remembers BIOLAGE, right? It's a brand that's been around for a while. It used to be just in salons, and then you could buy it everywhere. And of course, you can order it in just one click, so that's even better than the good ol' days.
Anyway, this incredibly nourishing conditioner is what I recommend for hair that has that dry, fried, unruly feeling to it. If you feel like screaming every time you try to style your hair because it's so dry and does whatever if feels like, take back control with this conditioner.
You'll be amazed how easily it detangles and leaves your hair smooth, soft, and wonderfully supple. It's drastically emollient, even on the coarsest, driest, and frizziest of hair. It's wonderful stuff with a lovely cocoa butter scent and rich texture that won't weigh hair down yet keeps it fully tamed.
And the price is reasonable, considering the size. I think you'll be very happy using this one!
I almost missed this one since I saw "Cassette" in the title and I thought it was that thing my mom always talks about from a million years ago that people used to listen to music. But this is R+Co Cassette, a special conditioner for curls and defining them.
Keep your curls locked into place with a smooth, more defined profile that won't give in to frizz. The formula contains chia seed extract and flax seed to deliver big on shine and moisturization without bogging the hair and scalp with a greasy existence.
Other nutritious, hair-loving ingredients are also included for good measure like aloe leaf extract, rice protein, and hydrogenated castor oil. Unfortunately, I haven't yet tried this one myself, but when I asked several friends about it, they all unanimously replied that they loved it. Most common answer was that they felt their curls weren't bogged down and fell back in love with their curls, all for a reasonable price.
If you want hair that looks like you went to the MATRIX for perfection, you're in luck. Total Results Curl Please Conditioner is a superb choice for waves or curls. What I love is that it's a chemical-free formula that knows what curly hair needs to look and feel its best.
Beautiful curls, whether they're permed or natural, abound when you use this. It just simply cuts the clutter, allowing your hair to breathe easy and just do what it does, all the while managing the frizz. You'll love your hair when you realize it looks awesome curled. Most women who hate their curls feel the rage because frizz comes in and ruins the style.
With frizz, it can make you look old even when you're in your 20s, so controlling frizz is the biggest step you can take when caring for your hair. To have a conditioner that does it so well is a huge blessing for wavy and curly hair.
Something else to love…the price. The bottle is huge, and it will last you quite a while, even if you have long hair!
Conclusion
When it comes to choosing the best conditioners for curly hair, you should first think about the type of curls your hair has, either naturally or in its permed state. You should also be honest about how dry it is and how prone to frizz it is too.
Once you figure out what your hair really needs, choose one of these 10 fantastic curly-hair conditioners, and you won't be sorry. By changing how you condition your hair, you will soon see curls that will be the envy of all!