Bounce Curl products are worth all the attention they get. These formulations are made exclusively for the needs of curly hair, focusing on moisture and protein to keep it healthy and manageable in a natural way.
If you have curly hair, as so many of my friends do, Bounce Curl products are one of the biggest beauty brands buzzing around right now. You might want to look into them to help you start loving your curls.
Look, I envy your curls, but I have many friends with curls who loathe them. Using Bounce Curl products made them change their minds real quick.
The brand came about from a woman on Instagram who didn't have to fake it until she made it. She has an extensive background in chemistry and formulations to go along with a vast knowledge of natural ingredients in hair care.
She also happens to have mega curls herself and hail from a Middle Eastern culture. She's like a regular gal that's all science-y and stuff, and I love that about her.
Anyway, she launched in 2015, and now she's really taken the curly-haired girl world by storm.
Why?
She just gets the balance of protein moisture right for handling curls. I've written before about how important it is for curly hair, in particular to be moisturized enough.
Your natural hair structure makes it hard for the natural oils your scalp produces to make it down the shaft of your hair to keep it supple and hydrated.
Oh, and the brand checks off all the boxes for being vegan, cruelty-free, having no sulfates or parabens, or any of that nasty chemical nonsense. It leaves hair shiny and hydrated while letting curls rock.
Yes, Bounce Curl products are worth the hype from what I have seen of my friends' curls. So let's talk about this amazing product line and explore what it has in store for your curls too. Read on!
Let's start with the shampoo
When it comes to hair care, shampoo is the logical first step. You have to cleanse first, right? I've got two of them for you that my curly friends have recommended. And I think you're going to love them too!
My friend Jasmine was always hating on her curls. She would struggle to get her frizz under control. Even though my own hair isn't curly, I recommended she work on keeping her hair hydrated.
And I mean, she tried everything. It wasn't until she discovered Bounce Curl that she managed to get the frizz under control.
This moisturizing shampoo helped Jasmine get rid of those troublesome tangles and kept her hair looking naturally beautiful and lushly hydrated.
I should add that Jasmine has really tight curls. I've always envied them, but you know what they say. We all want that one thing we don't have. Just like she'd envy my straight hair.
Anyway, this worked great for her, and I'm just amazed at the difference. She seems more confident in her curls now too.
The only problem with this particular formulation is that if your curly hair is also fine and lacks a true curl pattern, it's not going to be a good option for you.
Because of the natural oils in this formula, you'll wind up with greasy hair. But thick, coarse hair with a definite curl pattern is an excellent match!
For frizzy hair, this shampoo has you covered by keeping things hydrated.
That's just what frizz needs to stop it in its tracks. Plus, it reduces tangling because of the natural oils.
However, if your hair is fine, greasy, or it doesn't have a definite curl pattern, then you're not going to be pleased.

While I'm not a curly girl, I can tell you that clarifying your hair from time to time is the way to get it to behave. The problem many of us face, curly or not, is that we get buildup on our hair and scalp.
When buildup accumulates from our styling products and that natural sebum, it keeps hair from looking its best. While you shouldn't clarify with every shampoo, you will benefit greatly from using it for a deep cleanse.
This particular shampoo is fantastic because it will wash away all that heavy product buildup, but it won't leave your strands starved for moisture.
It's such a great shampoo for dry curls to help them look luscious and bouncy again.
Use conditioner, please
I can't imagine ever shampooing my hair and then getting out of the shower. Like ever. And I know curly girls can't do that either.
It just feels wrong, right? But with your hair type, in particular, you need to use conditioner to add back moisture for the best bouncy curls and shine. Don't forget manageability either!
Without conditioner, I don't know how any of us would survive. Jasmine is always saying her hair is horrid until she puts conditioner in it in the shower.
She says it's healing, and while my hair type couldn't be more different, I totally get it.
So let's look at some Bounce products that will condition your curls and leave you feeling sultry and spectacular!
Jasmine told me this one has a woodsy smell. I had to check it out for myself, so when I opened up the top, I took a whiff.
Yup, I'd say it's woodsy too, but I like that kind of scent. To me, it's soothing. But for some of you, it might be off-putting.
Still, I think you should work past the woodsiness of it and use it. It has intensive shine capabilities and a nourishing roster of ingredients so your hair will have a smoothed yet curled appearance.
Curls that look controlled yet vibrant will frame your face for your most beautiful look.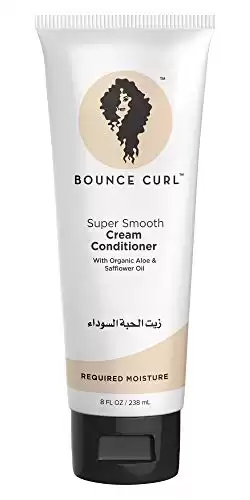 Remember when I talked about Why You Need to Pre-Poo? This Bounce Curl conditioner is a cleansing conditioner, making it a great choice for that pre-poo. It smells really good too, by anyone's standards.

Again, I like woodsy, but for those of you that don't or you're looking for something to pre-poo with, go with this one. It's a fantastic option for that.
Or if you'd prefer to shampoo and condition, you can still use this one. I'd recommend using the Bounce Curl Pure Silk Moisturizing Shampoo with it to help control excess oil on the scalp and keep your curls looking perky and pretty.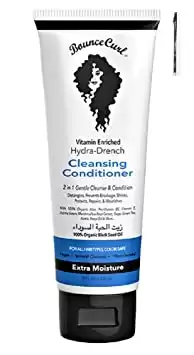 Now for the Bounce Curl product that everyone raves about. When I saw all the reviews about it, I asked Jasmine. She said this is one thing she cannot live without. She buys at least 3 of them at once so she won't run out.
The product features a composure of gel and cream, with about 80% of it being gel and 20% being cream. Combined, it makes curly have impeccable volume and shine all in one.
However, my friend Emily was less than pleased, saying her hair was cranky after using it.
Jasmine and the majority of others with curly hair seem to be enthralled with it. It helps get easy control while bringing out the best in your hair.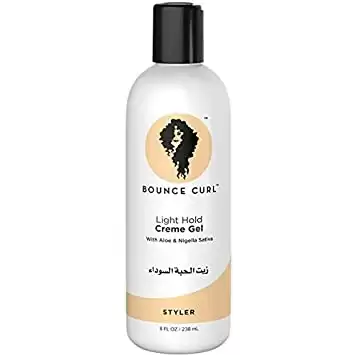 – Bounce Curl Moisture Balance Leave-In Conditioner
Can I just tell you that even though I don't have curls, I use a leave-in on top of conditioning my hair in the shower? Any chance you have to add moisture to your hair, do it!
With Bounce Curl Moisture Balance Leave-In Conditioner, you should add this after your conditioner once you gently pat your hair a little dry. Using a microfiber towel or an old cotton t-shirt will help.
You could also apply this on your 2-day wash to keep frizz away and refresh your curls. That gives you even more control and curls you'll love!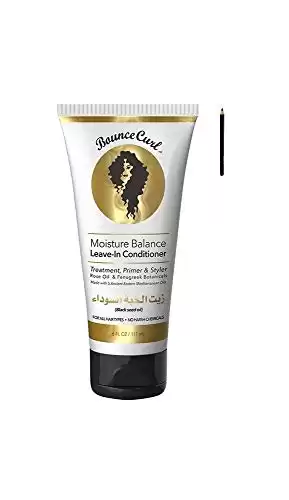 Define cream time
Defining cream, as you know, makes your curls defined. These Bounce Curl products are revered for their curl potential.
If you've felt less than in love with your curls before, get these things to help add the definition you need to have those kind of curls people like me are jealous of!
Anything with rose in it always smells so elegant and elite to me. This defining cream is one that both Jasmine and Emily raved about. It really smells delightful, but that's not the reason.
It helped both curly girls get definition while keeping their curls free of frizz and feeling soft to the touch. It works great with the light crème gel, too, so you can use both products to get the maximize boost out of your curly head of hair!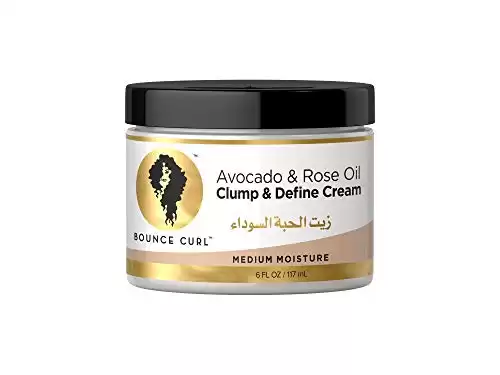 Now, I want to clarify that Bounce Curl Defining Butta is not a gel. This is something a bit different. Butta, or butter, is here to keep hair moisturized to keep you from having to wash it often.
It can work on its own or with a gel if you wish, but curly girls rave about it because it allows you to wash and go.
Emily, in particular, told me her curls always feel so dry after a few days, but with this, she had zero complaints. She said it was the best her hair ever looked and that for the first time, she finally started loving her curls.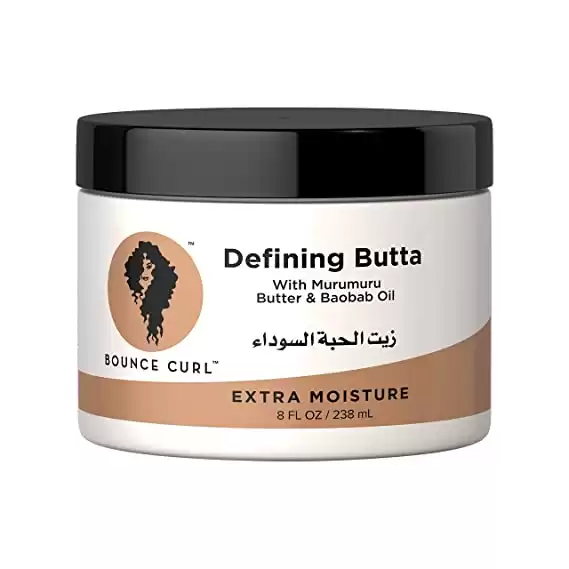 -Bounce Curl Alcohol-Free Hair Spray
Now to finish the whole style off, hair spray is essential, well, at least for me and my no-curls. When I do curl my hair, I must spray it on, or else it will never stay.
Some curly girls can't keep their curls in place without hair spray. Or they don't want to fall flat on a special occasion.
You can't spend all that time doing up all those curls for a hot date or a charity dinner and then catch a glimpse of flat and blah hair. Ugh. That's the worst.
I'm not the biggest hair spray fan in the world, but I will tell you this…no matter what kind of hair you have, ALWAYS choose an alcohol-free hair spray.
Alcohol will just dry out your hair. And as you know, as a curly-headed gal, that's like the kiss of death for your hair.
It's not good for my hair either. But Bounce Curl knows that, and that's why they made this great alcohol-free formulation.
It won't give hair a crunchy texture that reminds me of Justin Timberlake's ramen-noodles look from the 90s.
No, this stuff is nothing like that. It keeps frizz away, holds your curls, and lets you like sensational as you should!
Conclusion
Yeah, I might not be a curly-headed girl myself (oh, how I envy you all!), but I know what it's like to struggle to find something good for your hair. With the help of Jasmine and Emily, I'm better able to understand what my curly friends need for hair care.
Bounce Curl definitely seems to be worth your time. I have 2 friends who are pretty impressed with the products, plus they have rave reviews everywhere you look.
That says to me that they are doing a great job creating hair care products for those that have bigger hair challenges.
Remember, curls look their best when they are nourished, and moisturized so don't compromise there. Use Bounce Curl products to help take your look to the next level!