Does your hair always seem to look oily no matter what you do? Having an oily scalp isn't that uncommon. In fact, it happens to the best of us.
The solution to your oily hair and scalp troubles is finding the right shampoo. It all begins here, during the cleansing process, where your hair is primed for what's to come.
When you have oily hair, it's not just that it looks bad. I know this for the many times I've slapped a hat on top of my head to hide it. But it feels bad too. So even underneath that hat, I can feel the oiliness. Ugh.
I switched up my shampoo, and now, I don't have to contend with greasiness.
There are a few reasons why it happens, and knowing why can help you choose a fantastic shampoo. I've got a bunch of them to recommend to you and some tips for how to handle oily hair and scalp, so keep reading!
20 Best Shampoos for Oily Scalp & Oily Hair Reviews & Guide
First, let me get down to the shampoos that I've personally used for oily hair and scalp. I'd definitely start with these first and have further categorized them into what they're best for. Enjoy!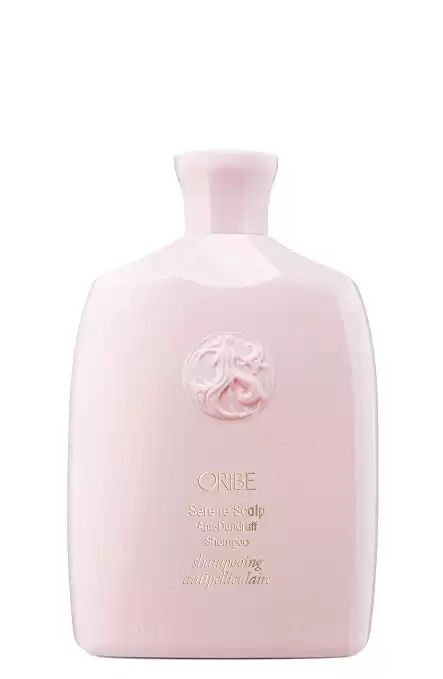 Itchy scalp? I can sooooo relate. That's one of the worst feelings. My scalp was so dry and itchy; I had to make a deal with myself minute by minute not to scratch at it.
That's why Oribe Serene Scalp Anti-Dandruff is definitely a winner in my book.
I loved the gentle cleansing with soothing relief. My scalp felt immediately refreshed after the first use. And no more itching.
It really restored the balance my hair was missing, and after a few shampoo sessions during a week, my hair and scalp didn't bother me again.
I will say it has a very strong but lovely fragrance to it. I personally enjoyed it, but if you're looking for something that is less noticeable (or even fragrance-free), you may want to skip it.
Redken has long been an esteemed brand. In a time when I was using LOADS of product on my hair, I also began to notice it wasn't performing as well.
So I took to this detox clarifying shampoo by Redken and was quite pleased with the results.
It's something I will still use once weekly to help get buildup off my hair and free my scalp from oppression.
Often, that's what's causing our oily scalp woes, so when you clean that up, your hair is free to be itself.
Hair feels really soft and shiny afterwards, and it really can't be beaten.
Some may complain about the price, but as it's something you're not using every day, it will last. Also, you're worth it.
Pay for something that will give you results! Oh, and before you ask, yes, it's safe for color-treated hair!
A bit luxurious, yes, but totally worth it for fine hair. Ok, I didn't use this one myself, but my friend Dina did.
She's always had this baby-fine blonde hair, but it was getting a bit greasy on her.
In her younger years, Dina would just shampoo every day. But after years of this, it was taking a toll on her hair. So she tried Malin + Goetz Shampoo, and it was the best solution for her.
She said it foams up nicely and left her hair feeling soft and beautiful. Best of all, her scalp wasn't oily anymore. She described it as "purely magical."
It's not a cheap option, but with excellent results, it's certainly worth it.
Plus, this isn't a shampoo you will use for every wash, so you're not exactly rinsing it down the drain.
If you love peppermint oil and need more volume, this one's for you. PHILIP B Volumizing and Clarifying Shampoo will give your hair back that volume it's been missing.
When my hair was looking a bit flat, I decided to give this one a try. I loved the tingling cool feeling it gave me on my scalp.
Every time I used it, I just wanted to hang out in the shower and enjoy that moment. But after I got out, it was even better. My roots lifted with ease, and I felt clean, fresh, and soothed on my scalp.
I used this not long after coloring my hair too, choosing it because it was recommended as safe for color-treated hair.
I'd definitely go for this if I were you. I wouldn't think twice about the price even though there are cheaper options. This one is worth its weight in gold!
And if you're really worried about keeping up that expensive bleach job from the salon (and I don't blame you one bit), then this purifying shampoo by VIRTUE is your jam.
It's formulated with peroxide, so you will need to be extra vigilant in making sure it doesn't get in your eyes.
Not that any of us are willfully rubbing products into them but I figured I'd better mention it.
You need very little of this per wash, which certainly makes the cost worth it.
Despite having peroxide, it doesn't have a strong smell and really gives you a clean that goes beyond your expectations.
You'll notice your hair color looks brighter, and your hair looks and feels healthier. It's definitely an ideal choice for lightened up hair!
Whether you're going to your stylist soon or you'll be coloring your hair yourself, I recommend you begin with Kenra Clarifying Shampoo.
This shampoo is outstanding for getting rid of all those deposits that dull up your hair.
Not only is it great for a pre-dye job, but it's also wonderful if you tend to swim a lot. I have a friend in Florida who is ALWAYS in her pool.
She loves the exercise, and I have to admit, I'm a bit envious. But it does terrible things to her hair.
She was the one who recommended it to me initially when her colorist advised her to try it.
I have to say I was deeply impressed with it prior to coloring my own hair. I find no fault with it.
However, it does contain fragrance, so if you're looking to avoid that, you should keep looking on my list.

While I've only had itchy scalp issues randomly here and there, my friend Avi has always had dandruff issues.
Even when we were younger, and it stood out on her long black hair. When she started using this tea tree oil shampoo by CHI, it made all the difference.
I remember asking her what she was using because her hair looked amazing. And she looked so confident.
Now she was shining with her personality like she'd act when we were alone in front of others.
When she told me this is what she was using, I was so happy.
CHI has long been known as a great brand. I wanted to try it too, and while it made my hair feel more weighted than I'd like, my scalp did feel great.
For Avi though, she uses it all the time and says she won't use anything else. She says for her, "it's perfection."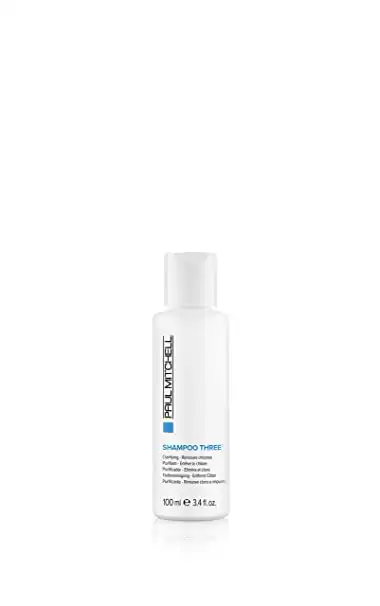 Paul Mitchell has always been a brand I adored. My mom says it was once only available in salons.
But I love that Paul Mitchell has become more accessible. I think excellent hair care should be within reach for everyone.
That being said, Paul Mitchell Shampoo Three is an outstanding choice that is effective and affordable. It's another one that's good for swimmers.
My friend Pam trains for triathlons and is often in the pool. Her naturally blonde hair would turn green until she started using this.
"I hated wearing a swim cap. I just wanted to get my laps in, but every time, my hair looked green.
My husband joked I should just leave it this way, but I'm part tomboy and part girly-girl, so I want my hair to be pretty when I'm not competing," she'd told me.
The only downside is that it can strip your hair a lot and make it dry. But with a good conditioner, it balances it back out so you won't ruin anything.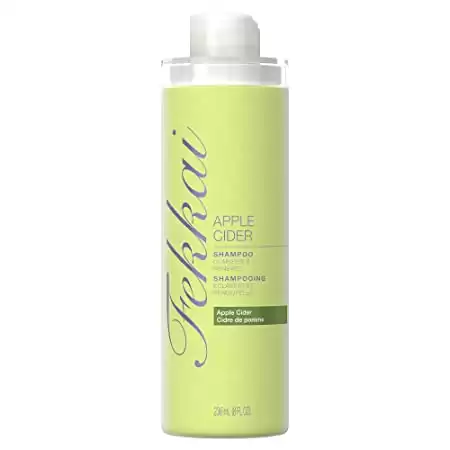 After an itching scalp, I'd say a sensitive scalp is probably far worse.
My friend Anita has eczema, and recently found it was the reason why her scalp was so itchy too.
She had been through a bunch of stressful things (divorce, losing her job, etc.), so she moved to a new town to start fresh.
"While I was at the grocery store, I noticed a hair salon tucked into the strip mall, so I thought I'd pop in and see if I could make an appointment.
I met my forever stylist, Darlene, there, and it's because of her that I know about Fekkai Apple Cider Shampoo.
It changed everything for me ever since using it. Definitely not cheap, but it is worth every single penny to feel human and beautiful again," she told me.
I love activated charcoal. To me, it's one of those perfect ingredients that really does so much good.
In this Drybar On The Rocks Clarifying Charcoal Shampoo, you're going to notice a lot of good for your hair and scalp, particularly if your hair is damaged.
It has a vegetable protein that helps strengthen after the charcoal clears away impurities.
I found it wonderfully soothing though I can't use this one every day—definitely a good find.
And while I had no problems with it, my friend Megan said she had more hair fall out when she was using it.
She was going through some stressful stuff at the time, so not sure if this shampoo was to blame or just her life events, but it had no negative impact on my hair.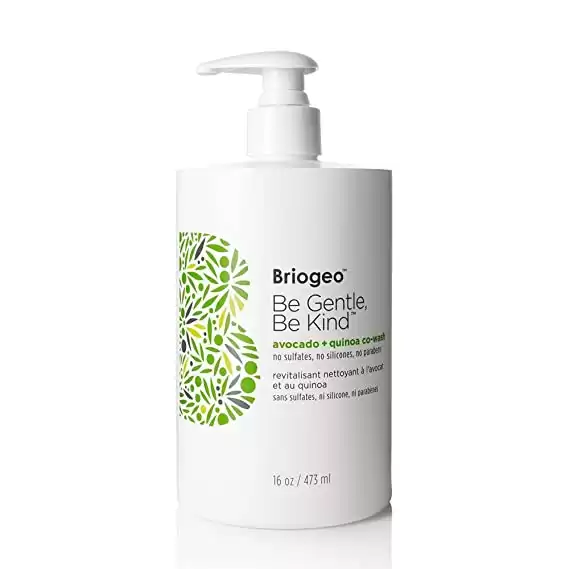 Co-washing is like the new in thing to do. My friends with textured hair tend to really love doing it.
It's great for removing dirt and buildup while giving hair a conditioned feeling.
Briogeo is a popular choice for co-washing, and rightfully so. It has no nasty chemicals in it and is almost completely natural.
This is one that my friend Cleo loves "because it's so good to my tight kinky curls," as she says. She really enthused about it, so I decided to add it to my list.
I asked around to others, and most agreed with Cleo's sentiments though I did have a few curly girls who told me they didn't find it to be the absolute best for extra oily scalp issues.

Another one I personally enjoyed using was this BIOLAGE shampoo with cooling mint.
Made with mint leaf, it left my scalp and hair feeling invigorated. I just loved this stuff every time I used it.
I noticed my scalp wasn't as oily after the first use. I felt fresh all day and into the next, and I really loved the cooling sensation it left with me.
I'd say it's in my top choices for my own personal use. Some people will disagree with me, but most of the people I've talked to about this shampoo feel the same as I do about it.

Does your hair feel meh these days? Bumble and Bumble Sunday Shampoo might just be what you're looking for if your hair is very dried out.
In fact, it's what I reached for after an epic summer outdoors. My hair felt pretty rough, and this one had been recommended to me by my stylist friend.
I gave it a try, and boy was I impressed!
After one use, my hair felt like it did before all that sun. It was alive and refreshed feeling, like brand new hair. I will use this once weekly when my hair feels like it needs more love.
It removes buildup and toxins and really makes a huge difference in how it looks and feels.
It smells nice, too though if you have color-treated hair, the bottle says it's not for use on dyed hair, so you'll have to choose something else from this list.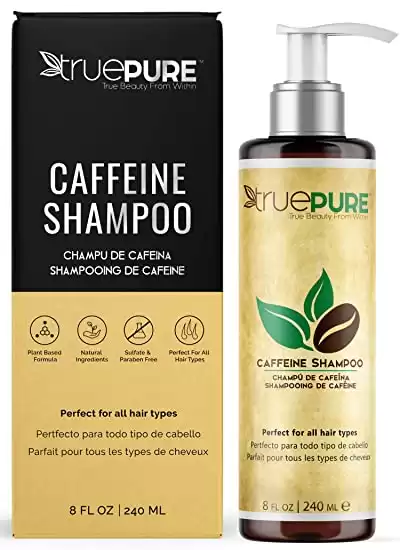 My friend Chris is very in touch with his hair. That's why he came to me when he noticed it was thinning.
"Be honest…is it thinner back there? Because that's what it feels like and looks like when I hold up this mirror," I remember him frowning as he pranced around my bathroom.
Fortunately, I knew what to use. TruePure Natural Caffeine Shampoo is one of the best options when your scalp is getting greasy, and your hair growth isn't what it used to be.
It has caffeine and aloe vera, two fabulous ingredients for handling hair loss. Chris was instantly smitten with it from the first use.
"Thank you, dollface! I love this stuff. You HAVE TO see my hair now.
It's getting thicker, and none of those young guys think I'm that old creepy gay guy anymore. I'm hot again!" he'd messaged me. God, I love him.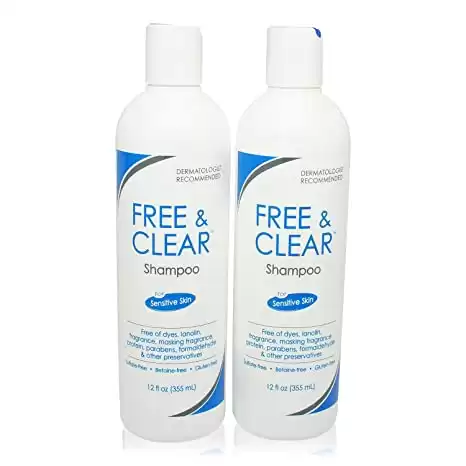 Are you allergic to everything? My friend Ilsa seems to be, and what's worse, everything she was trying was making her scalp react.
"It was beyond flaky. It was scaly. It was so embarrassing!" she told me.
After seeing photos, I urged her to seek out a stylist. And that stylist had some interesting suggestions, namely to use Free and Clear Shampoo. I hadn't heard of it, so I asked Ilsa to keep me posted.
A couple of weeks later, she called me, sounding bright and cheerful. Apparently, it worked.
"It doesn't irritate my skin or scalp. It's a little drying, but I have a great conditioner that balances it out. Tell your readers it's working for me!" Thanks Ilsa!
This one earns a spot on my list thanks to my friend Cheyenne who is all about reducing her carbon footprint.
I wanted to provide an option on this list for those of you that want to do better for the world, so I asked her what she thought.
Ethique St Clement solid bar was what she told me without a moment's hesitation. I decided to grab it myself to see how it worked. I was pretty impressed.
My hair felt super-soft, and frizz was under control. Cheyenne has very curly, frizzy hair, and she says her hair always behaves when she uses it.
What I noticed was my roots weren't greasy. In fact, I went even longer between washes because it was so good to my hair. I really loved it. But then I saw an ingredient on here that made me cringe.
It has sulfates in it. So I'm a bit torn. It works wonders, but if you're specifically avoiding sulfates, you may want to skip it. If that doesn't bother you though, use this!
17. Best shampoo for dermatitis: Tea Tree Shampoo
When the flakes are so bad that no dandruff shampoo helps, try Tea Tree Shampoo. This is one that is for extreme itch-taming and flake reduction.
My friend Cindy's husband Mark is about the nicest guy ever, but you can see his flakes from space.
She had tried to help him find something that worked. I happened to see this one with lots of great reviews, so I asked her if they wouldn't mind trying it out.
Now Mark is like a whole new man. He tried everything else on the market and even sought out prescriptions for it, and nothing ever seemed to work.
"Thank you so much! Mark's hair is finally not plaguing him anymore. He doesn't have any more flakes, and there's no more itching. He even looks happier. That's just amazing!" Cindy had messaged me.
It's important to note though that tea tree oil can feel very invigorating.
Most people tolerate it quite well, but it may take some getting used to with this tingling sensation.
Other than that, it seems to have epic results, which is what you're likely in need of.
Here's another shampoo with activated charcoal. Saragan is a wonderful choice, especially if you have curly hair with low porosity.
I tried it along with my friend Arvette who is a naturally curly girl. I wanted to see what we both thought of it.
For me, I felt like my hair was very clean and fresh. It didn't feel dry at all, and I definitely could dig it.
Arvette was thrilled though. She loved how it made her hair feel and how soft it was.
I wasn't much of a fan of the fragrance as it was a bit masculine for my tastes, but that didn't bother her.
All in all, we both felt it was a great option for the best oily scalp shampoo.
As we get close to the end of this list, I've got to add this degrease shampoo on here.
It has to be one of the best shampoos I've ever used for clarifying my hair and helping my scalp.
My hair looked revitalized, and as if I'd just gone to the salon for a blowout. I was really pleased with the results and the price.
The one thing you'll have to watch out for though, is that it is really drying.
I recommend you pay extra special attention to your ends when you put on conditioner.
Let it sit longer, and then rinse, and you will have beautifully soft and balanced hair.
Speaking of balance, if you want happy hair, this Tree To Tub Shampoo uses organic botanicals to get you to the ultimate 5.5 pH for hair. It's very gentle and has that peppermint essential oil, which I personally love.
My friend Mandy loves it so much she uses it to wash her kids' hair. And her husband uses it too.
It's safe for everyone and really gentle. I loved using it because my hair felt very fresh and clean. It's a bit pricey compared to others, but I think it's worth it.
I always say not to balk at price on treating yourself to things. You can buy a small size and see if it works for you. Not everything cheaper will be a better choice, either.
What I've found is that spending money where it counts is absolutely the best expense.
When you find something that truly works for you, you'll pay anything to get those results. And you should because you are worth it.
Anyway, that's 20 of the best shampoos for oily scalp and oily hair.
Now, I'm going to tell you how to use them to get the best out of your hair, so keep reading!
How to apply your clarifying shampoo for the best results
I get it. You've been shampooing your hair for all these years. You're not dumb. But there is a specific way to use these shampoos to get the best out of them.
I'd say make sure you're following these tips when using clarifying shampoo.
Try them out a few times, too and if you're still not seeing results after 2 weeks, then try another one.
Use warm water to wet your hair.
Get enough shampoo for your hair. For short or medium-length, a dollop about half an inch wide should do it. Longer hair will require a bit more.
Now, add just a little bit of water to foam it up in your hands.
Move the shampoo through your hair, taking care not to scratch your scalp with your nails. Just use the pads of your fingers to gently massage it in.
Rinse your shampoo completely, then squeeze your hair as you rinse. You want to feel a squeaky clean feeling.
Use your conditioner as usual.
Follow with a cool water rinse to help boost blood flow to your scalp. This will also help hair growth.
Don't undo all the good you've done! Pat your hair dry with a cotton t-shirt or microfiber towel to prevent damaging it.
Gently detangle your hair with a wide-tooth comb.
Style accordingly!
Remember, clarifying shampoos should be used once weekly. Using them too much can strip hair, even with the most nourishing formulas. Take it easy, and keep watch for how your hair looks in the coming weeks!
Conclusion
Oily scalp and hair are often caused by buildup. Much like skin, the scalp needs help regulating sebum production. When the buildup gets in the way, it makes for oilier hair.
These shampoos for oily scalp and hair are the best choices to help you maintain outstanding hair health.