Semi-permanent hair dye is a great option for anyone who wants to change up their hair color without making a huge commitment.
It's also good for covering gray or white hairs, as it works more effectively on sparse, thinning areas of the scalp than permanent dye does.
Besides, if you want something that will gradually fade and won't require too much upkeep, then semi-permanent is the way to go.
However, if you want your dyed hair to have a bit more oomph, then go for a permanent dye.
And when it's time to dye your hair again, you might be considering using a permanent hair dye instead of your usual semi-permanent choice.
If so, you might be wondering if it is possible to put permanent dye over your semi permanent.
Well, keep reading to find out if it's okay to use permanent dye over semi-permanent!
Can You Put Permanent Dye over Semi Permanent?
You can safely put permanent hair dye over semi-permanent hair color, as research has shown that semi-permanent colors only coat the the outside layer of the hair shaft, hence they won't cause much damage. However, you should consider the base of those colors to avoid unwanted results. You can't put a semi-permanent hair color on top of a permanent dye though, unless it's darker than the permanent dye.
Much of it will depend on the time needed for both color applications and the condition of your hair. If you don't have any damage, you could technically and quite safely apply permanent hair dye immediately after you used semi-permanent hair dye.
Good to know right? You know what else is good to know? How colors can blend together, how to fade semi-permanent color to get the shade you want, and which permanent dye to use, among other things.
So, before you dash off to the beauty supply store or, more conveniently, click to add everything you need to your cart online, keep reading to find out more about applying permanent dye over semi-permanent!
Things to Consider When Applying Permanent Dye over Semi Permanent
One of the most important things you need to think about when you're applying a permanent dye on top of a semi-permanent color is the base of those colors. Remember painting in kindergarten? Your teacher would give you a little tray filled with different colors you could use to paint.
Inevitably, you probably mixed them all up and wound up understanding that whole color-wheel thing. The same can be true for permanent hair color over semi-permanent, though not always. Still, it is wise to proceed with caution, lest you wind up with a shade you didn't bargain for.
Most of the time when you apply a permanent hair color on top of semi-permanent, it should go off without a hitch. But the reverse is not true, something you should live by. You should never apply a semi-permanent color on top of a permanent color, not unless that semi-permanent color is darker than the permanent color.
In the formulations for permanent colors, there may be hydrogen peroxide in the developer with a strength enough that can lift that color of hair that it's being applied to before the new color becomes deposited. Semi-permanent color doesn't do that though.
There's no lifting action and thus, it can't be used to lighten up your hair no matter what you've colored it with, permanent or semi-permanent.
This is precisely why they call it 'temporary' color. There's no ammonia in the developer. Ammonia is what makes the change. A kit of permanent color will though. Nothing in the temporary color is going to stop that permanent color from taking hold though the developer will bind in any of that temporary color that might be leftover.
The biggest rule when it comes to hair color is understanding the chemistry of it. You can't lighten hair color by using temporary colors. It's impossible without the bleach. Therefore, if you have any artificial hair color in your hair, whether it's semi-permanent, permanent, temporary, or even henna, you can't lighten it with a box dye that's a lighter shade.
What happens?
Since I don't want you to try this experiment at home, take my word for it, you'll wind up with roots that lighten up to the color you were hoping for. The rest of your hair will incur quite a bit of damage and won't really change enough to make a difference.
So, don't do it. Keep reading to find out what to do instead!
How to Lighten a Semi-Permanent Dye before Applying Permanent Dye
If you've used a semi-permanent dye and want to apply a permanent dye instead, lightening things up first is a good idea to get the color and finish you want. You can go to a salon to get it done professionally. However, not everyone can afford the expense.
You can take matters into your own hands and look your best with hair you really want to show off, all by doing it at home. Here's how to make that happen.
■ Use Clarifying Shampoo
According to a 2010 study, clarifying shampoo is a great way to thoroughly remove styling products like hair dyes, thus helping you lighten up your hair before dying it again.
It basically helps fade the color faster, the best one I've seen so far is made by Pharmaceutical Specialties (Amazon link), this no-compromise shampoo is free of dyes, parabens, formaldehyde, sulfate, and it's even gluten-free making it the perfect choice for sensitive scalp.
This shampoo is strong enough to strip residue without over-drying the scalp, it's also gentle enough so you can use it as often as necessary.
It suppose to last about 50 days, depending of course on how often you wash your hair.
What I also love about this product is that it comes with a pump dispenser, which makes it much more convenient for daily use than smaller bottles or tubes.
And last but not least, you should know that Pharmaceutical Specialties makes all of its products in the US and they're known for their high quality and affordable pricing.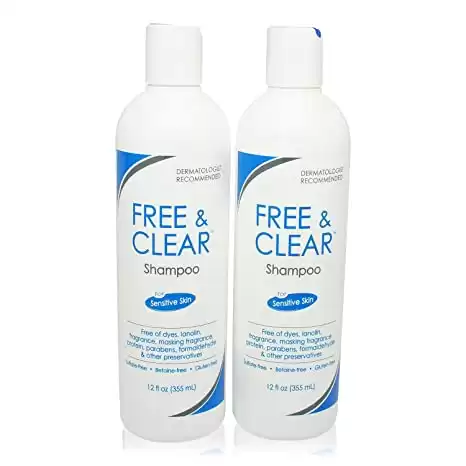 This is a simple trick for lightening up your hair first. Remember, you can't just get lighter hair by applying a new box of hair dye on top and crossing your fingers that it will work. It won't.
Dyed hair can't be lightened with more dye because that dye isn't going to do anything to neutralize the tone when you've got it in the wrong shade.
Don't skip this step of stripping out as much of the artificial color as you possibly can. You'll get much better results!
■ Use Semi-Permanent Color Remover
For Red and Dark Colors
Another option is to use a semi-permanent color remover like this one by Colour B4 (Amazon link), which is a great option to strip down black and red dye, which are both extremely difficult to get out of your hair without ending up with a LOT of broken strands or leaving behind that awful brassiness.
What's really great about Colour B4 is the fact that it contains no bleach or ammonia and will not cause further damage to your hair. So if you're in the process of growing out your natural colour, this is definitely an option for you to consider
I've seen a lot of women go from a fiery red back to their original blonde color and they swear by it!
I've even tried this method myself twice before with some great results. The first time I used it, my hair has been dyed black for over two years! So you can imagine how much dye there was to remove!
While it does leave a somewhat strong smell for a few days, it's certainly worth it to get the desired results, and considering the rotten egg smell of other similar products on the market, this one is a no brainer.
The good thing is the smell won't last if you rinse your hair THOROUGHLY and use clarifying shampoo like Free and Clear, which I've recommended earlier.
It comes with a handy set of instructions which YOU SHOULD follow to the letter to get the best results and no matter what you do, a heat cap like this one (Amazon link) is essential when using Colour B4, again follow the instructions to know exactly how long you should leave it on.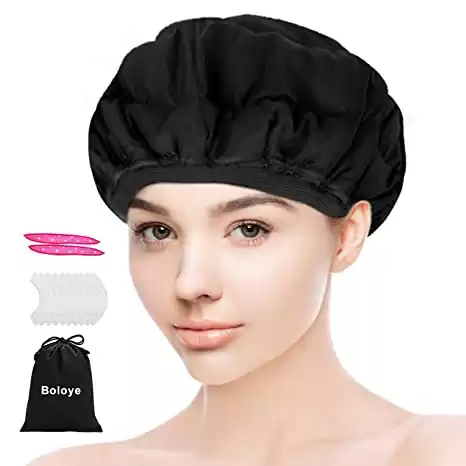 I'd also suggest you use your leave-in conditioner to give your hair that nice healthy glow once you're done can really boost it, because the color remover can make your hair feel drier.
For Mermaid and Indigo Colors
Unlike Colour B4, L'Oréal's Effasol color remover (Amazon link) is aimed at professionals, so, if you try to buy it at your local Sally's they WILL want to see your beautician's license and for good reason, since its formula contains bleach and can damage your hair.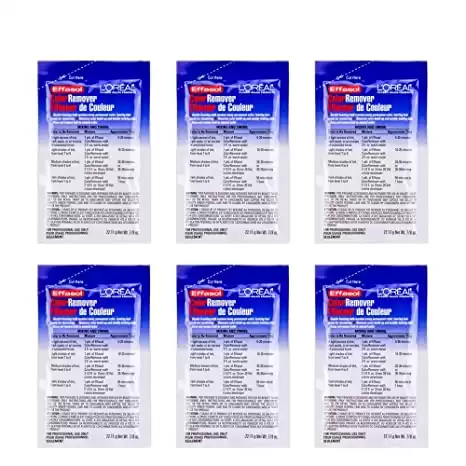 Do note that it won't restore your original hair color, but it will lighten it a LOT.
It's best used with a cream developer like this one by Wella (Amazon link) which is aimed at sensitive scalp, has a rather floral smell, and is cruelty-free.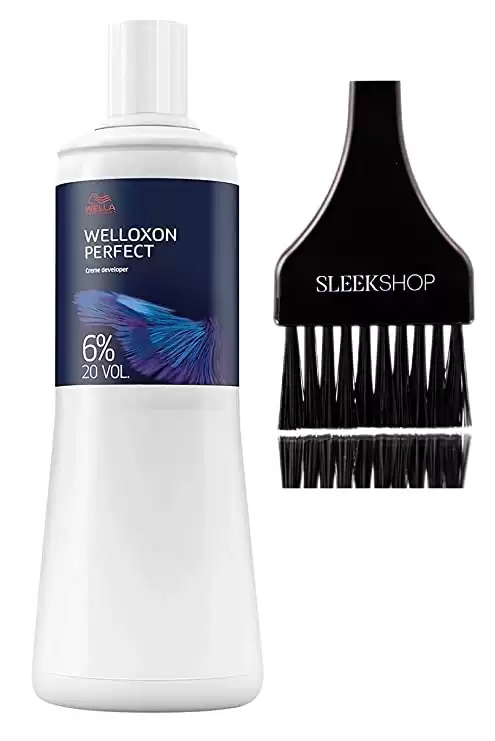 I'd also recommended you use Olaplex's repair treatment (Amazon link), to protect your hair during this chemical process, yes, I know, it's such a small bottle but it's sooo worth it, especially if your hair has been damaged by numerous bleaching sessions in the past.
You'll be able to brush it out in no time instead of spending an hour sweating in front of the mirror… so, considering that it will last you for two uses if you have thick long hair, it's a steal!
You only have to use Olaplex's repair treatment once a week, and I recommend that you shampoo your hair after applying it to get rid of the product's residue on your scalp.
What I really like about this product is that it smooths and softens the hair and prevents the appearance of split ends. Plus it acts as a thermal protectant while you're drying your hair or by applying heat to style it. Who doesn't want healthy-looking locks minus splitting, dullness and dryness?
Besides, Olaplex's's scentless formula allows you to style your hair without fear of making it smell bad or causing yourself headaches from strong odors.
It will make your bleached, highlighted, or damaged hair feel like silk and silk doesn't break easily!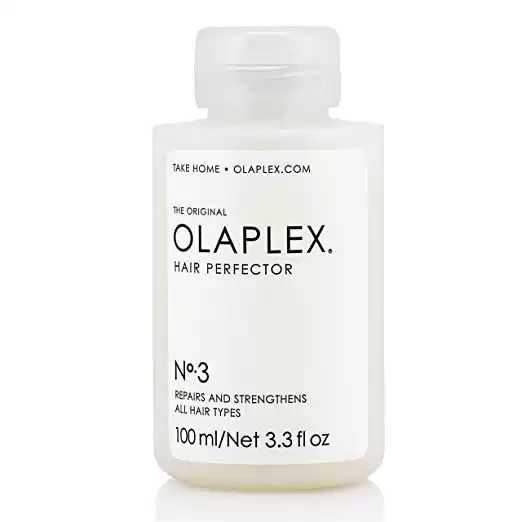 I have written another detailed post about the best hair brushes and why the right one can make all the difference, so please feel free to check it out.
■ Bleaching
If you've used hair dye remover, you'll see that it lightens up your hair a little. It won't be enough to get it blonde though. And if that's what you're hoping to accomplish, you need to bleach it.
This is especially effective if your hair is too dark to get to your desired hue. Bleaching will help you lighten things up the way you want it.
When you're using a single bleach process on previously-dyed hair, it's going to lift it somewhere around 3 levels. This is generally enough to turn dark brown hair into a dark blonde shade.
If you have light brown hair prior to bleaching, you'll be left with light blonde hair. If you want to be even lighter, you'll need to bleach it once more or select a color that doesn't require you to lighten it so much.
Wella has one of the best Hair bleaches out there for a salon like effect. It's called the Blondor Multi Powder Lightener (Amazon link).
Unlike other bleach powder out there, Wella Blondor has a special formula that prevents it from turning your hair orange or yellowish. It works very fast and the results are excellent!
It's a lightener and toner in one! This means less applications to get your desired look!!
Wella Hair products are used in many salons around the world because of its quality and its amazing results. So why not have the same at-home?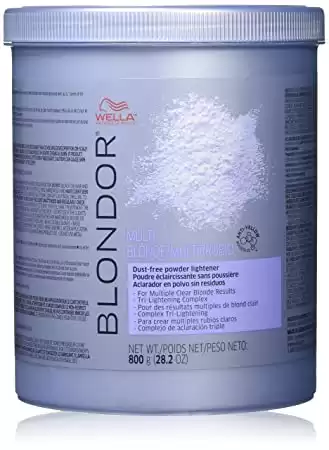 Too much bleaching is never a good thing for hair which is why you should keep on reading for the sake of your hair's health. And, if your hair isn't in good condition, you should NEVER try to lighten your hair.
This is only an ideal method for those who have hair in good condition. If your hair has been damaged from perming, straightening, excessive heat, or excessive dyeing, you shouldn't be lightening it.
It's not that you can't achieve that lighter color, but do you really want your hair to feel like straw? I didn't think so! Read this post I wrote to learn how long it takes for bleached hair to grow out.
How to Apply Permanent Dye to Lighten a Semi-Permanent Color
Now, let's find out which permanent dye to apply in order to get rid of the dark and warm tones left off by your semi-permanent hair color.
■ Permanent Dye to Lighten Red Semi-Permanent Color
If you're dealing with red semi-permanent color, you need to use an ash shade. If not, the red won't be corrected and guess what? It will shine on through in the final color which won't really be flattering.
It works because there's a green tone in the ash dye that will get rid of the red tone. Think of it like that blue concealer when you have dark circles under your eyes or when you've accidentally banged your leg on the coffee table again. It cancels it out, and that's what the ash color will do for your hair.
Now the shade of ash you should use needs to be at least one level lighter from the shade you currently have. If not, you'll over-tone your hair and it will absorb more dye than you want.
The purpose of using this dye is to cancel out the red so you can get a neutral color. Don't get hung up on the ash shade. That's not what your final look will be like.
Another important point I need to make here is you can't use the exact level or your hair will turn gray or even greenish instead of natural.
You should apply the dye in sections, as you would with any other hair coloring. Move quickly though. It's crucial to your color success.
As soon as it's applied, keep an eye on things. The toning can happen very quickly. Your best results will come once you see the red tone neutralize out. Rinse it out when that happens.
Hoping for a bit more golden or beige? You'll need to act even faster and wash it out sooner.
Again, you'll just watch it for toning and then take it off when the red tone is gone and you're satisfied with the color that's left.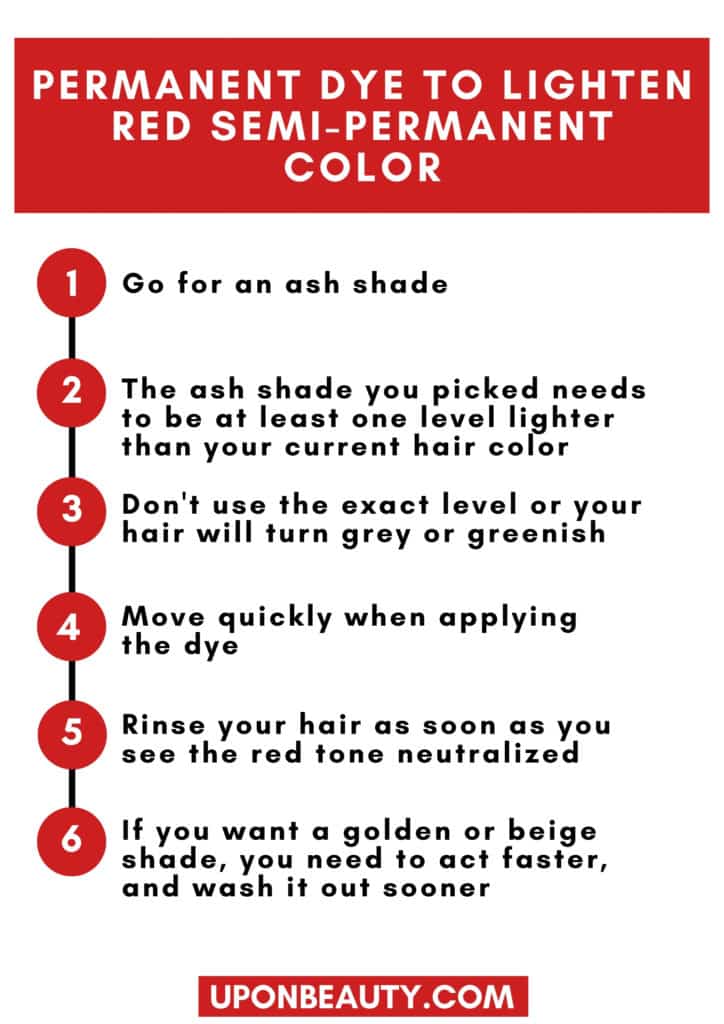 ■ Permanent Dye to Lighten a Black Semi-Permanent Color
Now let's talk about black hair dye. No matter what you used to lighten it, you're going to need to tone your hair in order to achieve the results you want with your final color.
During the lightening process, warmer tones emerge. You'll see this with hair dye remover.
Bleach too. If you want it to get to a natural color, you've got to let these warm tones come out with another dye.
Your next step is to decide on a shade you want and go for the ash tone in that shade. So if it's light brown you want your hair to become, you'd grab the light ash brown.
Your hair isn't going to turn light ash brown. The ash in it simply cancels out the warm tones left from when you removed the dye. Then you can get a more neutral shade of the color you want.
If it's warmth you're after though, you can just rinse that ash-toned dye out sooner rather than later.
You don't need to wait for it to neutralize out. And if you do want your hair to have an ash color, you'd want to choose an intense ash over regular dye, leaving it in your hair for the complete duration of development time.
As always, it's definitely safe to wash out the hair dye at any time when you discover a tone that makes you happy.
Again though, I'd like to remind you that when you remove dye from your hair, you really need to care for it. If you rush into removing the color and then dyeing it again, you can leave your hair suffering from damage.
Your new color won't look so hot if your hair looks dried out and damaged. Take the time to remove your hair color the right way first and then keep it conditioned and soothed so you can have healthier hair that will look gorgeous in the color you choose.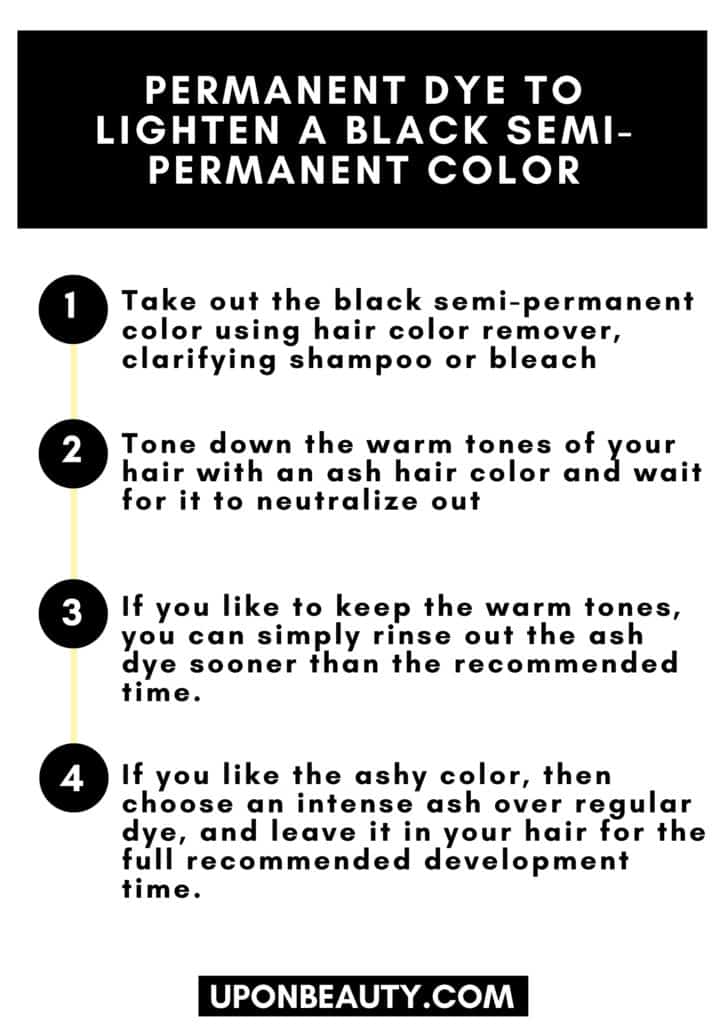 How to Apply Permanent Dye to Darken Light Tones of Semi-Permanent
What if you don't want to go lighter? What if it's darker you want? Not to worry! These next tips will help you be a master of your shade!
■ Permanent Dye to Apply to Darken a Red Semi-Permanent Color
Let's say you have red hair you want to get rid of and the hair color you want is darker than the red you have. You're in luck because this is the easiest way to bid adieu to that red hair.
All you have to do is choose a darker color and apply it! Pretty easy, right?
Well, almost. The right shade will neutralize it and the one big rule here is that you must choose a hair dye that has cool tones in it to offset the red.
Neglect to choose a cool tone and you'll have that red persisting through the new color, which will give it a warmer appearance than you wanted.
While it's true that the darker the dye is, the better it will cover your old red, it can't make the red tone disappear if you don't follow the rules.
Of course, if you don't care about a little bit of warmth shining through into your new color, then choose whatever shade you want. But for those of you that don't want to remember your days of red, you should be sure you choose a cooler shade to cancel it out.
Ready to make it happen? Just mix your chosen shade with a corresponding shade in ash. So, if you're trying to get away from being a light red blonde and head into the world of medium natural brown, don't use medium natural brown all by itself.
Instead, you mix in one quarter of medium ash brown into your shade and it will keep that warm red from coming through.
Generally speaking, most of the time when you mix the shade you want with one quarter of the same ash shade, you'll find that does the trick to remove the red.
The darker you're going, the less of the ash you'll need to add. Conversely, if you're not going too much darker, you'll need more ash.
And honestly, if you don't care at all if a little red still shines through, then more power to you!
■ Permanent Dye to Darken a Purple or Pink Semi-Permanent Color
Ah, purples and pinks! They're such fun and funky colors. People seem to be more accepting of them now, but still, if you're trying to create a professional ambiance, you might want to get rid of it quickly.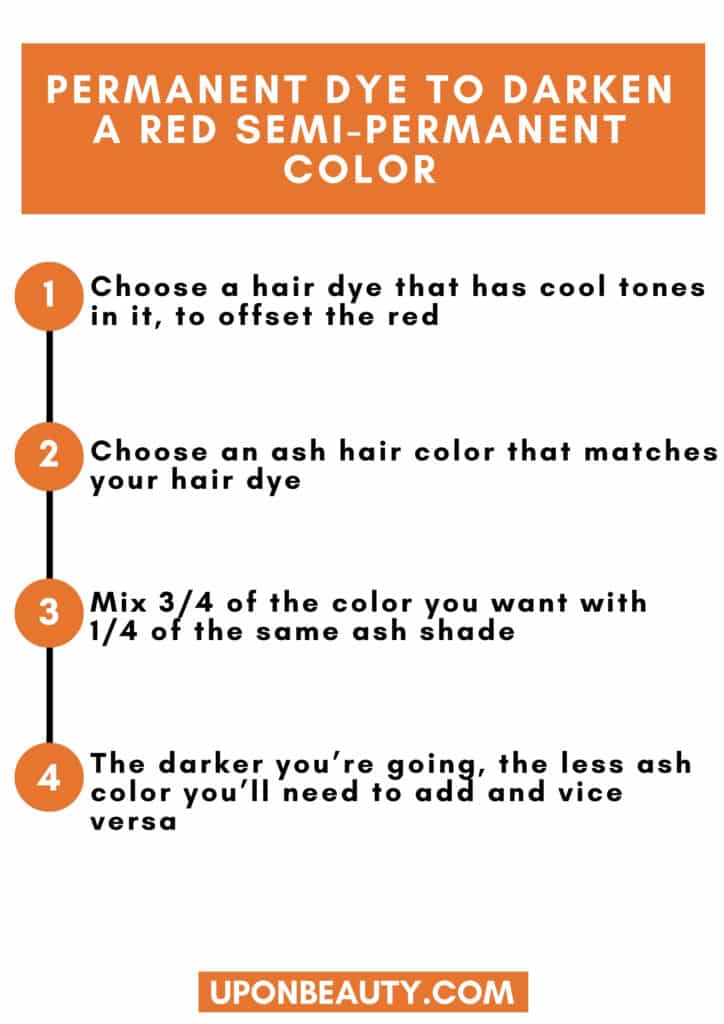 Or if your bright color has faded and you're just over it, you may want to return back to a more natural shade. Whatever the reason, you should use clarifying shampoo and repeat as much as possible to speed up the removal of the color.
For these types of colors, staying away from anything ashy is a must. They will wind up giving you a greenish-gray tone. Always choose a warmer brown color or golden tones instead so you can get the glorious color you want.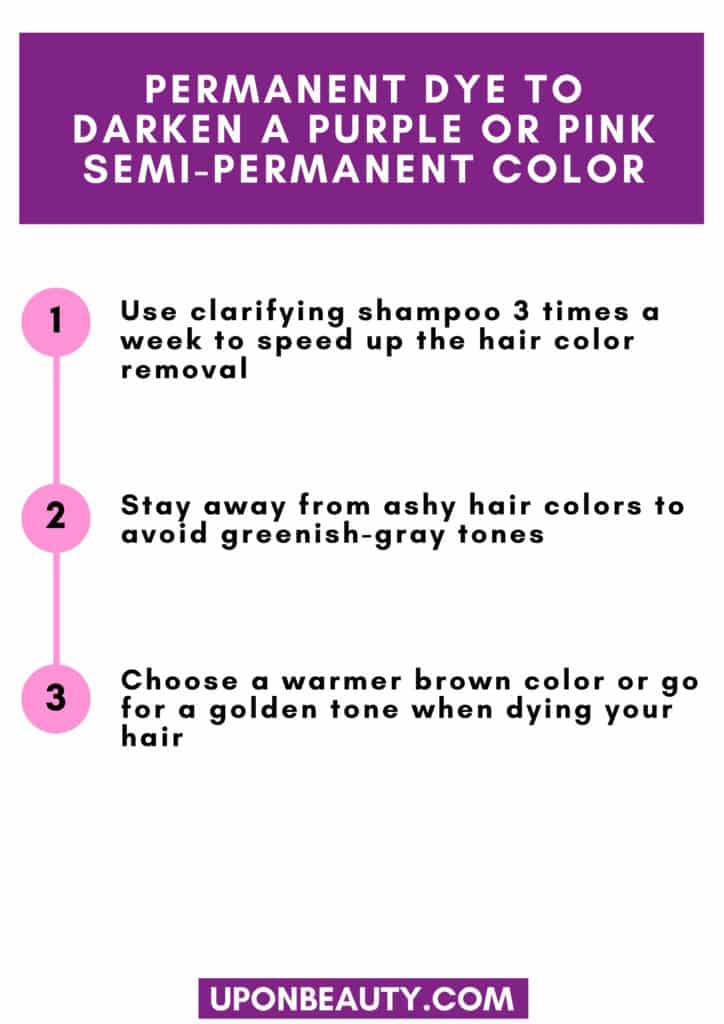 Conclusion
So, yes, you can definitely use permanent hair dye after semi-permanent hair dye has been applied. It just takes knowing a bit about colors to avoid making a mistake that will net you a color you didn't bargain for.
You also need to be cautious about the condition of your hair going in. Even the wrong color is more attractive than fried out, dried out hair. Take loving and nurturing care of your hair as you go through the process of stripping out the old color.
When it's time to color it again, going darker is the easiest way because it covers up old color, though in certain cases those old colors can shine through.
Lightening requires a little more work and even more nurturing because it can lead to damages. By reading up on the above, you'll have greater success with getting the color you want and the healthy hair you want at a price that won't set you back.
Speaking of great success, one of my best decisions is picking the right hair dryer, I've done the research so you don't have to and found the best hair dryers for every hair type, and laid out in detail, what you should look for, so if you want to know which one's right for you, check out this post.