Hair toners work to correct your color. This product also enhances the tonality for people with dyed or bleached looks.
If you want to go blonde, you must have the correct toner to use. Bleach is the only way to lighten your hair, but it leaves you with a color closer to hunting vest orange or garish yellow when applied.
Unless you have light blonde hair, you have orange and red pigment in your follicles. Lightening your hair lifts away the color.
Toner changes the undertone. It won't alter the entire color of your hair, but it can help add shading depth to make it more natural. You'll neutralize the unwanted hues to get a healthier, shinier look.
Can I Tone My Hair Twice in One Day? And Twice in a Week?
If you want to avoid problems with your hair color, it is best to avoid using toner twice on the same day. It's not even recommended to use this product twice in the same week. Your hair follicles need time to recover from the process, which is why a weekly treatment is the standard suggestion.
When applying bleach to your hair, a high-quality toner is needed to remove the unwanted undertones that occur. This product takes the golden or bright yellow result and turns it into something ashy, dusty, or platinum.
It's a lifesaving item when the bleaching or lightening work goes horribly wrong. Who wants to walk around with a head that looks like it just passed its hunter's education course?
What makes a high-quality toner such an asset is that you can apply it to targeted areas. You'll change the roots or highlights with a direct application, assuming that you've selected the correct toner for the shade you want.
Although you could technically apply toner to different parts of your head throughout the week, the product can cause damage to your current follicles.
Some people have their hair consistency feel like hard gum, while others compare excessive toner to something that feels like straw.
Once you've determined the color and toner type to use, it's a simple four-step process to have your bleached hair stay looking natural.
Mix the toner with a developer to achieve a 1:2 ratio – or whatever the product recommends on the label.
Use the applicator brush to work the mixture into your hair, focusing on the specific areas with unwanted hues and undertones.
Leave the treated area alone for up to 45 minutes before rinsing and washing with a moisturizing shampoo.
Follow the rinse with a deep conditioner, allowing it to stay in place for the maximum time recommended on the bottle.
Color-treated hair tends to fade after six to eight weeks. If you must use toner to correct your color, it should only be applied once every seven days.
When everything goes right with your style, you might only need to refresh your color with a high-quality toner every six to eight weeks.
How Do I Choose the Best Toner for My Hair?
Ammonia-based toners deliver the best results because they contain dyes that deposit colors to change hair follicle pigments. Since the products come in different color choices, the best options match the outcome you want while working with the current (not natural) tones you're sporting each morning.
When you want to choose the best toner for your hair, the first step is to decide what you want the color to be when finished.
You'll select a toner that works to neutralized the unwanted colors in your follicles to get something that looks more natural. Most people use this for blonde locks, but it can be helpful when creating evenness for red or light brown hair.
Most people use this product to cancel orange tones so that their blonde looks ashy, dark, and inviting. If that describes your need today, a blue, light brown, or dark blonde toner is your best choice.
When you want something more silvery or platinum, a purple-based toner is a better choice. The violet products you'll find from top brands like John Frieda work better at removing the yellow undertones.
Frieda, Joico and Clairol all have purple tones. The violet color corrects brassy tones in blondes, which are caused by the mixture of blonde hair with warmer colors like orange or yellow.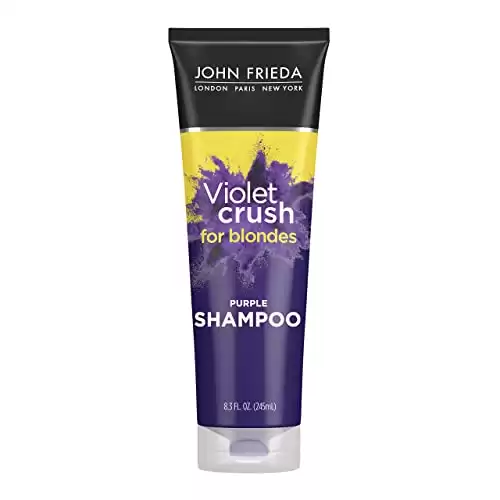 The most common way to apply toner is after you've washed your hair with shampoo, but before you condition it. This is the ideal time because hair cuticles are open after you've washed, making it easier for chemicals to penetrate to the middle of each strand.
The general rule in toning your hair is that the lighter the shade of purple shampoo, or toner, will turn out cooler and ashier in tone while darker shades will turn out warmer and golden.
However, there are no set rules with hair toner or purple shampoo. Your personal preference is the only thing that matters when it comes to deciding on a product.
If you want something lighter for blonde hair, use John Frieda's "Crush" Purple Shampoo. If you want something more pigmented that works well for brunettes who just need to neutralize brassiness, Clairol's Shimmer Lights Shampoo is a great choice.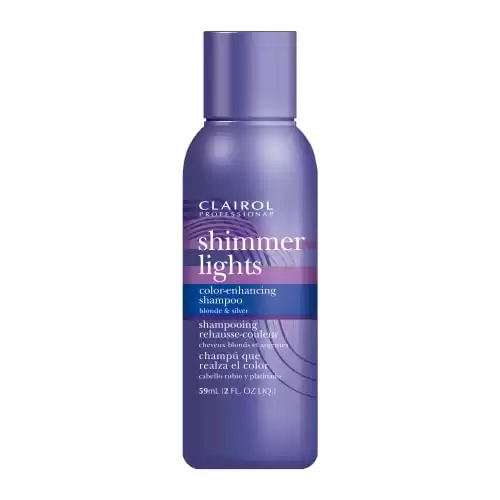 The best brands may also offer options for darker shades of purple-based shampoos, but only if they are made for brunettes with warm undertones.
For redheads, Joico Color Balance Blue Shampoo is a good choice to get rid of brassiness and orange tones.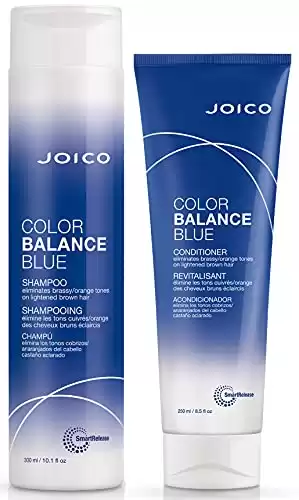 No matter what color your hair is, it's always important to read the label on any purple shampoo before you buy it. This will ensure that you are getting the correct product for your hair color needs.
You must choose wisely when reviewing the different toners for your hair. If you choose the wrong color, you can be stuck with green follicles. You can still correct things after using more treatments, but it'll be an anxiety-ridden few days until the job gets done.
What Is Blue Shampoo, and Do I Need to Use It?
Although a popular expression says that blondes get to have all the fun, brunettes have ways to get in on that action today.
For several years, blondes used a purple shampoo to cancel out their unwanted yellow and orange tones.
Blue shampoo is the alternative that brunettes can use to achieve a similar result. The pigments in this product cancel the unwanted copper, red, and orange tones that are found in the darker hair colors, especially after color treatments.
It'll help keep those caramel highlights looking bright and natural, especially if you wash them several times each week with appropriate shampoos and conditioners. If you don't have color-treated hair, this shampoo product can still add some copper in all the right places.
You'd use blue shampoo the same way that blondes use their purple products. Adding too much of it can leave your hair a darker shade, which is why it is crucial to follow the instructions offered on the bottle.
It might help to use an anti-frizz shampoo with color-safe features in-between the different treatment washes.
Once you've used the blue shampoo, it is essential to follow it with a similar conditioner. If your follicles feel dehydrated, this product adds the natural moisture back that other items strip away.
This process is the only way you can tone your hair twice in the same day, but the shampoo and conditioner technically count as one effort.
After applying the toner, you'll want to add a nourishing hair serum to seal in the color. You'll notice a significant boost in the shine from the tip to the cuticle, delivering the perfect hues that the toner, shampoo, and conditioner left behind.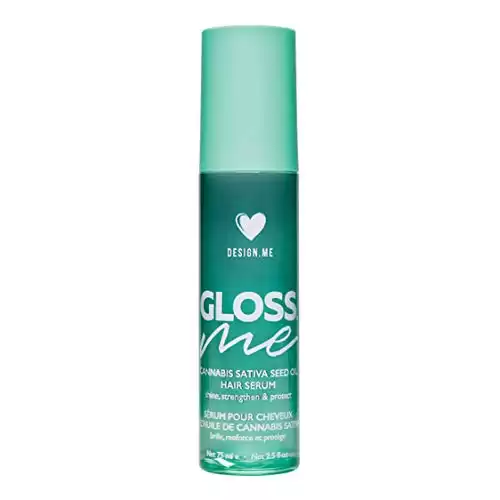 When you follow those treatment steps, you can get rid of brassy colors for good!
Can Guys Use Hair Toner on Beards?
Most hair toner and color products are geared toward women. When guys get some attention, the focus is typically on what happens on the top of the head instead of their facial hair.
Although brands like Just For Men have developed beard dyes and washes that add more color back into those areas, the emphasis hasn't been as strong in the marketplace.
Guys who go gray earlier than expected can sometimes experience confidence lapses. When they reach for hair dye, it feels like a way to look younger while keeping the look they love.
With that being said, there's something about a pure white beard with a shine that speaks of manliness in ways that dyed facial hair can't touch.
If you're a guy thinking about a color change by using hair toner, it helps to review the dos and don'ts of this decision to ensure that you're comfortable with the eventual choice.
Men's Hair Dye "Dos"
Men's Hair Dye "Don'ts"
▪️ Do your research before making an impulsive choice.
▪️ You should review the various techniques, products, and brands before you start.
▪️ Think about your skin tone before choosing a different color. Wash-out shades might make you look older.
▪️ It helps to perform a patch test to ensure you're not allergic to the product.
▪️ Do think about a recommended hairstyle with your beard if you have a receding hairline to consider.
▪️ Keep on top of the hair color once you start the coloring process. Visible roots, especially around the beard, create fashion and style problems for many guys.
▪️ Your eyebrows might need some love to stay looking well-groomed and sharp.
▪️ Don't create a bold change by trying an entirely different hair color.
▪️ You won't achieve a natural look if you stray too far away.
▪️ Try to be subtle with the way you apply toner, dye, or color washes to your beard and hair.
▪️ Guys that are heavy-handed with their applications tend to create patchy results that need two or three applications to fix.
▪️ Don't let your roots grow out too much. The multicolored results will look awkward to the average person, especially when it involves the beard.
▪️ Most hair needs about four to six weeks before you can dye it a second time.
▪️ If you have fast-growing follicles or prominent roots, it might be possible to change the color a little faster.
Anyone who is not 100% confident in their ability to apply hair toner, dye, or other color-changing products should book an appointment with a professional stylist.
Can I Use Regular Hair Dye on My Beard?
The issue with regular hair dye (and some toners) is that your facial skin is more sensitive than what is on the scalp. That means there aren't any guarantees as to how the follicles will react to the product.
Unless you are ultra-precise with the application, you can end up with a real mess! It's not unusual for guys to try beard or hair dye and decide to shave off everything after.
If you don't want the hassle of dealing with silver streaks, you can always try a different look. Some guys can take ten years off their appearance by going with a clean shave. It's also possible to try shorter styles or a different look to reduce the appearance of gray and silver.
When you need a fast and easy way to stay trimmed, the Gillette All-Purpose Style and Beard Trimmer gets the job done. You can even take it in the shower with its 100% waterproof design.
My Experience with Using Toner
In my younger years, I used to use my hair as a way to make a statement. Part of the decision was to infuriate my parents, but I also wanted to explore my individuality.
I have dark brown hair. When I had it professionally bleached, it came out more of a brassy orange color than something blonde. The stylist goes, "Oh – I think we'll need to apply another bleach treatment. Don't worry, it's on the house."
So, I sat through another treatment. When it was all over, my hair looked closer to pink than it did the yellowish blonde hues I wanted. Someone came into the store, saw me, and said, "I never pictured you becoming a strawberry blonde."
That's why the stylist came back over. "Don't worry, hon," she said. "I've got the perfect toner to correct this shade."
She was right. The toner's application corrected everything to make it look incredible.
Although I can't remember what she used that day, I've found similar results are possible with Wella® Permanent liquid hair toner. It comes with the preferred 1:2 ratio to create true-to-tone hues that you'll love.
My hair stays vibrant for about five or six weeks, depending on the weather, and it rarely fades to the point where I feel uncomfortable with my style.
It's a strong product with ammonia in it, so anyone with sensitivities might want to avoid it. Apply it to wet hair, and you'll get the orange tones dulled with remarkable speed.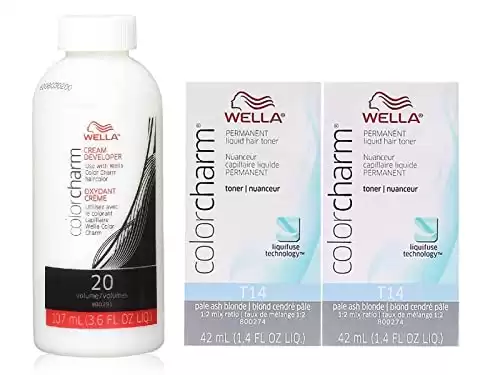 If it doesn't entirely catch because you're going from a darker color, I've found that lightening it again after two or three weeks can achieve the results you want.
Wella products spread easily and evenly to create an almost effortless appearance. It helps to do this work in a well-ventilated environment because of the odor from the ammonia.
Can you tone your hair twice in the same day or within a 7-day period? Sure – but the results won't be what you want. Always follow the advice of your stylist and the instructions on your preferred toner.