If you've ever had your hair colored at the salon, you know how pretty a penny that cost is! Depending on the salon, the color process you choose, and the length of your hair, among other things, you're looking at somewhere around $75 on the low end to well over $500.
I've shelled out my fair share too, when I've done big changes. You definitely want an expert helping you get that perfect blonde with minimal damages. But if you want to maintain your hair or simply cover up grays, you can do it at home.
Not all box kits are the same though. You should think about if they're even feasible for you if you have sensitive skin. Those with sensitive skin are more prone to reactions from the chemicals those box colors contain.
The chemicals you'll see are hydrogen peroxide, ammonia, and paraphenylenediamine, which is common in permanent dyes. Choosing something less harsh is best, whether you have sensitive skin or not. It will keep you from having an irritated scalp while scoring luscious color.
Some at-home hair dyes include color brushes, disposable gloves, and mini color-safe shampoos and conditioners while others don't. You should read the box you choose first to see what it comes with and be prepared to get those other essentials before you get ready to apply the dye to your hair.
Pandemic or not, if you've got time on your hands (I sure do right now!), then it might be fun to do a new color at home or simply touch up from what your colorist did. Going with a DIY option might be your only option right now. Plus, it is easier on the bank.
Here's a list of the best at-home hair dyes for 2023 that won't ruin your hair and won't deplete your funds:
I've included ones for different shades and functions so that there's something for each of you!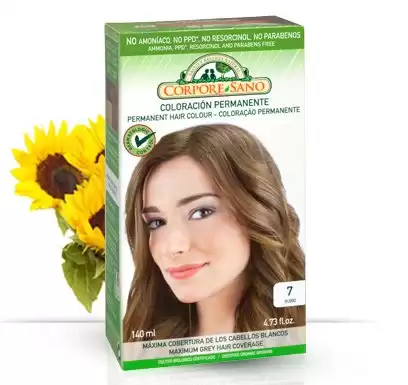 Hailing from Spain, this at-home hair dye gives you full coverage with an intensive shine. I love the roster of healthy ingredients included. Sesame seed oil is big in Asian countries for helping hair stay healthy. It's full of vitamin E and essential fatty acids, so having this in your dye gives it a boost of nourishment while implanting color.
In fact, you'll find other nutrient-dense ingredients in here from aloe vera to plant keratin. What won't you find? There's no nasty stuff! No PPD, no ammonia, no parabens, and no resorcinol.
When you use this at-home hair dye, you'll find your hair feels healthier and stronger while taking on a truly vibrant color. That's all due to the natural ingredients. I'd call this more of a combination of hair restorer and hair color, to be honest. It's good stuff and really a perfect choice when you have put your hair through so much yet need to color it.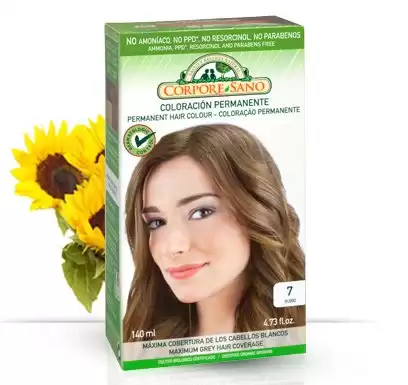 L'Oreal has been around for ages, most certainly ages more than I've been making circles around the sun on this planet! It's one of the most trusted at-home hair dye brands, so if you're looking for something tried and true, you've got it.
This one suits brown shades, so if your hair is looking a little blah or starting to gray-up at the roots while we sit this one out watching too much Netflix (and probably eating too many snacks), you can at least feel more like yourself again.
What's great about this kit for brown shades is that you get brilliantly luminous color and impeccable shine that truly takes hold and stays that way. L'Oreal is famed for defying the fade while giving hair that healthy sheen. The formula is a translucent gel and includes a conditioning treatment that will leave you looking salon-spectacular when you're through.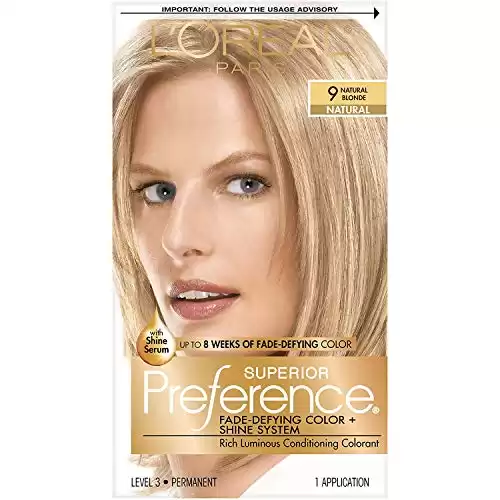 Hey there, blondie! If your roots are coming in right now and you are climbing the walls because you don't want to wear a hat to cover it up when you go on video chat for work or for virtual drinks, then L'Oreal has you covered too.
With blond shades, L'Oreal presents a stunning color spectrum that lasts and lasts. It's formulated to keep your hair silky and strong, minimizing the damage while keeping the natural tones of your hair. In other words, it's not some one-dimensional flat blond that will leave you looking like you stole your hair off a scarecrow. These results are some of the best you'll get for blond outside of the salon.
Ok, so I'm a big fan of L'Oreal. But there's a reason why. Getting that effortless color while having hair look bouncy, lush, and vibrant is so easy with this at-home hair dye. L'Oreal nails it for auburn shades too.
Just like the blond and brown shades, it lends color for an epic maximum of 8 weeks. Color and shine are enhanced via the included conditioner to follow up with. That conditioner includes nutrients like vitamin E for more luscious looking hair, shine serum to gloss things over, and UV protection to ensure your hair stays stunning for weeks to come.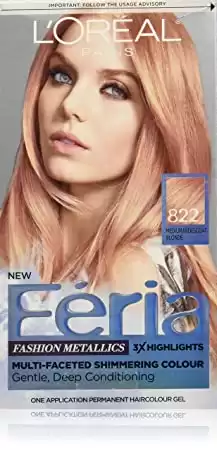 My previous listings for the best at-home hair dyes were all from the Superior Preference category of L'Oreal. But if you're looking for fabulous highlights, get a box of Feria.
This product line is more about the edginess. So you'll find an array of bubbly colors and highlighting options here. It includes a special conditioner to lock in hydration and keep hair smooth while making sure color stays on point.
The difference here is all in the shimmer. With a formula designed to bring triple the highlights, you get more intense and brighter results. It's a more modern box of color for any of you looking to make more of an impact rather than simply cover things up. I love it for the prism-like effect it creates with hair color.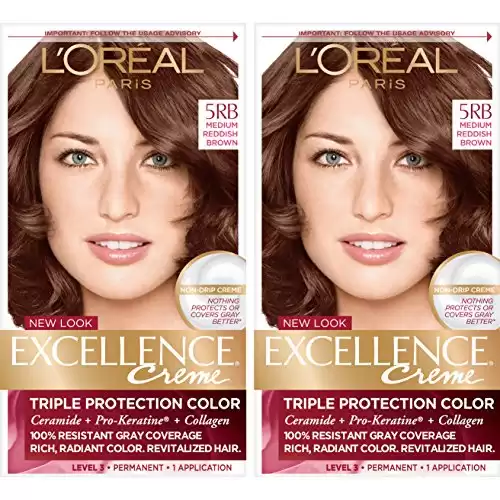 If you have a lot of grays coming in, either since the stress of the pandemic or just because that's what your hair tends to do, the Excellence line of L'Oréal's at-home hair dyes is your best choice when you have reddish-brown hair.
I have one friend who swears by this. She's one of those unlucky souls who started graying WAYYYYYY before people usually gray. Then again, she had 2 sets of twins, so there you go. In any event, she would complain that when she covered her grays, she didn't get enough coverage. That you could still see it in some cases, and with other brands, that it would wash out after only a few washes and give her away.
When she tried L'Oréal's Excellence, it made all the difference. She said it completely changes her hair for the better. There are no grays for 60 days, her hair feels nourished and soft, and it never lets her down.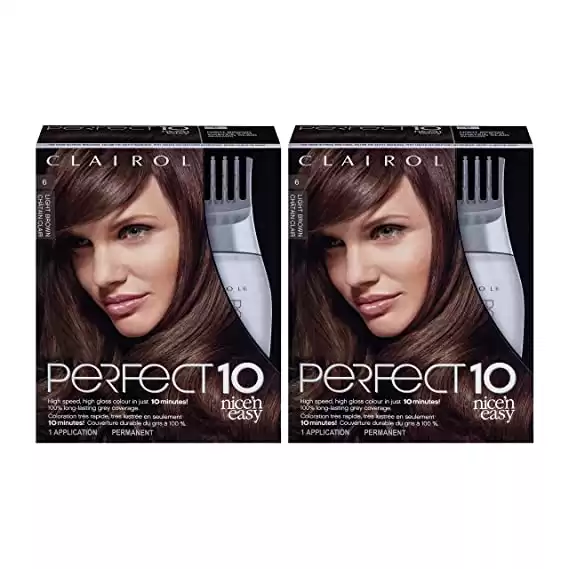 Perhaps you have never done your own at-home hair color. Perhaps you are curled into a ball in the corner, wondering when the pandemic will end so you can get to your colorist. It's ok! Clairol Nice'n Easy is one of the best at-home hair dyes for those who have zero clue how to color their hair.
And even if you are a regular at-home hair dye fanatic, you may want to snatch this one up for your gray coverage too. It takes just 10 minutes. Yes, really! So you can get back to staring out the window, or watching that Tiger King guy again, whatever works.
Everything you need is included in this unique formula that won't drip like the others. It is infused with micro-pearls that bring complete 100% coverage of grays in an array of gorgeous colors, all with ease. Hair is left glossy and shiny and stays that way for up to 60 days.
You get the gloss color, activator, color seal conditioner, and a pair of disposable gloves so you will have everything on hand once you get this box in your hands to banish grays for countless days!
– Farger Permanent Hair Color Dye Cream for bleached hair
If you have bleached hair, Farger is a great option to help soothe and smooth tresses that have been stressed to the max. They need some extra love, especially right now. You don't want to compound the stress your hair has already undergone with what's going on in the world.
Farger makes it easy to tackle that at home until you can go back and see your stylist. This permanent hair dye leaves hair super-shiny and looking revitalized thanks to green tea oil and an array of vitamins. It features both keratin and vitamin E to bring on more shine, and there's no ammonia so you can breathe a sigh of relief. Plus, it has a mild scent that won't bowl you over.
With up to 12 weeks of sparkling and lively color without bleaching, you'll find it super easy to get the hair you want even when you can get to the salon. If you're hoping for a quick fix, you will need to allow about 30 to 35 minutes to let the color set. Then there are another 5 minutes after rinsing to let the conditioning treatment set.
Farger works really great for imposing pastel colors on hair that has previously been bleached, especially more than level 8. If you're looking to try out a brighter and more fun look, now's definitely the time to experiment. You'll get unique color with shine and softness that lasts.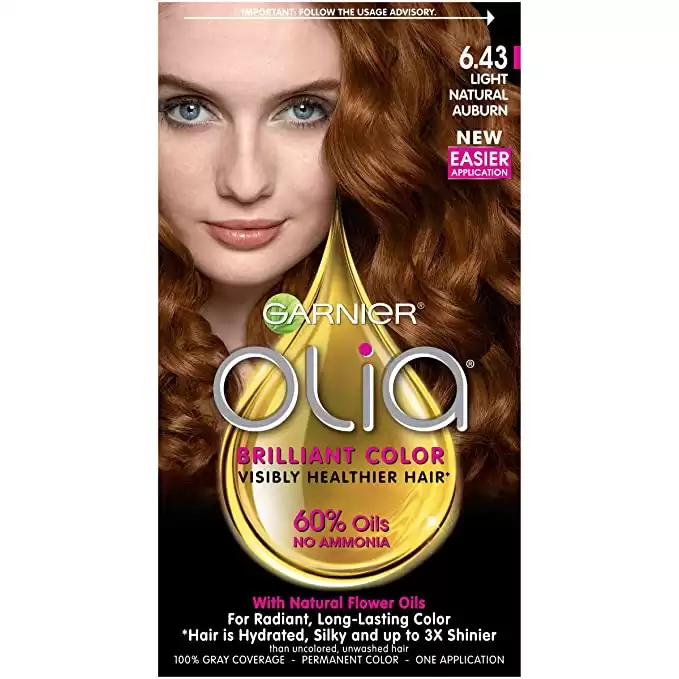 And finally, there's Garnier for the best at-home hair dyes. I tried this one by happy accident and was a fan afterward. Olia is Garnier's answer to a more natural and safer color. It has no ammonia and uses oil to power the dye into your hair.
The no-drip formula keeps from making a mess. It's composed of 60% flower oils, and it has a pleasing scent. I've had friends with grays use it and love it too. The colors come in bright with plenty of shine.
Garnier, like L'Oreal, has also been around for ages. In fact, it's even older than L'Oreal. While the Olia line is more recent, it is an exceptional choice for hair color through more natural and nourishing means.
The oil works by driving the colors deep into the hair shaft without the need for ammonia. It makes the color last while improving hair quality. If your hair is rough or dull, you are going to love the difference Olia makes. Mine looked silky and rich, full of hydration. The multi-tonal color created a spectrum that looked natural, and I couldn't stop running my fingers through it.
Conclusion
No matter why you can't get to the salon – cost, lack of time, or even worldwide pandemic that has you staying safe at home – you can use an at-home hair dye kit to help you feel better about your hair. Even when nothing wild is happening in the world, I tend to love dyeing my hair at home unless I'm doing something drastic.
These at-home hair dyes are among the best because they don't contain gobs of chemicals, and they do what they promise for helping you get gorgeous hair. They cover all the concerns too, particularly grays. And all of them leave hair looking and feeling better than before.
If you're looking to make a change and save a chunk of change on your expenses, try one of these nourishing box dye kits on for size. I think you're about to become a huge fan of coloring your own hair at home!