I used to love straightening my hair. Born with curls that seemed to curl everywhere but where I wanted them to, when I'd get my hair permanently straightened, I finally felt pretty.
But it costs a pretty penny to do unless you do it yourself. I've known people to do it at home, but I'm not that confident in my ability. I'd rather go to a stylist.
Without being able to budget for my permanent hair straightening treatments, I had to let it eventually grow out, but some of you might be asking themselves does hair growth stop after permanent hair straightening?
Does Straightening Your Hair Stop It from Growing?
Studies suggest that permanent hair straightening is safe if applied with proper technique and without touching the scalp. However, the abusive use of relaxers can reduce hair growth, as well as increase hair thinning, breakage, and dandruff, due to the chemicals weakening the hair bonds to make them hold straight.
From my personal experience, hair growth doesn't stop after permanent hair straightening. In fact, it kept on growing and I really started to love my hair because it was long and straight, except for the roots which I had a stash of tricks to work around.
I'll detail those below for you so you can handle your hair as it grows out from a permanent hair straightening.
Before I do though, you should read on to find out how this technique works and why it won't affect your hair growth.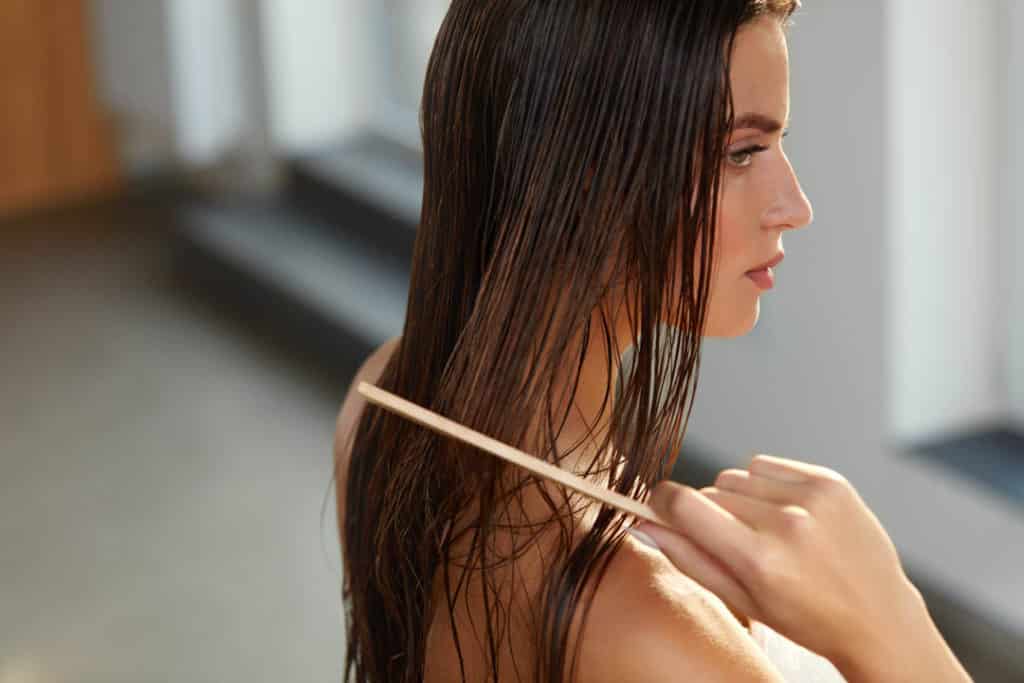 How does permanent hair straightening work and does it affect hair growth?
When you undergo permanent hair straightening, it smooths away your waves and curls permanently through chemical treatments. Or rather 'permanently.' I say it in quotes because it only lasts as long as the hair grows out. Meaning the new hair growing in will not be straight. So new strands that come in during their respective hair growth phases and your roots will eventually be your natural hair.
It's appealing when you have curls because hey, we all want what we don't have. And permanent hair straightening allows you to have that straight, flowing hair without having to spend forever straightening it with a heat-styling tool like a flat-iron every single day.
When it comes to permanent hair straightening, there are a few ways to go about it but the salons tend to follow two very important steps:
– Sodium-based product: This is applied to your to undo the keratin structure and give it more manageability.
– Oxidant: This is added to neutralize the keratin and forces your hair fibers to take the shape you desire. In other words, this is what makes it stay straight.
With chemical relaxers, the disulfide bonds of your hair are undone and any kinks and waves you naturally have are 'permanently' bonded into a straight alignment.
It's a very popular treatment because many women feel less confident with crazy, unruly waves and curls that are difficult to manage. Especially if they live in a hot, humid climate where the moisture in the air can make curls and waves poof out and frizz.
If you're sick and tired of trying to tame your hair and want to get that shiny, supermodel-slick and straight hair, permanent hair straightening might just be for you. Especially if you raise your eyebrow at people with straight, easy-to-manage hair who say, "Wow! I wish I had your curls!"
The downside though is that relaxing your hair with chemicals can be very damaging. You can take steps to minimize that damage though. It's like getting a reverse perm, but the solution is used to permanently straighten out those curls you so desperately hate. I know. I hated mine for years.
From there, it breaks down to what kind of permanent hair straightening product you use. They are available in either lye or no-lye formulations.
Although, a no-lye formulation is more recommended especially for people with extremely curly hair or from an African decedent.
Unlike lye formulas, lye-in relaxers contain a conditioning agent for mixing before application to help reduce protein loss, and protect the hair fiber.
These formulas should never be directly applied on the scalp to avoid chemical burns, dandruff, and even allergic reactions. What you often see stylists do is use a specially-designed comb to fixing it into a straight pattern.
While it is most commonly done on Afro-Caribbean hair types, plenty of Caucasian women seek out permanent hair straightening too.
Whatever your heritage, if you have curls or waves that you want smoothed away permanently, you'll want to undergo this treatment.
But there's one caveat: as it's done more often than perming, you should avoid overlapping treatments to avoid hair damage or thinning, lack of hair growth, and even worse hair loss.
My hair was so long that I would usually do it once every 9 months to one year. I'd time it to happen around summer so I wouldn't have to fight my hair or sweat it out more under my styling tools to make it look the way I wanted.
Studies suggest recommend doing it every 12 weeks or longer. As for new hair growth, you can manage it by only applying the straitening treatment to the new hair. As repeated treatments can cause major problems for your hair and scalp, according to experts.
When you space it out, the damage balances out because in the long-run, you're not blowing it dry every day or ironing it out or using whatever you would use to style it straight for the day.
I think that was my favorite thing. I could just wash my hair and go. I didn't have to blow it dry. For the first time in my life, I wasn't terrified of what kind of creature I'd look like when I let my hair air dry without tying it up or shoving it under a hat like I'd do at the pool or beach.
The way I was doing it, I was getting more benefits out of my hair. You don't need to wait 9 months to a year if you don't want to, but at the very least, wait 12 weeks or more before getting it done again.
Your hair can only tolerate so many chemicals before it weakens and breaks off, and believe me, there is nothing worse than chemical cuts and split ends.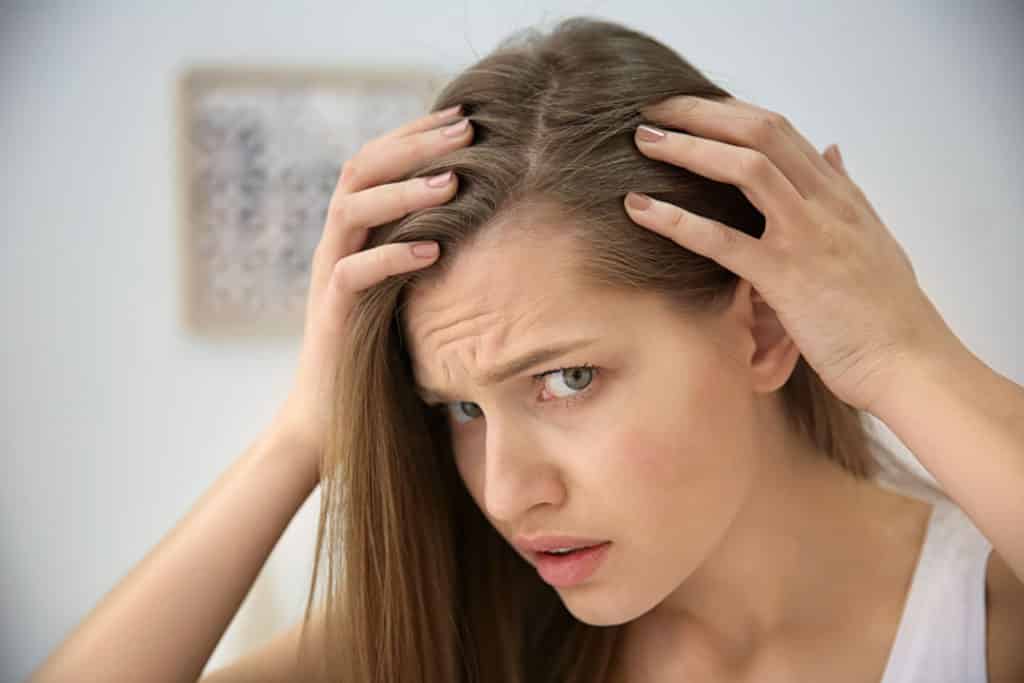 How to Manage New Hair Growth after Straightening
Whether you're going to take a break for permanent hair straightening to allow it to recover, you're unable to keep up the expense, or you just want to see what happens when you try to work with your curls again, growing it out takes a bit of patience.
Even the healthiest hair grows at the same pace. If your hair is really damaged from over-processing it, you'll definitely want to let it grow out a bit to grow fresh, virgin hair that hasn't been treated. Here are suggestions for how to make this transitional time work for you.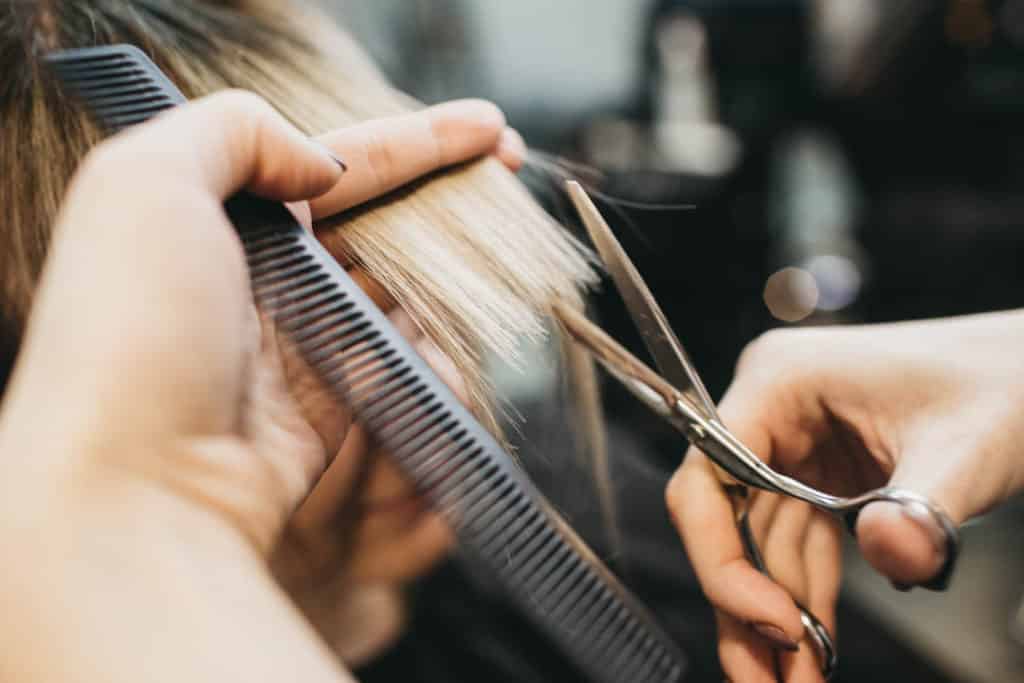 – Trim or chop
If you've seriously had enough of permanent hair straightening, then the only way to completely take away chemically-treated hair is to chop it.
You don't have to cut it all off if you don't want to though (I don't blame you there!) but do make sure you're getting your regular trims to keep the dead ends off and allow your hair to grow in healthy.
By keeping up with regular haircuts, you'll see a difference faster. You can even go in for a new style if you're bold enough.
– Avoid heat
When those roots grow in, you'll be super-tempted to reach for your heat styling products to smooth them up, but hold off for a minute.
The chemicals used to straighten your hair caused damage to it and using that high heat will just add to that. If you want your hair to grow out healthy, keep the heat away or use a heat protector like this one by HSI Professional.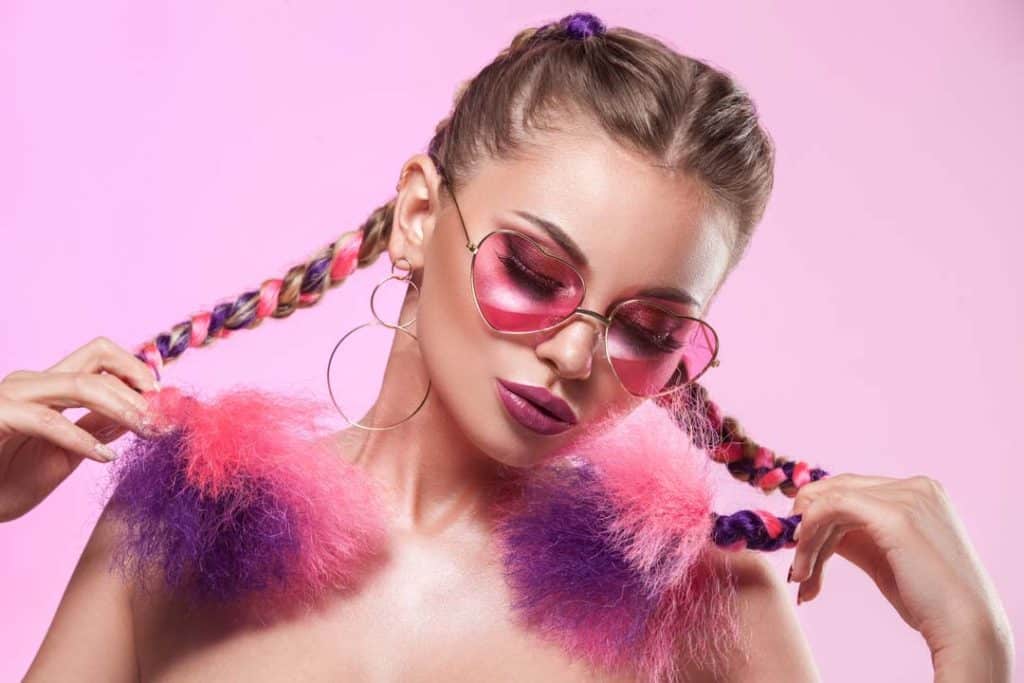 – Braids are your best friend
Ok, so I know you're scowling at me now and wondering why you can just style your hair with heat. How can you make your natural hair growing in at the roots look go
od? My favorite little trick during this awkward hair grow-out phase was to use braids. After washing my hair, I'd let it air dry just a little. Then while it was still damp, I'd braid it starting at the top.
Then I'd sleep on it and voila! My hair actually had manageable waves and body and wasn't curly in that one stupid spot right at the front of my face that made me look like an old lady that bit into an electric current.
I got major compliments on my hair style and it was enough for me to tuck my flat-iron into my bathroom cabinet for months.
Doing this hides the uneven roots and adds really nice body. Plus, your hair still has that fabulous shine from not being blasted with heat all the time. It's such a bonus!
– Use heatless styling techniques
You really don't even need heat to make beautiful styles with your hair. Braids just prove it. You can curl or straighten your hair without it. By doing these things, you avoid damaging your hair.
Obviously if you have a big, huge event to go to and you want to look completely flawless, you can bust out your heat tools on the rare occasion, but for every day, there are ways around using them that will leave you with gorgeous hair that grows out healthy.
Some suggestions: products that are made for air-drying your hair so it stays frizz-free and hydrated like the Living proof (Amazon link); salt sprays that give you those beach-babe waves like this 4.2 oz Bumble & Bumble Surf Spray HairSpray; leave-in conditioners that help calm your hair's crazy to make the most of its natural state like the Pureology Moisturizing Shampoo; or even hair-wrapping techniques which can be made effortless with products like the As I Am Double Butter Rich Daily Moisturizer.
Basically, you've got lots of options. For those days you've got a time crunch, put your hair up in a ponytail or messy bun and hit the road.
– Be patient
It often feels like forever when your hair is growing out. You'll have to learn to be patient though. The less you heat-style it or add chemicals to it, the more beautiful and lengthy it will become. It may need a year or two depending on how long it is to get back to a completely healthy state.
With these tips though, you won't have to suffer with hair you hate. Take advantage of the different ways you can style your hair that work with your texture and length.
This will help to pass the time while you wait for that new hair growth to take over. When you see how glorious your hair looks after you've let it be, you'll understand why those gals with the pin-straight hair are jealous of you.
– Remember to always love your hair
The beauty brand, Dove, recently conducted a study with girls that had curly hair. Only 4 out of every 10 girls with curls liked their hair and thought it was pretty. Society doesn't help much either because all you see are these models and actresses with long, shiny, straight hair.
I know growing up I always hated my hair. I felt like I had a big poof on my head. I always wanted it long and shiny. And inevitably, someone would always tell me they loved my curls. I'd always assumed they hit their head on a blunt object.
But once I learned to embrace the way my hair naturally was and how to work with it, I changed my mind. And I started to genuinely smile and thank people that complimented my tresses. My hair is my hair and while I refuse to let it give me those oddball curls framing my face, I know how to handle them with ease without frying my hair.
Love your curls and waves, and keep processing and heat-styling to a minimum. Once you find a way to get a handle on your hair, you'll start enjoying the way it is naturally. If you still can't find easy ways to control your curls naturally, talk to your stylist for suggestions and you'll be better armed to feel confident in the way you were born to look.
Conclusion
In a perfect world, we'd be born with the straight and shiny hair we always dreamed of. But then again, it's more fun to be unique. We're all beautiful in our own right, and learning how to work with our hair after a permanent hair straightening is a must.
Hopefully, these tips above have given you plenty to work with for letting your natural hair shine while giving you the confidence you need to rock your individual beauty!