Need a change of style? Changing your hair color is one of the best ways to do it, but you have to be all in. I've been there where I've dyed my hair on a whim and was like ugh at what I saw.
Sometimes, you dye your hair, and you'll be majorly disappointed with the results. When that happens, it can really be upsetting. I had a friend that once bleached her hair from dark brown to blonde. Herself. Yeah. It didn't go so well for her. My hair mishap wasn't quite as grandiose, but I've been there, staring at myself in the mirror, tears forming in my eyes because I realized I'd made a huge mistake.
Thankfully, I've learned.
And one of the things I've learned is that semi-permanent hair dye is a better idea when you're not sure you want to go all-in with a different color. You get the chance to try out the new hair shade without it being a permanent situation.
Perhaps you only want to do it for a special event too and in this case, semi-permanent hair dye is going to be your ultimate BFF. Whatever the reason, for a change, for an event, or even because you might be looking for something to pass the time while the world smolders outside, semi-permanent hair color is a good option.
There are tons of choices out there, so I've gone ahead and put together my ultimate guide of the best semi-permanent hair colors for you:
I looked at the quality of the shade, how easy it was to use, how gentle it is, how long it lasts, and plenty more so read on to find your new best with semi-permanent hair color!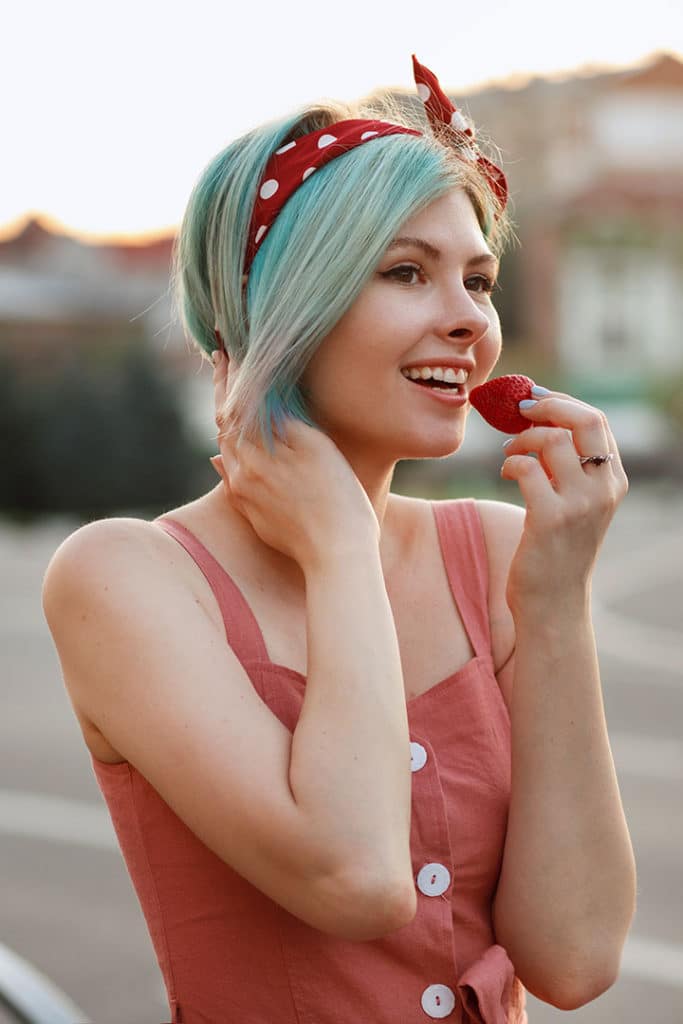 Best semi-permanent hair colors
I've rounded up 6 of the best semi-permanent hair colors for you. I'll tell you why they're a big hit and definitely a must to consider if you're looking for a low commitment on the hair color side of things.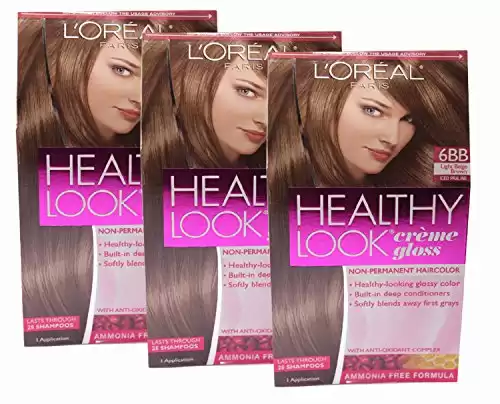 L'Oréal is definitely a cosmetics brand you've long been familiar with. If you've never tried L'Oréal hair color, you should definitely check out their Healthy Look Hair Dye. It contains no ammonia, which is good news for your hair.
If you have damaged tresses in recovery, this is a superb choice because it is a non-permanent way to enhance your natural hair color while adding a stunning glossy shine. Think like those magazine covers!
It contains natural royal jelly and pomegranate as its special ingredients, which leaves hair feeling incredibly soft, shiny, and silky while locking in glossy color. It just takes one simple application and will last through roughly 28 shampoos.
Highlights:
Great for blending away grays
No ammonia
Prevents damage while nourishing hair
Gives dull hair a glossy shine
Improves softness and enhances the beauty of your hair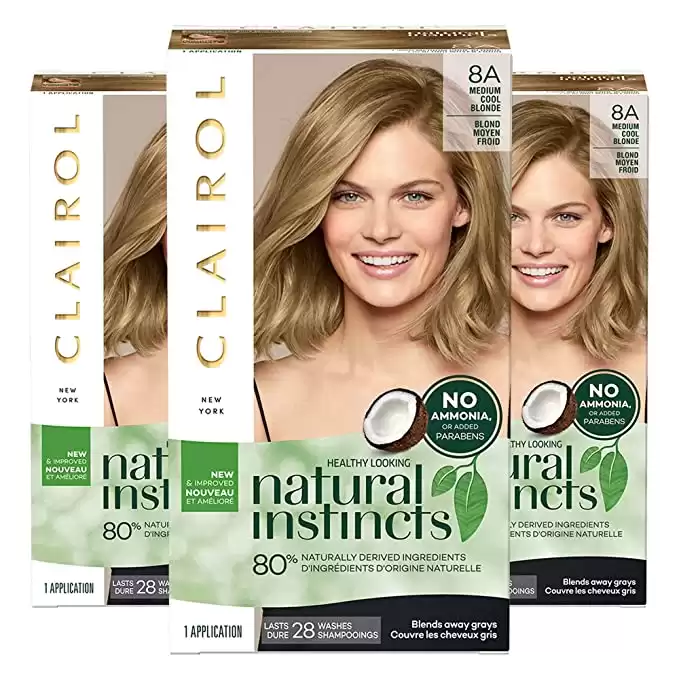 Another big name hair cosmetics brand is Clairol. The Natural Instincts line uses aloe and coconut to improve your hair while infusing it with rich color. This formula is also free of ammonia and promises to blend grays away in just 10 minutes while giving you up to 6 weeks of beautiful color.
Clairol advises you to choose a lighter shade to start with when picking something to enhance your hair color. As it contains no ammonia, you won't fry out or dry out your hair. It's soft and radiant right from the start, and the box makes it super-simple to do.
Highlights:
Filled with nourishing ingredients including aloe, vitamin E, and coconut oil
Proven to be less damaging
No ammonia
Blends grays away in 10 minutes
Long-lasting color up to 6 weeks
Improves radiance and softness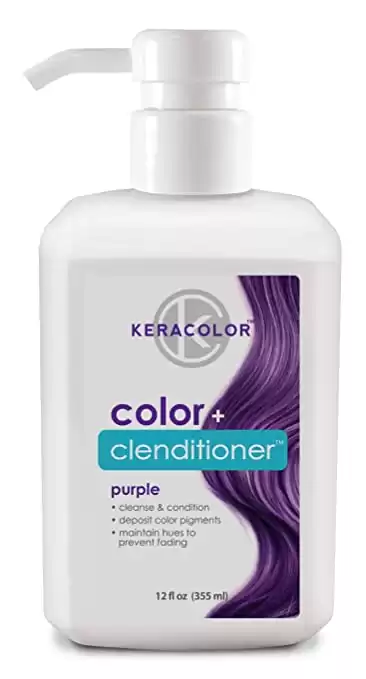 So, here's something interesting and innovative. Keracolor Clenditioner Color Depositing Conditioner is a conditioning cleanse that washes color into your hair every time you shower. It's a non-lather formula that boasts beautiful hues, and a nice vibrant look meant to keep color looking in full bloom even when you can't make it to the salon (you know, like under mandatory lockdowns for example).
The name "Keracolor" comes from the base of keratin, which is to strengthen hair while adding softness and shine. This vegan line of products isn't tested on animals and it's free of sulfates and parabens.
It's not as long-lasting as the Loreal or Clairol options above (only about 10 to 15 shampoos), but it's a good option if you just don't have time to go to the salon (or you just can't) or you have no patience for going through the dyeing process. Meanwhile, it cleanses your hair from dirt and debris to leave it looking bright and vivacious.
The lighter your hair color, the more noticeable your results are going to turn out. If you have dark blonde or light brown hair, you'll need to use it a few times to get better results.
Highlights:
Vegan and cruelty-free
Shampoos in color without rich lather
Cleanses while adding quick color
Not as long-lasting color but adds brightness and shine
Conditions for a soft and beautiful, more vivid look
Works best on lighter hair colors
No ammonia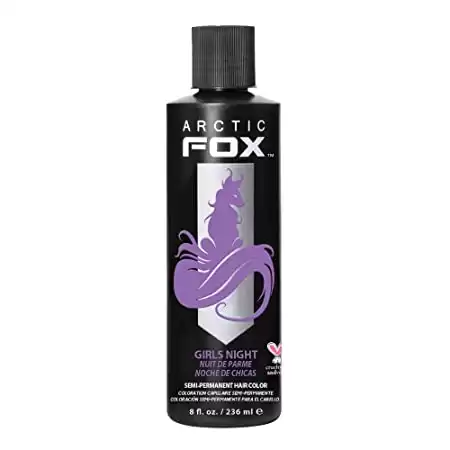 Made in Southern California, Arctic Fox has quite the following. This vegan and cruelty-free brand of semi-permanent hair color has some really fun colors, which are ideal if you want to shake things up a bit but aren't sure about that color. Like pink for example.
Maybe you have wanted to hop on the bright-hair coloring trend but aren't sure you'll be thrilled with a head full of pink hair. You can mix it with other Arctic Fox colors to render your own tones too, though nothing comes out brassy.
It's all really simplified and free of chemicals. That's perfect if you like coloring your hair often. It deposits conditioning ingredients rather than harm while giving your hair a vibrant boost.
So, no ammonia or peroxide. No ethyl alcohol or PPD. Ah, but it does have a really nice scent, which makes the experience all the better.
Something else that's pretty unique with this brand is that the colors fade along their original color spectrum. The shade will still be gorgeous though, as it fades out, and since you can use it as often as you like, you wind up with more conditioned hair. Kinda a win-win from where I'm sitting. It will last anywhere from 4 to 8 weeks, depending on your hair type and how often you wash. But the good news is that if you see it fading, you can always add in more without a big fuss.
Highlights:
Vegan and cruelty-free formula
Seriously no chemical ingredients
Yes, really – no ammonia, peroxide, ethyl alcohol or PPD
Lovely scent
Fun and vibrant colors
Deeply conditions hair
No weird colors when fading
Lasts from 4 to 8 weeks

Another option for those of you that want to give all the colors of the rainbow a fair shot is Special Effects Semi-Permanent Hair Dye. This cream formula is also a vegan-friendly and cruelty-free choice.
Boasting the most intense and longest-lasting semi-permanent hair color, it conditions as it colors to last from 3 to 6 weeks, though that length will depend on your hair's porosity. Your best results are going to come through on lighter hair or hair that has been pre-lightened or bleached.
Made in the USA, the colors are really intense. You've got things like Atomic Pink, Blue Velvet, Candy Apple Red, Cupcake Pink, Electric Blue, Iguana Green, Hot Lava, and tons more. They all have these fun and funky names, plus, the colors are just as fun as they sound.
Some of them even glow under the black light. So if you're a party girl, you will definitely want one of those! Seriously, the list of the colors offered by Special Effects is incredibly extensive. If you're thinking about trying something wild, you'll likely find it here.
Highlights:
Vegan and cruelty-free
Intense and long-lasting semi-permanent color from 3 to 6 weeks
Conditions for soft and colorful hair
Wide array of fascinating colors
Some colors glow under a black light
Best results on lighter hair, especially previously bleached tresses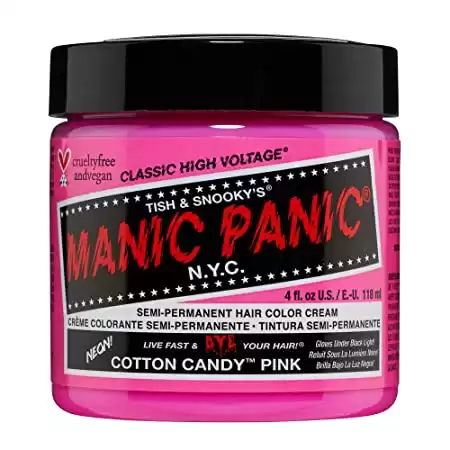 Manic Panic is one of the longest-running hair colors out there. They've been creating easy-to-use fun colors since 1977. If you're a child of the 80s or 90s, you've very likely spent weekend sleepovers with your best friends coloring each other's hair with some shade of Manic Panic.
Manic Panic offers a ton of different colors to choose from and it will fade over the course of 4 to 6 weeks since it only places color on top of your hair shaft. So, no damage. And it's vegan and cruelty-free. Good to know!
Maybe you didn't know this back in your hey-day, but you may have noticed that Manic Panic products never had a chemical smell to them. They don't have PPD, ammonia, parabens, phthalates, or resorcinol. They're also gluten-free and PETA gives their seal of approval.
And whether you choose this sunny hue or something else, you can make it more pastel by using Manic Panic Pastel-izer with any shade. There's no mixing though with any of the colors. You simply open it up and apply it. It really couldn't be easier.
You do get your best results when you apply your chosen color on pre-lightened hair. Manic Panic makes that easy with the Flash Lightning Bleach Kit. Use that first and then you'll see amazing results. I remember in my not-too-distant past, I used Electric Amethyst on my dark hair and it had THE coolest look to it. It looked a bit darker and shinier until I got in the light and you could see how purple it was. Subtle and so sexy. I loved it!
All told, there are over 49 shades of Tish and Snooky's Manic Panic colors. And they really are so fun. They leave hair so soft and shiny too. They're very no commitment and no muss, no fuss.
Highlights:
Tons of hair colors to choose from
One of the best funky color semi-permanent brands out there
4 to 6 weeks of color
Vegan-friendly and cruelty-free
No chemicals whatsoever
Leaves hair conditioned and silky
Color comes out more vivid on pre-lightened hair
Manic Panic has an easy lightener that you can use first
Conclusion
Honestly, if you're looking for an easy way to color your hair or you just can't commit to a color, these 6 best semi-permanent hair color brands are for you. All of them are really easy to use. Some though, are easier than others.
If you don't have wait time to spare, consider washing it in with the Keracolor. But if you have all the time in the world, which many of us do right now, you can feel free to experiment more fully with other colors.
What I love about all of these is the opportunity to try out really bright and fun colors without damaging my hair or being stuck with them. They will all wash out eventually, and as they do, they don't go through some horrid awkward phase like permanent hair dyes will do to you.
These all provide nurturing love to hair through natural ingredients that condition. So you're not just getting gorgeous color but also healthier, shinier, and more beautiful hair. Who could say no to that?
So, what will it be? Pink? Something that glows under the blacklight? Perhaps a rainbow of colors? The best part about semi-permanent hair dye is that it allows you to have fun with coloring your hair again.
Those concerned with grays will like the first 2 options best though since they were really made for that sort of thing. If you don't have grays, enjoy it until they start sprouting up!