There comes the point in every woman's life where she notices hair in places that no woman should be getting hair. For my best friend, that was on her face.
While I'm all for a good bikini wax before beach vacations, waxing was never a fun experience for me, which is why I tried to talk her out of it. It left her skin looking blotchy and red.
She did it over a weekend, thinking the redness would go away come Monday, needless to say, it didn't, and when she'd gone back to work, everyone was like, "Hey, what happened to your face?"
I even tried hair removal creams a few years ago. The smell! Oh God, the smell! And it didn't really do anything except irritate my skin and maybe take away some of those evil little hairs that had sprouted up.
As I've said in a previous post, I've always been an epilator kind of girl (read this article I wrote to find the best epilators), that is until I discovered home laser hair removal, which was the biggest gift from the heavens for me. I'll admit, it takes some getting used to, but it really and truly will set you free!
No more daily plucking!
No more nicking yourself when shaving!
No more burning wax!
And no stubble!
You get smooth skin whenever and wherever you want it!
Welcome to my guide on the best at home IPL and laser hair removal devices for 2023:
I'm going to give you the scoop on why you need this in your life more than you need a latte right now. Yeah, I know you really need a latte, but let me tell you, you'll have more time to enjoy that latte when you're not at home wrestling with stupid, stubborn hairs that sprout up from your face down to your toes.
I'm sure you have lots of questions too, so I'm going to hit all the main ones and then get into the nitty-gritty of some of the best IPL and laser hair removal devices you can use while you watch your favorite shows on Netflix. Ready? Let's get this party started! Follow me to a new, smoother, you!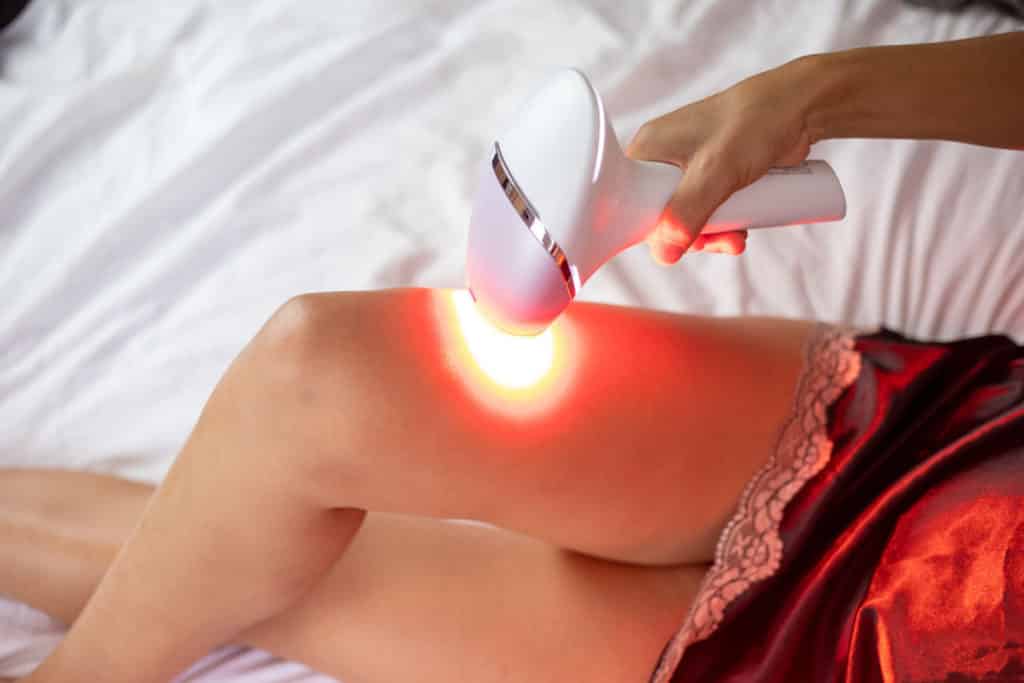 What is IPL?
In case you're wondering what IPL is, it stands for "Intense Pulse Light." These handy machines that use them emit little pulses of light. These pulses turn into heat as it makes its way through your skin.
From there, the heat is absorbed by the melanin in those pesky hairs, and it basically kicks the crap out of your hair follicles to stop hair from growing there. This is exactly why I love science!
Is there a difference between IPL and laser hair removal?
Ah, I'm so glad you asked. With IPL, it uses a broad spectrum of that pulse lighting. Laser hair removal devices just use one wavelength. That wavelength creates a more permanent hair removal situation. Just know one thing…
laser hair removal is usually more painful. Not that IPL isn't without its pain, but I'll get to that shortly, so keep reading. Spoiler alert: it's worth it!
Does IPL actually work and is it worth the cost?
Both IPL and laser hair removal are the most effective ways to get rid of unwanted hair on your face and body. They give you a more permanent effect without you having to put in much effort.
Best of all, you can do it at home if you get an IPL machine. While the initial cost isn't cheap, it works out to be much cheaper than visiting the salon for your sessions.
See, as they do create permanent hair removal, hair is always growing in different stages on your body. I've talked about this before with the hair on your head and eyelashes too.
The growth stages also apply to the other hairs on your body, even the hairs that you wish weren't there.
So, with that, you'll have to treat yourself to IPL or laser hair removal again and again, though not with the kind of frequency you use for shaving, waxing, hair removal creams, or plucking.
The home-use devices have really become much more advanced and have come further down in price too, making them a smart buy. After all, it's just a whole lot easier to hide out in the privacy of your own bathroom and remove those unwanted hairs on your time.
When I started using IPL in my own home, it just changed everything for the better. FYI, men can use it too. It's great for getting rid of ingrown hairs on the face after a shave.
Of course, IPL and laser hair removal aren't ideal for everyone, but in order to know that, you should keep reading to see if you're an ideal candidate!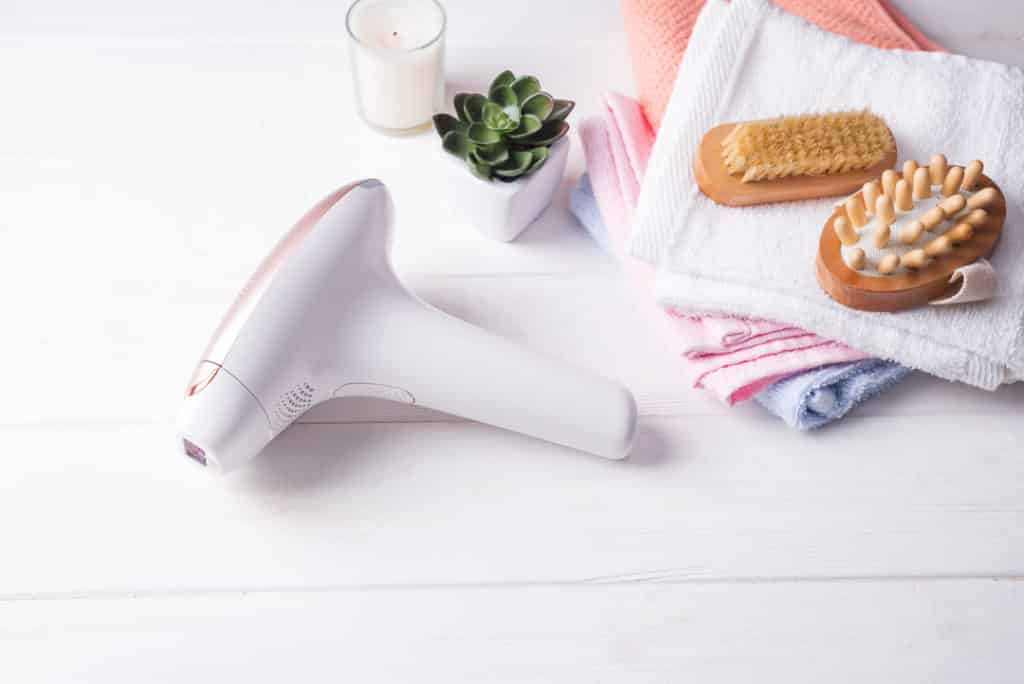 Is a home laser treatment the right thing for you?
It really all depends on your skin. Ideally, fair skin with dark hair gets better results. Both IPL and laser hair removal target the melanin in the hairs, so if you have darker skin, it might be best for you to have a professional perform this type of hair removal treatment.
Doing it yourself on darker skin tones could potentially leave telltale signs on your skin.
It's more expensive. However, those with darker skin should choose a laser that has a concentrated beam if you're going to try this at home.
IPL goes in a broad band and your skin can absorb it in all kinds of depths, which will lead to irritations, possibly burns, and that is most definitely not what you want.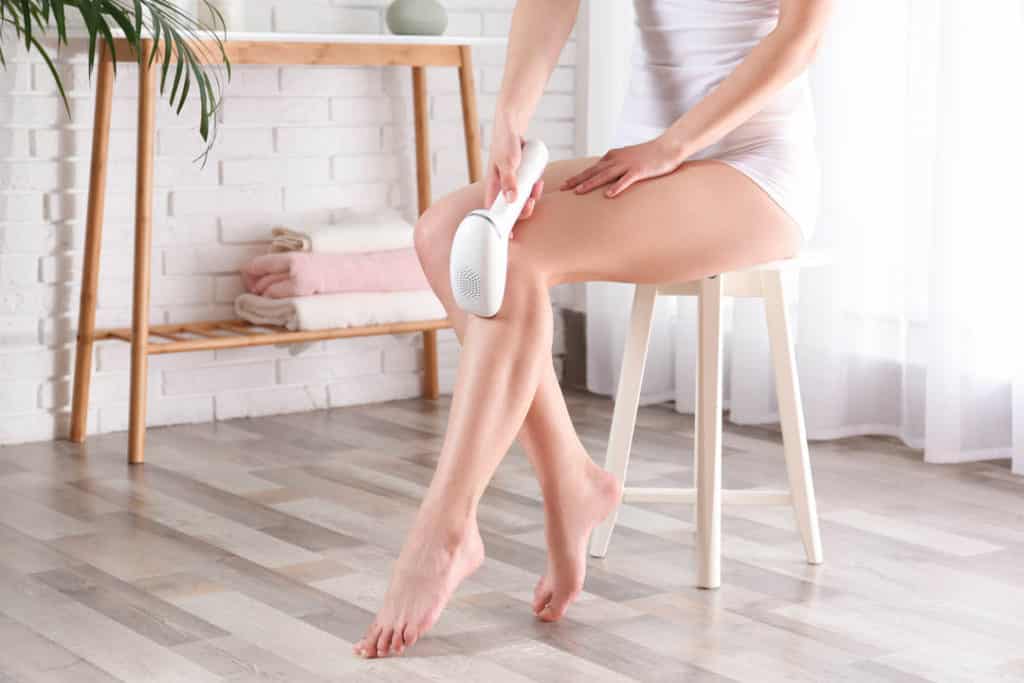 OMG, Does IPL Hurt?
Um, yes. I'm not going to sugarcoat this at all. It hurts a bit at first, though some people have a higher threshold for pain. Also, some areas that are meatier will hurt a little less. But don't freak.
It doesn't hurt THAT bad, and once you get used to it, much like waxing, it won't be as awful as you think. It kind of feels like a little bit of a pinch to me though my bestie described it as how she felt when she got her tattoo.
As I mentioned before, it's not something you do just once either. That would be silly to buy a device for this kind of money and only use it once and never use it again.
You're going to need to use it multiple times, plus you'll have to top-off your hair-free look to uphold that smoothness every now and then.
I know it seems like you're spending your money on some kind of torture device, but I can assure you, you will get used to it and you will looooooove the results.
I'm sure you've endured other beauty treatments that are far more painful and more frequent. This one has a bigger payoff.
And just to cement your decision to buy one and do it at home, consider that the average cost of getting professional laser hair removal is $285 PER SESSION just for the cost of having a physician perform it.
That's a base figure, for it depends where you're having the hair removed from. Upper lip will be a lot cheaper than both legs, for example. That could be thousands of dollars, and since laser hair removal is cosmetic, your insurance isn't going to cover it.
There's something else too. If you haven't yet had the horrendous surprise of finding hair on your upper lip or your chin, you might one day find them in a year or 10.
With one of these devices, you can get rid of them before your boyfriend catches you using his electric shaver.
Basically, when you have an IPL or laser hair removal device at home, you can use that same technology any time you want without an appointment and with full privacy.
These are all made so you can perform it safely and remove the unwanted hair. Ready to buy one? Take a look at these awesome devices that will leave you smooth, silky, and sleek!
The Best Laser and IPL Devices
Here's a rundown on the best of the best from features to what makes them something you should consider!
This is my go-to IPL device, it's considered one of the best hair removal devices around, the Philips Lumea comes with 4 separate attachments that target specific zones.
You'll find one for face, body, underarms, and one, especially for that troublesome bikini line. Lot of IPL devices have attachments, but what makes this one stand out is that these are the only curved ones.
It also has a SmartSkin sensor, which helps analyze your skin tone and provide you the best setting. That takes a lot of the guesswork out of what to do and makes this one a lot less intimidating.
Those 4 cartridges are easy to install too, and get this…the computer in the handset recognizes which is which and adapts to optimize the treatment.
Speaking of that computer, it's easy to use and change the settings. While the device is a tad cumbersome, it's still very easy to use. And it's quiet!
So if your new beau is waiting for you and you've noticed some new hairs, you can get rid of them without being obvious. You also have the option of plugging it in or going cordless, ideal for touchups when traveling.
As for the modes, there's a "Stamp and Flash" which gives you a single flash that is ideal for armpits, or a "Slide and Flash" which works by letting you glide it down your skin, ideal for legs and other larger areas.
I've noticed that it's a little slow with the flashes when you're using it cordless, only by seconds, but it feels like a lifetime on larger areas.
So, in summary…
The Good:
4 curved attachments to tackle face, body, underarms, and bikini area
Smart skin sensor
2 easy to use modes
Easy to understand computer
Has an app for that too
The Bad:
A little heavy
Takes a little longer between flashes on the "Slide and Flash"
No indication if it's been cleared by the FDA
Now for a laser hair removal device. Tria modeled its device after the kind dermatologists use and is cleared by the FDA for hair removal. You'll definitely get the results you want with this one, though there are some things to know.
First off, it has a smaller treatment area compared to other models, but it puts out 3 times the energy to your hair follicles so  you get greater precision and effectiveness.
It's designed to use on your face and body, though thanks to that smaller window, it is a supreme choice for the upper lip. On the downside, larger areas of your body are going to take more time.
Next up, the control. While there is more precision, you have a single button for working the settings. The flashes fire up intermittently when the tip is covered so yes, that's speedier treatment, but you have no control over it.
You run the risk of overtreating your skin if you're not paying attention. It's an incredibly well-built device and very effective too, though there are a few foibles that might not make it worth it for you.
So, in summary…
The Good:
Only FDA-cleared at-home laser device
Uses diode laser technology
Emits 3 times the energy over IPL devices
More precision
5 modes to adjust for comfort
LED display for ease of use
The Bad:
No way to replace cartridges means it's useless when they're gone
Can't control flashes
Can't use it while it's charging
Drawing its inspiration from the devices in salons, Gillette stepped up to the task of creating an IPL device. The Venus Silk Expert offers SensoAdapt to get the correct light intensity in a safe and effective way.
What's great about this one is it is made for women that want results fast. As such, you can do an entire leg or arm in around 8 minutes with fully effective results.
There are no other hidden costs associated with it either, another thing I like about this one. You can use it without safety glasses and you don't have to get replacement cartridges or gels.
What you get is a device that emits 300,000 flashes of light over time, which works out to around 15 years of in-office full-body treatments.
There are 10 energy levels to customize to your comfort and it glides like a dream. However, those of you with lighter hair tones like blonde, red, or white or those with darker skin tones won't benefit from this device.
It won't detect your hair follicles. Another drawback is that while it's great for larger areas, if you have more of your troubles on your face, you won't get the best results. It's ideal for thick and coarse hairs.
So, in summary…
The Good:
SensoAdapt features gets the light intensity right
Capable of working on large areas in about 8 minutes
No added costs of replacement cartridges
300,000 flashes of light
No need for safety glasses
10 energy levels
The Bad:
Doesn't recognize light hairs or dark skin
Won't perform well on face
This IPL from Braun is recommended by the Skin Health Alliance and promises to permanently reduce unwanted hair in just one month when you follow the proper treatment schedule. Like the Gillette, it offers a speedier treatment in 8 minutes, though that is only for the lower leg.
The design is quite ergonomic, though and it's very quiet to operate. It adapts to skin tones with each flash based on the energy level you choose, so it's pretty intuitive. It also displays an intensity level via light and glows red if your skin tone doesn't match the selected intensity.
You have your choice of 3 power modes (extra gentle, gentle, and normal). The way the buttons are set up, it keeps you from using up flashes accidentally.
Braun's design is plug-in only, so you don't have the option of using batteries. However, the cord is really long, so it won't leave you hunkered against a wall to plug it in and use it.
This also means you get continuous and unwavering power, which isn't always the case when you go cordless.
So, in summary…
The Good:
Ergonomic and easy to use
Quiet operation
Uses a smart skin sensor
Performs quickly and effectively
Features 3 modes for your comfort
The Bad:
Corded use only
No indication whether or not it's cleared by the FDA
With a professional style, the MLAY T3 is great for hair removal from all areas. The brand even touts itself as being effective for men too, particularly for back and chest areas.
An ergonomic design makes it easy to wield for all your hair removal needs, and with 300,000 flashes, it's safe to say it will keep you smooth and hair-free for years to come.
You get 5 adjustable energy levels to work with, so you can start low and work your way up. According to their data, you can expect to see over 80% reduction in hair after using it just 8 sessions.
It even works on lighter hair colors like blonde, red, and gray, though it's not effective for white hair.
And should you find that you run out of 300,000 pulses, you can purchase more heads. That's a nice safety net to have. It doesn't feel as sturdy as some of the other models though it is effective. Another drawback is that it's a bit noisier than the others too.
So, in summary…
The Good:
It works on most light hairs (blonde, red, and gray)
Lightweight and ergonomic
Choice of colors
Replacement cartridges available
The Bad:
It's not as sturdy as other IPL devices
It makes more noise
Won't work on white hairs
Conclusion
If you're tired of plucking, tweezing, waxing, using depilatory creams, shaving, or even epilating all the time, investing in an IPL or laser hair removal device to use at home might just be for you.
It leaves you with a mostly-permanent smoothness you can't get from other hair removal methods.
While you will have to repeat the process on multiple occasions, owning one of these devices at home means you spend money just once to get as many sessions as you need.
Having it done professionally will cost significantly more, and if you only do one of those sessions, it's just a waste since you'll still have hair growth.
Bottom line: if you want to be hair-free and carefree, try out these devices and see how liberating it is to never worry when you raise your arms that you have stubble or head to the pool without being self-conscious about your bikini line.
Or, when you go in for a kiss to have no worries about any evil errant hairs showing up on your upper lip or chin!