If you're like me, you probably spend a great deal of time watching makeup tutorials on YouTube to try out new looks. I'm not alone… right? But I've got to tell you, you can watch those and copy every move those glam girls make for perfect contours or crease cuts and it won't change a thing if you're doing it all under poor lighting conditions.
That's the off-screen secret for makeup artists paid big bucks to make celebrities look dazzling on and off-screen and those beauty bloggers with blemishes that suddenly look absolutely flawless. Why isn't this happening when you follow in their footsteps? It's the lighting!
So, what light is best for makeup application?
Natural daylight
Natural white light
Natural white light
Avoid pink light
Avoid yellow light
Avoid Fluorescent light
Avoid down-lighting
Don't stand directly underneath the light
If you're ever not sure, you can always go with natural light. Sometimes, that's not possible though. You might not have windows in your bathroom or your lighting in there might not be as bright as you wish it to be. It could even be unflattering fluorescent (the horror!). But the good news is you can control your lighting situation and rectify your makeup mistakes with ease.
Why does it matter? Let me ask you this… have you ever applied your makeup and felt super-confident walking out the door only to park your behind in the driver's seat of your car and check out your makeup? If so, you've most definitely thought, "Ugh! Why do I look streaky?" Or "Where did that zit come from?!?"
It's not your makeup skills, love. It's that lighting. And getting in the right light is the key to getting your makeup to look flawless even when you move into a different lighting situation. If you have fluorescent lighting, it can make you put on too much makeup. If your lights are tinted pink, you'll miss spots. All you need to do is upgrade your lighting with some simple tweaks and you will never have these unflattering makeup problems again.
That will also stop those bad photos too. Ever snap a selfie after checking yourself out in the mirror only to look like Lizzie Borden? Fix your lighting and you'll have the ultimate fix on looking good in any light, and if you want some makeup tips for your next photoshoot.
The best light for makeup application
So, what light is best for applying makeup? You can't ever go wrong with natural daylight. Here's more about why it leads you to your best looks of all!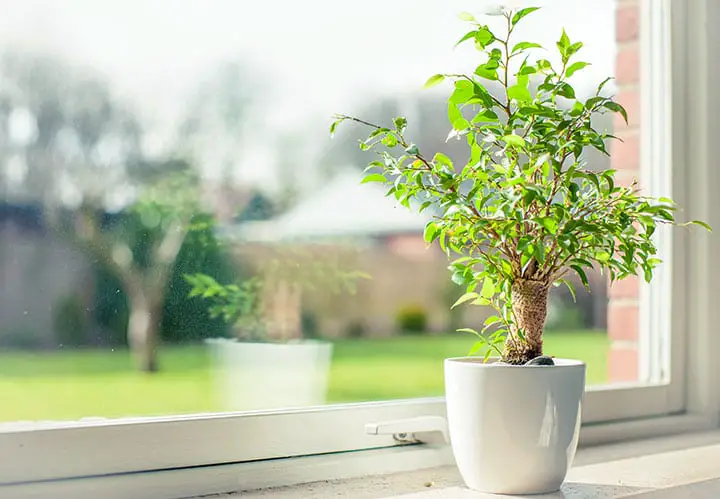 – Natural daylight
You can ask any makeup artists (I did!) and they will all tell you that natural daylight is the absolute best for makeup application. Because the light is evenly diffused and completely clear, you'll notice immediately if you're blending skills need work.
Do you have a window or natural light source in your bathroom or bedroom? Then use it. Warm, natural light will always do you right. The sun never lies and is the reason why you should check your new foundation in the sunlight to see how it matches up. Under the lights at a makeup counter, things can look totally different. Of course, not all of us have the option of doing our makeup by the light of the sun. Sometimes, we're getting ready for a hot date at night. Other times, we have to get ready for work before the sun has even risen or it's so cloudy that there's no sign of the sun. So how do you get perfect makeup in those moments? Thankfully, there's a solution so keep reading!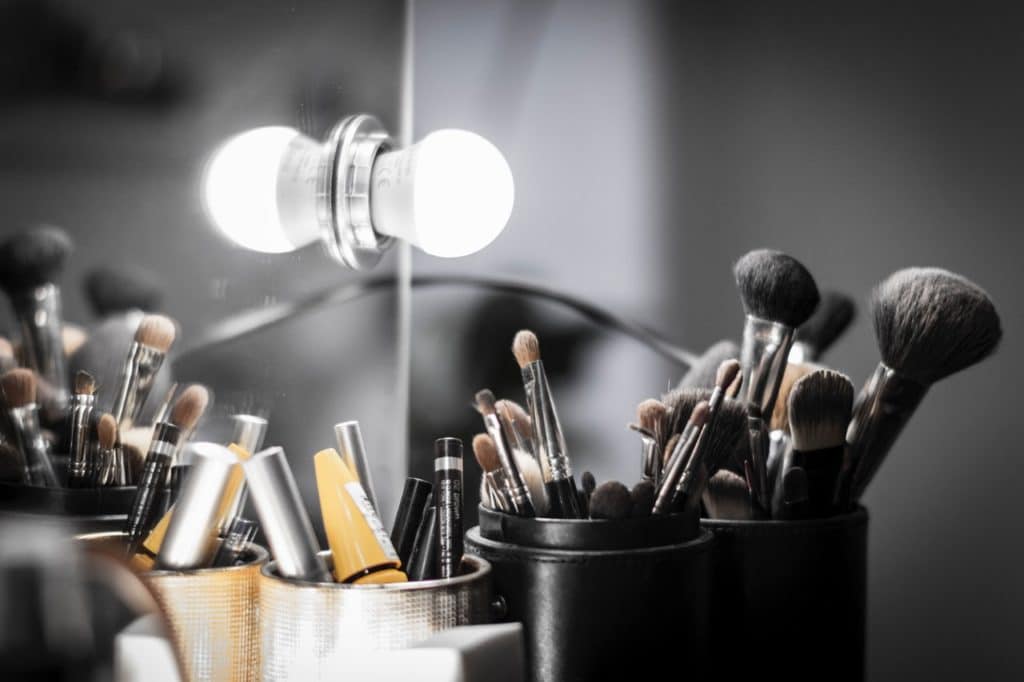 – Natural white light
The runner-up to natural daylight is natural white light. You can find portable white light or daylight bulbs. The best wattage to choose is between 60 and 65. Anything brighter and you'll run into the same troubles as if you were to use fluorescent lighting.
The key is choosing something that emits warm white light. LED lighting most closely resembles natural light on the color spectrum while at the same time providing even distribution across your face.
A simple swap of the bulbs in your bathroom might be all you need to do in some cases. Others of you might prefer other devices though. I'll get to all that and more further below, but keep reading to learn about other types of lighting and why you need to avoid them to look your all-time best!
What lighting mistakes to avoid
I don't think there's a single one of us out there in this world that hasn't incurred the wrath of bad lighting at some point. But now that I know the secret, I want to share it with all of you. We do more good when we lift each other up.
Bad lighting can make all those awesome techniques you've mastered with your makeup not matter in the slightest. There's a science behind all this though and now I'm going to clue you in on why you might be having some lighting trouble. Maybe you're under the wrong colored bulbs. Maybe the way your lighting is set in your bathroom or where you have your makeup vanity is not doing you any favors. Anyway, this is your ticket to finding favor with lighting, so read on!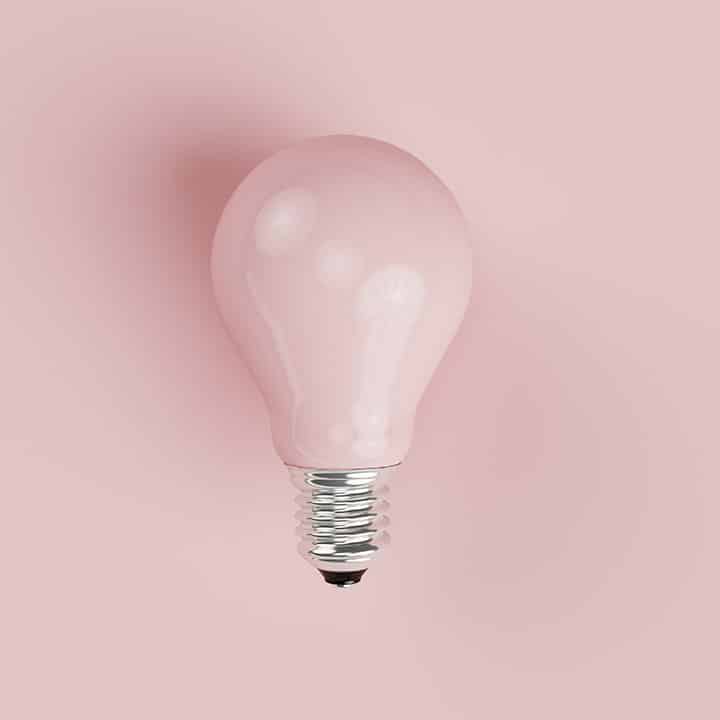 – Avoid pink light
You'd think that a rosy-hued light would be a good bet. After all, when you're standing in it, you look healthier and more vibrant. But what happens when you leave that loving light? Unfortunately, all your flaws are blended away in pink lighting. So you'll miss out on what could really do with a few dabs of concealer like dark circles or a big blemish.
Pink lighting definitely makes you look good, but it makes you look TOO good so you can seek out those flaws you want to cover. When you walk out into the real world, they will be all too obvious and make you want to run back home and redo your makeup immediately.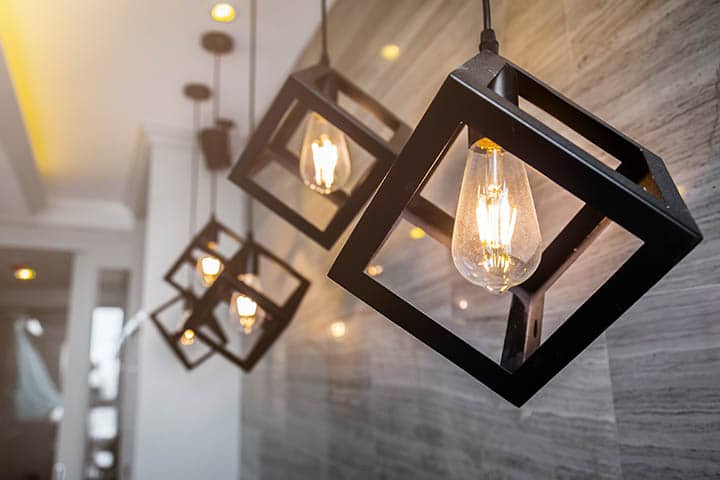 – Avoid yellow light
Now for the opposite of pink lighting. Yellow lighting. Sorry, but this has no place in your bathroom, much less anywhere inside your home. Yellow lighting is great for keeping bugs from buzzing around your front door. But for applying makeup, it's a dud.
The yellow tinge makes you look like you haven't slept or that you just spent the last week suffering from the flu. With this hue, you will apply more concealer and powder than you need to hide your flaws. Overcompensating with your makeup makes you look horribly overdone when you get out of that jaundice-like yellow glare.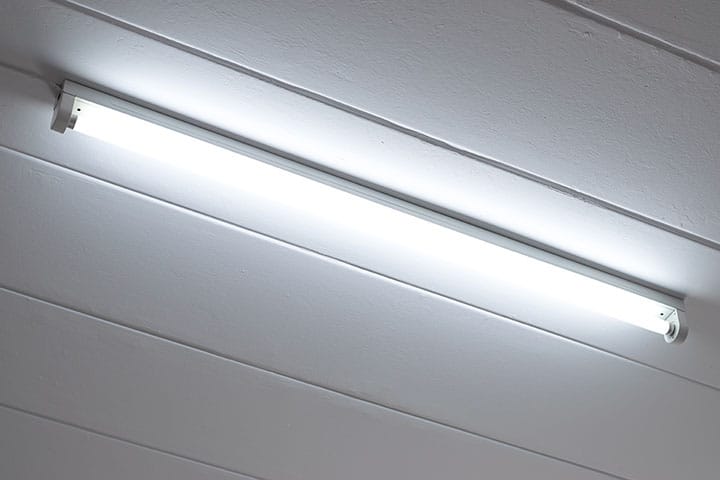 – Avoid Fluorescent light
By and large, fluorescent lighting is the absolute worst of them all. It will bring out all your imperfections, and not in a helpful way. The cool white lighting that comes from these bulbs will cause you to put on more makeup than necessary to add color back into your face. Under these bulbs, you look white-washed so you'll slather on more than you need. Much more.
For apartment renters or dorm dwellers, or even for homeowners that purchased a place with unfortunate light fixtures, there is a simple fix to get your best lighting even in these circumstances. I'll shed some light on that, pardon the pun, in just a moment.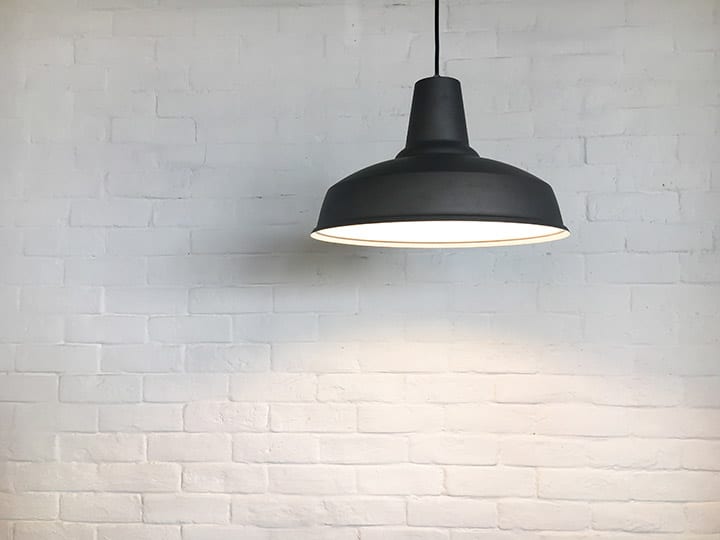 – Avoid down-lighting
Have you ever been out to dinner at a nice restaurant with that muted canister downlighting? You ask the server to take a photo of you and your dining companions and when you check it out, all of you look like scary zombies with dark circles under the eyes. Downlighting, while pleasant in cozy atmospheres, is anything but flattering, especially in photos. It highlights wrinkles, pigmentation, and creates shadows under your eyes which will all serve to make you look older in a flash.
If you have downlighting in your bathroom or by your vanity, you're going to want to use something else when it comes to applying your makeup. Downlighting makes it very difficult to see what you need to see for perfect application.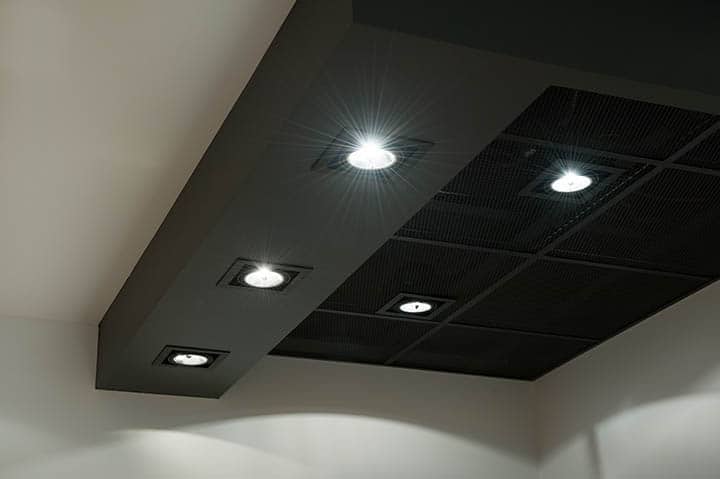 – Don't stand directly underneath the light
One thing that many of us do without realizing it is to stand directly underneath the lights. You can see how that works against you with downlighting. But with other types of lighting, even the good kind, it can cast a shadow that will lead you to pile on the makeup. You want to be in front of your light.
That light should be illuminating your face evenly in all directions. Ideally, your light source should shine on you from the front at an even keel. From above or below, you get shadows that you overcompensate for.
Thankfully, I can help you fix that. Some of you may only need new bulbs while others of you may need a lighted mirror. I've got suggestions for both that will help you turn your bad lighting into good lighting and correct those makeup mistakes forevermore!
First though, here's a quick lesson on how to choose the right light bulbs when it comes to illuminating for makeup application.
How to choose the right light bulb for makeup application
As I previously mentioned, the right bulb makes all the difference. You might have a fantastic light fixture in your bathroom already, but if your bulbs aren't the right color temperature, accurate, natural, or dimmable, you'll get your makeup wrong every time. Here's how to choose wisely!
– Look for the right color temperature
You always want a warmer color temperature to mimic natural daylight. That would put it in the 2,700 to 5,000k range, with the 'k' representing Kelvins. Kelvins are how they measure color temperature so look on the listing for the bulbs. There's warm which is yellow to cold which is blue. Staying between these recommended Kelvins is the best way to get the right lighting, though makeup experts say 5,000k is the minimum you should be looking for.
But with such a wide range between Kelvins, how do you know which setting will do you right? That's easy… dimming! I'll get to that in just a moment so keep reading.
– Check the accuracy
These days, LED lights are the best. They save more energy and last longer. That means you won't have to change burnt-out bulbs as often. I recommend going with LED simply because it's much easier than changing out bulbs. This is especially important if you have a great light fixture in place but it's difficult to reach.
– Natural light color is the best
As I mentioned earlier, you want the color that gives you the closest semblance to daylight as possible. That natural light gives you a realistic impression of your makeup really looks. Going too white with light will always give you a washed-out look that will cause you to add more makeup when it's not needed.
– Dim control
Ideally, the best-case scenario is if you have a light fixture or vanity that has a dimmer control. All you'd need to do is make sure the bulb you choose is compatible. Dimmed lighting makes it easier to find the right cast of light for you. Plus, you can adjust it for daytime and nighttime settings.
When I was little, my grandma had this ancient makeup mirror that plugged in. It had a daytime setting on it and a nighttime setting. I used to LOVE playing with this thing. It was this ugly, plastic 1970s monstrosity that she'd had for decades before I got my hands on it, but I loved sliding the settings at the bottom and playing with the lights.
While that one would be sorely outdated today (it certainly was when I found it in her closest), it gets the theme right. You should be able to adjust your lighting based on the situation. This way, you'll always have the right lighting for your makeup application.
What provides the best lighting for makeup application?
So now I'm going to cover 4 great possibilities for whatever your living situation is like so you can easily get good lighting for your makeup. My suggestions range from bulbs to full-on setups so you can see which one will suit you best!
For those of you with good light fixtures in place, this 10-pack of LED globe lights might be your ticket to better makeup. It provides brightness like the sun that gives you true-to-color impact in any room. Maybe you don't have a vanity set up like those Hollywood-style mirrors, but you can pop these into any E26 screw base and get the same effect. If you don't have room for 10 bulbs on your fixture, you can use them in other places in your home too.
They would be great for a desk lamp or adding more natural light to dim areas of your home. Since they're LEDs, they last longer and bring that bright light without buzzing or flickering.
It will take some getting used to when you put these in, but once you adjust, you'll love them. The key is to use them in a dimmable fixture. They're totally designed for that so you can dim down to 10% or turn it up all the way to 100% brightness. If you own your home, you might want to consider replacing an outdated fixture or even having a dimmer installed. It's a good investment!
Can't replace your light fixture? Or perhaps your vanity is in your bedroom? Then this LED vanity mirror kit can turn any mirror into a Hollywood-style setting. It features 10 dimmable LED bulbs that you can stick to your makeup mirror or bathroom mirror.
I like this idea because it's no-fuss with no need for drilling or complicated installation. There's no assembly required. If you can stick a sticker on something, then you can set this up. With an added smart-touch dimmer, it is a fantastic multipurpose way to upgrade your space with minimal investment or stress.
The only downside I see on this one is that there are no replacement bulbs, however, the manufacturer offers a 1-year quality guarantee and it has outstanding reviews.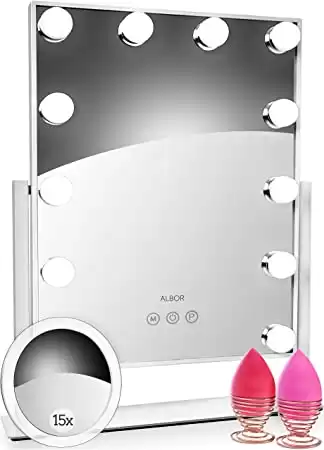 Ok, so you don't have a mirror or lights. No problem! This combo from Albor gives you bonuses right out the door. You get a LED vanity mirror with smart-touch controls and adjustable lighting for morning, afternoon, or evening. You can also choose color temperatures between warm and cool. And you get a bonus 15x magnifying mirror plus Beauty Blenders included!
If you live in a dorm or apartment, this is an ideal set-up. You can turn your desk into a vanity space with this skid-proof LED vanity mirror. It rotates 360 degrees and features a 100% money-back guarantee. Even if you are a homeowner with more space and control over lighting, you may find this option the best solution for your makeup lighting needs. And any of you with teen daughters might find this to be an excellent gift for an upcoming birthday or holiday. It's very versatile and I think this is a great match for anyone who won't benefit from changing bulbs in their fixture or has limited space to work with.
The only downside, which may only be a factor for some, is that you need to be able to plug it in.
Now for those of you that need portability in your life, this LED makeup mirror by Fancii is a cordless option. It provides accurate natural daylight and 10x magnification so you can zoom in and get a truly tight line on your eyeliner. It locks in place with suction anywhere you stick it and gives you 360-degree rotation. The handy travel pouch means you can take it with you anywhere. So if your roommate snags the good spot, you can set up elsewhere. Or if you stay with your special someone overnight, you can take it along.
It's a glam LED mirror that gives you everything you need to apply makeup like a pro in any setting. Ideal for those that are forced into bad lighting in dorms or apartment setups, or even for the busy traveler, it's a great option.
Conclusion
You don't have to put up with bad lighting casting your makeup in shadows of doubt. Now that you know, change it! There are many ways to work with what you have in the way of lighting whether you change the bulbs, change your fixture, or simply use innovative LED makeup vanity mirrors to solve your problems. One thing is for sure…if you follow this advice, you'll now look as glorious as you'd hoped after following those trendy makeup tutorials!