So many women have unwanted hair they wish would just go away. And the good news is that laser treatment can make that a reality.
When hair grows on your face in places you don't want (meaning anywhere but your eyebrows or eyelashes) you want it gone. Laser treatment provides an excellent long-term option to rid you of that hair you didn't ask for.
These treatments need to be repeated several times to get rid of all the hair growth, but women that have hair on their chin or upper lip will be more than happy to go through them to never have to wax or shave again.
Laser treatment has the power to give you more confidence. But what about makeup? You may be wondering can I wear it after laser hair removal? If you want to know the answer, keep reading.
Can You Wear Makeup After Laser Hair Removal?
Dermatologists recommend waiting at least 24 hours before applying any makeup after laser hair removal, as the treated area could get extremely sensitive leading to an allergic reaction. Though, you should wait even more, whenever your skin has been damaged due to sun exposure.
In most cases, makeup can be reapplied after the treated area has healed and is back to its normal state.
However, there are some types of cosmetics that you should avoid because they could interfere with the laser treatment or cause skin irritation.
That means avoiding any harsh chemicals or ingredients in your products. Your skin will be very sensitive after laser hair removal treatments.  
You can use a gentle cleanser and soft cloth to wash away dirt and oil that may have accumulated on the skin during the day; no exfoliation necessary. Your skin should feel very soft to the touch.
If you have any questions or concerns, be sure to consult with your doctor or laser technician. They will be able to give you specific instructions on how to take care of your skin after treatments and advise you on which products are best for you.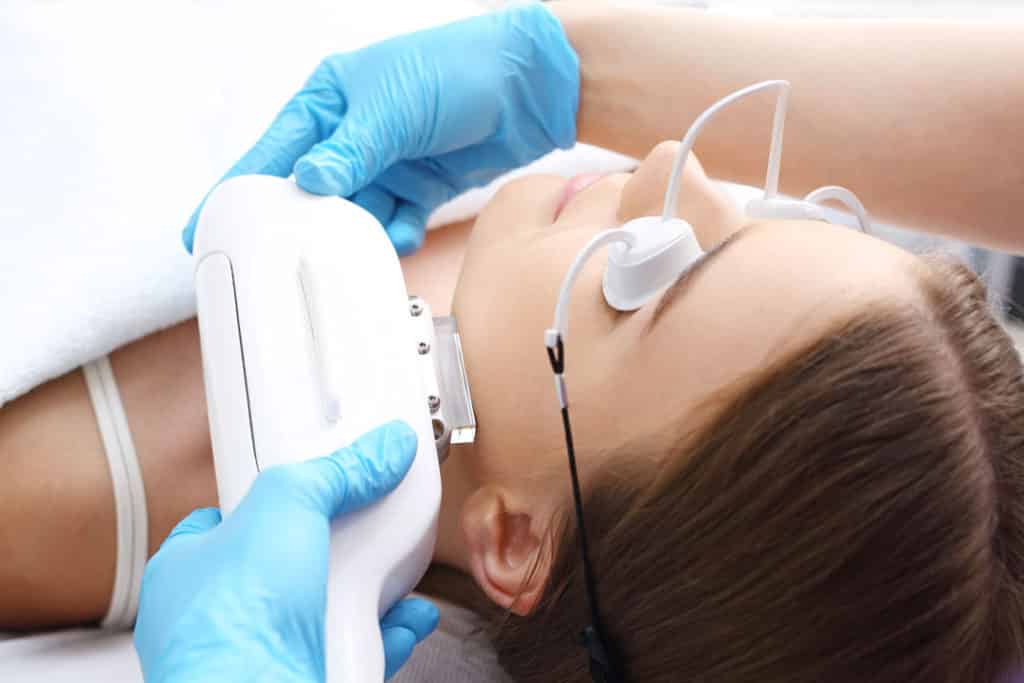 Is it safe to wear makeup immediately after laser treatment?
Although it is considered safe to wear makeup right after you get your laser treatment, you should proceed with caution. You may want to test out a small area to avoid irritating your skin.
But if you notice something blister or appear crusty on your skin, you should stop using it at once. It could be an allergic reaction due to the broken areas on your skin.
Normal makeup or even concealer might not be the best choice to apply after your laser hair removal treatment. Most experts advise that you wait at least 1 day, and for good reason.
When you finish your laser treatment, the little hair follicles on your face become extra-sensitive. Makeup, even the best and most natural of it, can be irritating to your now-sensitive skin.
You should therefore limit that contact with your skin to keep from breakouts or having an allergic reaction that might draw more attention to the fact that you've performed some kind of procedure on your face.
Sure, it's frustrating to have to wait, but it's much better than causing your skin to become red and inflamed, something that will be even more noticeable than the slight redness of the laser treatment itself.
It's not going to last very long, and in fact, you can get back to applying all your favorite makeup shortly.
If it's possible, try to use your laser hair removal device on the weekend or if you're having it done professionally, you can see about a weekend appointment to keep things more discreet.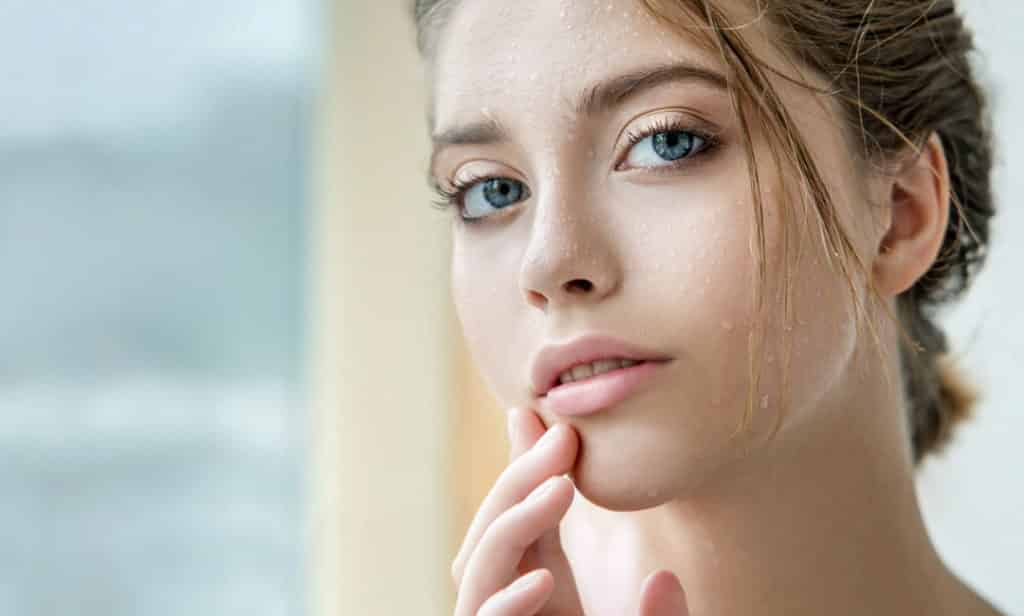 So, when is it considered okay to wear makeup?
According to the experts, you should wait at least 24 hours before applying a full face of makeup after your laser treatment, though it depends on how your skin reacts to the treatment in the first place.
First-timers will likely notice more of a reaction from the laser and will need to handle skin with extra care.
For anyone with heavy facial hair growth, you might have a longer period of redness (likely up to 48 hours) where erythema (or redness) and follicular edema (swelling of your hair follicles) are very obvious.
It's nothing to worry over though because your skin will go back to normal very soon. With each laser treatment, the hair becomes thinner, finer, and lighter until all of it has been removed from every follicle.
When that happens, your reactions to the laser treatments will be minimized and barely noticeable at all.
Again, scheduling your laser treatments with a professional or using your own device in the privacy of your own home (a more affordable and just as effective solution) is best when you do it in the evening or on a weekend when you won't need to go out anywhere.
This way, you can stay home until the redness subsides instead of running into friends or coworkers that will loudly ask you what happened and if you're ok. Once you have done several treatments, you won't have to worry anymore.
The redness will only last a short time and you can get back to life and using your favorite makeup.
What type of makeup can you use after laser resurfacing?
When your skin looks like it has calmed down some, you can again start using makeup to hide the tender pink or redness. You may want to test it out on a small part of the treated area to see how it reacts before applying it all over.
This way, if there is a reaction, it won't be all over your face and make you look worse.
If you're sure it's not reactive, you can try a green-based makeup to help hide the redness. They are perfect for neutralizing the color.
You should also choose one in an oil-free formulation to prevent from clogging more. Non-comedogenic makeup will definitely do best for your skin. Dermablend full coverage foundation Makeup is a good, affordable choice for this.
You should use mineral makeup during this tender time period after laser treatment. And while it goes without saying, you shouldn't get out in the sun. Of course, that's easier said than done.
The sun's rays are so strong that even when you're not sitting at the pool or on the beach, you can further irritate and damage skin through free radicals.
It's so important to make sure you're using a mineral-based oil-free broad spectrum sunscreen that blocks UVA and UVB rays and is SPF 50 in strength every day, even if you're not fully exposing yourself to the sun. More on that below!
What to avoid after laser treatment
Aside from slathering makeup on immediately following the treatment or using anything that would react to your skin in your makeup bag, you need to take proper care of it in your daily regimen.
Active ingredients should be avoided like the plague, just until skin has calmed down.
Ingredients like alpha hydroxy acids (AHAs), beta hydroxy acids (BHAs), retinol, and anything that exfoliates are a no-no right now. Additionally, this isn't the time to go for a swim, or get in a major sweat-sesh at the gym.
You need to let your skin heal and become calm again first, which won't be long but being impatient can cause it to look worse for longer.
We mentioned going out in the sun is not at all recommended after laser treatment. It might seem obvious that sunbathing or using tanning beds aren't brilliant plans but some things are less obvious than others.
Among them, self-tanning, which can create pigmentation problems is one to avoid.
In addition to your skin being more susceptible to damages right after your laser treatment, it can also cause hyperpigmentation. It's not just direct exposure to the sun though like when you spend time jogging outdoors.
You also need to protect your skin even if all you're doing is driving to work on the highway, walking to and from your car at the supermarket, or basically doing anything during the day.
We often forget that these moments leave us vulnerable to sun exposure which, over time, can add up to damage that is hard to undo. Always keep yourself protected!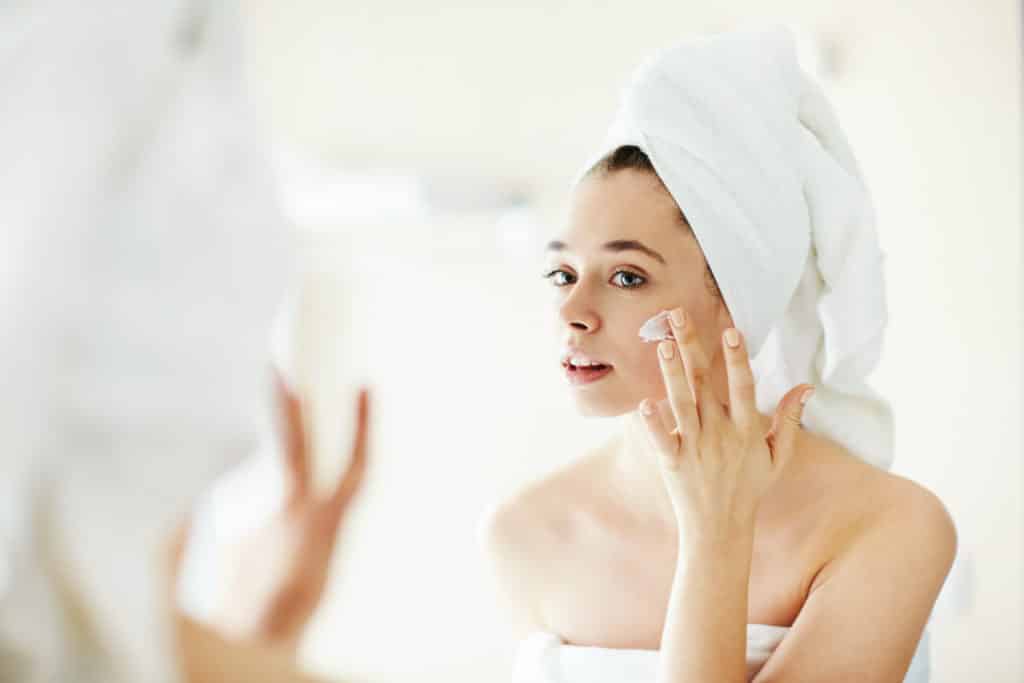 What to do to help your skin better heal after a laser treatment
It's important that you treat your skin delicately after you do laser treatments. Just like if you were injured, your skin needs appropriate pampering to heal up. You should ensure it is clean, hydrated, and guarded from the sun.
The best choices are gentle formulas for sensitive skin like Elta MD Laser enzyme gel (Amazon link), which contains Hyaluronic Acid to get a glowy skin while producing a cool sensation of comfort.
For those of you that get more aggressive treatments, or perhaps it's your first time using your laser treatment device at home, you should choose an emollient cream to guard your skin's barrier and keep it amply hydrated.
Milk cleansers are known for being gentle and soothing and are highly-recommended by skincare experts for keeping skin calm morning and night. Using a devoted sunscreen cream by day and a hydrating night cream at night will also help.
Post-procedure skin is really the same as taking care of your skin on any other day. You just need to have a more gentle touch and use the kind of ingredients that won't irritate it.
It's a smart buy when you stock up on these skincare items if you're going to be using your laser hair treatment device at home frequently. This will help your skin recover more quickly without delay.
The only difference is the laser does render skin more sensitive and easy to irritate. It also compromises the skin's own natural barrier, which is why your devotion to your skincare routine right now matters even more than any other day in which you worship your skin.
Remember to use the right kind of products to follow these treatments. Your AHA products can wait until your skin has healed again.
Clean and hydrated skin is the best way to help it recover from laser treatment. You should limit your makeup until you're sure it has recovered enough to prevent a breakout or allergic reaction.
Any makeup you do use should be of oil-free and mineral-based formulations to keep skin from irritation.
Should your skin become red and swollen after your laser treatments, you can apply a cold compress to the affected area. You'll find it helps reduce inflammation and bring your skin back to a normal appearance.
Elevating your head when you sleep is helpful too but by far, preserving skin's moisture is the most important.
Occlusive moisturizers like Elta MD enzyme gel which I mentioned earlier are often recommended by dermatologists for just such a purpose, to help restore that moisture and bring your skin back to normal.
If you neglect keeping it properly infused with moisture after your laser treatment, it will be more prone to scabbing and can even take longer to heal.
And above all, you shouldn't try manual skin exfoliation again until 2 weeks post-laser treatment. Dermaplaning can be a great way to get the rest of the dead skin cells off without rendering skin flaky.
You can also exfoliate at home, but again, you shouldn't do so until you've waited 2 weeks. Incidentally, that's the best time to wait for going back to your normal skincare products too.
Just because your skin starts looking better isn't an excuse to ignore sun protection though. Again, we had to reiterate this because it is one of the most crucial aspects for skin recovery after laser treatment even weeks after – use a quality mineral-based sunscreen!
Colorescience sun forgettable total protection is perfect for sensitive skin especially after laser treatment and the brush feature makes it easier to use anywhere, so, if you're always in a hurry like most women, there's no need to slow down.
Once skin starts looking better, you can get on with your full makeup routine. You may even find that using your mineral-based products makes you much happier even when you haven't had laser treatment in a while. The oil-free formulas feel like a dream on skin.
Conclusion
Skin after laser hair removal is very sensitive. You can wear makeup again after you have it done, though waiting a day or two is absolutely advised by skincare professionals.
If you're not sure about going without makeup, you should use your laser treatment device in the evening after work or on the weekend to allow your skin to recover without exposing it to further irritation.
Planning on attending a big event? Make sure you do your laser hair removal treatments well in advance so you look your best.
If you don't want to have red, irritated skin in the photos at your wedding, a special birthday party, work event, or anything like that, heed our advice and take care of your post-procedure laser treatment skin.
Handle it with kid gloves and you'll notice it is ready for makeup faster and will look extra flawless!