We all love makeup! It can make us look and feel more confident. However, there is one downside to makeup: it can prevent us from tanning.
Many people believe that if they have makeup on, they cannot get a tan. But this is not actually true!
Can You Wear Makeup in a Tanning Bed?
Tanning through makeup is possible. In order to tan evenly, you should avoid wearing makeup, since all foundations contain SPF. Dermatologists say using tanning beds is not safe as it can damage your DNA, and cause photo-sensitivity, especially in conjunction with the chemicals found in your makeup.
If you've been wearing your makeup to the tanning bed or even out to the pool or beach, we're fully advising you stop at once.
It's natural to wonder of course if wearing your usual face of makeup while tanning can have any effect, but let us assure you, it does, and one you're not likely to like. For starters, it impedes your ability to tan evenly. But far worse than that is the damage that it can do.
Keep reading and you'll find out why you shouldn't ever wear makeup in a tanning bed, or in any deliberate tanning situation!
Why you can't wear your makeup in a tanning bed
The most important thing you should know about wearing makeup to the tanning bed is that it's simply not safe. For one thing, that short term period after UV exposure, which you still get in the tanning bed, can create sunburn from UV radiation and aggravate skin conditions and diseases.
It can also affect your immune system. If you take certain medications or use certain skin creams or products (either prescription or otherwise), your skin may have a reaction.
Over the long term with UV exposure, you are much more prone to skin cancer and premature aging. It also depends on your age, your skin type and color, presence of moles or freckles on your skin, and if your family has a history of skin cancer. Wearing makeup, even with SPF in it, or using sunscreen won't stop the skin damage in the tanning bed.
We can assume that when you're heading to a tanning bed, you're looking to get that bronzed, sun-kissed look that screams summer. But if you use sunscreen in the tanning bed, you won't get your results or the protection you were hoping for.
Sunscreen is only effective when it comes to blocking out naturally-created UV rays from the sun. It serves no purpose for those artificial ones. And guess what…those UV rays from the tanning bed bulbs are even stronger and more dangerous than being out in the sun.
Tans might seem cool and all, but the American Academy of Dermatology reminds sun-worshippers and tanning bed enthusiasts alike that tans are the sign of skin damage through UV ray exposure whether you get that tan from the sun itself or by baking in a tanning bed.
Tanning beds are regarded as the worse option. Medical professionals strongly advise against them, largely because it has a greater risk for skin cancer, even in small doses.
Going out in the actual sun is better because you get the vitamin D your body needs, but you must be vigilant to protect your skin with waterproof and sweatproof broad spectrum UVA and UVB formulas.
If you're out on a boat or at the beach all day, you must remember to reapply it frequently to keep the protection up on your skin.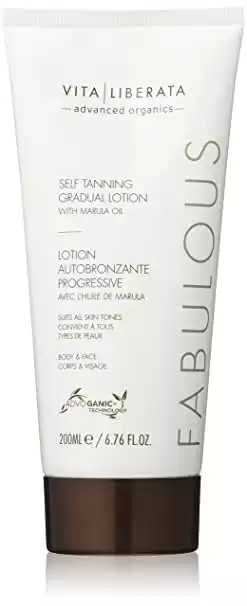 For the ultimate safest way to look sun-kissed of course, you can use bronzing makeup.
You can also use safe self-tanning formulas that require no exposure to UV rays or harsh chemicals to get the look, like VITA LIBERATA Self-Tanning Gradual Lotion (Amazon link), that offers a gradual tan over time, so it's transfer-proof, meaning that it won't stain your clothes, and 100% natural.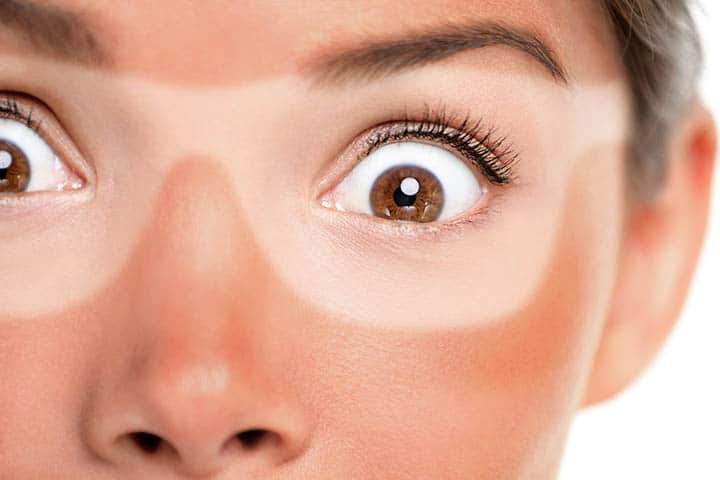 You may end up with uneven tan
Aside from the trauma you can cause your skin by going to a tanning bed in the first place, if you do insist upon using one and wearing makeup when you go, your tan might not look as even as you'd hoped.
When you wear makeup or certain cosmetics, it can cause your tan to appear uneven and even create white spots.
Even more troubling, the ingredients in certain skincare and makeup products might even react to the UV rays, creating photosensitivity or igniting allergies.
When you go to a tanning bed, if you're coming from the office where you've been wearing makeup all day, make sure to take makeup-removing wipes along to clear your face of any traces of cosmetics.
Most makeup contains ingredients that are hard to break down, especially formulas filled with chemicals. These can prevent the UV rays from penetrating your skin to produce melanin. If you have sunscreen on under that makeup, your skin will tan, just more slowly, which might not match the rest of your body.
In the tanning bed though, the sunscreen won't help keep the UV rays from damaging your skin and unleashing free radicals, and guess what that leads to…premature aging!
Do you really want that tan, or do you want to look younger for longer? That's the ultimate question!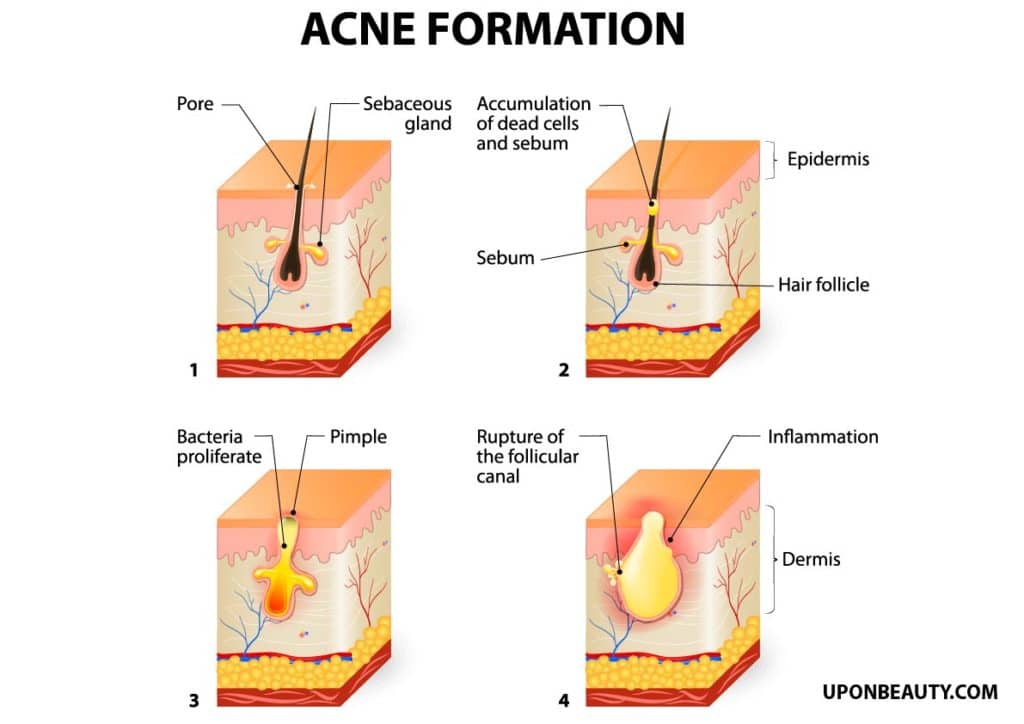 It can clog your pores
In addition to affecting how your tan turns out or contributing to the damage done, you shouldn't wear makeup to the tanning bed (or to the beach or pool!) because it can clog up your pores.
And when that happens, you get breakouts and red, irritated skin. You'll wind up looking blotchy instead of sun-kissed and carefree, not the look you're going for.
In the summer and in intensive heat situations (like the tanning bed) the effects are even easier to feel. Your skin will sweat more than it would, and don't get me wrong sweating is a good thing! A new study has revealed that sweat is actually anti-bacterial.
However a mixture of sweat and makeup mingles with the dead skin cells on your skin's surface plus the makeup and other debris (air pollution, dust, and all that other stuff) will end up trapped in your pores. When those pores get blocked, that's when skin breaks out.
Liquid foundation is the worst for your skin in the sun and in the tanning bed too. It basically traps the sweat from getting out, which keeps all the buildup inside the pores.
And that just makes your sebaceous glands all the more active, according to experts. Clogged pores create skin congestion and make your skin look less than stellar.
Comedogenic makeup, which goes into your pores to create a flawless look, is not your best friend during your tanning sessions either.
In fact, it's probably the worst choice you could make, aside from going to a tanning bed in the first place or stepping out into the sunshine without sunscreen. You might feel invincible now, but if you want to continue to look young, fresh, and fabulous, at the very least heed this makeup warning pronto! Why? Keep reading!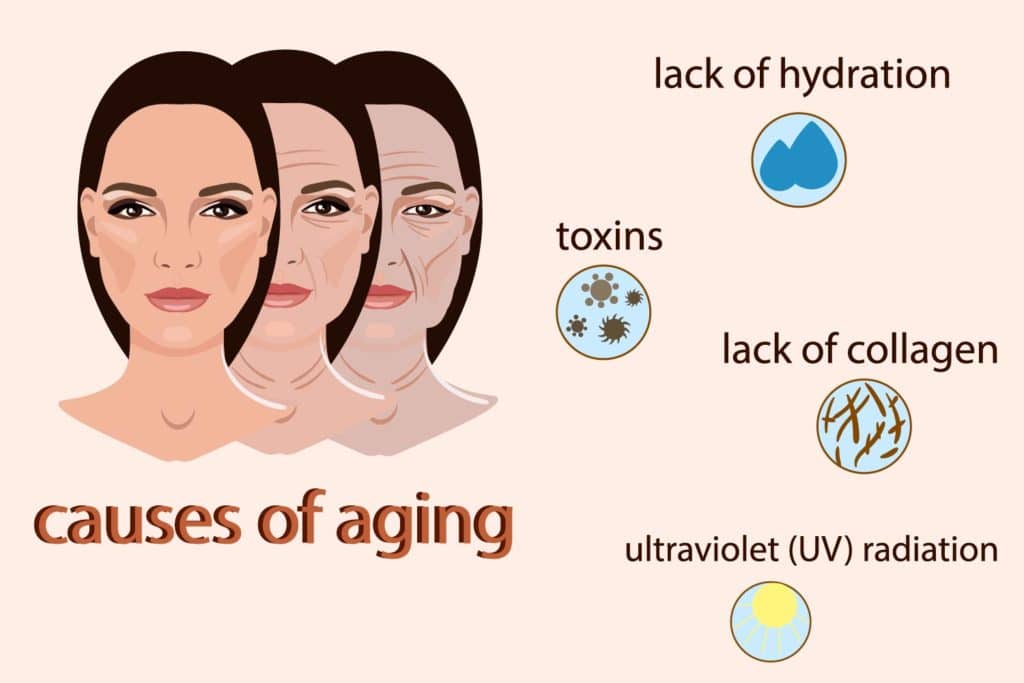 It accelerates the aging process
If the cancer risk didn't scare you off from tanning beds, or from sunning and funning without protecting your skin, then you should know you'll age must faster than all your friends. Tanning beds cause premature aging even more aggressively than regular UV rays from the sun.
With frequent exposure to UV rays, you will start seeing wrinkles. And leather textures only look good on handbags, shoes, and belts, not on skin. UV rays cause skin to lose its elasticity because they break down the collagen and elastin deep down which is why we look young in the first place.
Sadly, it's not easy to reverse. You can take steps to prevent leather-face-syndrome from occurring by caring for your skin, but if you don't protect your skin, it's going to be all for nothing. You'll then wind up having to shell out big bucks for corrective cosmetic surgery.
It doesn't matter how gorgeous and youthful you are now…if you don't take care of your skin, when it comes time for that high school reunion 20 years from now, you're going to look like you're going to your 40th reunion rather than your 20th one.
Another thing about makeup and sunshine or tanning beds is that it is not going to save you if you use it as your means to guard you from the UV rays.
If your foundation is SPF 15, what you might not realize is that you need to apply a good 2 teaspoons of it to your face to get that level of protection. Yup, that's too much makeup for your face in one application!
Let's say you decide to go shopping at one of those outdoor malls with your bestie and wear your makeup. You'd be garnering some serious sun damage by not using a qualified sunscreen under that foundation. Scary stuff!
Want to know something even scarier? Most SPF formulas only protect from UVB rays. You need protection from BOTH types – UVA and UVB. Those UVA rays are the real killers, leading to skin cancer and aging skin rapidly.
Mineral makeup with zinc oxide and titanium dioxide in the list of ingredients is your best choice, but you shouldn't apply it without using sunscreen underneath.
Some of the aging process is definitely hereditary, though study after study confirms that your lifestyle is what makes the biggest impact. So your family could age very poorly but if you take care of your skin by protecting, eat right, and live a healthy lifestyle, you won't succumb to those genetics.
Conversely, if you come from what they call "good genes" where everyone in your family looks years younger than their age, you can't expect to reap those benefits when you tether yourself to tanning beds on the regular or frolic on the beach without using sun protection.
What you need to know is this if you want to always look young – there are 2 processes that speed up the aging process for skin, both independent of each other.
Chronological, or intrinsic, is the natural process of the signs of aging that come in around 30 years when your cell renewal processes slow down and your hormones begin to change.
Environmental or extrinsic, is a result of exposing yourself to certain external elements, like those UV rays and UV radiation from the tanning bed. These external elements tear down your collagen and elastin and leave skin to sag and look much older than it is.
So, in essence, if you wear makeup and you combine that with UV rays, the impact for your skin is astronomical, in the most horrendous way.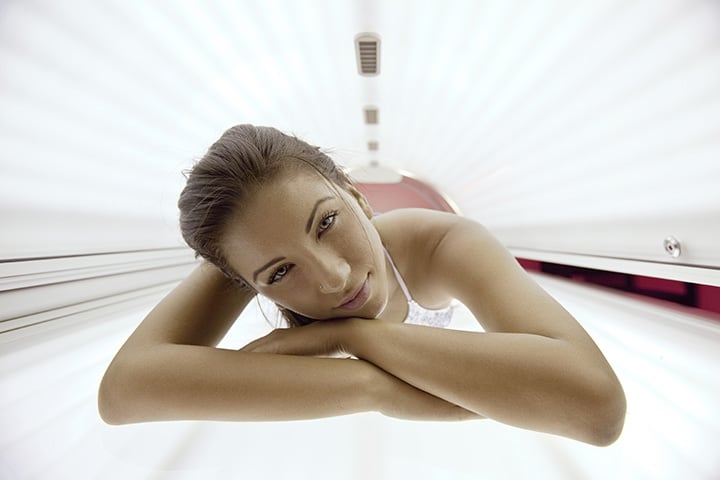 What can you do?
For starters, say no to tanning beds. There is no way to protect your skin from the UV radiation that comes from them. You are much better off spending time outdoors.
But when you do go outside, say for a run, to swim, or even to lounge by the pool and actively work on your tan, you MUST use broad spectrum SPF protection with mineral-based ingredients to help protect your skin. When you do so, you're avoiding those nasty age spots, also called sunspots, that older people usually get.
And if you want to throw caution to the wind, you are your own boss, but do know that wearing makeup into a tanning bed is even worse than tanning there in the first place.
Wearing makeup at the beach or pool isn't a wise idea either. It will result in skin that isn't protected, an uneven tan, and of course, breakouts.

If you can't stand to feel pale, there is good news though. You can try products that allow you to get a sunless tan, you should definitely check out Clarins Self-Tanning Milky Lotion I've mentioned above.
Conclusion
Skin experts agree that wearing makeup and pairing it with UV radiation, especially from tanning beds, is bad news. Don't do it! Instead, take the time to go makeup-free during these excursions.
Consider other methods for getting safer bronzed-looking color without putting yourself in a dangerous situation.
We're young now, but with all this exposure to dangerous UV radiation all around us, we might not be so lucky once we get older. If you want to hold onto that "Forever 21" look, hold onto your sunscreen even tighter!