Why do people color their hair? For many women, the goal is to either cover or blend gray follicles with something more natural. That way, it's possible to look a bit younger.
When you look younger, you often feel that way.
For many older ladies in the past, the idea of coloring their hair was also a fashion statement. Although correcting unwanted tones was part of that process, expressing one's personal style was also an element.
Creating different colors outside the regular spectrum of hair color might seem like a modern trend, but it is a decision that women have been making for nearly a century.
Why Do So Many Old Ladies Have Blue Hair?
For about 40 years, from the 1930s to the 1970s, elderly women often had blue streaks placed in their hair to complement their silver streaks. The product was called a "blue rinse," but the goal wasn't to turn the follicles that color. Stylists used the chemical solution to create a platinum look.
The popularity of platinum hair with blonde locks light enough to seem white started with actress Jean Harlow in the 1930s. Her film called "Platinum Blonde" was quite popular, inspiring women at the height of the Great Depression to start bleaching their hair.
Hairdressers used a technique that involved using ammonia and hydrogen to turn any color to a pale yellow. Once that result occurred, they'd apply a "blue rinse" solution to finish the platinum look.
It wasn't an idea that seemed outrageous at the time. Most women were already using bluing agents at home to bleach their white linens and sheets.
That process led most advice columnists to encourage older adults to start restoring luster to their hair by using the blue rinse technique.
When it worked correctly, the results were fantastic. If the job was botched, it could leave the hair looking slightly blue to having a deep purple.
At first, the blue rinse outcome happened by accident. Some older women decided that having bluish or purple hair heightened their beauty instead of detracting from it, so they went for that color deliberately.
By 1939, it was more popular to get a botched platinum look than it was to replicate what Jean Harlow created.
Hollywood Has Always Been Attracted to the Blonde Bombshell
Older ladies might have abandoned their quest for colorful hair if Jean Harlow's popularity faded. Even though her life was cut tragically short by kidney failure while still in her 20s, her comedic talent during that era was unsurpassed.
After her death, Hollywood might have shifted gears to feature other talents, but the movies have always found the blonde bombshell to be appealing.
Names like Mae West, Carole Lombard, Jayne Mansfield, and Marilyn Monroe all graced billboards across the United States.
Then there was the advertising campaign from Clairol that suggested blondes have more fun. It has such a powerful impact on how people saw themselves that the trend to modify one's look continued.
By keeping the platinum leading lady concept alive, Hollywood created another generation of older ladies who looked to their hair for fashionable expression.
As one columnist wrote in the 1950s, "If you have gray hair and like it, why not dramatize it some?" That's when the advice of using the blue rinse was offered.
"You can have a soft, cloudy effect with the blue or make it deep and dramatic. Match your accessories to the new color."
If blue hair hadn't been used as a term to describe people who furthered conservative political agendas, the trend might have continued for another 40 years after the 1970s.
Some women didn't like being associated with the "blue rinse brigade," which ultimately led to the trend becoming more of a niche statement.
Despite that fact, some women continue with the blue rinse tradition for some of their looks. The names that embrace this trend today include the Kardashians and Lady Gaga.
How to Bleach Hair Successfully
Whether you're feeling bored or want to embrace a new look, bleaching your hair can be lots of fun. It can also be a tricky thing to do at home.
Don't be like my best friend in high school who dumped an entire bottle of Clorox on her head. Not only did that decision not get the results she wanted, but it also forced her to go to the hospital because the liquid burned her skin.
I highly recommend working with a professional colorist unless you have no other option. Bleaching can cause your hair to fall out when it isn't done correctly. You'll also need to tone your color to avoid having it become brassy, yellow, or like copper.
If you decide to bleach your hair at home, I recommend reviewing these potential obstacles that could cause you to have an unpleasant result.
Start with the correct product. Different hair types require unique approaches to have a successful bleaching outcome. What works great for my curly hair might not be helpful for your straight locks. Don't steal your roommate's stuff!
Try to apply everything evenly. It takes a lot of work to achieve a uniform application when trying to bleach your hair solo. It's better to at least have some mirrors to use. I prefer to have an extra set of hands available before I make any changes.
Get the timing figured out. My mother once said that bleaching your hair was like making a pot of macaroni and cheese. If you cook it took short or too long, you're going to hate the results. This coloration work also needs you to work fast enough to create a uniform finish.
If you make a single mistake when bleaching your hair, it's possible to come away with a patchy look. If the mixture was too strong, you might even have red splotches from burns or allergic reactions on your skin.
That's why I work with a professional colorist whenever possible. Since you never really know what might be needed to complete the job, it's better to have an entire arsenal of hair care products available to ensure you walk away feeling fantastic.
Supplies Needed to Have a Successful At-Home Coloring Experience
A successful bleaching job requires a liquid or powder lightener with a developer. It is also necessary to have a toner, a gown, a large comb, a tail comb, and personal protective equipment available to complete the job. Once the hair color change occurs, a purple toning shampoo and conditioner are needed.
Most developers have measurements that range from 10-volume to 40-volume peroxide. If you have dark hair, you'll need something with a higher rating.
A higher volume number also means you're taking more risks when achieving the color you want. If you have dark locks and wear this product for too long, you can end up with broken strands to manage. I wouldn't recommend using anything stronger than a 30-volume product at home, and even then, only if you're familiar with it.
I would recommend avoiding an all-in-one kit for this work.
Once you have all the ingredients available to achieve your color change, follow these general steps.
Please remember that there is no universal advice available for bleaching one's hair. Everyone has unique body chemistries to consider.
Mix the developer and the lightener together according to the product's instructions.
Apply the combination mixture to your hair evenly. It's usually necessary to comb through the strands to distribute them appropriately. I like to use the tail comb to divide my hair into sections. That makes it easier to remember the areas you've already worked on.
Once all the hair has an even coat of the developer/lightener mix, you'll want to cover it with a shower cap. Don't exceed the time indicated on your product.
Wash your hair, then condition it thoroughly. It needs to dry before proceeding to the next step. I like to let it air dry to prevent a higher risk of heat damage from occurring.
Use the toner to even out the color and add brightness. You can keep the brassy tones if you want, but that usually means your hair will look orange instead of blonde.
Once you've finished these steps, keep using a purple toning shampoo and conditioner whenever your locks seem to have extra copper or brass. This step should only be taken about once per week. If you use it too often, you'll get violet or red undertones in the same way old ladies used to have blue hair.
I prefer to use Moroccanoil Blonde Perfecting Purple Shampoo when my blonde hair feels a bit dull. It corrects the tone appropriately while restoring color. It uses a sulfate-free formula that does a great job on the ends that feel a bit dry after multiple treatments.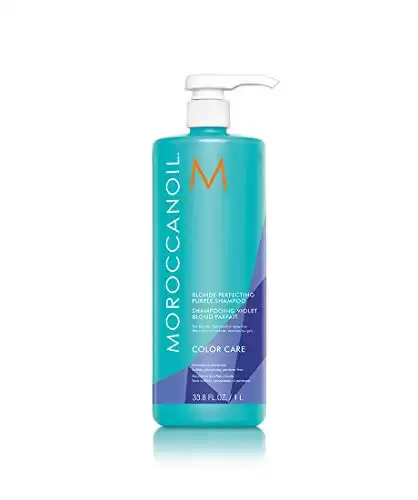 Old ladies loved blue hair because it made them feel confident and stylish. I think that way about my brown hair. If you do too, I highly recommend using purple toner shampoos and conditioners to achieve your desired results.