Do you regularly exfoliate? I know I do! I've always focused on my face, lips, elbows, knees, hands, and feet. But it occurred to me…why aren't I doing this for my scalp too?
That got me thinking. I mean, the scalp functions the same way the rest of our skin does. So why are we blatantly ignoring it? It is practically SCREAMING for a makeover of exfoliation and detoxification proportions. We must act now!
After all, exfoliation gets rid of those dead skin cells. It promotes cell turnover. Getting rid of that gunk can liberate our scalp and let our hair follicles flourish.
Having clean hair follicles is imperative for healthy hair growth. All the stuff we use on our hair builds up over time. Add to that the dead skin cells and you've got a lot accumulated up there, even if you regularly wash your hair.
If your hair is dull and greasy and doesn't seem to be growing in as well as it once did, it's time to show your scalp some love with an exfoliating detox that will help it get back to good health.
Follow me and we'll be going through how to make your own DIY scalp scrub to get that layer of sludge off of there and reveal your shiniest, healthiest hair of all!
DIY scrub to detox your scalp
Ugh, I totally KNOW what you're thinking. That's because I thought it too. I mean, OMG, why haven't we all been right on top of this?!? Fortunately, it's very easy to make a DIY scrub to detox your scalp. You just need a few simple things you probably have hanging out in your house already.
Using a scalp scrub will get rid of any leftover hair products that have accumulated, excess oil, and dead skin cells. Those all block the hair follicles and prevent new hair growth. If you've noticed your hair is thinning, you need to do this ASAP.
Ingredients you'll need for your DIY scalp scrub:
Coconut oil
Sugar
Apple cider vinegar
Honey
Rosemary essential oil
Coarse coffee grounds
Allow me to explain why…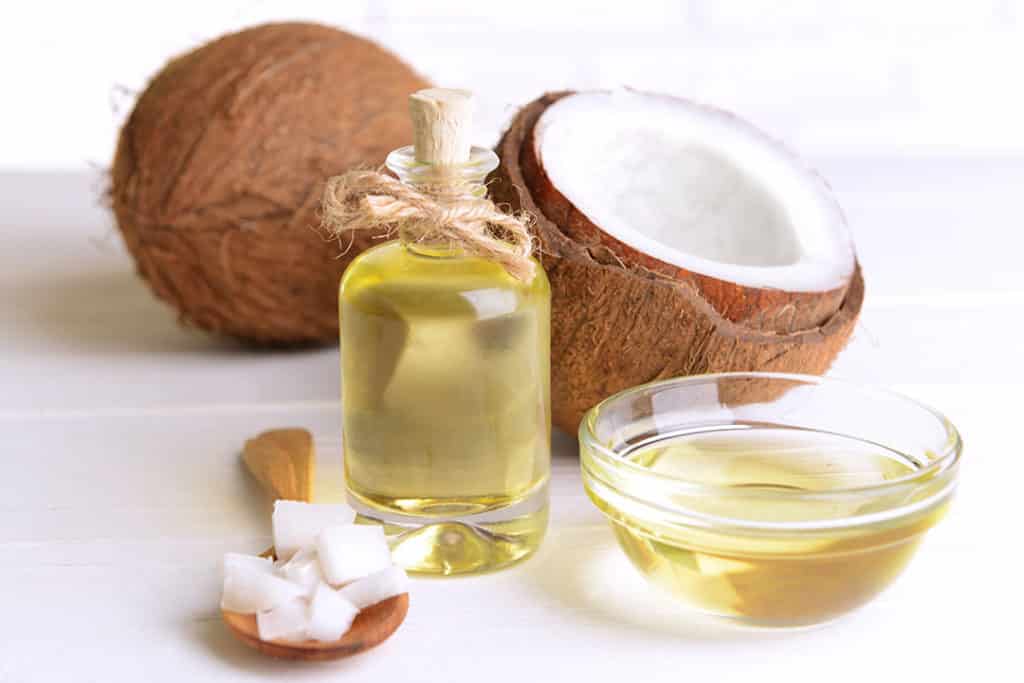 – Coconut oil
You'll need a tablespoon of this stuff. It moisturizes and hydrates your hair. Plus, it has vitamins and antioxidants that can perk your hair right up. And if frizzy hair is constantly ruining your day, coconut oil can keep that from happening.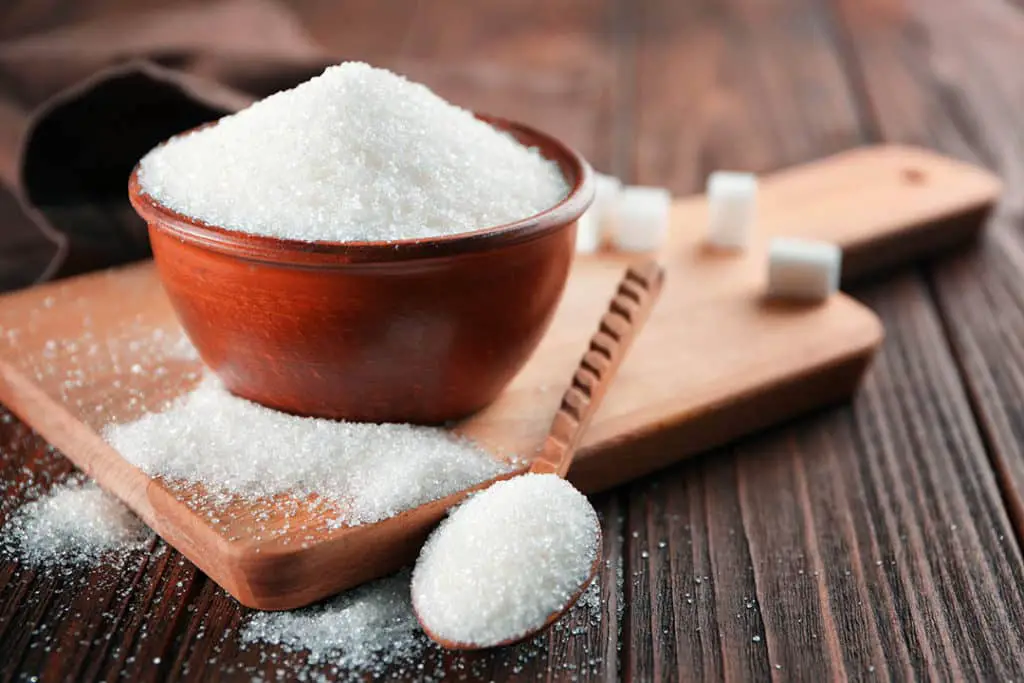 – Sugar
You'll need 2 tablespoons of sugar for this DIY scalp scrub detox. Pure cane sugar is the best since it's coarser yet gentle enough as a natural exfoliant.
It can buff away all that gross stuff stuck up on your scalp and unclog those pores. Plus, that gentle buffing encourages the circulation of oxygen to your hair follicles to encourage that new hair growth.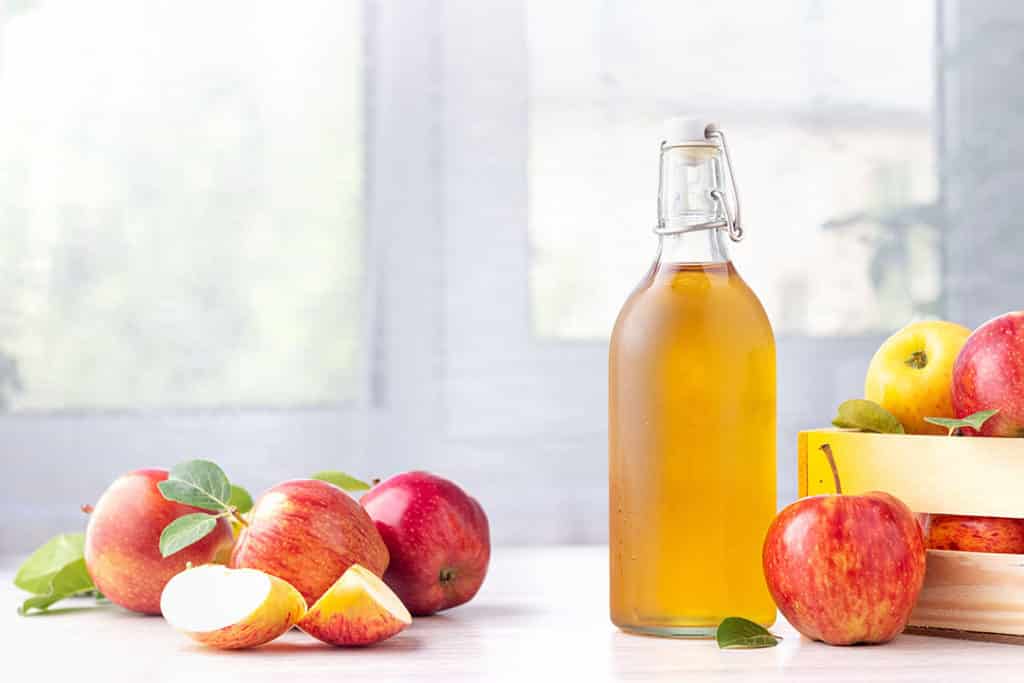 – Apple Cider Vinegar
By far, one of the best things you can ever use on your hair is apple cider vinegar. It makes your hair so shiny and clean. It naturally gets impurities out of your way and smooths hair for unbeatable shine. Use one teaspoon!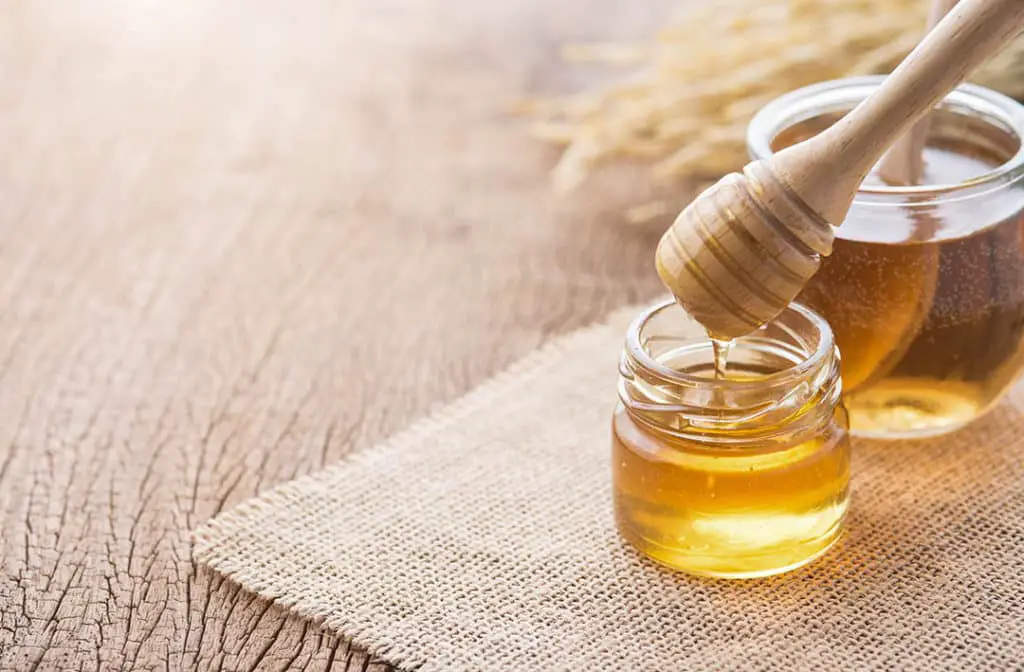 – Honey
If you are fully vegan, you will want to omit honey. However, if you're not worried about that, the density of nutrients, vitamins, and enzymes naturally contained in raw organic honey are ideal for restoring your scalp after the scrub. And yes, you should always look to raw organic honey if you're going to use it.
That stuff you find on supermarket shelves is simply liquified sugar with none of the nutritional elements that honey has to offer. You'll need a teaspoon of this too if you're using it.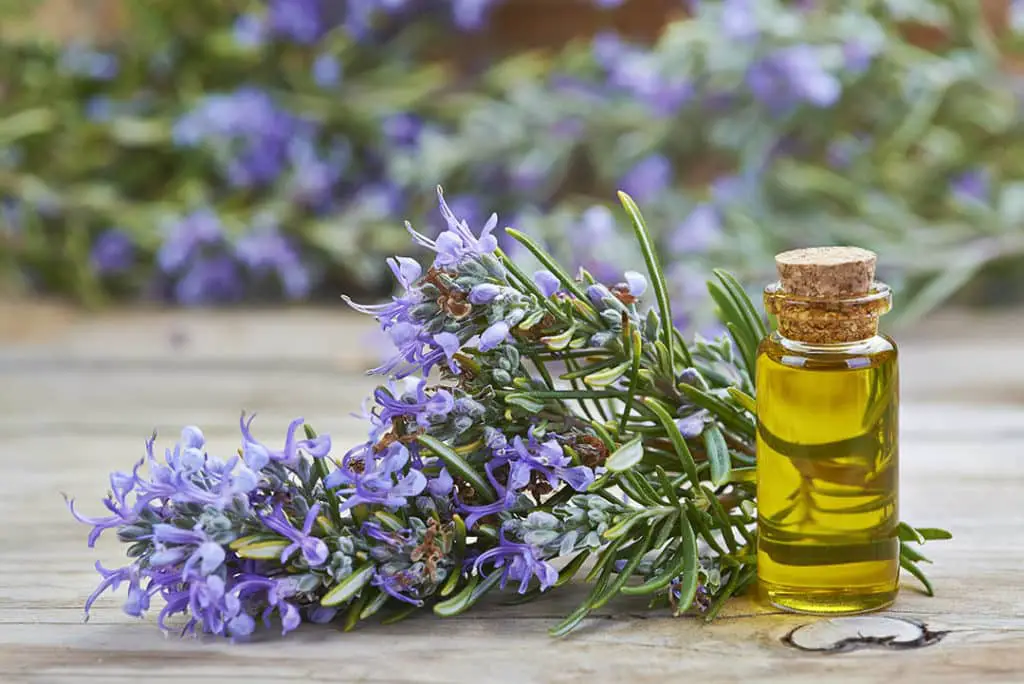 – Rosemary Essential Oil
Just 3 drops of rosemary essential oil will help boost blood flow to your scalp and get those hair follicles back to work. It helps balance the oil from your sebum glands.
This is so important because if your follicles have been clogged, it's very likely you get a greasy scalp one day after washing. It creates a vicious cycle that you have to stop. Rosemary essential oil can clear clogged pores and set things back in balance again.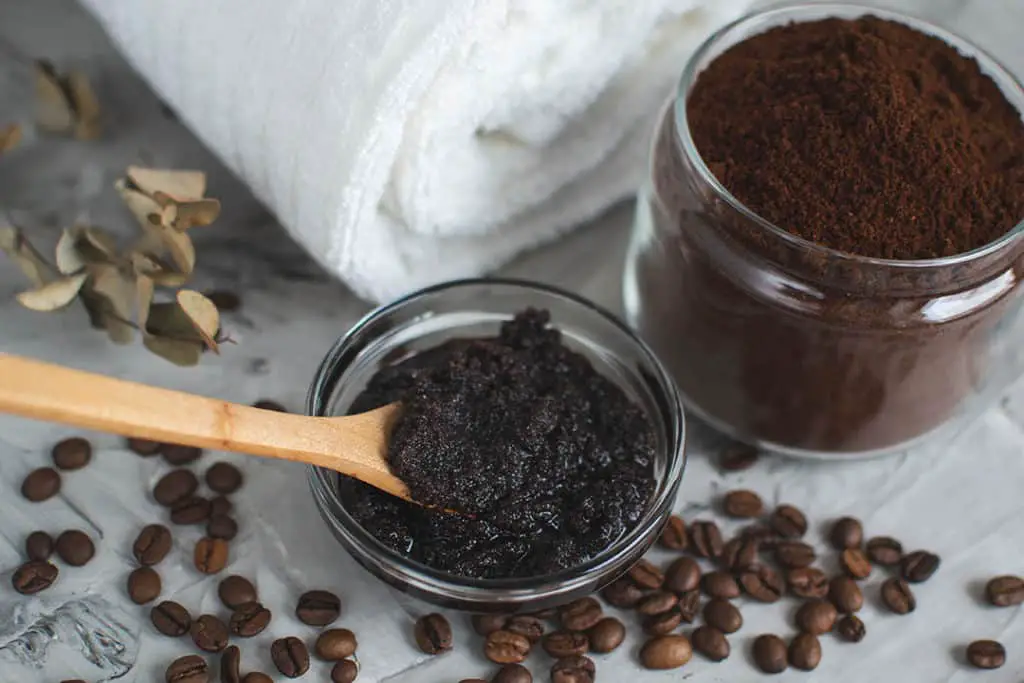 – Coarse Coffee Grounds
And finally, you'll need coarse coffee grounds. Coffee stimulates the scalp and your roots thanks to the caffeine. It can kick off hair growth and stop you from shedding all that hair.
You'll see great improvement with smoother, more manageable and fuller hair. One word of caution though…put a mesh sieve down when rinsing so you don't get the grounds down the drain. Over time, they can clog up your pipes.
How to make DIY scalp scrub
Now that you know what you need, get it all together. Got it? Good! Here's what to do…
Grab a small bowl and put your sugar, coconut oil, and apple cider vinegar. It will take some mashing on your part but soon, it will resemble a scrub. But don't stop there!
Next, you'll want to add the rosemary essential oil and honey (unless you're vegan than leave the honey out!).
Blend this together and then put in about 2 tablespoons of the coffee grounds. Keep mixing it until it makes a nice, uniform scrub. Warning…it will smell lovely, and soon, so will your hair!
Excited? I was too. Let's see how to use it now!
How to Use a DIY Scalp Scrub to get rid of Scalp Buildup
I recommend mixing everything up right before you're ready. You might want to plan on a home spa day for this. Maybe exfoliate the rest of your body. Or go for broke and catch up on your binge-watching or reading. Whatever works!
You'll take about a quarter-size amount of it and apply it to your hair. You can use it on dry hair, though I prefer when hair is slightly damp, not wet. Gently massage it into your scalp using your fingertips.
Ladies with long nails, be careful! Do not scratch your scalp with your nails! The idea here is to massage the scrub into your scalp as gently as possible in a circular motion.
Take your time here. Enjoy this. It's all for you and the benefit of your scalp. Let it forgive you for your wicked ways. This massaging process boosts circulation allowing oxygen to breathe new life into your hair follicles.
It also takes those dead skin cells, dirt, and oil out of the way, relieving those tired pores. You can almost hear them shriek at the joy of their liberation!
Now, let that sit there after your nice scalp massage. Anywhere from 5 to 10 minutes should do it though you can let it sit a little longer. Watch some shows. Read. Or simply shave your legs, exfoliate other parts, and indulge in this home spa moment for yourself.
After that, you'll rinse and wash your hair with your regular shampoo and conditioner as you normally would. Now you can bask in the glory of a fresh and free scalp!
What's that? Don't feel like scraping together ingredients? Not everyone enjoys DIY creations. And others of you may want something that caters completely to vegan needs. I feel you. Keep reading and I've got a list of the best vegan scalp scrubs!
Best vegan scalp scrubs 
Now, the DIY scalp scrub I talked about above included honey. And that's not a vegan ingredient. You can still get the great benefits of that scalp scrub by simply omitting the honey. But if you'd rather not go through the mixing and all that, you can just buy something to apply to your scalp.
As long as you make time to exfoliate your scalp, whether you make it yourself or buy it ready to use, that is all that matters.
I've got 3 awesome products you should try!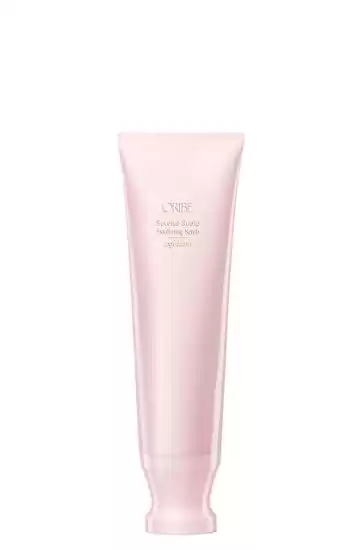 With exfoliating beads, AHAs, and fruit acids, Oribe helps gently massage away the yuck that is clogging up your scalp. It's free of gross chemicals, tested by dermatologists, and safe for use even if you've treated your hair with color or keratin.
Some of the star ingredients in this scalp exfoliator include willowherb for deep hydration and nourishment; peppermint oil for a cooling and soothing sensation; glycolic acid to get that buildup off your scalp and out of those follicles; and caffeine to energize and rejuvenate your scalp deep down.
It's really great stuff that not only takes care of your scalp but also leaves hair wonderfully soft and beautiful. The only downside is that it is a bit on the pricey side, but it works great so it's money well-spent!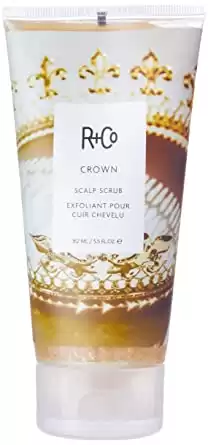 If your scalp is sensitive or oily (or both!) R+CO Crown Scalp Scrub will help purify, cleanse, rebalance, and soothe everything back to normal. It's not only vegan but also cruelty-free too.
Among the ingredients, you'll find passion flower extract which delivers rich essential elements to your hair including vitamins and minerals for a healthy scalp and head of hair.
Mango fruit extract adds even more vitamins and antioxidants while ginger root extract and aloe barbadenis leaf extract soften, shine, and strengthen hair to a hydrated state.
This one is a more affordable option though it's still not as cheap as making it yourself. If you have an itchy or flaky scalp, you're going to love it. Immediately after you use it, that itching and discomfort is gone and you'll be left with super-soft hair.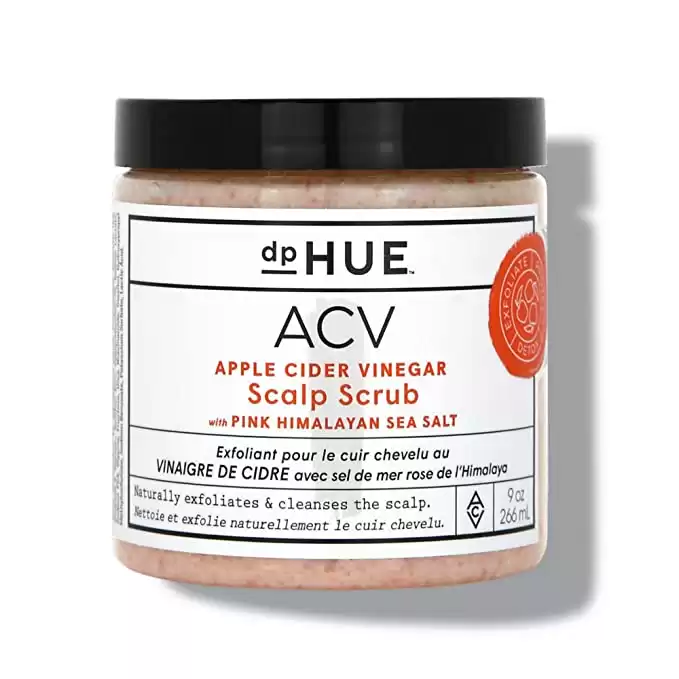 Before I get into what makes dpHUE Apple Cider Vinegar Scalp Scrub amazing, you should know that it kind of smells. And not in a good way. But please, for the sake of your hair, overlook it because it will give you beautiful results.
I recommend this exfoliating scalp scrub for dry, oily, or combination scalp types. It calms irritation on contact and leaves everything feeling renewed, refreshed, and comfortable again. All the ingredients are animal-friendly and vegan, and it is brimming with stuff that will set your scalp back to balanced once again.
The first thing you'll notice is the ACV smell. Apple cider vinegar is amazing for healthy hair. Along with avocado oil and aloe vera, it nourishes and cleanses away buildup while hydrating into the scalp.
Another great ingredient, Himalayan sea salt, gently scrubs to exfoliate and prime your scalp. It's all full of vitamins and minerals and is an excellent choice for a relatively reasonable price.
One thing I loved was that it rinses away easily because the ingredients are water soluble. There's no crazy mess to be made (like with coffee grounds for example). After the first time I tried it, my scalp felt so free and calm. I definitely loved the experience.
How often should you use a scalp scrub?
Whether you make your own DIY scalp scrub or you buy one of the ones listed about, you should aim to detox your scalp one per month if it's normal to dry. For oilier hair, I suggest doing this twice a month.
Another pro-tip here which I think I forgot to mention earlier is that you'll want to part your hair a bit to apply the stuff to your scalp. This can get tricky if your hair is still thick.
If you have thinning hair, you may have an easier time of it. Coarse hair definitely bodes better with ingredients that dissolve away when rinsed so give that a try.
Ideally, you'll want to keep your scalp free of buildup as much as possible. This allows it to continue to flourish between scrubbings. I have tips on that below so keep going!
More tips on how to prevent scalp buildup
After you rid yourself of that buildup and exfoliate your scalp, let your scalp continue to breathe easy. These quick tips will help you do that.
1- Use rosemary essential oil
If you followed my DIY scrub instructions above, it calls for rosemary essential oil. Between scrub dates, you can use that oil to add to your shampoo. Just drop in about 6 to 8 drops into your shampoo bottle and shake it up. This will help keep things from building up on your scalp.
2- Rinse with ACV
You can also use apple cider vinegar to rinse with intermittently. It kills bacteria, relieves itchiness, and keeps dandruff away. You need to mix it with water first though.
A few tablespoons stirred into a glass of water should be plenty (less if you have shorter hair). After shampooing and conditioning, pour the rinse onto your hair, massage it in and then rinse it out.
3- Use the right brush on your hair
Brushing your hair with the right hair brush helps gently move the natural oils all along your hair shaft and away from the scalp.
Choose a fine bristle natural boar hair brush and you'll be all set. It also helps massage the scalp and move dead skin cells out of there.
4- Dry shampoo on days you don't wash
If you have a day between washing your hair, use a natural dry shampoo. It will absorb excess oils and keep buildup from accumulating.
5- Go natural
Natural products are the best for your hair since they don't let stuff build up on your scalp. Seek out brands that use natural, organic, and vegan ingredients that will benefit  your hair.
You can also make your own like the DIY scalp scrub above to keep costs down and use what nature gave us.
Conclusion
Most women don't realize their scalp and the buildup trapped on top of it could be leading to hair fall or unhealthy-looking hair. All it takes is a detoxing scalp scrub once or twice a month to remedy that problem.
You can make it yourself or buy one. Whichever you choose, just make sure you start adding this to your hair care routine to see extraordinarily healthy hair!