Do you love wearing eyeliner as much as I do? Probably, since you're reading this! Hey, we have a special bond! What I love about eyeliner is that it has the potential to discretely bring out your eyes or do a complete 180 and go for big drama.
Eyeliner, on a normal day for me, helps me make my lash line stand out and add dimension. When I'm going out on the town though, I love to do it up with a bolder look.
When it comes to choosing eyeliner though, it's important to find one that works for you. Oil-free is a great choice. However, if you use lash extensions, it is THE choice for you.
The oil from the eyeliner can break down the glue on your extensions. This will make them fall out easier. After waiting to have them put on and spending all that money, you don't want to just throw it all down the drain.
So, with this post, I've rounded up the best oil-free eyeliners I could find. I think they're fabulous whether you have lash extensions or not. Check them out below!
Best oil-free eyeliners
As I just mentioned, oil-free eyeliners are a necessity for those of you with eyelash extensions. If you don't have them, though, you may prefer this formula to a regular one too.
Each of these have a different category, so you can take a look and see what floats your boat the best of all!

If you'd prefer a pencil-style oil-free eyeliner, check out By Terry Crayon Khol Terrybly Waterproof Eyeliner.
Forgive the hokey branding name their marketing department probably slapped everyone on the back over. This is a fantastic pencil eyeliner that is ideal for aging eyes.
Liquid liners can be more challenging to wear as you age because the delicate skin around the eyes thins even more.
This can result in making you look older instead, which is why a pencil eyeliner like this definitely has your back.
The crayon pencil is very soft and gentle, allowing for a very precise look without accidentally aging your appearance.
It includes a pencil sharpener too, so you'll always have a perfect point to get your desired lines penciled in. There are plenty of colors to choose from besides black so take your pick!
This option by Xtreme Lashes Lash Densifying Liquid Eyeliner is my favorite pick specifically for you gals with lash extensions.
Why? Because it is very easy to apply and remove. There are 2 different thicknesses on each side of the pen, too, so it makes creating the look you want simpler than ever.
There's no trying to finagle the applicator or anything like that. If you want a thin line, use the thin side, and if you'd rather go bolder, use the thick side.
The oil-free formula will keep your lash extensions from being destroyed, and you can explore your makeup styles with confidence.

Whether you cry at sappy things or you live in a warm climate, stila Stay All Day Waterproof Liquid is one of the best oil-free eyeliner options around.
If you are a bit new to makeup and keep fudging things up, you want this one. The applicator tip makes it so easy to apply.
It comes in a wonderful selection of colors too, so the sky is the limit here. And as for how it holds up in the heat, it doesn't smudge or flake.
It's an excellent choice, one I personally love wearing when it's hot out, or I'm going dancing all night. I have not once gone to the bathroom and found it melted down my face, so there you go!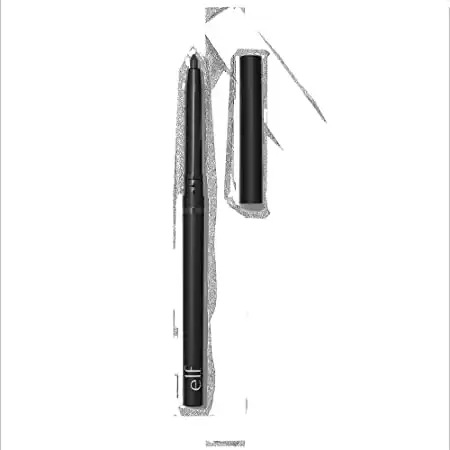 e.l.f. has quite the following for makeup mavens in the budget bracket. e.l.f. No Budge Retractable Eyeliner is perhaps one of this brand's best creations.
I wouldn't go so far as to compare it with some of the high-end stuff, but it performs better than a lot of eyeliner you'd pay double or triple the price for.
As for this budget-friendly eyeliner, you get a retractable tip that glides right on without tugging and lasts and lasts.
It's buildable too, so if you want full-on drama, you can get it and at a price point that is really low too.

I'm always surprised by how few people have ever heard of LORAC. It's one of those top brands that was invented by a legendary professional makeup artist to the stars, Carol Shaw.
She felt for her starlets that would have skin irritations from all the ingredients typically used in Hollywood makeup.
That was over 20 years ago. Today, LORAC, in my mind at least and plenty of others, serves as a powerful option for anyone that wants professional control of their oil-free eyeliner and gorgeous results.
I love this easy-to-apply formula that lets you become your own professional makeup artist.
Thin, fine lines are easy, and they won't leak into any lines around your eyes either.
Thicker lines involve a little more work, but you can achieve them quite nicely since it glides on like a dream. Take care to work quickly though, because it dries fast.
If there is anything I have learned about my faithful readers, it's that so many of you want vegan and/or cruelty-free options.
I love that about you! That's why I recommend blinc Semi-Permanent Liquid Eyeliner.
It has a lasting, waterproof quality and is made from ingredients that won't compromise your vegan lifestyle. As a cruelty-free product, you can feel safe using it.
While it lasts very well, it is surprisingly easy to remove. So go crazy with your biggest cat eye with wings, girl.
This stuff won't come off until you take it off. And when you do, you won't be sitting there scrubbing your eyes off.
One thing that really makes this stuff stand out is the brush. It can help you achieve a very fine line or go for something bolder, all with the touch of silk. Try it!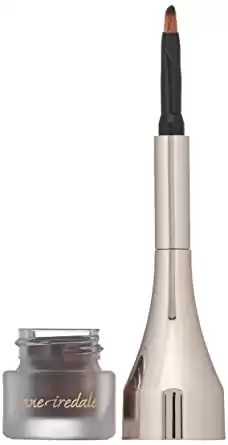 Have you tried this cool powder style? jane iredale Mystikol Powdered Eyeliner is a very cool choice to consider if you're up for a new trend.
The cool packaging with an all in one brush in the cap makes it easy to throw in your bag.
My friend Jessa loves it and keeps it with her in her bag when she goes to work.
On Fridays, as soon as she can leave, she runs to the bathroom and totally amps up her eyes. Then she comes to meet us and looks fabulous.
I asked her what she was doing to get her eyeliner like that, and she whipped this baby out. I was impressed.
She confessed she uses it for work too because it does go on very subtly, but you can easily make things more dramatic as she does in the office bathroom once she's free to unshackle from her desk job.
When I was 13, my friend Penny was all about Bobbi Brown makeup. In fact, the reason I fell in love with the brand myself was all her doing.
With this Long-Wear Gel Eyeliner, you get a long-lasting look that stays on all day and into the night too.
This gel comes in a little pot. It might look small, but that's a LOT of lining of the eyes for you. The only thing I must caution with this option from Bobbi Brown is that you need a brush.
It doesn't come with one or any kind of applicator. That wouldn't stop me from buying it though, but I felt you needed to know that so you wouldn't buy it and be confused.
If you have your set of makeup brushes and tools, you will absolutely love this because you can pick the thickness of the lines you create with the brushes you use.
And because you will clean those brushes each time, you will always have a clean product that doesn't get all wodgey and gross with every use.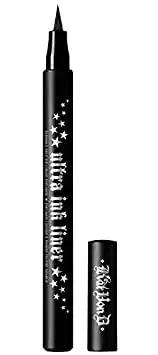 You know, I was just saying to my bestie that I wondered what Kat Von D was up to.
She was so popular for so long, and then she started her makeup company.
So I looked it up, and she's doing a bunch of creative stuff. She's starting a singing career and is coming out with a line of shoes, but mostly, she's enjoying time with her young son, and I think that's awesome.
Anyway, about the makeup, Ultra Ink Liner by Kat Von D is a fantastic vegan option that gets my best marks for oil-free liquid liner.
I mean, Kat was the champ of mastering those lined eyes, so it's little surprise her liner is impeccable. It's waterproof, won't smudge, and you can apply it in just one stroke, even on top of your eyeshadow.
Let me specify though, since so many of us line our eyes over lighter colors. I mean, this stuff glides right over the boldest of colors.
The flexible felt tip feels really comfortable going along the lash line and eyelid. Definitely count on this one if you love liquid liner and big dramatic looks that last.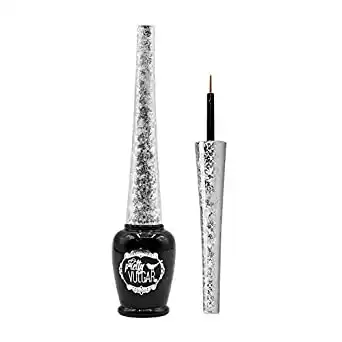 Oh, and finally, I just had to throw in a little sparkle. I love it! If you want something different that is oil-free and safe for your eyelash extensions; I recommend Pretty Vulgar Vixen Glimmer Holographic Liquid Eyeliner.
I want you to know though that despite the name, it is more of an iridescent effect. Still, I love this for add a nice pop of extra shimmer for your eyelids.
One of my favorite things to do with it is put a little on the inner corners of my eyes. It adds sparkle and brightens them up.
It's such a fun eyeliner to use that can be lightly applied for a sweeter look or go more boldly for a nighttime party look. It's very cool stuff!
How to choose the best oil-free formula for your eyelash extensions
For my lash extension gals and those of you that just want an oil-free formulation, these eyeliners are your best choices.
But in particular, those of you with the extensions really need to heed that advice you were hopefully given the first time you had your extensions applied… use oil-free eye makeup.
And if not, shame on them! They're expensive, and you want to protect that investment into your last line.
Here are a few factors to think about as you browse through the oil-free eyeliners above and choose your favorite:
Price – I think this will always be the thing you think about when buying makeup, especially eyeliner. I have included a great budget one but as much as I like e.l.f., I think there are plenty of you that will want something a little more advanced. It's worth it too to treat yourself anyway!
What's in it – Those ingredients are very important too. Each of the eyeliners listed here is an oil-free option. So you can shop these safely and avoid ruining the glue holding your lash extensions on. Other considerations for you might be a vegan or cruelty-free formula, which I have listed above.
Smoothness – Whether you choose a pencil, gel, or liquid eyeliner, your oil-free formulation shouldn't tug on your lids or lashes. This could make them fall out. The brands I've selected above have all rated quite well for not tugging to keep your lashes and your eyes on the prize.
Conclusion
Now you have all these wonderful options for creating your own lined look. Whether you want a sweet daytime look or bold nighttime drama, you'll find these best oil-free eyeliners deliver every time!