Whether you have pin-straight hair that you want to change into bouncy, luscious curls, or you have a natural wave or curl that never behaves, a curling wand can be one of your very best friends. Gone are the days of those clumsy versions that make it an impossible chore. We're living in a golden age where there are truly some of the best curling wands imaginable to get salon style in seconds without fail!
Here's a list of the best curling wands for 2023:
But with all those options comes some hard choices. After all, your hair type and texture will play a role in your selection. Ready to get stylin'? Come with me and I'm going to show you the best curling wands out there!
Before I do though, I'd like to break them down into 2 main groups to help you weed out the ones on my list below that will do best for your locks.
Ceramic and tourmaline irons
Pros will always turn to these because they treat your hair the best. With ceramic, the heat is dispersed through hair on a more even scale. Tourmaline is wonderful for frizz because it releases negative ions, therefore, closing that cuticle and sealing in moisture. So, for shiny and frizz-free fabulousness like the pros, choose these.
Gold and titanium irons
It's not that there's anything wrong with these. They conduct heat just fine, but they just don't stop the frizz. If you have really smooth and shiny hair or live in a low-humidity zone, it won't matter though, and you'll be quite happy.
And now, a word on curling wands and irons…
You're probably wondering if there is a difference. Guess what…there is!
Curling irons have a clamp, which often leaves telltale dents in your hair no matter how awesome your skills are. Meanwhile, curling wands are becoming more of the standard because there is no clamp to contend with. With a curling wand, you can style mid-strand while curling wands require starting at the ends and rolling toward the top of your head.
Curling wands give off a more natural look, like you were born with those curls thanks to a tapered design that creates different sizes. And even if you WERE born with curls, they will make you love them. Yes, really.
They're the new standard for curling. So if the last curling tool you had was a curling iron, it's time to step up to the newest technology and see how much more effortlessly gorgeous your hair can be!
The best curling wands and the science behind them
Let's move on to the good stuff. Read on to find the best curling wand for you!
Dyson has always been on top of technology and this curling wand is no exception. By incorporating the Coanda effect, it uses a digital motor to blast hot air through the slots around the barrel, thus forming a vortex. You could be hair-challenged and operate this thing with complete ease. Just put a lock of hair close to it and it instantly curls around it. How's that for awesome?
You'll have to move the barrel up the rest of the hair, but it's a snap. Very intuitive stuff here. It even regulates the temperature, so you have to do the very bare minimum in achieving curled perfection. Heat is automatically checked more than 40 times per second and keeps adjusting to prevent it from rising above 150° C, which prevents damage.
Even better, it styles and dries all at once so you can speed up your routine. But hold your horses there. You'll want to approach it with damp hair rather than sopping. I'd suggest letting hair air dry a bit or with a towel over your head first and then prepare to be amazed.
With negative ions, it keeps frizz and static from cramping your style. You'll need to move in sections to style your hair as with other wands, but this one offers you 30mm and 40mm options to get different sizes in your curls. To add to your joy, it comes with styling brushes to accommodate hair of different lengths and types. It is NOT cheap but with all the money you'll save from not needing to get regular blowouts and stylings from your stylist, it might just be worth the splurge!
For the gal that loves versatility, you'll find a trio of choices with the T3. With 3 barrels you can easily interchange, you can step up your curling game to create sensual waves full of bounce, classic curls, or the kind of glamorous styles you see on the red carpet for shiny hair that is free of damage.
The barrels come in 1-inch, 1.25-inch, and 1.5-inch. And exploring the possibilities is just part of the fun! The T3 uses SinglePass Technology via an internal microchip that is always measuring temperatures and keeping them even to prevent damage. With the ceramic blend barrels, negative ions help lock down that cuticle, so hair looks hydrated and healthy.
Adjust the temperature as you see fit from 260°F to 410°F through 5 different settings without worry. There's a cool tip that keeps you from singeing yourself too. While I love the option for more heat, it can be easy to turn it too high for your needs, so I recommend sticking with the lowest settings for better control.
And if you're a forgetful gal (who isn't?), you won't have to wonder if you remembered to shut it off. It has an auto-off feature that kicks in after an hour. The long cord provides swivel action so you can pace and move, shouting to your phone on the counter to talk to your bestie while you get ready.
Here's something else that's pretty cool too…
The technology involves an interior gyroscope so it can feel the motion of your wrist and propel the barrel in the correct direction. Yup, that's like something straight out of NASA! Plus, you can choose from 2 rotational speed settings, one that is slower and one that is faster.
It's not dirt cheap, but for the price, it's a very worthy and affordable option for your styling arsenal.
Another one that gives you great style versatility with your curls is the Beachwaver. Define those curls, keep them loose, or go full-on glam. One of the best things about it is that it's great for all kinds of hair and gets you that look you crave in just a few minutes.
With a ceramic barrel, heat is evenly distributed for a healthy, glossy sheen, curl after curl. The auto shut-off kicks in after 30 minutes, so you'll never have to worry. But let's talk more about what it can do.
It's great for quick heating, and you can choose to use the rotating feature or not. Options! The first things you'll notice are the buttons. There are 2 on the top to control the direction of the barrel and kick into the rotation. The ones on the side let you control the speed of that rotation.
The lowest setting is probably the best to keep from causing any harm. The only catch is you should make sure you have your hair secured around it first before you engage the rotation. With the speed settings, it's terrific for different lengths of hair. Shorter hair will do well with the slower setting, while longer hair is a better match for that faster one.
It's a good heat styling tool, and one that won't set you back to much in price.
Paul Mitchell's option gives you 3 ceramic barrels to interchange your way. Get those precious ringlets, make loose and sexy waves, or fool everyone into thinking you have completely natural curls.
You'll find a 0.75-inch cone-shaped barrel to help with those ringlets. This one is handy for short hair. You'll also find a 1-inch barrel that makes soft curls sensational. The 1.25-inch barrel gives you that mega-volume. Using different angles any way you choose, you can create amazing looks. Vertical, diagonal, or horizontal, it's on par with professional-grade and eliminates the need for excessive accessories.
These barrels are clamp-free too so you won't get snagged or stuck, or rip out hair. It won't leave dents either. And with the wide availability of temperatures to change through, you can max it up to 410°F though I really don't recommend going that high. If you're not sure what temperature works best, it smartly controls it to keep from overheating, so you'll avoid damage as you learn what makes your hair look its best.
The lengthy wand works great for both short and long hair to achieve long-lasting curls. Frizz-free technology ensures you've got gorgeous curls that won't make you wince when you catch a glimpse of yourself in the mirror mid-day or while out at night, at a price that's pretty unbeatable.
If timing is everything to you, then this curlbar by Hot Tools has you covered. It has a built-in curl timer that lets you set it up to 10 seconds and then vibrates when done. Intuitive illumination lets you know when to begin once it heats up. It's way cool!
Rotate the dial to control the heat and timer to your needs. While it can get up to 450°F, that's a bit unnecessary. Still, it offers a great way to get the perfect curls every time. You won't have a one-off where you achieve curl mastery and then the next day, look lame.
What I love is the Pulse Technology that incorporates an electronic heating system to diagnose heat loss and replace it, so it runs on an even keel. This means you don't have to waste time while styling. You get an even and efficient heat that leaves curls looking shiny and healthy.
And you're probably looking at it like, "Why does it look like an L?" Good question, girl! The unique ergonomic design makes it easier on you. Try it, and you'll see. It's ideal if you have any wrist, shoulder, or elbow injuries. Even if you don't, you will find a more comfortable and relaxed feeling when you're trying to get the back of your head all curled up. Now, THAT is cool.
It's available in 1-inch and 1.25-inch sizes and even gives you a heat-resistant glove to go with it. Surprisingly, it's much less expensive than you'd expect!
Speaking of unusual shapes, may I present the Chi Spin N' Curl. It looks a bit like a tulip, to be honest, which is really neat. But how does it work? Prepare to be dazzled!
See, it draws hair into what they call "the curl chamber." Here, it's heated, all the while being timed to make your best head of waves or curls. A digital temperature display takes all the guesswork out of things, allowing you to adjust with ease or select preset temperatures based on your hair texture.
With ceramic heat technology, far infrared heating coupled with negative ions leave your hair looking so healthy and shiny, you have to see it to believe it. Using a low setting is best for fine hair though coarse hair will want to turn it up a bit to get some action.
Here's what's so awesome, to me, anyway. I'm impatient and I hate hate HATE sectioning off my hair sometimes. What this does is allow you to use different sized sections to get your desired curls. So if you want tight curls, you'll put them in smaller sections. And if you're feeling lazy or want less definition, you can use larger sections.
All you do is feed your section into the tulip-looking-thing, push the button for left or right to get the direction you want, and then in 5 seconds, it winds your hair around the internal iron rotating inside thanks to the help of air. It won't chomp off your hair, I promise. It has a special alert to help you if there's an issue and when it does, it stops curling so you can pull it out, without losing any hair.
This design also prevents you from burning yourself. The protective shell doesn't get hot. The only way to harm yourself would be to deliberately stick your fingers inside of it while it's hot, and I don't encourage such a thing.
The tulip, as I like to nickname it, is easy for anyone to use, even for someone who has no clue how to curl hair. Because it's so intuitive about every aspect, it takes out all the guesswork and leaves you with nothing but curls, glorious curls!
The only thing that might not work for you is if you want to get closer to your roots. It's a little hard to do up there due to the design. You may find you don't get quite the shine like some of the others, but boy is this thing cool. If you're looking for versatility in curl size though, this one only does 1-inch size, but you will definitely love the results you get and how little you'll pay to get them.
Here's another Hot Tools option for you. It has a medium tapered fit and delivers nano-particles for super-smooth hair in the form of waves and curls. It heats up fast because hey, we have no time to lose, do we?
And like the other option above, you get that included heat-resistant glove.
So, let's talk about what's different here!
With this far infrared-heating wand, you get 5…count them…5 barrels. There's a 0.3 to 0.75-inch tapered and clipless barrel, one that's 0.7 to 1-inch tapered (also clipless), one of the same size with a clamp, a 1-inch with clamp, and finally, a 1.25-inch with clamp. There's no cool tip so you get more curling area. And while that is definitely a bonus when styling, you will need to be extra careful. Good thing for that heat-resistant glove!
With tourmaline ceramic, hair is sealed and protected for a frizz-free and static-free look. There's no tugging or damaging here, plus you get 9 temperature settings you never have to guess about thanks to the LCD display. All hair lengths will love this affordable option that shuts off automatically after one hour so you won't worry your pretty, newly-curled head.
It takes some time to get used to switching the barrels on this model though, but once you do, it's worth it. And just for those of you in the back, don't try to change those barrels while they are hot! Let it cool or use the included safety glove, so you don't burn yourself.
Here's another 5-in-1 set for you that also incorporates tourmaline and ceramic for gorgeously healthy, long-lasting curls. This one is ideal for those of you with stubbornly straight hair. The barrel distributes even heat throughout and allows you to mix and match to get a variety of curls all at once. Change the barrels, change your life.
Watch out though as there is no cool tip. It's designed to be just like the kind the pros use, so you get the max in heat coverage to style your strands with absolute perfection. The temperatures are precise, so you don't have to go over your hair, again and again, trying to get the results you want.
There's a heat-resistant glove included with this curler too so you can keep from hurting yourself. With that kind of peace of mind, you can simply slide your curls off the barrel end and be dazzled by their impact.
The digital heat settings make it simple to set it and get lost in your curls. Swapping the barrels is easy enough, and you'll be so glad you have one tool that does it all instead of a jumble of cords waiting for you in your vanity like a sack of snakes.
Again, you shouldn't attempt to change the barrels when hot. Unplugging it and letting it cool first is preferred to keep you safe. No style is worth getting burned over!
BaBylissPRO goes that extra mile for those divine curls. It has special Sol-Gel Ceramic Technology that touts the smoothest hair possible and an insane 50 heat settings that go up to 450F. Not that you should turn it up that high, but still!
You have the advantage of a turbo button to boost the heat in an instant to the max through far-infrared heat. It penetrates from within and leaves hair damage. The special technology it employs gives you stronger iron barrels for smoother curls in a choice of ¾-inch, 1-inch, 1-1/4-inch, and 1-1/2-inch.
You'll be left with beautiful curls you can control in a flash, thanks to that heat booster. It's such a cool feature to have that locks them in without damage for a long-lasting bounce in curl or wave form!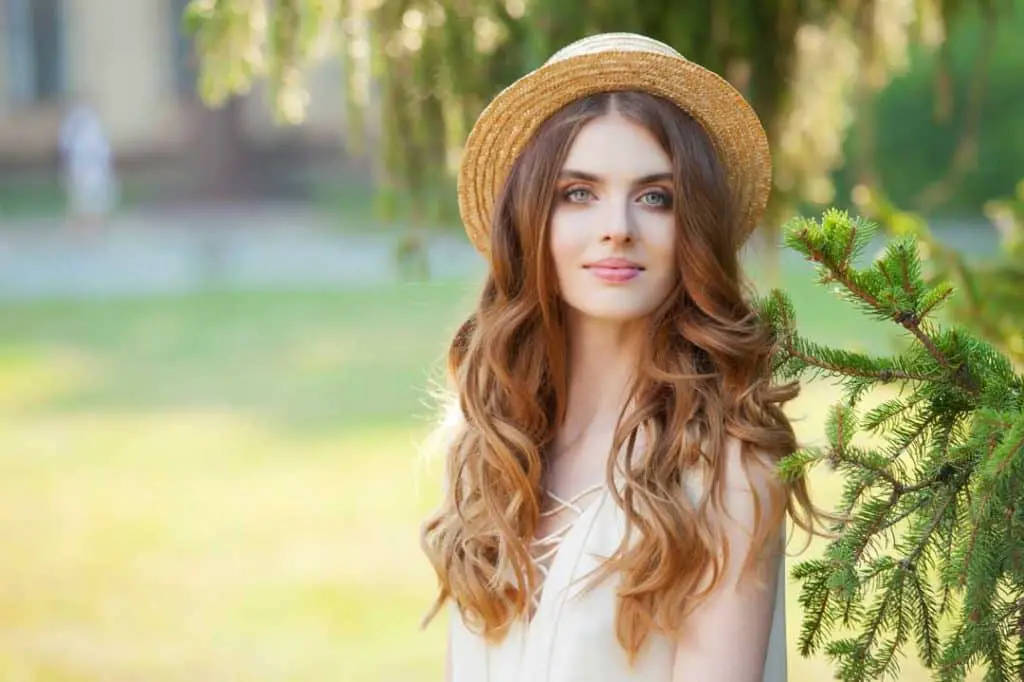 Don't forget the most important thing
These are the best curling wands out there, and as exceptional as they are at helping you protect your hair through innovative features and heat control, you have to do your part. And by that, I urge you, please use heat protection spray! Never ever style your hair without using it.
It's not enough to spray your head and then get curling. Oh no. No, no, NO! You need to section your hair, spray the section, comb it through, and then apply your curling wand. This ensures every part of your hair is safeguarded.
It doesn't matter if you use the lowest setting. Your hair will incur damage over time if you neglect to protect it. The best heat protection sprays I'd recommend you use is this one by HSI Professional, which can also add shine, gloss, and smoothness. Coupled with the effects of these magical curling wands, you are totally going to shine!
Conclusion
These best curling wands come in a range of prices to fit your budget. While the first option I presented is a bit extravagant in price, the others are definitely less of a splurge. Plus, having a good curling wand is a proper investment. You'll be using it for years and will get countless styles from it.
Imagine no more bad hair days! Think of all those amazing styles you can pull off. Even if you're not one to want tight curls, you'll be able to craft those Instagram-worthy head-turning styles that will be the envy of all.
Most of these will be great for short hair, with the exception of that tulip-shaped one. Other than that, you'll find versatility in curling for every length and texture of hair with ease of use that's truly unlike anything your mom ever curled her hair with!