Thorogood work boots claim that they're built as tough as you are. They focus on comfort, performance, and craftsmanship. If your footwear can't handle harsh conditions, then you won't get very far. Every boot meets or exceeds ASTM F2413-11 or F2892-11 ratings where applicable.
Red Wing work boots have more than a century of experience working in today's most demanding industries. They're made from cutting-edge safety tech and premium materials to ensure each pair can last for several years. Many of the designs come with a safety toe.
Chippewa boots were first designed in 1901 to support the skilled professionals living in the upper Midwest. They're waterproof and insulated, delivering a vintage approach to the visual aesthetics without compromising its superior craftsmanship.
Comparing these three brands can help you find a working boot that meets your current and future needs.
Thorogood vs. Red Wing vs. Chippewa
The classic American work boot is a fashion staple for blue-collar workers. This design is also making its way into the mainstream today because of its high-quality craftsmanship and durability.  Each product features a heavy-duty leather upper that often comes up to the ankle for added protection.
When you look at the differences between Thorogood, Red Wing, and Chippewa boots, you'll find that it's a lot like comparing apples to oranges to a steak dinner with a baked potato. You have three different brands that create working apparel with lots of differences.
Here is a look at the benefits you can expect when choosing one of these brands for your work boots today.
| | | |
| --- | --- | --- |
| Benefits of Thorogood Boots | Benefits of Red Wing Boots | Benefits of Chippewa Boots |
| These boots are typically the cheapest ones out of this triple brand comparison. | You'll find a higher quality leather used to create a majority of the work boots with this brand. | You'll receive a cost-effective work boot that delivers an immediate protective barrier. |
| You'll receive an excellent amount of shock absorption for all foot types. | The materials are ultra-tough, allowing you to tackle virtually any environment without worrying about durability. | The sole provides an excellent grip on uneven terrain or slippery surfaces. |
| If you require high arch supports for the insole, this design delivers a comfortable wearing experience. | The designs are pretty versatile for professionals in most industries. | You don't need to worry about a break-in period when selecting this brand. |
Virtually all the working boots found in the catalogs of these three brands provide ankle support. You'll receive different foot protection or insulation choices based on the type selected, but everyone can walk away feeling reasonably happy about how their feet feel.
Before deciding on a specific brand, it also helps to review the disadvantages that work boots can offer. Here is a closer look at the potential problems you might face when wearing Thorogood, Red Wing, or Chippewa boots.
| | | |
| --- | --- | --- |
| Issues with Thorogood Boots | Issues with Red Wing Boots | Issues with Chippewa Boots |
| You can't really dress up these working boots. They're intended for one specific purpose. | The high-quality leather used for these work boots makes the breaking-in period for them extensive. Some people report having blisters develop. | These working boots deliver the worst shock absorption experience out of the three brands. |
| The designs are all relatively the same, with the extra stitching providing elements of gaudiness to consider. | You'll pay more for footwear from this brand than the other two. | The durability found with the various designs is questionable, especially with the single-row stitching found along the bottom of the upper. |
| The products are more affordable because the leather quality isn't the best with this brand. | The brand uses a 270-degree welt as part of the construction, which isn't always comfortable. | Many customers report having the heels come off their footwear. |
What Is a Welt in Leather Footwear?
The boot's welt is a layer of material on its outside edge. It's used to stitch everything together along the outside to ensure that the other parts (midsole, upper, outsole) all work cohesively as a single unit.
When you look at the global shoe industry, the most common method for welt inclusion is adhesive. You'll need to verify that it wasn't used on cheaper boots because the product can fall apart in tough conditions.
The two options you want to see with work boots are either stitchdown construction or the Goodyear welt.
You don't want to see the Blake method, which just stitches everything together directly. This design tends to let moisture into the shoe or boot.
What to Know About Stitchdown Construction?
Stitchdown construction is the older method used to put together work boots. The upper leather gets pulled onto the midsole and stitched. Then a second row is down around and through the welt, midsole, and outsole to provide a solid piece.
That means the upper forms the welt instead of attaching some material around the outside edge.
The benefits of this method include better waterproofing and stiffer supports. You'll have rugged boots to wear for years if you take care of a pair made with this method. The disadvantage is that the footwear is a bit heavier since the materials have more substance to them.
What to Know About the Goodyear Welt?
This technique was developed by Charles Goodyear, Jr. – the son of the man who invented the vulcanized rubber process. The goal was to improve shoemaking processes without robbing the boots of their overall quality.
A welt is a material band that gets installed around the bottom edge of the upper. The welt, upper, and insole are joined by a diagonal stitch, while a middle layer gets added between the insole and outsole to serve as filler.
If you have boots with a "storm welt," it's a variation of this technique. It adds more material to deliver a tighter seal against moisture and environmental changes.
Since this method can be done by machine, it leads to a high-quality shoe that doesn't have as many labor costs. It also means that more boots get produced, which can lead to potential quality assurance issues in large factories.
Welt quality is an essential part of the work boot shopping process. That's why you should look at this feature in the Thorogood vs. Red Wing vs. Chippewa debate when looking at individual pairs.
What Are the Benefits of Work Boots?
Safety footwear is essential for many workers in construction careers. When the proper boots protect your feet, they work to prevent injuries.
When looking at the Thorogood vs. Red Wing vs. Chippewa debate for work boots, you'll discover that the following benefits apply to them all.
1. Enhanced Protection
Work boots from Thorogood, Red Wing, or Chippewa are meant to protect your feet in specific ways. Some of them provide enhanced protection from the top down, while others go in the opposite direction.
It only takes one misstep without work boots on to turn a regular day at work into a trip to the emergency room. Each detail in a pair of work boots is thought out in advance to give you the most protection possible.
Look for boots with durable leather uppers to gain puncture resistance and prevent abrasive damage. Thick rubber soles can prevent tacks, nails, and other sharp objects from entering your foot.
 2. Environmental Support
No worksite is immune to potential dangers. When you have work boots on from Thorogood, Red Wing, or Chippewa, you'll prevent many possible injuries to the feet.
It's not unusual for people to become complacent because they haven't experienced an injury. Those times are when the risks are at their highest since potential dangers get ignored or downplayed.
 3. Safe from the Elements
Extreme outdoor temperatures can put your feet into uncomfortable positions. If it starts raining and you're in regular shoes, you could end up being in wet socks throughout the entire day.
Standard footwear won't regulate your body temperatures like safety boots from Thorogood, Red Wing, or Chippewa.
If it's a hot day in the summer, you can get some boots with a moisture-wicking lining to keep your toes comfortable. Some models have built-in ventilation to keep your feet cool.
In the winter, thick insulation in today's best work boots reduces the risk of experiencing weather-related injuries on your feet, such as frostbite.
Your scope of duties won't get limited with these boots when the weather becomes challenging because of how they work to protect your feet.
 4. Ongoing Maneuverability
Some environments contain dangerous obstacles that you'll need to navigate. Landscapers, construction laborers, roofers, and others might need to walk around messy areas where potential hazards linger. Working boots make it much easier to accomplish that result without injury.
Most working boots have built-in features that let you navigate uneven terrain or obstacles with relative ease. Stability is the top priority Thorogood, Red Wing, and Chippewa, with the designs rising above the ankle while offering a complete lacing system.
Thick leather uppers hold everything in place to let you walk over bumpy surfaces without worrying about joints rolling.
 5. Meets Legal Requirements
Some careers must wear safety boots because of the legal requirements governing the workplace. OSHA often requires employers to provide work boots in these situations, but you might be asked to purchase them yourself as a freelancer or independent contractor.
When you have Thorogood, Red Wing, or Chippewa boots on your feet, you'll receive more protection. Although a steel-toe design might be required, these three companies provide a high-quality design that enhances the wearing experience.
 6. Added Joint Support
When you're on your feet for a long time, your ankles, knees, and hips can end up dealing with lots of strain. When you have boots on from one of these brands, the goal is to create more comfort. You'll find built-in heel and arch supports that keep your feet in healthier positions throughout the day.
Some styles even come with torsional support and shock-absorbing features. Although it might not seem helpful after a day or two, you'll notice significant changes in how your body reacts after wearing a pair that fits your feet.
 7. Work Performance Improvements
Workplace boots can improve individual performances dramatically. They come with several comfort and safety features to enhance how you complete your duties. Although the effects are often subtle or minor at first, you'll notice within a few weeks that you can stay focused for more extended periods.
That's because you're thinking about completing the tasks instead of how uncomfortable you are while working.
A Final Thought on Thorogood vs. Red Wing vs. Chippewa Boots
Real work boots are a special item to wear. They're not like other shoe types. Although performance and comfort are still critical ingredients, you won't get far in a tough job if the craftsmanship isn't on point. That's why Thorogood, Red Wing, or Chippewa boots are the best in the industry today.
When I need a pair of work boots for chores outside or doing some construction work, I always turn to my Red Wing Heritage Moc Lug 875s.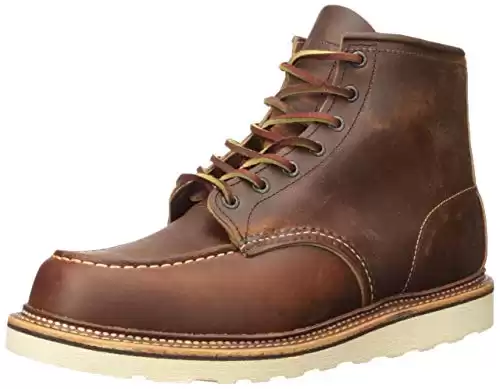 It's a leather angle boot that features a lace-up vamp and contrast stitching to deliver a beautiful product. It comes with a chestnut leather lace, although you can replace it with something else if you want.
I'd recommend going a half-size smaller to ensure the shoe fits correctly.
I love the Copper Rough and Tough choice, but there are about a dozen different options to consider.
They're not waterproof, and you'll feel it if you're standing on your feet all day. What they do offer is a vintage approach to foot protection that you'll appreciate.