Most people can't afford a Rolex watch. Even if they could, their brand preferences might move in a different direction.
You'll also find that many of today's top watch brands are manufactured in the same facilities overseas. That means you're paying for the name on your wrist more than the product's function.
In an era where Apple Watch often dominates, some are moving back to the traditional wristwatch for its simplicity, charm, beauty, and value. Two of the newest and best brands offering designs are Daniel Wellington and MVMT.
Daniel Wellington vs. MVMT: Watch Brand Overview
Daniel Wellington and MVMT are relatively new watch brands. Both have quickly gained recognition and traction for their stylish aesthetics and minimalist, but modern approach. Several designs between the two offer similar wearing experiences, while there are some unique top-of-the-line choices to consider.
Both watch brands are relatively new to the market. It would be fair to say that neither one has found a solid foothold yet because of how extensive the market share is for the world's top brands.
Although both offer modern-style watches for a new generation of enthusiasts, you can separate the two by looking at their creative approaches.
What to Know About Daniel Wellington Watches
Daniel Wellington was founded in 2011 by Filip Tysander. It's a Swedish company that quickly gained in prominence because of its focus on younger shoppers while embracing modern style elements.
This brand was one of the first to direct most of its marketing attention to social media. They became pretty prevalent on Instagram, and that investment led to about six million watches per year getting sold.
You can find Daniel Wellington watches in 25 countries today. The brand uses an entry-level quartz movement from Miyota to tell time, while their Chinese-based manufacturing takes care of the assembly work.
This design, affordability, and youthful energy combination have led Daniel Wellington to receive recognition as one of Europe's fastest-growing brands. Although the construction techniques and craftsmanship might be lacking in some aspects, most customers are satisfied with the wearing experience.
What to Know About MVMT Watches
Kramer LaPlante and Jake Kassant founded MVMT in 2013. The company's brand is a play on the world "movement," creating a natural interest in what they offer. Unlike other watch manufacturers, this duo got its start with a successful Indiegogo crowdfunding effort.
MVMT's goal is to offer a great watch at a price that most customers can afford. In 2016, the company started branching off into sunglasses as another way to develop revenues.
In 2018, Movado acquired MVMT for over $100 million. Since 2018, customers have seen a steady increase in the quality of the watches produced.
Top Watches Offered by Daniel Wellington
When you look at the Daniel Wellington watch lineup, you'll see a few designs that stand out from the rest in terms of style and wearability.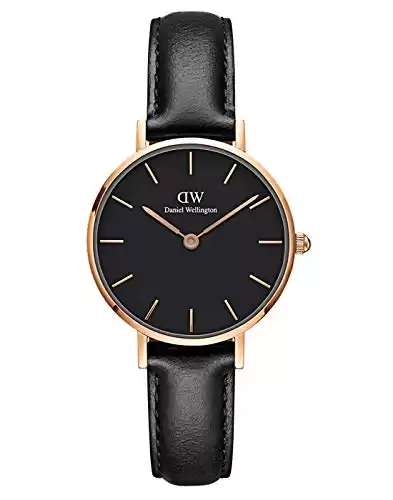 This watch is the perfect blend of contemporary style and traditional charm. It uses an interchangeable 20mm strap with a 316L stainless steel case to keep costs down while having a look that works for casual or formal occasions.
It features a black dial with silver hands and markers. It's a practical design that celebrates its simplicity behind the scratch-resistant crystal.
The DW Classic Black Sheffield is rated for water resistance up to 3 ATM. It is designed for anyone, any wrist, and virtually any environment.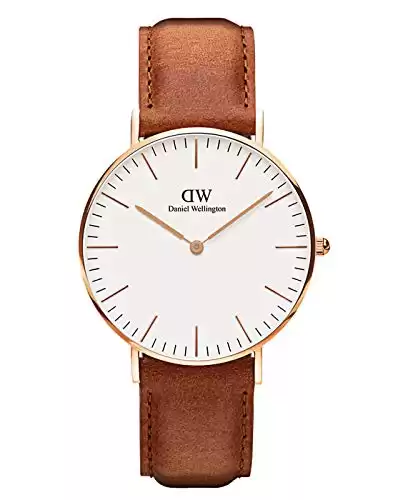 When you want a touch of luxury with your watch, this Daniel Wellington design delivers a fantastic result. It uses a 4mm rose gold surround for the case, offset by the eggshell 36mm dial motive for a traditional look.
This DW watch uses an interchangeable American leather strap, measuring approximately 18mm. The product only weighs 1.44 ounces, delivering some extravagance while keeping costs low. This choice works well for people who work in business casual environments or more formal settings.
It is designed to be a unisex piece. The watch is a bit flashy without being obnoxious while delivering a comfortable experience.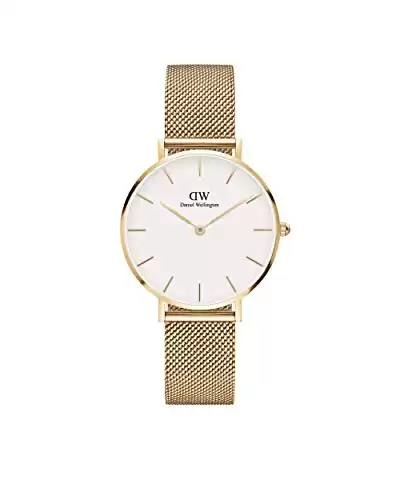 If you want a Daniel Wellington watch that stands out from MVMT and other brands, this one is the perfect design to grab. The Swedish design focuses heavily on the minimalist Scandinavian style, offering double-plated gold on top of 316L stainless steel.
The dial is the brand's classic eggshell white, although it is a little small at 32mm for some wrists. Its 6mm slim profile casing makes it a lightweight addition, and you can select from Nato, mesh, or leather bands.
The DW Petite Evergold is beautiful and elegant, although you may find that the time needs to be reset every week or so to maintain accuracy.
This Daniel Wellington watch comes in silver stainless steel or rose gold double plating. It's a little thicker, with a 9mm casing depth, but the profile is still reasonably thin. Sizing options up to 40mm are available.
Like most link watches, it comes with a butterfly clasp to offer an easy release mechanism that quickly fastens. The design wears out over the years, so you'll want to resist the urge to play with the watch.
The face is in case black, creating a stunning offset to the rest of the watch's look. It delivers a formal look that you'll love while offering enough casualness that it works for virtually any situation.
Top Watches Offered by MVMT
You'll find a wide range of minimalist designs offered by MVMT when you're shopping for a new watch. Although the design elements are somewhat similar to Daniel Wellington, you'll find a few variations that help the brand stand alone in the marketplace.
Here is a closer look at some of their best options.
The MVMT Classic provides an affordable and stylish piece for all watch aficionados. The attention to detail is incredible on this piece, and the craftsmanship has definitely ticked upward since Movado got involved.
It features a 45mm black case that partners with a leather wristband. It's flexible enough to be on the wrist for an outdoor adventure, but it also has the style needed for a formal occasion. It uses a Miyota movement, with the face protected by a hardened crystal.
This watch is manufactured in the United States and comes with a 24-month warranty. Its reliable, eye-catching, and robust, making it one of the brand's most popular products.
This MVMT watch is one of the most comfortable things you'll put on your wrist. It fits snugly, delivering the signature minimalist style with extraordinary convenience. Since the case depth is only 7mm, it is slim and lightweight – making it perfect for virtually any occasion.
You can't miss the sandstone color or the gunmetal watch face when looking at the design of the MVMT 40 Series. It has water resistance, the brand's two-year warranty, and the basic features you'd expect with an entry-level item.
It looks fantastic while keeping the price low. That's why it's such a tempting product in a marketplace that doesn't always try to find innovative concepts.
This MVMT watch is marketed as being the everyday item that the modern gentleman requires. It delivers a bold design with the 47mm chronograph, which includes elements of 1960's auto culture with its look. You'll receive a five-hand Miyota movement with it, along with a 60-minute timer.

The MVMT Blacktop Watch is waterproof up to 10 ATM. It does well for daily use in all environments, but you won't want to have it submerged in water.
It was designed in Los Angeles.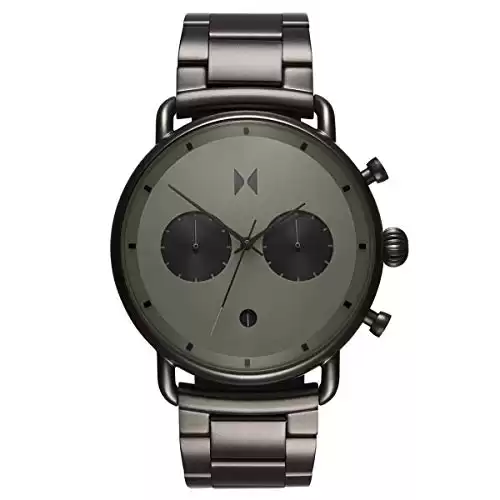 This watch is the first in the brand's collection that features a fixed number dial. It's designed to be your tactical timepiece, providing a face that's easy to read in virtually any environment. Instead of using leather for the strap, a high-quality nylon canvas is in its place.
With the MVMT Field Collection watch, you'll get a 41mm case and a three-hand quartz movement. The glass case is made from hardened mineral crystal. It tells you the date down by the half-hour mark.
None of the field watches offer illumination features, but MVMT does use lume colors to make it easy to read at night.
How To Choose the Best Watch for Me
Whether you choose a Daniel Wellington watch or one from MVMT, you'll want to verify that the model you select meets your needs now and in the future.
That's why it helps to review these tips for picking the best watch when shopping.
1. Set a Budget
You can find a watch out there for virtually every budget, whether you're spending $10 or $100,000 on this piece. It's important to remember that you don't need to jump to a different retail price to ensure the results are what you want.
Most people set a budget somewhere between $100 to $500 for their watch. That makes it the perfect spot for anyone looking at Daniel Wellington or MVMT timepieces.
2. Understand the Movement
Both watch brands use similar movements (and often the same), which means you're paying more for name recognition or design.
Quartz movements are effective because of their cost consciousness, but they also require a battery. When it runs out of power, it often costs more to replace than purchase a brand-new watch.
If you can afford a watch with manual winding, you'll have more long-term wearing opportunities with the piece. A self-winding option is another possibility.
You'll also discover that watches made with stainless steel tend to cost less than those with carbon fiber or titanium. Look for a slim profile design (typically 8mm or less) to keep the weight down.
3. Consider the Features
When you select a watch, the first criteria often involves style. Once you've found something aesthetically pleasing, it's time to look at the features the timepiece offers.
If you're a pragmatist who wants something minimalist, a three-hand watch with a dial you can read is the best option.
When you prefer fashion, it might be better to choose a colorful dial or a watch with a unique shape.
A sports enthusiast might opt for a chronograph, while someone with a busy schedule might prefer a watch design with multiple time zones, world timer indications, or a calendar function.
4. Review the Brand Name
Watch brands add complexity to the shopping experience. The fact remains that you don't need to purchase a timepiece with a specific name.

With that said, some watch brands can hold more value than others. An entry-level Rolex might set you back $6,500. That's potentially 65 times what a Daniel Wellington or an MVMT watch costs, and both options deliver the time to you.
A Rolex has more opportunities to hold or appreciate in value, whereas DW or MVMT timepieces are considered a one-time investment for the wearer.
It's up to you to determine if the brand name is essential to you when wearing your watch each day.
5. Enjoy the Experience
Shopping for watches online doesn't need to be a scary experience. When you see the listings for each new timepiece from the comforts of home, it can be an exhilarating experience.
Don't be afraid to ask questions if you're unsure about the quality of a timepiece. It's also important to purchase a watch from a reputable source. It's easy to make something fake that looks good, especially from one of today's top brands.
If a price seems too good to be true, it is. Move along to a different watch. You won't find a Rolex for the price of a DW or MVMT.
Verdict: Which Company Offers the Best Watch?
The decision between Daniel Wellington vs. MVMT depends on your personal style. If you want something affordable with high-level craftsmanship, MVMT is the choice to make. When you want something unique on your wrist without pricing considerations, you'd likely prefer Daniel Wellington.
For me, I stick with MVMT. After becoming a subsidiary of Movado, I've noticed a lot of improvements in the craftsmanship and quality of the work.
Although both companies have a two-year warranty, you'll pay between $175 to $300 for a Daniel Wellington watch. If you order directly from the company, that price doesn't include any import duties that could apply.
Most MVMT watches are priced under $100. If you want multiple features included in the design, such as a chronograph with the date, you might end up paying about $150 before taxes.
Both brands deliver a premium wearing experience. After comparing the top watches from each company, you'll find one that fits your personal style.