Coconut oil is popular in health and beauty because it has so many uses. Apply it on your skin or hair, or consume it with the foods you eat. There are so many benefits to this natural oil!
Coconut oil makes a great pre-poo treatment that you can do twice weekly to give you soft, shiny, more manageable hair. It's also highly nourishing if you're going to bleach your hair.
That's what this post is all about…using coconut oil before bleaching your hair. It's so good for your hair even if you're not going to be bleaching it, but I can't say enough good things about it for use prior to bleaching.
In fact, if you're about to bleach your hair, STOP! Read this first and see how coconut oil will help your hair look healthy once you go lighter! When you take the time to use coconut oil before bleaching, you will be rewarded with your most beautiful hair!
How to use coconut oil before bleaching hair
To use coconut oil prior to bleaching your hair, coat every strand with melted coconut oil starting at the roots to the tips before you go to bed. Cover with a shower cap or towel so it doesn't make a mess. The next day, bleach your hair. Do not wash the coconut oil out of your hair first!
Do I wash coconut oil before bleaching? No, leave it on because the bleach powder and hydrogen peroxide in your hair bleach will still work perfectly even with coconut oil covering your strands.
There really is nothing to it. You will just keep the coconut oil on your hair and proceed with your hair bleaching as usual. Once the proper bleaching time has elapsed, you will rinse everything from your hair – the bleach and coconut oil – all using plenty of water and your shampoo.
Your hair may be a little greasy after that but putting coconut oil in your hair helps reduce iron and copper production. This is what occurs when you use bleach and peroxide on your hair. Since coconut oil is naturally, a binding agent, you don't want to miss this bleaching beauty tip.
Why should you put coconut oil in your hair before bleaching?
When you use coconut oil at night, it simulates the buildup natural oils have in your hair. This protects your scalp and your hair from the damage.
Some say that coconut oil makes the bleaching go faster but I haven't found anything to confirm that. What I do know is that adding that coconut oil prior to bleaching makes a barrier that keeps your scalp and hair safe. 
You won't feel that burning or itching that makes bleaching so difficult to endure.
Let's face it…bleach damages your hair. And if you're doing it yourself and doing it wrong, you're going to wind up with the kind of hair you want to hide under a hat forever.
Professional colorists have always said to condition your hair well before bleaching. If you go in for professional bleaching, think of the steps they take to do it right. It always starts with conditioning. And it's certainly up to you to keep that up after your treatment.
Deep conditioning packets always come with hair dye kits, especially the bleaching ones.
These help, but you will need to do more to soothe and hydrate your hair. Not protecting your hair first is the biggest mistake because once you apply that bleach to your non-coated hair, the damage is already being done.
Keep your hair healthy even when bleaching by coating it with coconut oil. Since bleach reduces the protein in your hair, it causes more breakage.
This triglyceride can penetrate your strands easily and protect it from the damages caused by bleaching agents.
Other oils have been tested for this too but only coconut oil reduces that protein loss to prevent damaged hair. Yes, that's even compared with Moroccan argan oil too.
Moroccan argan oil is very expensive but nothing has been shown in studies to confirm it does anything for your hair.
Coconut oil gets a lot of flak in the diet world, and whatever you think about it, do know this – it DOES help with hair. To make it work for you, you'll need to use it before you bleach your hair.
Prevent damage by saturating your hair in coconut oil. You can also treat your hair with it again afterward, but doing so prior to that bleaching is what will make the difference in maintaining healthy, non-fried, non-dried-out hair.
Why should you put coconut oil on your hair even after bleaching?
Bleaching is an exhausting process for your hair. This is why you might want to go to a professional for your first bleaching. But if you want to do it yourself and save money, don't skip the coconut oil step.
Professionals know how to handle your hair so that when they bleach it, they don't destroy it. You don't have that kind of training, however a little coconut oil in your corner will work wonders.
Applying coconut oil to your hair the night before bleaching is important. So too is the maintenance afterward. You should use it after the bleaching to help hair stay healthy. It's ideal to keep using it, even replacing your hair conditioner with it to keep your hair looking luscious.
Hair masks with coconut oil always leave hair looking beautiful and this is why! Using coconut oil with every conditioning can add back shine and uphold your hair's natural structure, all naturally.
Simply put some coconut oil in your hands and run it through your hair while it's still wet. No need to rinse it off as long as you use it sparingly, otherwise it will be greasy.
The coconut oil will dry in your hair, absorbing into each strand to nourish it deep inside. You'll have healthier, smoother hair. Coconut oil is the only oil that can do this for you. Consider it a natural hair healer, a miracle-worker!
Adding coconut oil on your hair after washing also makes combing easier. You won't run into tangles and snags that can lead to breakage. It will help you achieve the hairstyles you want and make you feel happy about your hair.
Make sure to use organic coconut oil
So, coconut oil it is for healthy hair prior to bleaching and afterward!
But there is something extremely important to note when buying coconut oil. You should get a certain type of coconut oil. Since there are many versions of it, you may feel your head spin when browsing for it. Sure, they're all made out of coconuts, but it matters which one you get.
Weed out those extra ingredients and how it is made to choose the best coconut oil for you. And those best results will come to you when you select natural, organic coconut oil. It will be in a jar and will be solid. Coconut oil for your hair should not be in a liquid form, in a bottle. By choosing it in the jar in solid form, you are getting the most pure version of coconut oil there is.
With organic coconut oil, there are no other ingredients added to it when it is refined. This makes such a difference. All natural, organic coconut oil will stay solid at room temperature. With heat, it starts melting. As you apply it to your hair, it will be a bit chunky and pasty.
In fact, it's a lot like your hair dye so treat it that way. Make sure you coat all your hair with the coconut oil the day before. Use a wide-tooth comb to spread it through. Then wrap your head and sleep on it. You will bleach your hair the next day with the coconut oil still in your hair.
Once the bleaching is finished, you'll see how that organic coconut oil really comes into play. Again, shampoo out everything and use coconut oil to condition it after your bleaching. Your hair will be soft and smooth like you have always wished it to be.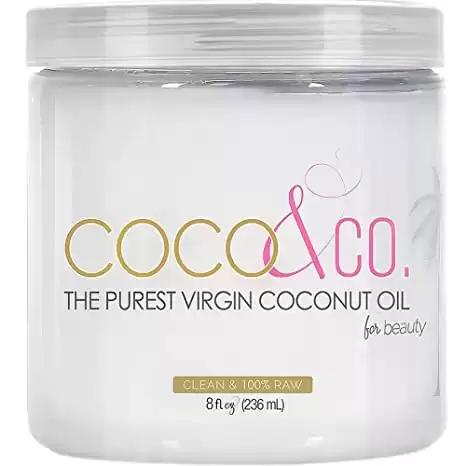 Conclusion
Coconut oil is the best thing you can use on your hair prior to bleaching it. Because of its unique composition, it prevents the bleaching agents from damaging your hair without interfering with their ability to lighten your hair.
Coating your hair with coconut oil the day before bleaching protects every strand and your scalp from the irritating feeling of bleach. It nourishes your hair so it stays healthy even through this trying process so that the end result is that you have beautiful blonde hair.
You can use coconut oil on your hair after bleaching too, but to stop damage before it starts, make sure you use this hair secret when you go lighter and see how gorgeous, soft, and smooth your hair turns out!