We have all had that moment where we walk into a salon, sit in the stylist's chair, and blank on how to describe the cut we want.
When you're concerned about how long your hair is already, I've found it helps to have a reference point that describes where you want it to be. Different styles and textures might change that outcome, and the last thing any of us needs is a confused stylist.
Every woman has a length she prefers. Whether it is too long or not depends on your style, but I've found that following a few personal rules (that I'll share below) has helped me decide when a cut is necessary.
How Long Is Too Long When It Comes to Your Hair?
Hair is too long when it interferes with your daily living activities. Its weight might trigger headaches or make it harder to sleep. Most women find that the maximum length they can comfortably support reaches their breasts. Wavy or curly hair can be longer when stretched, but it would still get to that point.
Your hair type plays a significant role in its length. When those locks are naturally straight, you'll get the maximum visual impact as it cascades across your shoulders and back.
When you have curls or waves, your hair will look a bit shorter than its actual length. You can tell the difference when those locks get wet in the shower and stretch out some.
That's why women with textured hair types should ask for a more extended cut than their length goals. If you aren't satisfied with the result, it's much easier to correct a style that's too long than one that's shorter than you want.
Several other considerations are important to review before deciding on the eventual length you want your stylist to create. Here are the different rules I've initiated for this process to choose my perfect look, and hopefully, this info can do the same for you.
1. Think about how your hair works with your face.
Some haircuts work better with certain face shapes than others. It's essential to identify the one that's right for your style before committing to a different length.
Here are some examples to consider today if you're thinking about making a change to your appearance.
| | |
| --- | --- |
| Square Face Shape: | Women have always been told to hide a strong jawline with layers and length. I think you should do the opposite. Let people see that you can be fierce and beautiful by using a lob cut with some longer bangs. |
| Long Face Shape: | If you have a long face, it tends to be a little narrow. Your stylist might want to speak with you about adding layers along your jaw and cheekbones to create more movement. Something that reaches your armpit is a great length to consider, especially if you have some natural waves. |
| Heart Face Shape: | For those with this shape, a pageboy look delivers style and personality. A shorter look that brings emphasis to the cheekbones helps lessen the extra wideness that tends to be at the forehead. |
| Round Face Shape: | When your face is relatively round, it helps create more definition with your hair. Having some choppy layers with something close to a bob is perfect, especially if you can add some curl to the look. |
| Oval Face Shape; | You're the perfect candidate for a pixie cut. If you have curly hair (or can have your stylist give you that option), the results will be incredible. Anything that delivers some beautiful textures will cause people to turn their heads more than once when you walk by. |
When a cut is not enough to help you reach your goals, try adding a little color into the mix for some extra definition. 
2. Review your hair goals.
Every haircut should keep your long-term hair goals in mind. The last thing you want to do is to cut eight inches from your hair when you ultimately wish to have a style that reaches your waist.
I've found that seven standard cuts work relatively well for me. I'll list them here in order from my favorite choice to the one that I'll never do again, although I got lots of compliments with it when I did it.
Mid-back Length
Armpit Length
Lob Cut (Shoulder Length)
Bob Cut (Chin Length)
Tailbone Length
Pixie Cut (Ear Length)
Buzz Cut
The buzz cut days were the result of a stylist error. It was the late 1990s, and the shaved undercut was a popular look. It was like a modified bull cut that the guys were getting at the time.
She's busy working along the back of my neck when I hear a slight whispered, "Oh no."
"What is it?" I asked.
There was a brief silence. "My hand twitched a bit and I ended up going too high." When I saw what happened in the mirror, I was mortified.
Sure – I got my buzz cut for free that day with lots of apologies and a certificate for free color when it grew back. Although it was liberating in some ways to have less prep time in the morning, I just hated the stares that people gave me.
It was like the days when Alicia Silverstone wore the semi-cornrows with lots of wisps. It looked okay, but it just didn't work for me.
The only exception I might say here is that if you get about a foot of extra length you don't want or need, get a trim so that you can donate it. Organizations like Locks of Love create wigs from what you offer so that children undergoing chemotherapy sessions can have a sense of normalcy.
My favorite thing to do here is to grow my hair out to tailbone length before trimming it back with a lob or a bob cut.
 3. Decide if you prefer short styles (or want to change things up).
Here come the choices.
Your stylist comes over, asks how much length you want to keep or take off, and you freeze while looking at yourself in the mirror.
That's the time when you want to decide how short your hair should be for the next few weeks. Since there's no coming back from something extra short until regrowth occurs, it's time to opt for a buzz cut, pixie, or bob.
If you can't imagine yourself with longer hair, a medium-length haircut might be a better solution. You can always make it shorter if you don't like how you look after it.
When I tried a pixie, I had some fun with it by coloring it purple and blue. That look helped me find confidence within that I didn't know I had, and it was lots of fun to strut that style. It didn't look super great with my face shape, but it wasn't the worst thing ever either.
If you opt for something around the ears or chin, I recommend using Redken's Full Frame 07 Volumizing Mousse. It'll deliver the lightweight volume you want while giving your hair all-day consistency. Plus, it's humidity-resistant, so frizz won't be an issue.

Note: Don't hold the can of mousse more than 8 inches from your hair to ensure an even application. You don't want to end up with one of those dreaded white streaks on your head!
It can also help you achieve that beautiful undone, beachy waves look.
Just apply it throughout towel-dried hair and scrunch while drying. Your waves will have more bounce and dimension.
No matter how you choose to use it, this mousse is a great way to get you the lift you need without weighing your hair down. So go ahead and give it a try!
 4. Lob vs. bob before going for extended length.
The bob cut is a personal favorite because the hair stays within the short zone for styling while giving me a medium-length option in a few months. It gives me the chance to transition to a lob that cascades around the shoulders.
Although the French style with symmetry tends to be the most popular, I'm a big fan of doing something asymmetrical. By adding layers and depth, your stylist creates different interest points with your appearance.
I call it the "right kind of drama" for my life.
Even when it grows, you'll stay within a nice comfort zone with your look until it reaches the shoulders. I try to add some texture while I'm at that in-between stage with the lob and the bob cuts with an enhancer.
My favorite texturizing spray is Matrix's Style Fixed Finishing Hairspray because it delivers some extra volume and texture simultaneously. You get a firm hold without having your locks feel a bit crunchy. The product is rated to work with all hair types.
Plus, the fast-drying formula ensures that you won't get the stickiness that accompanies some other product formulas.

Keep in mind that this is a finishing hairspray, meaning that it's supposed to be the final product you apply after styling your hair. It's perfect for all types of styles, from straight and sleek to curly and bouncy.
So, If you have any frizz, this product will definitely take care of it and if you like your hair with a bit more volume, this strong hold spray is the one for you. Plus, it smells great too!
 5. Am I feeling awkward because my hair is growing?
I've found that the most awkward stage of growing out my hair is when it is between the shoulders and the bottom of the armpit. When it's like that, you pretty much have to keep it in bands to stop strands from flying in your face.
You can always put in that unicorn look like some of the boys are doing, but I'm not a fan of the way that looks on me.
I cannot tell you how often I'm tempted to chop off my hair during this stage. It takes more time to work with it, I need tons of clips, and nothing seems to stay in place.
Although bangs are a possibility here, I've never liked how that look frames my face.
Since my hair has some waves to it, I try to enhance the curl a bit more to keep it away from complete awkwardness.
I use Mizani's True Textures Curl Enhancing Lotion to get the definition I need while I'm waiting for my length goals to arrive.
This light-weight formula is ideal for texture types 5-8, especially If you have hair that tends to easily weigh down when using gel products.
You can apply it on blow dried or damp hair, which may be a great option for you if you don't have a lot of time in the morning!
This oil-based gel uses a blend of coconut, marula, and olive oil to help improve manageability and keep your coils nicely defined all day long.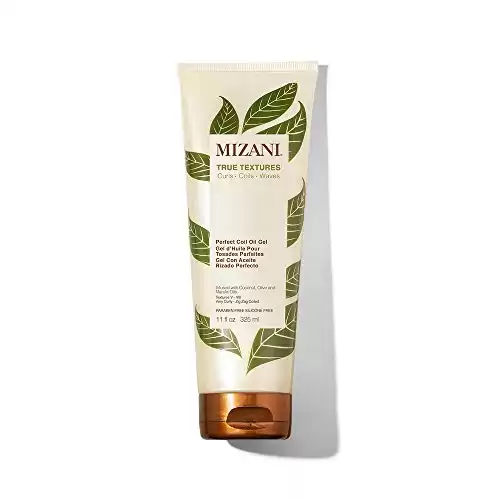 I'm also a big fan of the definition pudding from the same brand because the coconut oil takes a lot of the frizz out of my hair.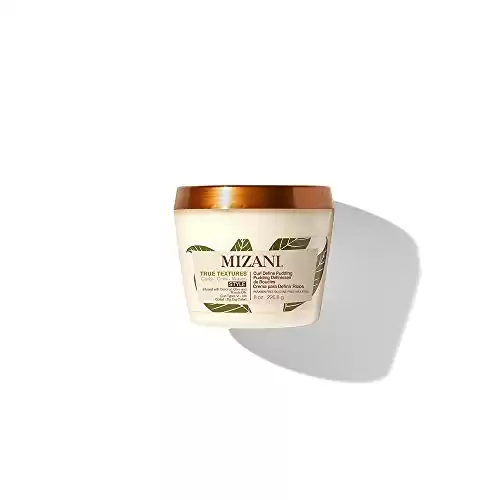 6. Can I handle the weight of longer hair?
My friend Faith has exceptionally long hair in high school. The rumor was that she hadn't had a haircut between the ages of three and 17. When it was braided, it still went below her tailbone.
I helped her brush it out once after she took a shower. The wet strands went all the way to her ankles.
That's a bit long for my taste. When I wear it that way, I like something around the mid-back. It gives me ponytail options, different bun styles, and a lot of general flexibility with my style.
The key to having healthy long hair that you style regularly is to use hair oil or shine serum.
My favorite one to use is the Elixi Ultime L'Huile Original Beautifying Hair Oil from Kerastase. It offers the oleo-complex and works with all hair types to create lots of shine. It uses marula oil as a primary ingredient to deliver results. I use three pumps when working with my hair when it's long, although you can use a little more or less as needed.
Those are my tips for when your hair is too long. What styles do you prefer?