When we think about winter outerwear, it's not unusual to use the same terms for different clothing and apparel items. Many people reach for a hoodie and call it a sweatshirt.
You can also find people reaching for a sweatshirt and calling it a sweater. You might grab a pullover and decide that it's a great hoodie.
Although it goes without saying that a sweater and a sweatshirt provide two different fashion statements, understanding the differences between them ensures that you can be as casual or as formal as needed for each situation.
What's the Difference Between a Sweater and a Sweatshirt?
A sweater is typically knitted. It is meant to fit like a jumper, enveloping you with a warm material that acts as a blanket in cold conditions. Sweatshirts are usually 100% cotton or cotton/poly blends that function more like a shirt, often with long sleeves.
An oversized sweatshirt looks incredible when you pair it with a clingy bottom or something that accentuates the lower part of your frame.
When you wear a sweater, you've got a more formal option that still keeps you warm. It requires something more than pajama bottoms to create a complete look.
You can wear a sweatshirt with a skirt whenever you want, and it is also possible to use a sweater to complete that look. It just depends if you're going to be relaxed and casual or sport something closer to formal when the weather outside gets colder.
Is a Hoodie a Sweatshirt or a Different Style?
It is technically correct to say that you're wearing a sweatshirt when putting on a hoodie. This go-to winter option works well for people in any age demographic.
Where I live, the weather can turn quickly in any season. When I park my car for emergency supplies, there's always a hoodie in there.
People laugh at me when they see it in the trunk in July and August, but no one laughs when the evening gets cold, and I'm the only one who is comfortable.
What I find interesting about hoodies is that the style comes from religious wear robes from medieval Europe. It's a convenient and practical choice that replaces a t-shirt, keeps you warmer than a vest, and delivers headgear that keeps your ears warm.
I really love my Ralph Lauren Polo Classic Full-Zip Fleece hoodie. It's machine washable, but I let it dry on the line to make sure the shape stays consistent.
It uses a split kangaroo pocket for keeping your hands warm, while the drawstring hood is nice because it has a thermal lining included.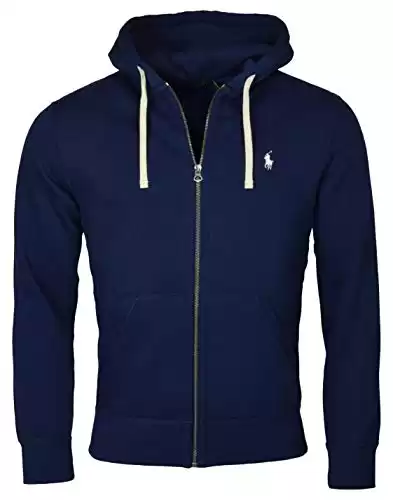 What Is the Definition of a Sweater?
A sweater is sometimes referred to as a pullover. You can wear it with sweatpants at home, but the look works better when you've got it matched with some dressy bottoms. It also works really well under a blazer in business-casual settings.
When I'm out running errands, I like to match my sweaters with some jeans. It's always good to have something with pockets, especially in winter when you've got those Christmas poachers out there looking for an easy purse to snatch.
Traditional sweaters were almost always made with wool. Although synthetic fibers are used for weaving and knitting today, I always opt for the classic style.
If it's not wool, then I'm wearing cashmere.
Here's a closer look at the various fabrics that designers and manufacturers use today to see what options might work for your needs.
| | |
| --- | --- |
| Sweater Material Type | Traits of the Sweater Material |
| Cotton Sweaters | Cotton isn't ideal for sweaters. It tends to stretch and shrink as time passes, causing it to eventually become unusable. It doesn't offer great insulation properties, but it is more breathable. Your best option here is to look for something blended with cashmere or wool if you tend to get overheated. |
| Acrylic Sweaters | This material makes a sweater strong and warm. It's a great base material when you have a workout to do in cold weather because it lets the muscles warm up efficiently. Many of them tend to be chemical- or petroleum-based. |
| Polyester Sweaters | Some sweaters are made with 100% polyamide or polyesters. They're very soft to the touch, but they don't provide the water-resistant qualities of animal hair without chemical treatments. It's a good option if you can find 100% recycled materials used to make the apparel. |
| Wool Sweaters | Wool is the most common option used for a warm sweater. It delivers form, function, and style without compromising on comfort. It lasts longer than cotton, has more durability than synthetic materials, and has a delightful fuzziness to it that sticks around for years. I prefer alpaca, but you'll also get fantastic results with Merino sheep. |
| Cashmere Sweaters | This material is one that many people love. It feels luxurious against the skin, providing a comfortable sweater that comes from the undercoat of goats. It still feels lightweight even though it delivers incredible warmth. You've got to be careful about blends that get marketed as authentic products. The best choice is to get a product made with fabric sourced from Himalayan or Gobi Desert species. |
Pure cashmere is something I like when the weather isn't cold enough for a jacket, but colder than what I want for a simple sweatshirt.
I love my State Cashmere Mid-Length Open Cardigan. It comes down to my knees, offering a traditional look that works well at the office or while walking the dogs around the neighborhood. I've got three:
black, red, and navy. That way, I can complement whatever look I want for the day.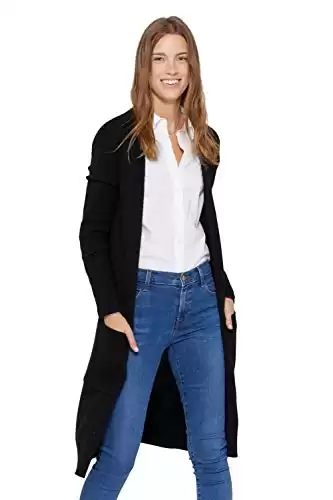 Why Is Merino Wool Better to Use?
Sheep wool is broadly accessible for almost any apparel choice. It tends to get lumped into a single category when talking about it, but several different options are available when you want to get a new sweater.
You can find Loden, Melton, Shetland, lambswool, and Merino available in today's marketplace.
When you purchase a Merino wool sweater, you're buying something made from the animal hairs of Merino sheep. They're often raised and cared for in the mountains of New Zealand and Australia.
What I like about Merino wool is that it tends to be thinner than regular products. It delivers a milder wearing experience, which means it's more adaptable to changing weather conditions. My skin doesn't feel as scratchy when wearing it.
I've also found that Merino wool tends to have more flexibility while being remarkably durable. Cashmere is the only lightweight option that delivers more warmth for me without feeling overwhelming.
When I select Merino wool sweaters, I look for fun patterns to wear because I know the material won't change its shape or size. That means I can wear stripes without the piece becoming like a Picasso painting.
My favorite one comes from the Knitton's Store. Their soft Merino wool turtlenecks stop the cold without needing to bring a scarf or shawl, creating a clean, single-layer look that feels effortless.
The designs use square patterns, but I do have a solid-color tan one that looks incredible when layered with other styles from my closet.
Although Knitton's uses Italian yarn, it still has the extra stretch you get with Merino that other styles don't provide.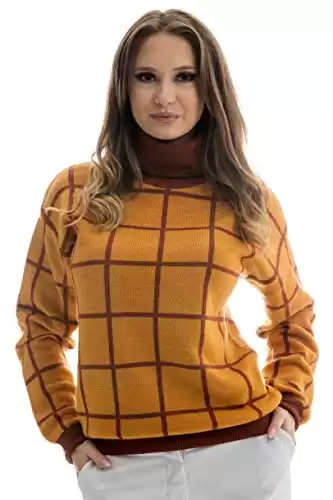 How to Find the Perfect Sweater or Sweatshirt
A sweater or sweatshirt should feel comfortable. It must be gentle against the skin, durable in the wash cycle, and supportive of multiple activities. You can find the correct size by wearing the same one as your shirts and blouses.
The best thing in my closet right now is my J CASHMERE cowl-neck asymmetric poncho sweater. It has a superior softness that you have to feel to believe. When it's a bit chilly in the morning, I toss it on to get through my morning routine.
It's also a fun choice to wear when I'm spending some time reading before bed.
There's enough versatility that I can wear the poncho to work on our casual Fridays while staying dressy enough to head to the club for some fun. It uses a ribbed turtleneck to provide stability while letting you create effortless layers.
You can even wear the poncho sweater by itself with its extended length. I pair it with leggings for something casual, slacks for work, and jeans for those all-purpose days when you never know what needs to get done.
As I've worn it, the material just keeps getting softer. There have never been any pilling problems with the material. It has exceeded my expectations.
It'll be much easier to find what you want to wear on a chilly day when you know the difference between a sweater and a sweatshirt.