You got a great tattoo. After coming home, you proudly showed it off to your friends and family with a quick peek under the bandage.
A few days pass. Everything seems to be going well, but you're starting to notice some discoloration forming in the area. Is it just a scab, or has the tattoo created scarring?
Although tattoo artists don't intend to overwork the ink, it sometimes happens to even the best. When you experience this issue, the information in this guide can help you plan out how to recover.
What to Do if You Have an Overworked Tattoo
Overworked tattoos create several potential problems. There can be scarring, excessive ink excretion, and changes to its appearance or physicality. The best way to fix the situation is to rework the art, cleanse the tattoo, and keep above-average moisture levels in the area.
When a tattoo looks overworked, the easiest solution for most people is to rework the art with an experienced provider.
This process has the artist return to the various lines and colors, restoring the color or correcting the mistakes made the first time. Overworking can be an unintentional error caused by a tattoo machine operating at the wrong speed.
Your artist can modify the original design to develop the overworked art into something else.
The problem here for many people is the time and cost involved with a tattoo in this condition. It's also more uncomfortable to have the work done in an area that already received some attention.
It's very similar to the process of getting a new tattoo, but you must work with a proficient artist. Always ask if they have a portfolio of work from reworked items to see if their skills can deliver the results you want.
The signs of an overworked tattoo are easy to spot.
It changes its appearance during the healing process.
You'll see more fluids or ink come out of the skin while it scabs and heals.
The physicality of the tattoo changes, creating skin pits or other unwanted characteristics.
Extensive scarring takes place in and around the tattoo.
Most people can recognize an overworked tattoo because of the color changes that occur. Instead of looking bright and vibrant, the work seems faded, pale, and cloudy.
It might even look blurry or distorted because some of the colors fall outside the design lines.
How to Minimize Post-Tattoo Complications
Most scarring and ink bleeding issues are not your fault. The problems come from an inexperienced artist or one that made mistakes while creating your art.
If you don't follow the artist's aftercare instructions, the tattoo can heal looking like it was overworked when it really was too wet or too dry.
That's why you'll want to consider these three steps when you step out of the chair from your preferred parlor with new ink.
Cover the tattoo:
▪️ The first few days with your new tattoo often require a bandage over the work. This protective layer prevents sunlight from affecting it while allowing the healing gels and creams to work.
▪️ Once your artist lets you take the covering off, you'll want to use light clothing that won't stick to the forming scabs to continue this process.
Cleanse the tattoo:
▪️ Fresh ink should get cleaned at least five times per day. Some artists recommend doing it once per hour to avoid infection risks with some work.
▪️ Keeping airborne particles and bacteria away from the needled areas makes it much easier to encourage healing.
Moisturize the tattoo:
▪️ You want to hydrate the wound after a tattoo to quicken the recovery time. Although you don't want to submerge the new ink in water, it does help to use aftercare lotions and moisturizers to protect the area.
▪️ You'll also want to maintain proper hydration levels by drinking plenty of fluids.
If you cannot cleanse your tattoo five to eight times per day, try to at least get it done three times. The more you can disinfect the area, the better the healing process will be as the days pass.
The best product you can purchase to help with the tattoo moisturization process is After Inked Tattoo Moisturizer. It'll keep the artwork hydrated while soothing the irritation and itching that develops when the skin starts healing.
What Causes Raised or Bumpy Tattoos?
Although you'd expect a tattoo to heal in similar ways for everyone, the truth is a different story. Many other things can happen with new ink that makes it look like something went wrong.
When you have a tattoo that starts rising above the skin or turns bumpy, you're experiencing a relatively common issue during the healing process. It does create anxiety when it isn't expected, which is why it helps to understand the entire process.
Almost all tattoos feel and look bumpy when they heal. If you have artistic components that require lots of outlining, you're even more likely to experience the problem.
Those bumps can hang on for a while, even after the rest of the artwork heals as expected.
If you have an older tattoo, humidity changes and dryness can lead to the artwork suddenly deciding to rise. It's quite prevalent when you have white ink in the tattoo.
Some tattoo designs are so light that they look like raised scar tissue even though nothing is wrong with the work.
Here are some of the reasons you might experience this issue, even if the artwork or area wasn't overworked.
1. You're experiencing swelling issues around that tattoo.
It's not unusual for new tattoos to become swollen. If you get one below the waist, you'll notice this issue worsening during the afternoon hours.
When you're on your feet for a long time, Earth's gravity makes it harder for your circulatory system to clear the fluids in your feet, ankles, and calves. The tattoo can look raised with blood pooling in the area because the skin is swollen underneath it.
Swelling also occurs after the first few days after getting inked because tattoos are treated like injuries by your body. The inflammation is a natural reaction to your skin getting pierced repetitively by the machine's needles.
Most swelling should disappear after seven to ten days without leaving any lasting problems to the artwork.
2. You have significant irritation in the area.
Some skin care products can interact negatively with the skin or tattoo once applied. That area is pretty sensitive to anything during the first week, which is why you'll want to avoid anything that might trigger a reaction.
If you must scratch the area because the itchiness won't leave you alone, try to do so around the ink with a gentle touch.
It might also help to apply After Inked Tattoo Moisturizer to the area. The itchy or burning sensations of new ink are sometimes caused by localized dehydration.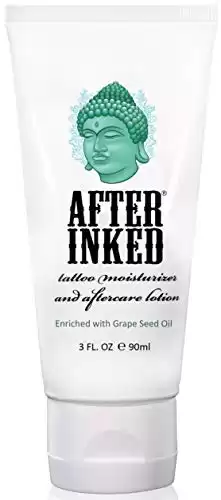 Your artist might send you home with anti-inflammatory creams or gels. Apply those as instructed to ensure you get the best results.
3. Your skin starts scabbing underneath the tattoo.
99.99% of tattoos will develop scabs as part of the healing process. That's because your body naturally fights an injury by sending platelets that stop open wounds from oozing blood or other fluids.

The scabs are a natural protectant against outside germs and other invaders.
What you want to see are those colorful scabs that seem to follow the artist's work. As you run your fingers over the area, you'll feel the different bumps and raised areas that form during the healing process.
You'll want to avoid touching the sticky, colorful scabs because rupturing them could impact the long-term quality of your tattoo.
Some people develop scabs underneath the ink to create raised areas. This issue takes longer to heal, but it doesn't usually create lengthy problems.
4. Scars start forming in or around the tattoo.
A tattoo can scar if it gets overworked. The most common cause of this problem is a needle that penetrates too far into your skin.
When that happens, deep tissue injuries occur.
The body sends more blood to the area to start the healing process. That reaction causes the scar to rise above the skin's smooth surface, creating a look and feel that is rough and bumpy.
Most scarring tends to settle into the skin after 90 days. You'll notice that it starts to fade during this process, reducing its visual impact.
Keloids can form in rare cases, which are raised scar tissue areas that require professional treatment.
Some people are more prone to scarring than others, especially if they have a medical condition that extends the healing time from the tattoo. You can also create this problem if you pull or pick at the scabs that form on top of the ink.
After an injury occurs across a tattoo, you might experience scarring in the area. In that circumstance, Mederma PM Intensive Overnight Scar Cream does an excellent job of reducing its texture, color, and appearance.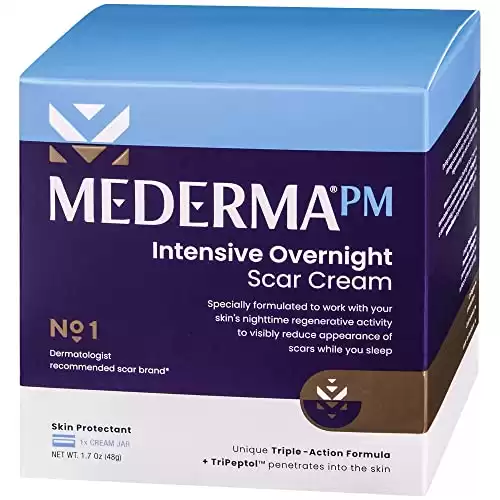 5. An infection developed in the tattooed area.
Infections are uncommon because of the sterile tattoo environments we have today. The aftercare information is also much better than it has been in recent years.
Even so, it is still possible for an infection to occur.
The symptoms are often different for everyone, but most people notice redness and painful swelling in the inked area. You might have warmth at the site, oozing scabs, rashes, and pimples that all feel raised and bumpy.
If you suspect an infection, it's a good practice to see the advice of your doctor right away. There is always a risk to your general health if it is allowed to persist.
6. The weather is changing.
Changes in localized weather patterns can sometimes cause tattoos to feel rough, bumpy, or raised. Since the humidity levels increase, your skin starts to swell. That causes the surfaces to stretch a little, causing some irritation, leading to temporary textural changes.
You can experience different results in cold weather when humidity levels drop. Your skin gets dry and itchy, which creates bumps and raised areas that require moisturizers for relief.
What Can I Do with an Overworked Tattoo?
Tattoos can take many physical forms during the healing process. If it has the signs or symptoms of being overworked, the first step is not to panic. You'll then need to address the concerns, whether that means scar reduction, reworking the spot, or helping the skin heal appropriately.
I know that getting a tattoo is a special time in your life. We all had a good laugh when I got mine because the artist shaved the working area, but didn't do that to the rest of my arm.
When I pulled the bandage away, the tape around my arm pulled the hairs out. That created two smooth bands that looked 100% ridiculous. I ended up using a trimmer to eliminate that look, which meant I had to shave the other arm then as well.
Good tattoo artists know how to rework designs when you have overworked ink to salvage the investment. Although you'll end up paying more than expected, the cost is worth the outcome. You'll want to be prepared for the added discomfort of having needles working in an area that already received some ink.
Once the overworked tattoo is fixed, you'll need an extensive aftercare routine to maintain the art's vibrance. The best options to have at home are specialized ointments like After Inked Tattoo Moisturizer and Mederma PM Intensive Overnight Scar Cream.
If your artist gives you something to apply, you should follow those instructions as well.
I've found that the one item that gets overlooked the most is the soap used in the shower. It would be best if you were not using anything with perfumes or fragrances during the healing process. Although that's relatively easy to find for regular soap blocks, it's now always easy to find unscented shower gels.
I like to use Seaweed Bath Company body wash during my aftercare routine. One bottle usually gets me through four weeks, which is enough to complete most of the healing process. It contains neem, kukui, and coconut oil for nourishment and hydration, along with a small touch of aloe vera and sustainably harvested bladderwack.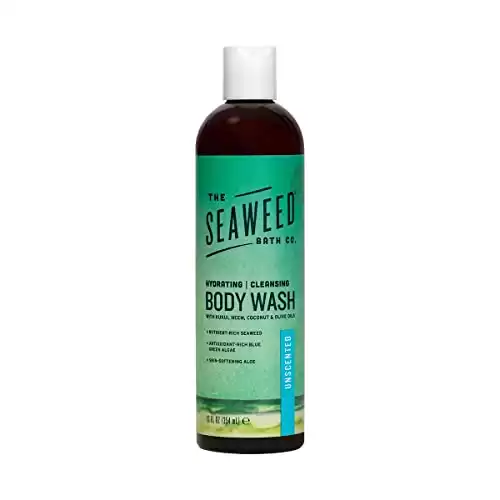 An overworked tattoo isn't the end of the world. This guide can help you recover from that issue, get your artwork looking better, and help you to feel like a million bucks.