People get tattoos for several reasons. It can be a conversation starter, a reflection of a person's personality, or part of the individual's culture.
When ink art is on display, people always start talking. The tattoo's placement lends to that process even more.
The responses to a tattoo can range from thinking that you're a "party person" to an individual who is edgy, creative, and independent.
Some people like you more with a tattoo, while others might love you less.
The one thing that everyone has in common when they get a tattoo is that something could happen to it if the artwork takes a scratch, cut, or graze.
What Happens if You Get a Cut on a Tattoo?
Getting a new tattoo is a three-part process. You'll get the ink, and then the artwork needs to heal for a few weeks. Once everything is better, there is plenty of time to admire the new work on your body. Getting to that last step can be uncomfortable, and it takes a lot of time and patience to avoid complications.
Although cuts and grazes happen on tattoos, the first issue to manage involves "bubbling."
It's arguably the most common issue people experience during the healing process. You will see the scabs on the skin start swelling, eventually becoming gooey and soft to the touch.
They even get a bit sticky, sometimes getting accidentally pulled off when putting on your clothes in the morning.
Although bubbling is usually harmless, you can't ignore this step of the healing process. If you do, there is a risk of damaging the tattoo's appearance.
If you don't treat the scabbed area appropriately, you also increase the chances of an infection developing.
Some people think that the bubbling indicates that the tattoo artist didn't do a good job. Most artwork will create colorful scabs where the needlework occurred. Knowing why this happens is the first step toward proper care.
Why Do Tattoo Bubbles Happen?
It's tricky to take care of a healing tattoo. The skin sometimes feels soft and mushy when you touch it, but the area dries out as time passes.
Tattoo bubbles and scabbing can affect tattoos of any color or size.
Once your skin starts healing in that area, it will begin scabbing over. If your artist didn't brief you about this step, don't worry – it's completely normal!
You don't want to pick at the scabs or scratch them. You can damage the tattoo if you do, which is why they should come off on their own.
Tattoos get soft, and scabs form when they get wet. If you don't dry the area entirely after a shower, that's often enough to create this problem.
It can also happen when using too much lotion or ointment during the healing process.
Larger tattoos often have a higher risk of experiencing this issue. You won't have a terrible result if the scabs form, but you do need to protect your skin to prevent them from ripping off during the healing process.
What About When a Tattoo Takes a Cut or Scratch?
After spending potentially hundreds of dollars on a tattoo, the last thing you want to have happen is for a cut or scratch to become a permanent blemish.
Although several variables will dictate how much damage or disruption a cut does to your ink, most people don't need to worry about long-term problems.
A cut on a fresh tattoo often causes the skin to take longer to heal. Some areas might bleed, especially if the scabbing process has already started. You might see even more bubbles form with the ink colors penetrating the raised areas in that circumstance.
The tattoo can suffer from ink loss if you pull the scabs off too soon after a cut. You can solve that problem if it occurs by having the color redone and restarting the process after the skin heals.
Deep cuts can pull ink away from the tattoo, leading to fading problems. Since your skin tends to scar during those situations, you'll need to encourage healing to prevent a permanent mark from forming in the artwork.
The biggest concern you should have during these circumstances is the development of an infection. When a wound receives extra damage, it becomes more vulnerable to bacteria, viruses, and various germs. You'll want to follow the cleaning instructions provided by your artist to ensure the area has the best chance to heal.
What Factors Define the Damage Potential for Cuts or Grazes?
When you pick up an injury, however slight, in a tattooed area, it can be worrying to think about how that spot might heal. Did you spend a lot of money on artwork that now won't look great?
Some people get skin coloration or freckle development in their tattooed areas during the healing process that can impact its look. The only way to prevent those issues is to avoid sun exposure.
Here are the factors that may define how much damage you can expect if your tattoo received a cut or graze in the past few days.
1. How Old Is the Tattoo?
Newer tattoos face more potential problems than older ones if a cut occurs across the artwork. When you get the ink, you're creating what the body considers as a large and open wound. You'll need to protect that area for the first three weeks or so meticulously to avoid problems.
Getting a deep cut or graze during those first 21 days creates a significant risk for lasting damage.
As the tattoo ages and dries, the risk for damage gets lower. The ink sets in place under the lower skin layers, allowing the upper epidermis to regenerate. That's why you can shed dead skin cells while keeping the tattoo looking fresh.
2. How Deep Is the Cut?
Most minor cuts and scratches won't affect a tattoo at all. Even if you've recently gotten one, a slight graze is unlikely to cause permanent damage to the artwork.
A deeper cut creates more of a risk that lasting, permanent damage happens to your tattoo. Even if it doesn't go all the way to the ink layers in the lower epidermis, you can cause enough damage to promote raised scar tissues that form over the area.
3. Did an Infection Occur?
Once your skin gets cut, an opening for nasty germs can cause potential health issues. These risk factors grow exponentially if the injury happened with an unsanitary item.
If you don't treat an infection fast enough, the healing process can impact the tattoo's appearance in unpredictable ways.
You can tell when a tattoo is getting infected because the area will turn red. You'll feel more heat at the site compared to the rest of your body.
There might also be swelling, pus development, and other problems that create permanent visual damage to the artwork.
Some infections don't cause redness. You might see an area start rising and be unbelievable itchy. Those issues aren't concerning, even if clear plasma gets leaked from the site as it scabs.
The plasma helps the area heal, whether it's a fresh tattoo or a cut.
Anything that triggers fevers or chills should be considered an infection. If the symptoms cause enough discomfort, a visit to the doctor might be necessary.
How to Clean a Tattoo Correctly as It Heals
Once you get a tattoo, the aftercare process can help give the area more resiliency to cuts and scrapes after it heals.
When you follow these five rules, you can make sure that the new tattoo isn't something you'll end up regretting.
The tattoo artist should cover the artwork with a thin layer of petroleum jelly and a bandage. It is sometimes a clear stretch adhesive bandage so that you can show off the new work to the world.
You must keep the bandage in place for 24 hours unless given specific instructions to do something different. Gently wash the area at that time with a high-quality antimicrobial soap and warm water. Pat the area dry to prevent the skin from becoming wet.
Apply a thin layer of petroleum jelly twice per day. Don't put on another bandage.
If you experience redness or discomfort in the area, you can use antibacterial creams or ointments instead of a product like Vaseline.
Try to gently wash the artwork twice per day with regular soap and water. This step removes the old petroleum jelly or antibacterial ointment. Gently pat the area dry before applying a new layer.
Continue to apply a moisturizer after cleaning the area to ensure it has enough water retention to encourage the healing process.
Keep up with this habit for up to 2-4 weeks. You'll need to avoid swimming during that time.
Since the tattoo scabs get wet and sticky, you'll want to avoid wearing any clothing that could stick to the area. The ink from those areas can transfer into the material or leave patchiness in the artwork.
It helps to avoid the sun for the first two weeks of the healing process.
If you take showers, try to turn the temperature down while cuts, scratches, and grazes heal. The hot water can cause the ink to fade.
Some tattoos develop hard layers that can cause worry, but it's a normal part of healing. Try to take a deep breath and let the anxiety go.
You can always visit your doctor or a trusted medical professional if you're concerned about a potential infection.
Once you walk away from that tattoo parlor and give the artwork time to heal, apply SPF 45 sunblock or higher on it to keep the colors bright.
If you moisturize daily as well, especially if the ink is in a place that could fade quickly (hands or feet), you'll have everything you need to have it look good.
What Are the Best Moisturizers for Tattoos?
When you first get a tattoo, the balms, creams, and lotions you use work to encourage healing. The items should hydrate and soothe the artwork so that the skin calms from the injury.
Several different products fit the bill for this need. If you've recently gotten a tattoo, you'll want to think about stocking up on these items.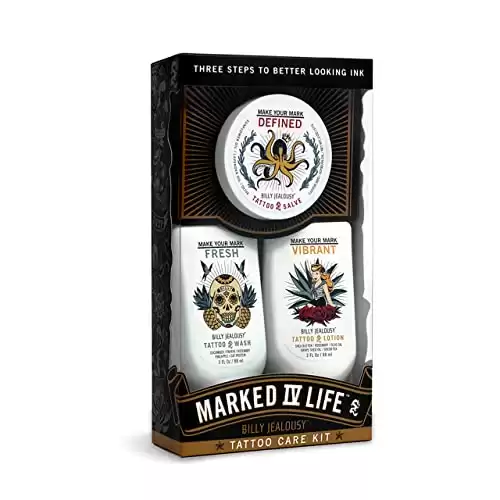 I love the Aquaphor Healing Ointment because it delivers advanced therapy for several situations. My heels get dry and cracked a lot. When I apply this lotion to the spot, the fragrance-free product provides relief to the irritation quickly.
I'm also a big fan of the Kopari Organic Coconut Melt. It uses 100% unrefined coconut oil from non-GMO resources to create a paraben-free product. You won't find sulfates or silicone in it either, and it is certified as vegan and cruelty-free.
Once your tattoo reaches the healed stage, a regular deep moisturizer can help you maintain the artwork's color while offering resiliency against cuts and grazes.
I like to stock up on Aveeno Daily Moisturizing Body Lotion for that need. Once applied, you'll get 24 hours of benefits with the unique oatmeal formulation. It locks in the moisture, doesn't have fragrances, and won't feel greasy.
It's what I use for taking care of my tattoo.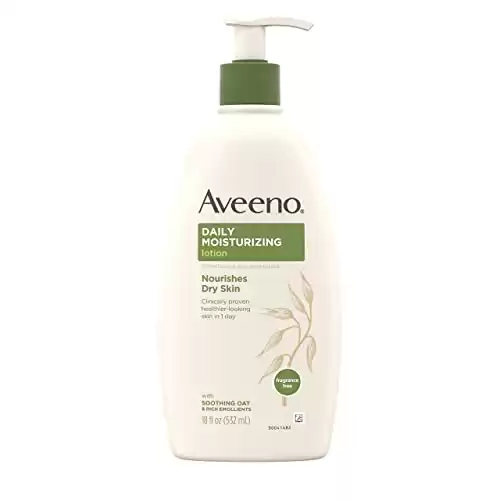 My skin also freckles a lot. It only takes about ten minutes of being outside to create potential issues with my tattoo. That's why I apply Neutrogena's Ultra-Sheer 100+ broad spectrum sunscreen to the area. It stops that process before it starts.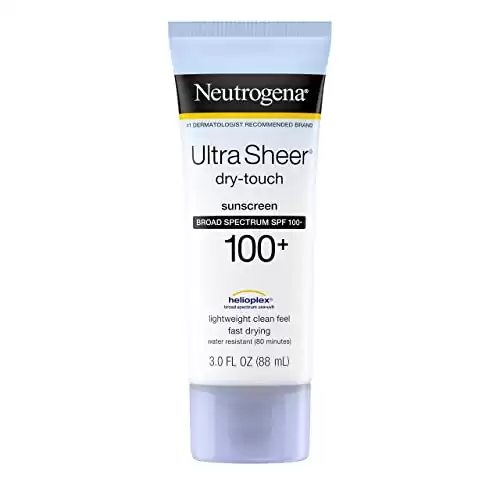 When you follow these steps, you'll have a winning recipe to take care of your tattoo now and in the future.
Although any deep cut brings with it a risk for scarring that could affect how it looks, daily moisturizers and an emphasis on healing at the beginning can create consistently positive outcomes.