Some people are adamant about following a fashion rule that says you should only wear a tie with a jacket. Others say that the heat caused by wearing a suit makes it an impossible ask during the summer or in a hot building to maintain that look.
If you're constantly on your feet, helping others with their tasks, or sitting underneath the heater at work, is it really that terrible to wear a tie without a jacket?
This question can deliver a fair amount of controversy, with passionate and persuasive arguments on both sides.
Here are a few ways to look at this issue.
Should You Wear a Tie Without a Jacket?
The decision to wear a tie without a jacket requires information about the environment where you'll be. It is a more casual look to only wear a shirt with the tie, which means a situation that would call for wearing it would likely require a full suit. It is a reasonable choice for those who want to experiment with fashion.
Wearing a tie without a jacket also depends on whether you've donned a dress shirt or a collared blouse. When you wear something formal without the top, the look suffers.
If you're somewhere that doesn't call for a jacket, it's improbable that you'll break any rules by taking off the tie. You'd be set with some trousers, the shirt or blouse tucked in, and a nice belt.
That's why looking at a tie without a jacket comes from a purely style perspective. Does it look terrible to wear a tie without a suit?
I've always felt that this look makes it feel like something is lacking. You've got a nice watch, a beautiful leather belt, and a tailored dress shirt with a starched collar. The tie looks great, but where is the final accompaniment?
That's not to say going with a tie and without a jacket is a fashion no-no. When it is hot outside and you're scrambling to get some lunch, it makes sense to ditch the coat. Who wants to get some ketchup on it anyway? You could pull the tie a little loose to make things feel less buttoned-up and formal.
If you're at work and need to have the jacket available, take it off unless you have a pivotal moment to manage. Here are some examples of when you'd want to throw it back on to avoid a potential faux pas.
You're about to start a meeting in a formal setting.
It's the start of the day, and you just entered the office building.
The end of your shift arrived, and now it is time to head home.
Since the goal of a suit-and-tie combination is to establish some variety for your style, the moment becomes forgettable. You can adjust that notion by adding a tie clip that demands attention, but it still isn't quite the same as buttoning up a jacket.
When Would It Be Better to Wear a Coat?
It's perfectly appropriate to take off your coat in the course of your work. Many guys and ladies take them off once they arrive, placing them on a proper rack.
When you sit for a long time, it's better to take off the jacket because you'd put unnecessary wear and tear on the coat.
Although those reasons make sense to go without the jacket, there are a few reasons why you should stick with it.
Outside of looking complete from a fashion stance, the coat makes you look finished. It flatters your physique better while giving you some layering and visual variety.
You might get away with not needing those benefits if you have a ripped physique. If you're sitting in an office for 40 hours per week or more, the odds are that you're more like me and have the dad bod thing happening.
Here are some of the other times when wearing a suit with a tie is more appropriate than going without the jacket.
| | |
| --- | --- |
| Business Networking Events: | Unless an event or gathering calls for attire that is "casual" or "business casual," it is appropriate to wear a jacket with your shirt and tie. Don't confuse the term "informal" with the option to ditch the coat. It just means you don't need to be in a business suit. A sport coat might be more appropriate. |
| Dress Codes: | You should be in a suit with your tie whenever the dress code lists these specific terms: "informal attire," "international business attire," "Western business attire," or "standard business attire." |
| Image Improvement: | If you want to convey a specific image that says you mean business or need to demonstrate authority, a suit and tie is an appropriate fashion choice. It would be inappropriate to go without the coat when negotiating a contract, taking a deposition, or attending a corporate board meeting. If you are on the board of a non-profit, the tie-only look is often workable. |
| Formal Representation: | Whenever you present, represent, or defend yourself or your employer in a public setting, it is appropriate to wear a suit and tie only. This option is the only way to convey a powerful message to others that speaks of respectability and authority. Even if you attend an informal job interview or meet someone to talk about work over coffee, it's better to have the suit. |
| Special Events: | Men are typically requested (and sometimes required) to wear a jacket to weddings or funerals. Women don't have the same social requirement, although they can choose to do so if they wish. The goal is to dress conservatively to avoid outshining the bride or groom at a wedding, while a funeral is typically reserved for black clothing. |
The purpose of a suit and tie is to convey a specific message. It says that you're a competent professional who is serious about managing a situation. This approach is also helpful for bringing a respectful feeling to others in difficult settings.
Best Jackets for Men to Wear Today
I recently had the opportunity to try on a few suits for an upcoming occasion. Here are my experiences with some of today's best items, and I hope that this information makes it easier for you to make a more informed decision about your own needs.
My family was recently invited to a formal event to celebrate the accomplishments of one of my mentors. I was required to wear a tuxedo (it was black-tie), so I picked up the separates from Calvin Klein.
The CK Tux uses a modern fit that I found to be comfortable and flattering. There's a touch of shine on the lapels, while the two-button closure speaks of classic simplicity.
It's made of 100% wool, but the jacket remained breathable throughout the entire experience.
I also took advantage of Prime Wardrobe to get a free 7-day try-on period for my size, although that option might not b available for everyone.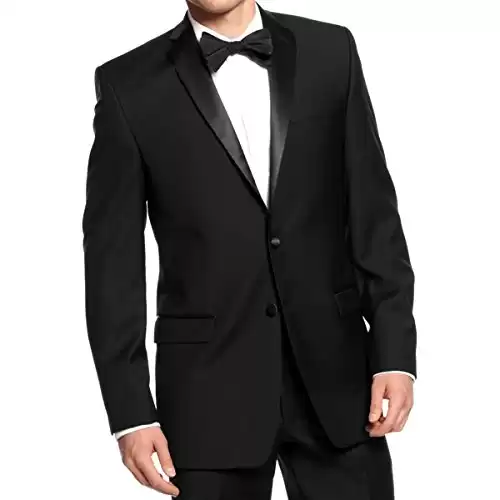 I'll be honest. I didn't think I'd like this coat since it's a blend of 97% wool and 3% Elastane. What I experienced was one of the most comfortable wearing experiences of my life.
The subtle combination creates something a bit more snug around the shoulders so that you get a lovely squared look without the need for bulky padding.
It is a European cut, which means it's a bit smaller in the waist. I found that it fit me fine, but it was close with the dad bod issue. If you're a bit more extended there than me, a different option would probably be more appropriate.
Although it's nice to have a formal suit for special occasions, I prefer to wear a blazer in most settings. When I found this gorgeous coat, it had everything I could want.
It's made from 100% camel hair to create a slightly lighter feel than wool. Several different patterns are available, although the Charcoal Plaid was my favorite.
This coat uses a modern fit, but what I love the most is the working buttonholes on the sleeves. The design uses hand-pick stitching for extra durability, and you won't find a better option for layering a look with a beautiful tie.
If you don't mind wearing a blended material suit, this option can save you some cash while creating a relatively formal appearance.
It's a triple blend with wool, polyester, and Spandex. I like to use mine for the daily commute because the cost is reasonable, and the design is breathable.
It's a side-vented jacket with a flap pocket that delivers a traditional look. It comes in a couple of color choices, so I have one of each. The modern fit works well since it isn't too slim, but the cut is still flattering.
The charcoal plaid suit is a bit darker than my other ones, but what stands out is the blind stitching on the labels. That means you lose the ripple that can be there on cheaper coats.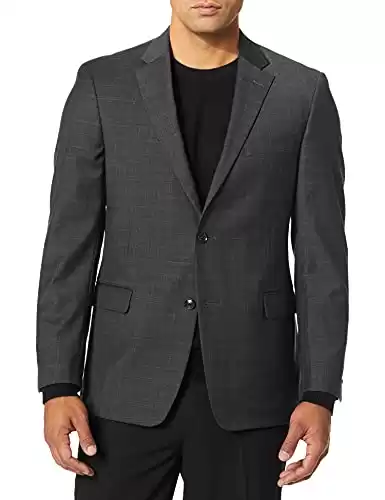 A Final Thought on Wearing a Tie Without a Jacket
There is this "rebellious" look to consider from the 1960s that still looks good on some guys. It's what would be called the "NASA Engineer" fashion style today. It involves a white shirt, a black tie, and a pocket protector for pens and pencils. It doesn't look good on everyone, but it is an exception to the general fashion rule of pairing ties with suits.
I've found that a tie without a jacket looks fine if you use a skinny option with a clip. The goal is to minimize its presence while embracing the statement it offers.
The tie clip is necessary to prevent it from flapping in the breeze.
If you do wear a suit, please remember that most of them are dry clean only. Although some kits are available to handle this task in the dryer, it's always better to work with a professional to look your best.
Ultimately, you can wear what you want. If it makes you more comfortable to go in one direction instead of another, then do it. When you can be yourself, that authenticity looks better than any suit.